Fresh Fettuccine with Asparagus, Dill, and Smoked Salmon pasta recipe| This recipe exemplifies bringing individual, ordinary ingredients together can result in an exciting and complex blend of flavors. The flavors of butter, shallot, cream, and dill are a rich and delicious way to eat smoked salmon. This recipe is easy and simple to make with ingredients that you can easily get from your grocery or food mart.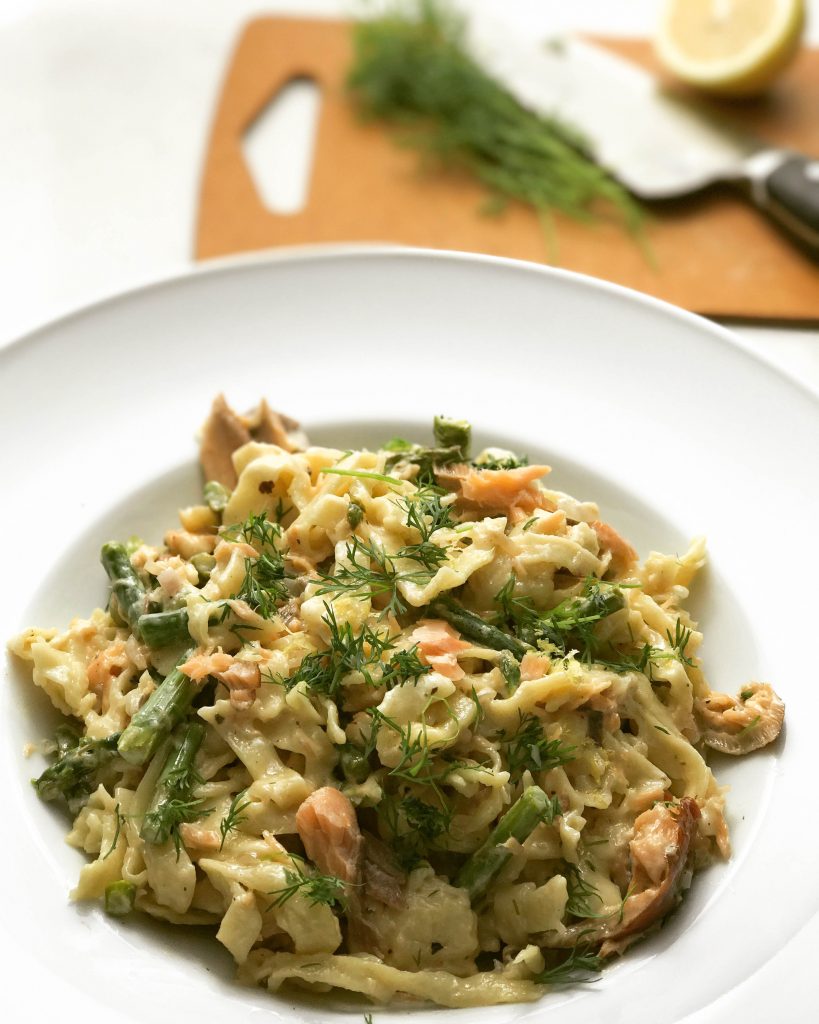 Honey Smoked Salmon and Dill 
This pasta is the embodiment of well-balanced and garden fresh.
There is also depth, that the smoke has added to a firm and meaty salmon.
And despite that, the salmon flavor is not as strong as you might think.
It's offset by some shallots, some cream, most importantly asparagus and dill.
Dill is a spice that you usually use with seafood. It has a sweet, fresh but unique flavor and because of this, a small amount can create a whole body of flavor.
Aside from a unique taste, the beautiful feathery texture of dill leaves makes a wonderful garnish adding aroma to your dish.
You can also squeeze on some lemon to make everything pop. Pop pop pop, pop!
The acidity of the lemon juice brightens everything up, like the sun on a sunny summer day.
Try the pasta without it first and you'll see what I mean.
There's a lot going on in this dish and it should keep your taste buds nice and stimulated even from just looking at it!
Basic recipe to extraordinary salmon pasta
This pasta exemplifies how bringing individual, ordinary ingredients together can result in an exciting and complex blend of flavors.
The flavors are wonderful that could very well be because I love pasta. And I love smoked salmon.
I've done a few batches with fresh pasta and one with dried pasta.
I like fresh more because the overall flavor profile is a bit better.
And the texture of fresh pasta is incomparable to the dried version.
Lastly, there's nothing like dill and fish!!
One of my other favorite pairings is "cha ca", which is a Vietnamese preparation of white fish and dill. Maybe that's the next thing I should try with dill Cha ca. What do you think?
How about you, have you tried using dill and salmon on your pasta? Or make fresh pasta at home?
The complete ingredients and direction for this recipe are just below! Let me know if you have any questions, too!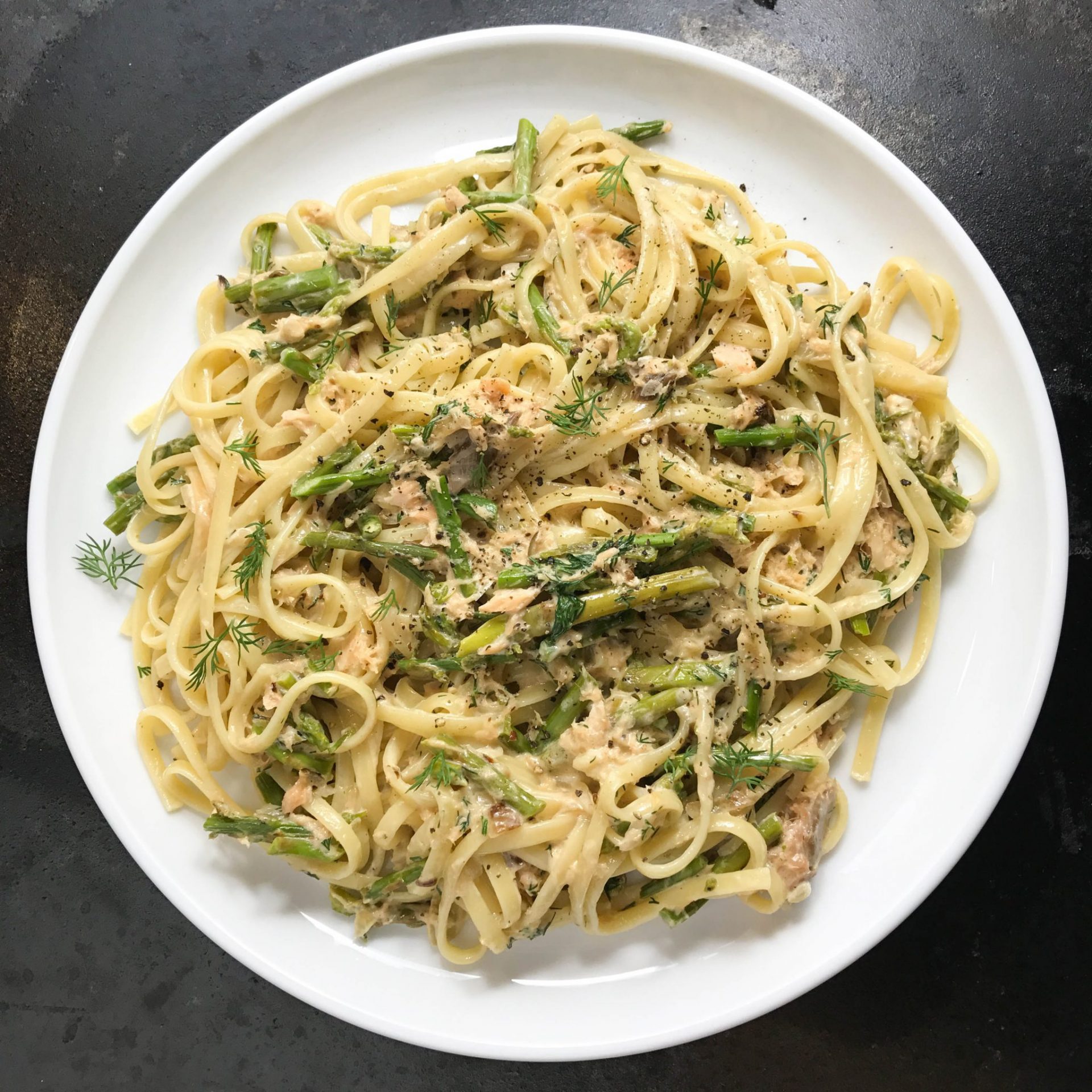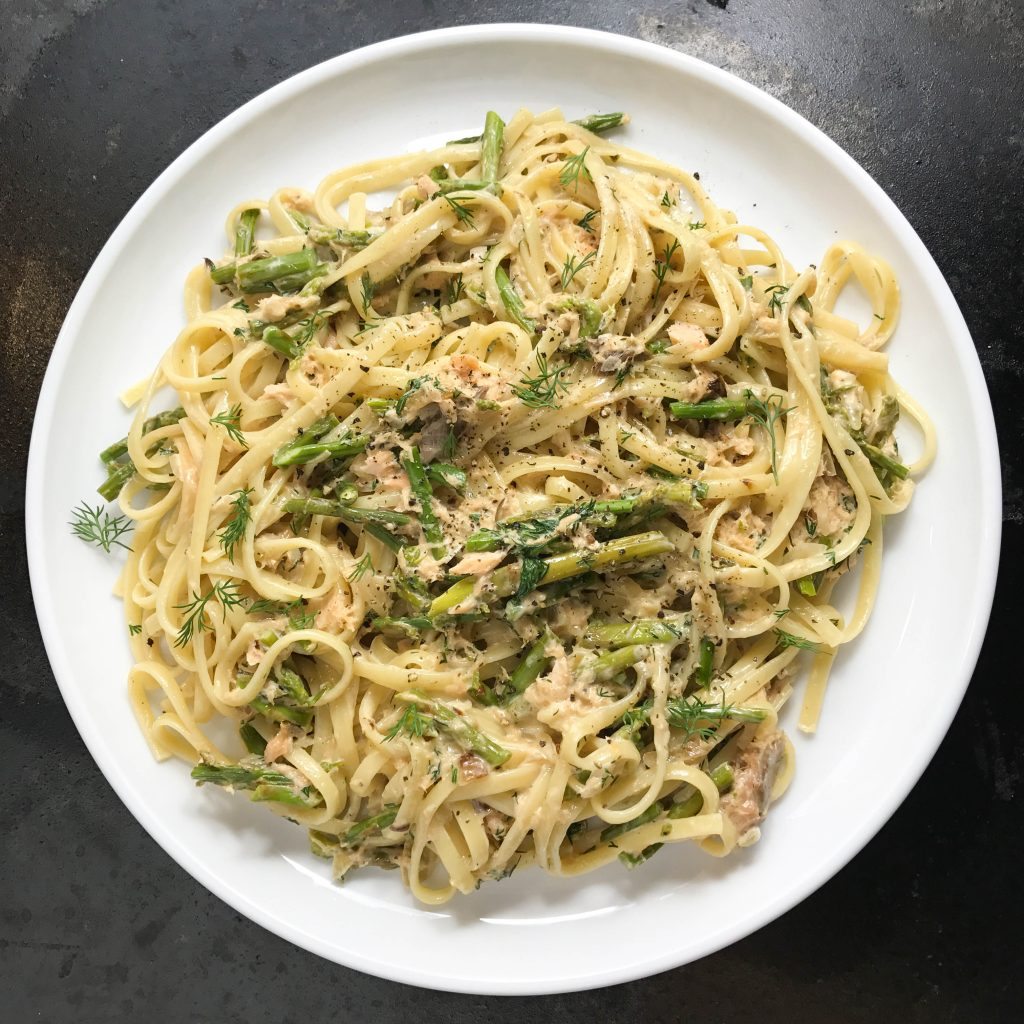 This is one of my most popular recipes, help me get the word out by pinning it! 
In case you missed them, here are some of my other pasta posts!
Save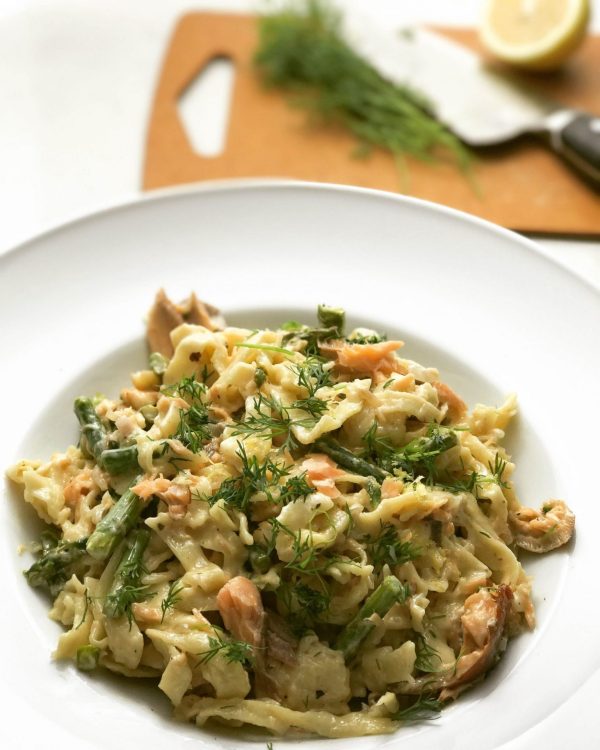 | | |
| --- | --- |
| | |
Bring a large pot of salted water to a boil for the pasta.

Snap off the ends of the asparagus where they break naturally and cut into pieces about an inch long.

While the water is coming to a boil, melt the butter in a large heavy skillet. Add the shallots and asparagus and saute until shallots are soft. Stir in the cream and simmer about five minutes, until the cream has thickened somewhat.

Add the salmon to the cream and remove the skillet from the heat. Season with pepper and lemon juice.

When the pot of water is boiling, add the fettuccine, stir it once or twice, then cook until just before al dente. Drain.

If needed, warm the sauce and add fettuccine. Toss and add pepper or additional lemon juice. Sprinkle with dill and serve.