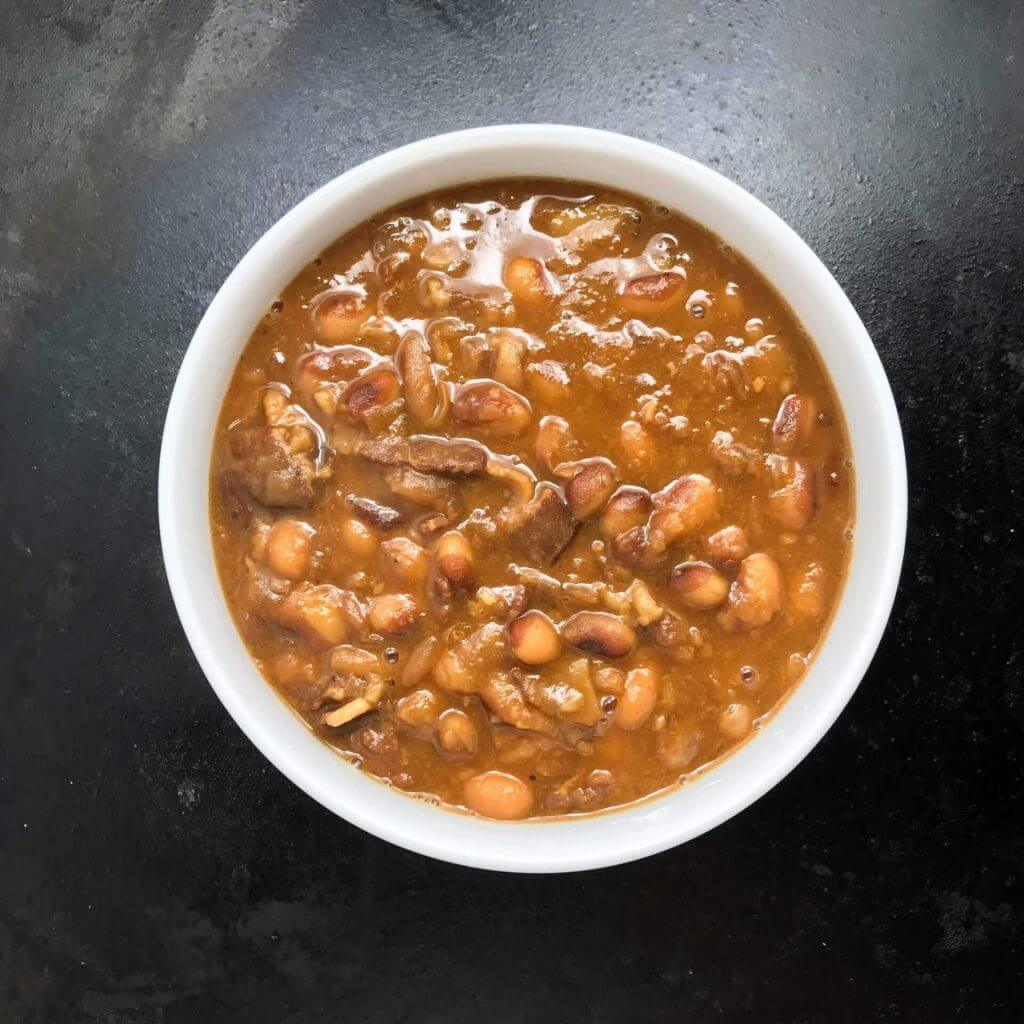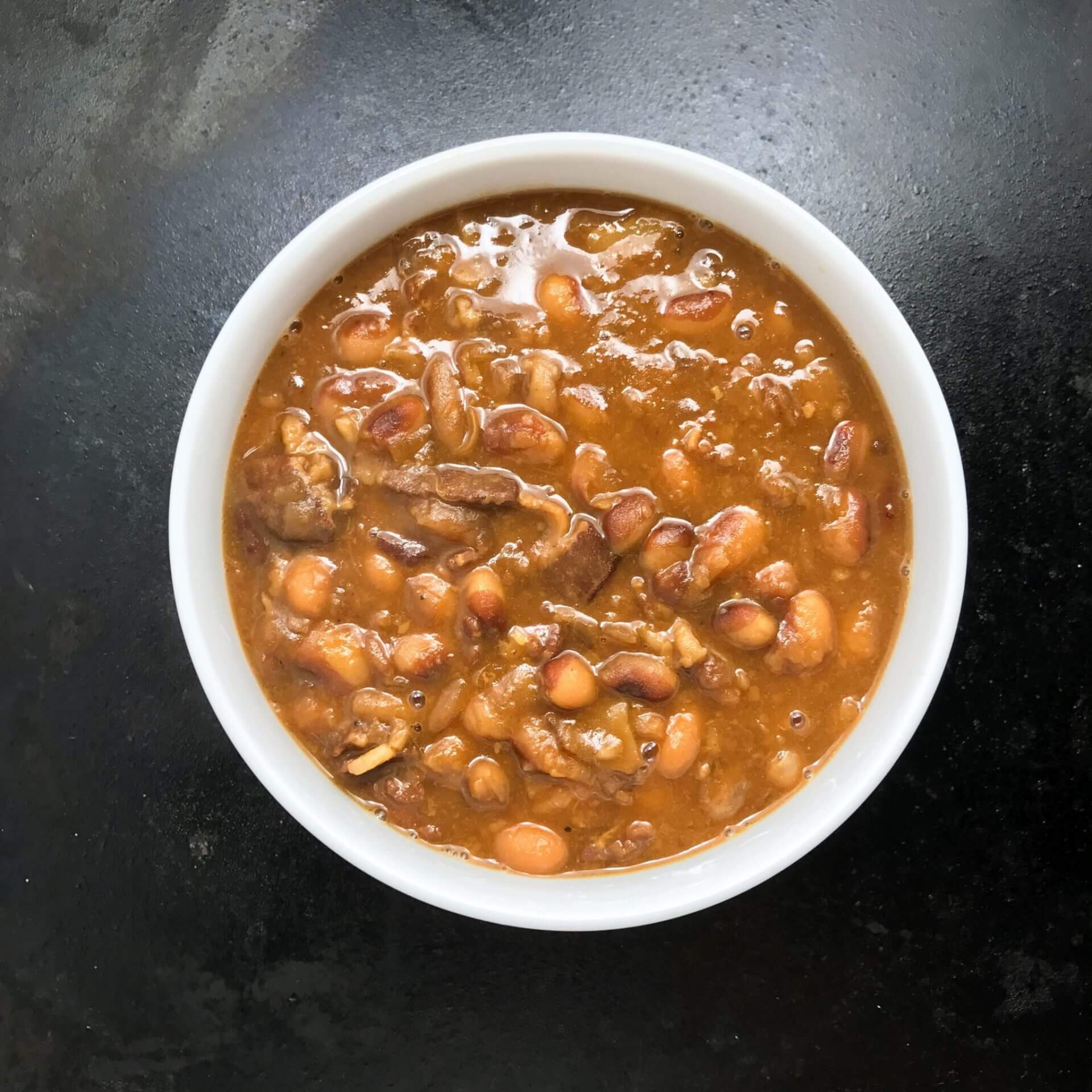 Have you seen Yellow Eye Beans?
Yellow eye beans are related to kidney beans and they get their name from the way they look.
To me, the color seems to be more orange than yellow, but aside from that, I thought that yellow eye beans tasted quite good.
I really liked these and of all the heirloom beans I've tried so far.
Are you sold on heirloom beans yet?
And I'd definitely say that these have been some of the creamiest.
In fact, these were so good, I went and bought another bag.
Thanks Rancho Gordo!! 
And this time around, rather than use bacon, I'm gonna see if this works with liquid smoke!!!
(it worked for my Vegan split pea soup, so hope it works for this too)
UPDATE 3/9/17-
I remade this using Applewood Liquid smoke and started with 1/2 teaspoon and worked my way up to 1.5 teaspoons.
You'll definitely notice it with 1 teaspoon and if you are sensitive to it, that might be sufficient! 
Here are 7 tips you may find helpful in cooking your beans-
For the best flavor, keep the bean water that you have soaked your beans in.
If you have trouble in keeping your beans from popping open (split skins) you can keep the cooking temp so that the liquid is a gentle simmer; or
Add salt to your cooking water (rather than use plain water)
As the beans cook, they'll absorb water from the pot, make sure to add warm water to keep the beans covered. If the pot dries out, they'll quickly burn!! 

The way I heat my water is by microwaving it in a Pyrex, you could also use a hot water dispenser or another pot

Stir beans occasionally throughout the cooking process to prevent sticking. This is key!!
If you're unsure that your beans are done or not, just take a bite! If it's at the texture you prefer they're likely done! If you're using a variety of beans in one pot test one of each!
Factors that can affect how fast your beans cook include-

freshness (fresh beans will cook quicker)
altitude
soaking time

Store cooked beans in the refrigerator: Cooked beans can be stored in the refrigerator for up to 5 days or in the freezer for up to 3 months. To freeze beans, place them in a resealable plastic bag and remove as much air as possible before sealing. Thaw frozen beans in the refrigerator or in the microwave using the defrost setting before using.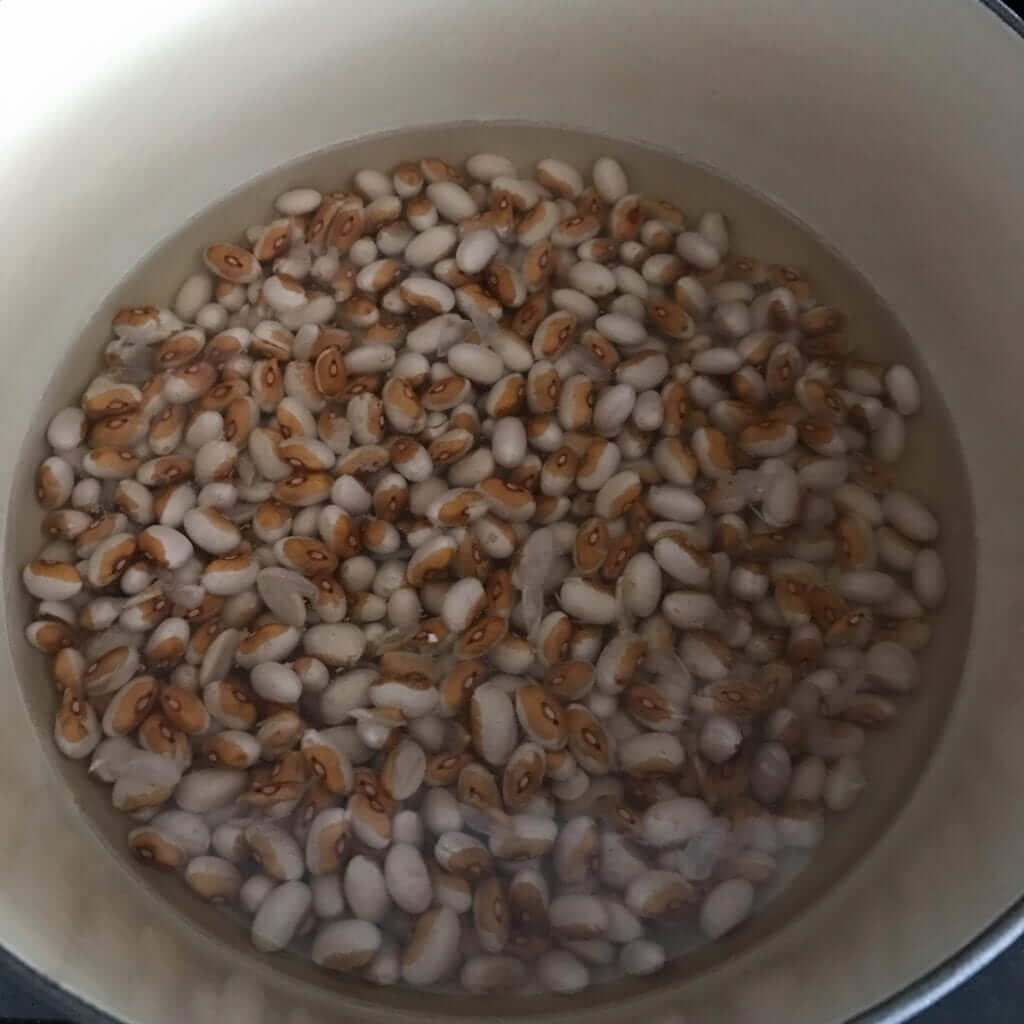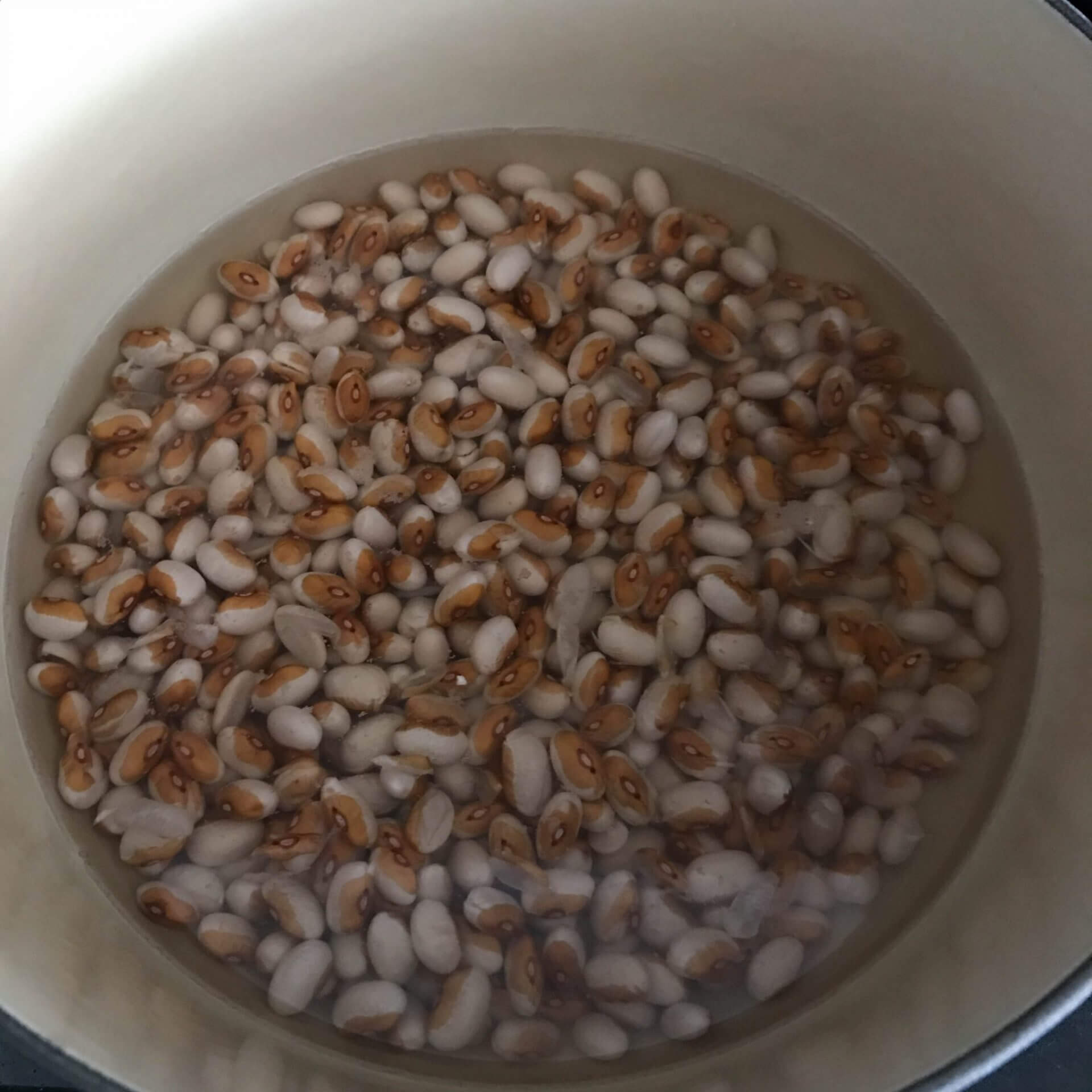 How to reduce gas from beans
Beans are a nutritious, protein-packed ingredient that can be used in a variety of dishes, but they are also known for causing gas and bloating in some people. Here are some tips for reducing gas from beans:
Soak the beans before cooking: Soaking beans before cooking them can help to reduce the amount of gas-causing compounds they contain. To soak beans, cover them with water and let them sit for at least 4 hours, or overnight. Drain and rinse the beans before cooking.
Use a pressure cooker: Cooking beans in a pressure cooker can significantly reduce the amount of gas they produce. Pressure cooking breaks down the gas-causing compounds more effectively than other cooking methods.
Add a gas-reducing ingredient: Some ingredients, such as kombu (a type of seaweed), bay leaves, and fennel seeds, are believed to help reduce gas when added to beans while they are cooking.
Gradually increase your intake of beans: If you are not used to eating beans, try gradually increasing your intake to give your body time to adjust. This can help to reduce the amount of gas you experience.
Drink plenty of water: Drinking plenty of water can help to flush gas-causing compounds out of your system and reduce bloating.
I know this is another barbecue type of recipe and it's not summer yet, but it's definitely a comfort food if you ask me.
A nice way to get some more beans in your diet and warm up during these cool winter months.
It goes good with white rice, with eggs, or some freshly toasted bread.
Any other ideas?
Have a great week!
In case you missed them, here are some of my other bean recipes!
[display-posts tag="beans"]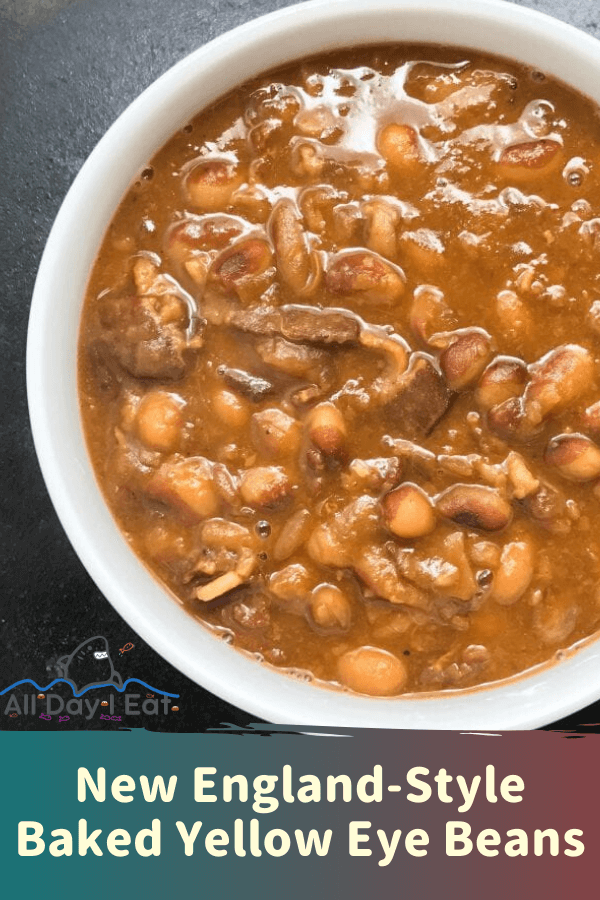 Save
Print
New England-Style Baked Yellow Eye Beans
Prep Time:

20 minutes

Cook Time:

10 minutes

Total Time:

6 hours 30 minutes

Yield:

6

people

1

x
Category:

side

Cuisine:

New American
1

pound yellow eye beans (soaked in water overnight )

1

medium Onion (chopped)

4

whole cloves

8 oz

. bacon (chopped into small pieces; see note to make Vegan! )

1/4 cup

maple syrup

1/4 cup

unsulfured molasses

2 teaspoon

dry mustard powder

2

–

3

Tablespoons ketchup

1 Tablespoon

cider vinegar
black pepper (to taste)
Instructions
Bring the beans and 4 cups of water to a boil in a large oven-safe pot on medium high heat, and then reduce to a simmer. Meanwhile prep the other ingredients.
Heat oven to 250°. Add the chopped onion, cloves, bacon, maple syrup, molasses, dry mustard to the pot. Mix a few times and then cover. Place the pot in the oven and bake for roughly 3 hours and stir occassionally.
After roughly 3 hours, stir in ketchup, vinegar, black pepper and cover. Stir occasionally and bake until the beans are tender and the liquid has reduced and mixture has thickened. (For thicker consistency, you can mash up some of the beans)
Serve and enjoy!
Notes
You can also do this on the stove. If you can't find Rancho Gordo in your local market, Amazon has a sampler available.
To make this vegan, omit the bacon and start with 1/2 teaspoon of liquid smoke. Add 1/2 teaspoon more for a stronger taste. For my batch, I used a total of 1.5 teaspoons. You will definitely notice it with 1 teaspoon and if you are sensitive to it, that might be sufficient!