Ditali Lisci (Pasta) with Prosciutto and Peas is a delicious one pot meal made with trio of best friends: peas, prosciutto, and pasta. The peas bring a little bit of protein and fiber that offsets the carbohydrates from the pasta. And the prosciutto adds a nice sharp savory flavor, which is enhanced with additional cheese, red pepper, and parsley. Mmm mmm mmm!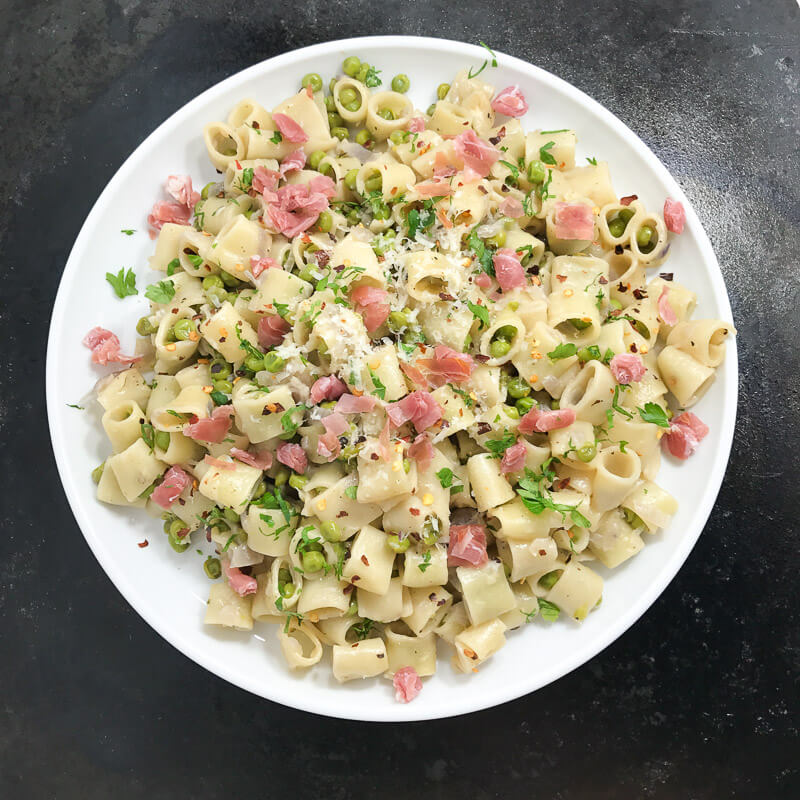 Ditali Lisci
Ever heard of Ditali Lisci?
I hadn't until I received it as a gift!
Ditali Lisci is a pasta shaped like tubes or cylinders.
They are actually quite small when dry, maybe a little more than 1/4 inch.
But once cooked they more than double in size!
Which worked out nicely with the prosciutto and peas.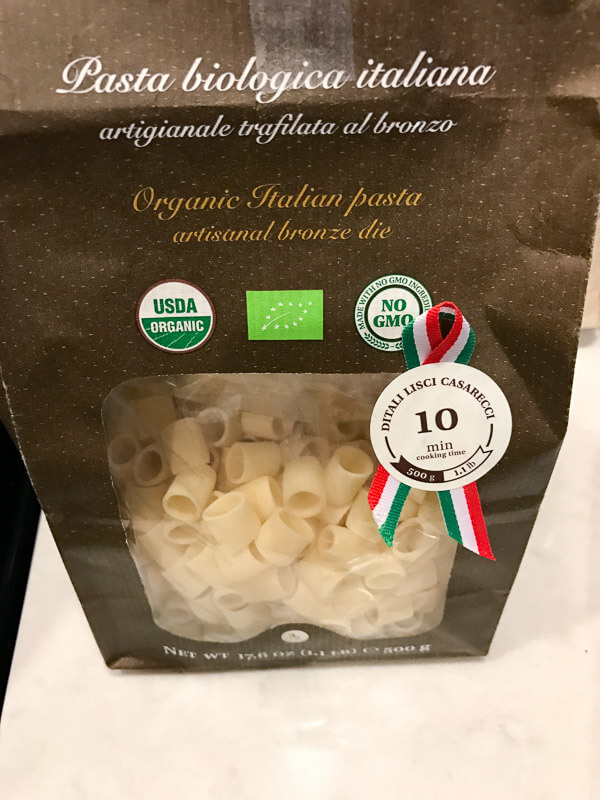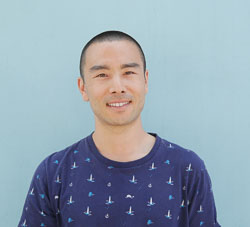 Konnichiwa! (Hello!) I'm Pat Tokuyama, a Japanese tofu cookbook author, who travels for music, food, and adventure. If you like Japanese food and it's your first time here, consider joining the new plant based japanese made simple community - to cook and be healthier today - with japanese food!!
** Curious about the Plant Based Japanese Cooking Club? ** Learn more here!

Self-assembling Stuffed Pasta
Both the chopped prosciutto and the little green peas would get stuck inside the tubes and turn into little stuffed pieces of pasta.
Almost like making pea/prosciutto ravioli but smaller, in a cylinder, and without the extra work!
For this type of pasta, the ideas for preparing it were pretty sparse. If you have any others, let me know 🙂

I ended up making combining two recipes that I found. Taking what I thought was the best of each. (Cooking with Mamma C and Italian Next Door).
The end result was outstanding and I will certainly add this to my rotation.
The pea flavor goes great with the salty prosciutto and the chicken broth ensures that there is good flavor in each bite.
Top these three things off with cheese and red pepper and you are in for a treat!!!
I know there are many different types of pasta out there that I haven't tried or haven't heard of before.
And you know I'm always looking for new things to try, if you have any favorite and less popular pastas let me know!~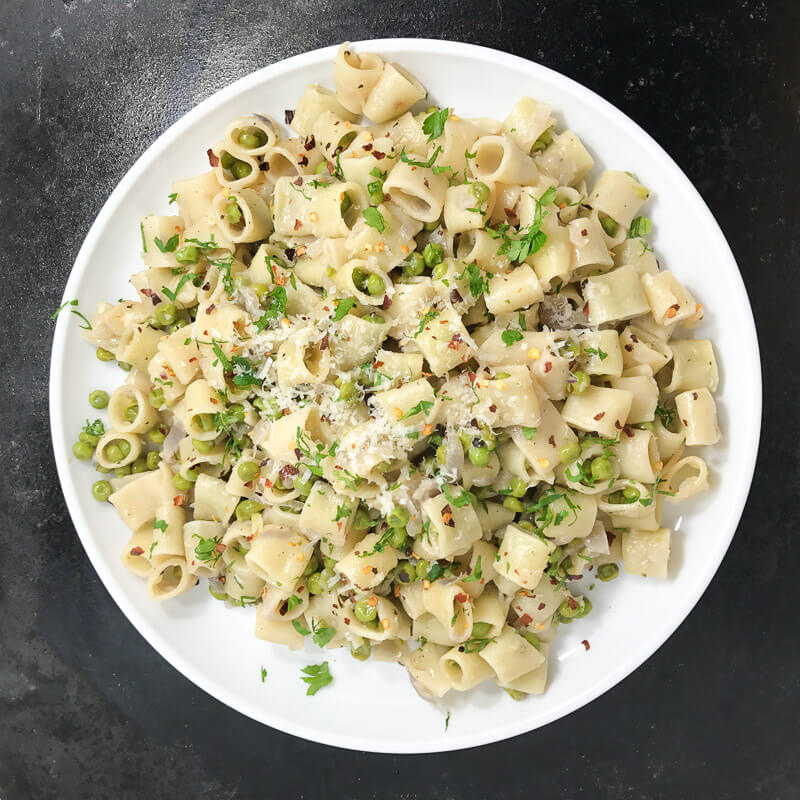 In case you've missed them, here are some of my other pasta recipes!
Save
Save
Save
Save
Save
Save
Save
Save
Save
Save
Save
Save
Save
Save
Save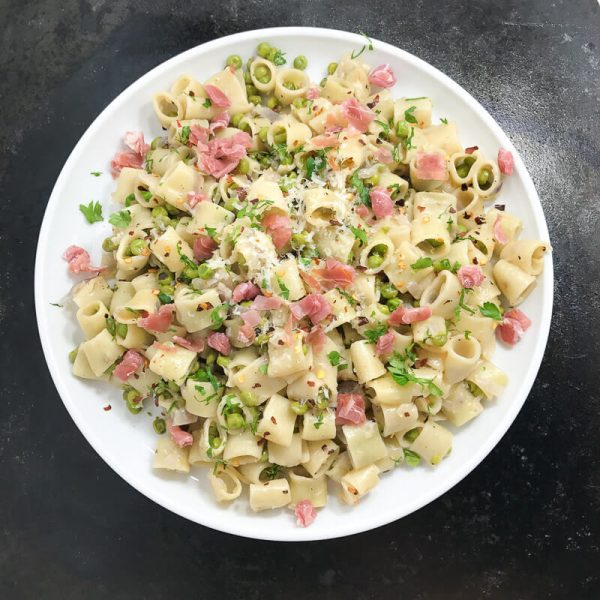 | | |
| --- | --- |
| | |
Heat the oil in a large pot on medium and add onions. Cook for 4-7 minutes until soft, stirring occasionally.

Add the frozen peas and some fresh cracked pepper and cook until peas are fully cooked, stirring occasionally ~5 minutes.

Add broth to the pot and bring to a boil. Add dried pasta and stir to distribute the pasta in the liquid. Cover leaving lid slightly open and cook the pasta until al dente, stirring occasionally and scrape the bottom of the pot. **

Top with chopped prosciutto, red pepper, freshly grated cheese and chopped parsley.
** If pasta is not yet cooked, but the pot has almost dried up add additional broth or water 1/4-1/2 cup at a time.
If there is excess liquid and the pasta is almost finished cooking, remove lid to reduce. If the pasta is done and there is excess liquid, strain the liquid out.