Classic basil pesto with pine nuts, garlic,  pecorino, parmesan, extra-virgin oliveoil, salt and home grown basil are a fool proof way to ensure your pesto is as flavorful as can be. Italian food is so good in Italy because they're always using fresh ingredients, this pesto is one way you can travel there without ever leaving your own kitchen!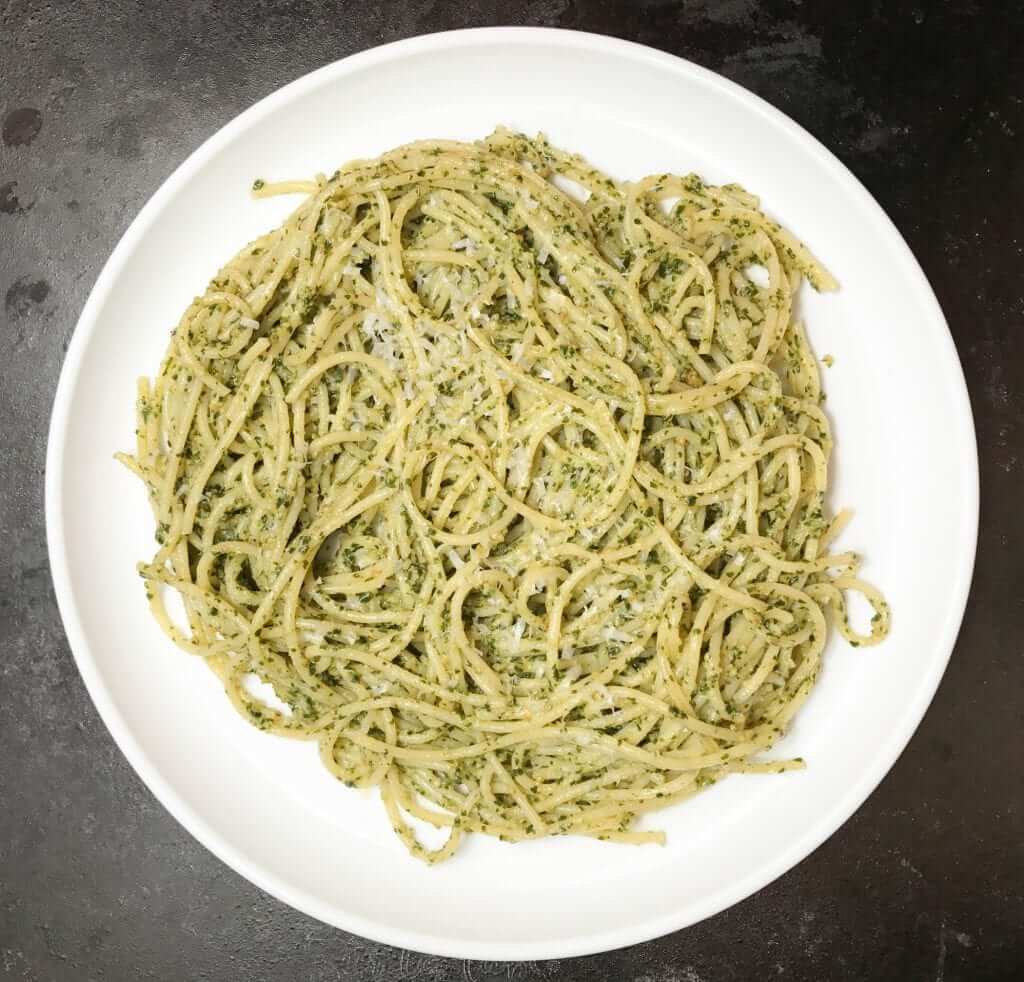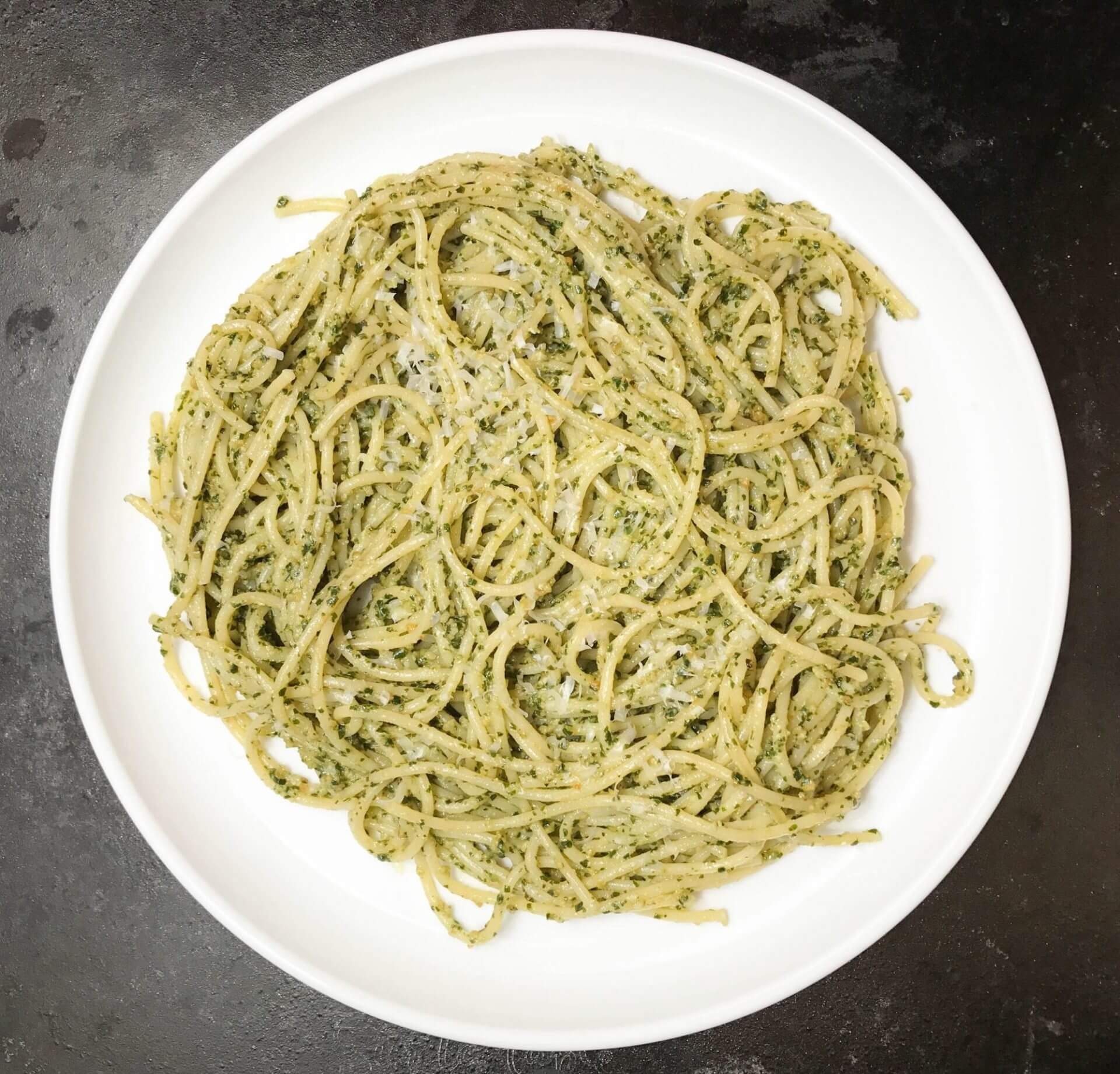 My reattempt at Classic Basil Pesto with Pine Nuts and Cheese…
Was a complete success!!
As I mentioned in my most recent Aerogarden post – Aerogarden Thai Holy Basil and Italian Basil Update Day 35 and 45, I was never really a fan of pesto.
Now that I've discovered how easy it is to make and how great it can taste, I will be making it again and again and again.
Just like the Energizer bunny keeps going and going and going. Hop hop.
I mean drum drum.
Fresh ingredients are key and if you can, avoid using pregrated cheese.
That is definitely one thing I know was detrimental to making a good pesto.
That's probably the main reason I never had success with it.
Anyways, based on all the different articles and recipes I looked through, it seems that people like to make their own adjustments.
Substituting walnuts, using different ratios of cheeses, toasting the garlic, adding olive oil etc.
Pine nuts and two types of cheese – Parmigiano-Reggiano and Pecorino Romano
1/2 cup of nuts and 1/2 cup of cheese total was my magical ratio. Along with 3 packed cups of basil and 3 cloves garlic.
And the two of us ate most of that magic up in one sitting. It was amazing.
I wish I knew how good pesto tasted before I went to Italy last year, then I would have made it a priority to seek it out!!
After processing the pesto, all I did was toss it in freshly cooked pasta.
I used the still warm pot I boiled the noodles in and just added the pesto and pasta with a bit of pasta water.
No heat.
Pesto apparently should never be cooked. So I did it off the stove.
What do you think? How do you like to make your pesto?
Hope you get a chance to taste this and happy meatless Monday!
Here is a timelapse video of me making the pesto with my homegrown hydroponic basil
Classic Basil Pesto with Homegrown Hydroponic Italian Sweet Basil
In case you missed them, here are some of my other pasta posts!
[display-posts tag="pasta"]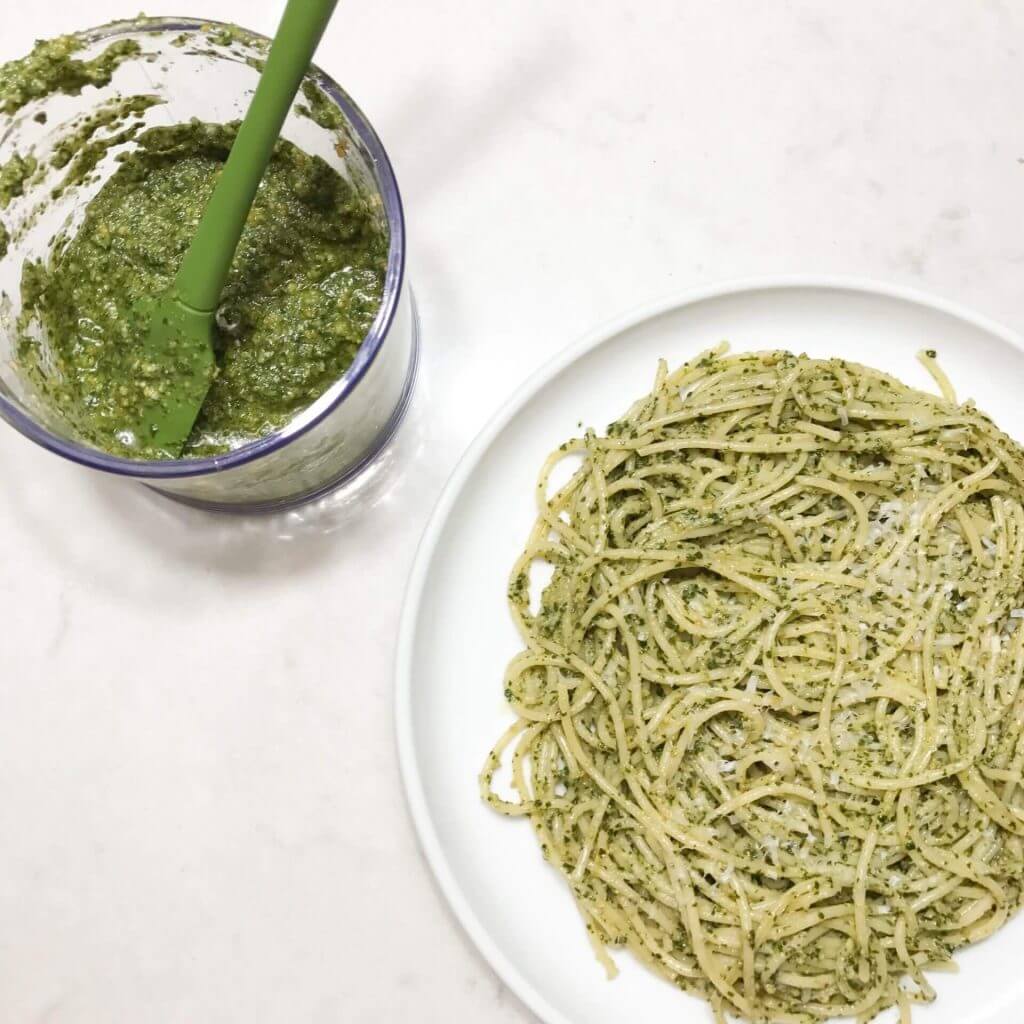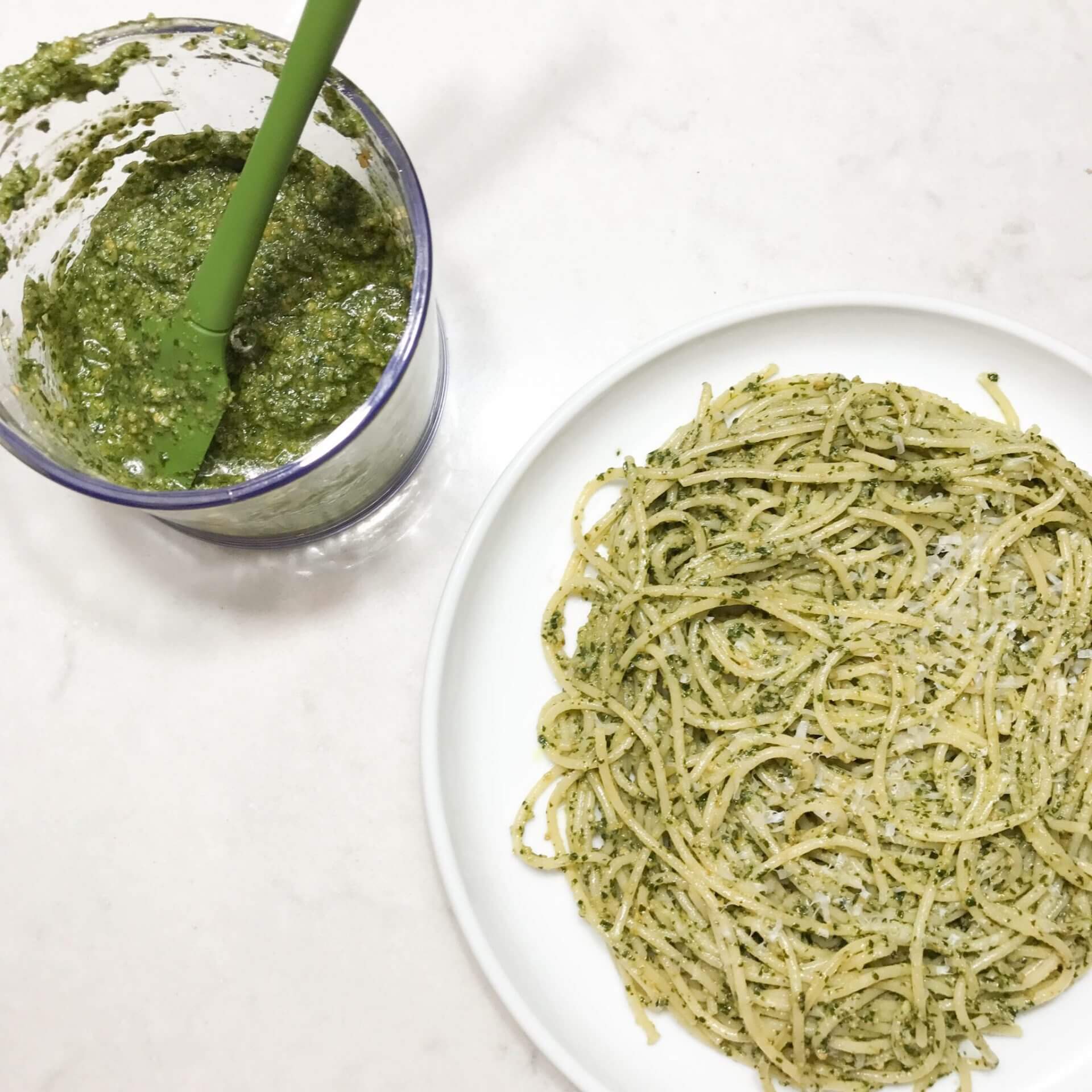 Save
Print
Classic Basil Pesto with Pine Nuts and Cheese
Prep Time:

10 minutes

Cook Time:

10 minutes

Total Time:

20 minutes

Yield:

3

people

1

x
Category:

Main Dish

Cuisine:

Italian
3 cups

fresh basil leaves (packed cups)

3

cloves garlic (toasted with pine nuts)

1/2 cup

pine nuts (toasted)
sea salt (to taste)

2/3 cup

extra-virgin olive oil

1/4 cup

Parmigiano-Reggiano (freshly grated )

1/4 cup

pecorino romano (freshly grated )
Instructions
Toast the garlic with the pine nuts until they turn a nice brown color. Remove from heat and set aside.
Gather your basil, destem and wash if needed. Pat dry with a towel and set aside.
Grate your cheeses and measure out the olive oil.
Combine all the ingredients in the food processor and pulse/process until just combined. Remove the lid and scrape down the sides if needed.
Serve immediately!
Notes
It is said that the heat produced by the food processor may affect the flavor, so try not to over process. You can also chill your blade, or container, in the freezer if possible.