Chocolate Hazelnut Biscotti
This Chocolate Hazelnut Biscotti will make you wonder if biscotti can get any better than this. We all know that chocolate and hazelnuts are a good pairing, but forcing their marriage… That's another thing. Or is it? These little crunchy cookies may just be one of the best cookies yet. And they didn't even sign a prenup!
Do you know what biscotti means?
Biscotti means twice 'cooked' or in this case, baked.
That means you bake them once in a 'log' and then cut it up and turn each piece on their sides and bake again.
Hence twice baked. (I wonder if you did that to cookies, would they come out extra dry and crunchy like these? I'll have to experiment next time I make a batch.)
I didn't know that until I actually made them many years ago.
I just thought it was a name with no meaning.
Silly me.
I have never been inclined at the coffee shop to buy the long dry looking sticks called 'biscotti'. Have you?
They just never seem that appetizing!
But after I began getting into and enjoying the food experience, I opened up my pearly white doors and eventually invited them in!
Yo! I'm Pat, a self-taught cook, who travels for music, food, and adventure. Here I share my knowledge of Japanese cooking, indoor gardening, and points travel.
If it's your first time here - learn more about me.
I also post new videos on YT each Weds. Live Cooking Season 2 will resume in mid-May join me in my kitchen!
Biscotti is just something that should be made at home
In my opinion at least!
Kinda like a grilled cheese.
I guess I say this based on my experience eating store and coffee shop biscotti.
It's always pretty disappointing.
Just like restaurant or food truck served grilled cheese.
So, I began to make it at home!
Never had biscotti before?
Well, this chocolate hazelnut recipe is a good starter.
Biscotti tends to be lighter than a cookie.
Generally, it has a drier texture with additives like nuts and dried fruit that always pack a flavor punch.
Biscotti is always a good pairing for morning black coffee.
Whether you drink your coffee black or not biscotti doesn't care.
It's a great way to keep your breakfast routine fresh.
Example. I eat a lot of oatmeal and that gets old.
So sometimes I add in grains like barley and quinoa to mix it up a bit.
Sometimes I use brown sugar, maple syrup or dried fruit and toasted nuts and mix it up.
Sometimes I make granola.
And others I make bread, pancakes, or waffles.
And every once in a while, I make biscotti!
Chocolate Hazelnut Biscotti
What I like about this particular recipe is that it has chocolate and is not overly rich!
Don't chocolate cookies and desserts always seem rich?
Maybe it's just me.
But these are nice and light.
And they have a 'secret' ingredient.
It's not really secret really, it's just espresso powder.
They say it enhances the chocolate flavor when added to chocolate based desserts.
But I remain skeptical.
I'm going to have to do a blind taste test of the same recipe one day and find out for myself.
Are you a believer in espresso powder?
Regardless, this chocolate hazelnut biscotti is magic and I hope you get a chance to try it!
Biscotti Making tips 
After making biscotti several times throughout the year each year. I've learned a few helpful techniques.
If you have a sticky batter use plastic wrap or a little water on your hands to help you shape the log
Use parchment paper if you have it, its the easiest way to clean up and you don't have to use spray! (Alternatively, a baking mat/sheet that is greased and floured works too)
Use a bread (serrated) knife to cut the log after the first bake. You'll get cleaner looking cuts than using a Chef's knife
When cutting, make sure to saw as much as possible, especially when there are nuts! Otherwise, you'll get small pieces that break off. (especially if you are working with almonds, which are relatively hard nuts!)
If you want a bakery like look, you can cut your biscotti at an angle (30-45 degrees)
After baking the second time, transfer the biscotti to a wire rack to cool. If you don't, they will steam each other and may not be crunchy!
Store airtight in glass and they will stay nice and crunchy at least for a week (we usually eat them all so can't say how long they last after a week!)
Hope this helps you in your biscotti making adventures!
Here is the demo of me making the Chocolate Hazelnut Biscotti.
What do you think? Have you tried making biscotti before?
If you're not that into chocolate, here is one of my other favorites- Maple Walnut biscotti.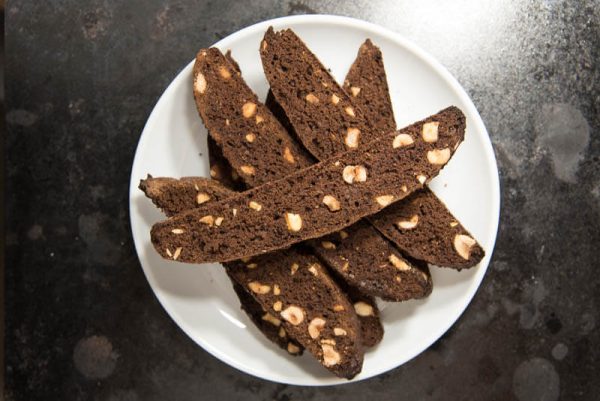 | | |
| --- | --- |
| | |
Preheat an oven to 300ºF. Line a large baking sheet with parchment or baking mat/sheet (greased + floured).

Use a food processer to combine the chocolate and brown sugar until it looks like sand and set aside. Mix the flour, cocoa, espresso powder, baking soda and salt in another bowl and set aside.

In a mixing bowl, combine the eggs, vanilla extract and almond extract and beat for a few seconds.

Reduce the speed to low and add the sugar chocolate mixture and flour mixture until it looks like dough. Add the hazelnuts and mix until just incorporated.

Take the dough and on your baking sheet, form a log about 1 inch thick and 4 inches wide. Bake for 25 minutes and remove.

Transfer the log to a cutting board and cut with a bread knife 1/2 inch thick. Arrange the pieces cut side up, on the baking sheet and rebake for 25 minutes.

Remove from oven and cool on a cooling rack. Store in airtight in a glass container, good for up to a week!
Note: the batter of this is a little stickier than others, so you can use plastic wrap or flour to shape the log. Since I didn't want my beautiful biscotti to have brown toasted flour on the top, I used plastic wrap!