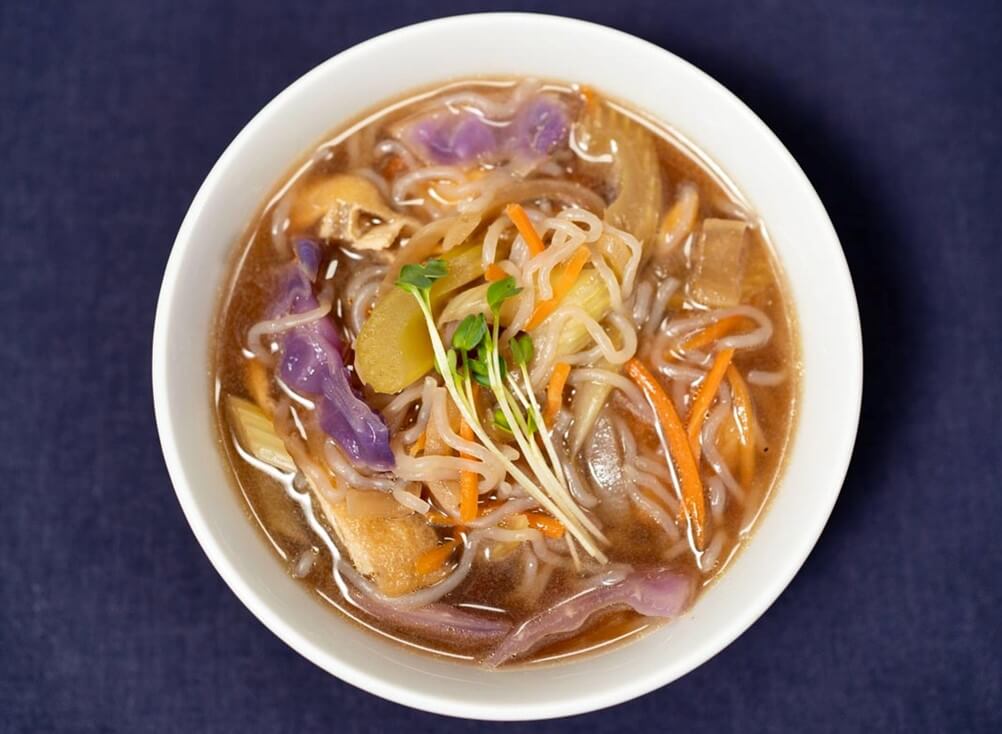 Vegetable soup with shirataki noodles
do you enjoy the vehicle or the flavor?
why not both?
here's a light and flavorful vegetable noodle soup where you can actually taste the ingredients for what they are.
if you eat a lot of vegetables perhaps you enjoy the natural flavors they provide.
sometimes sweet, sometimes bitter or earthy and everything in between.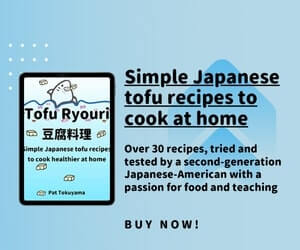 what makes this shirataki noodle vegetable soup different?
sometimes when cooking, i'm not looking to enjoy the actual flavors of the vegetables individually but as a whole
for example pureed lentil vegetable soup or tomato soup.
but this is one dish i enjoy when i want to appreciate the uniqueness of each ingredient.
and as you may know one of the best ways to enhance the natural flavors of your food, with natural ingredients is…
japanese dashi
the umami it contains helps to improve the flavor and overall experience when eating a dish made with dashi.
and it does so in subtle and gently ways.
that's the nature of umami.
of course if you dont make dashi from scratch all the time, just buy the premade dashi (the kind that comes in powder of packs) for convenience
and if youre keen on experimenting you might even consider using… ajinomoto 
totally up to you though, ive been experimenting with it a bit and might be sharing some of my results in the near future! so if you havent yet maybe subscribe so you dont miss any of my new japanese cooking videos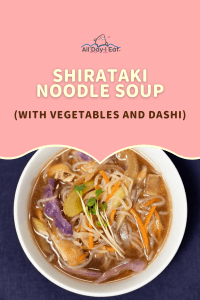 Print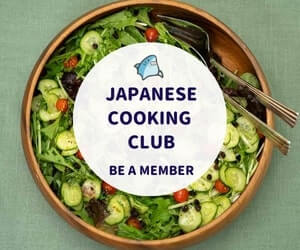 Shirataki vegetable soup 
1

pack shirataki noodles, parboiled and cut

1 ½ cups

onion, sliced

1 ½ cups

celery, sliced

1 ½ cups

red cabbage, sliced

1 ½ cups

aburaage (deep fried tofu pouch), optional: parboil to remove excess oil

1 ½ Tbsp

shoyu kouji

2 Tbsp

sake

1 Tbsp

olive oil

3 cups

vegetable dashi or vegetable stock
White or black pepper to taste
Instructions
In large pot, add olive oil and heat on medium.
Once the oil is hot, add the onions and cook until they begin to slightly brown.
As you notice the onion beginning to brown, add the celery and cook for a few minutes stirring occasionally.
Next add the cabbage and the shoyu kouji along with the sake. Stir a few times to mix and cook until the alcohol is cooked off
Next add the dashi and the shirataki noodles.
Simmer for about 10 – 15 minutes.
Once you've simmered it add the aburaage and some freshly cracked pepper if desired.
Serve hot
Notes
If you have no vegetable dashi, you can use any vegetable stock or mix water with shio koji or shoyu koji.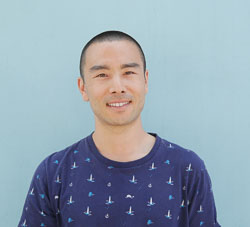 Konnichiwa! (Hello!) I'm Pat Tokuyama, a Japanese tofu cookbook author, who travels for music, food, and adventure. If you like Japanese tea, checkout some of the newestorganic japanese teas now in stock!!
** Curious about the Plant Based Japanese Cooking Club? ** Learn more here!

have you tried a japanese shirataki dish before?
now you have three you can try!
which will you be trying first? lmk in the comments!