Salted Texas Chocolate Cupcakes with Pistachios
Yo! I'm Pat, a self-taught cook, who travels for music, food, and adventure. Here I share my knowledge of Japanese cooking, indoor gardening, and points travel.
If it's your first time here - learn more about me.
I go Live on Youtube each Weds - Live Cooking Season 2 @ 6PM PST! join me in my kitchen!
Salted Texas Chocolate Cupcakes with Pistachios!
I have held on to this recipe for years and never made them.
After having a taste of the chocolate paradise these cupcakes provided, I can't believe I waited so long!!
The original recipe is for a sheet cake, but I was craving cupcakes.
So, rather than put it into a large cake pan, I poured the batter into my cupcake pan. It made a little more than 12, so I had to put the rest in a bread loaf pan.
So at the end of the day, I baked 12 cupcakes and a mini cake.
Recipe changes
I make them a lot. Do you?
For this, the modifications I made to the original recipe include: cutting back on the salt by 1/4 tsp. and sugar by a half cup for the batter.
For the frosting, I increased the vanilla by 1/2 teaspoon since I feel like cocoa flavor always overpowers vanilla in chocolate frosting.
I didn't notice the lack of salt and regarding the sugar, the frosting was more than sweet enough.
The nice thing that happened while making these is that I actually ran out of frosting!! I don't know about you, but that never happens to me.
Usually, I have way more than enough frosting.
But maybe I was overly generous on my cupcakes.
Another half-batch of frosting was enough to finish the rest of the cupcakes!
If these cupcakes don't speak to you that's okay. Sometimes food has trouble speaking. 🙂
Thank you for stopping by and have a great weekend!
In case you missed them, here are some of my other dessert posts!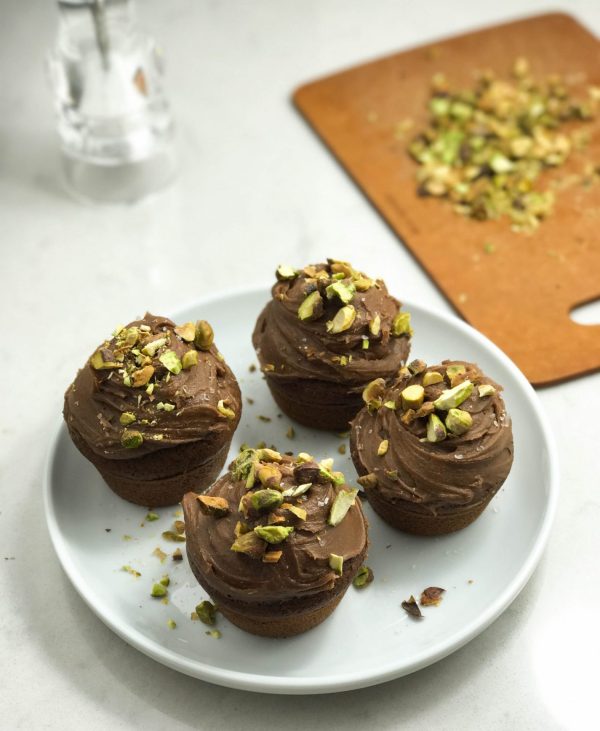 | | |
| --- | --- |
| | |
Preheat oven to 350°. Butter and flour a cupcake pan and bread loaf pan. Bring cocoa powder, 1 cup butter, and 1 cup water to a boil in a small saucepan and remove from heat. Set aside.

Meanwhile, whisk sugar, baking soda, salt, and flour in a medium bowl. Add eggs, buttermilk, and vanilla in another bowl and mix. Gradually incorporate the wet into the dry ingredients. Add cocoa-butter mixture and whisk until smooth. Transfer batter into prepared cupcake pan and bread loaf pan (if using).

Bake until toothpick inserted into the center comes out clean, 35–40 minutes. Once done remove from oven and cool on a wire rack.

While cupcakes are baking, make the frosting. Heat butter, milk, and cocoa powder in a medium saucepan over low heat, whisking occasionally, until butter is melted and mixture is smooth. Remove from heat and whisk in powdered sugar and vanilla.

Once cupcakes and frosting have cooled, spread frosting over cupcakes and minicake and top with pistachios and sea salt.
If the frosting is too runny, which it probably will be, put it in the freezer for a few minutes to harden up.