Pan Fried Agedashi Tofu with Shishito Peppers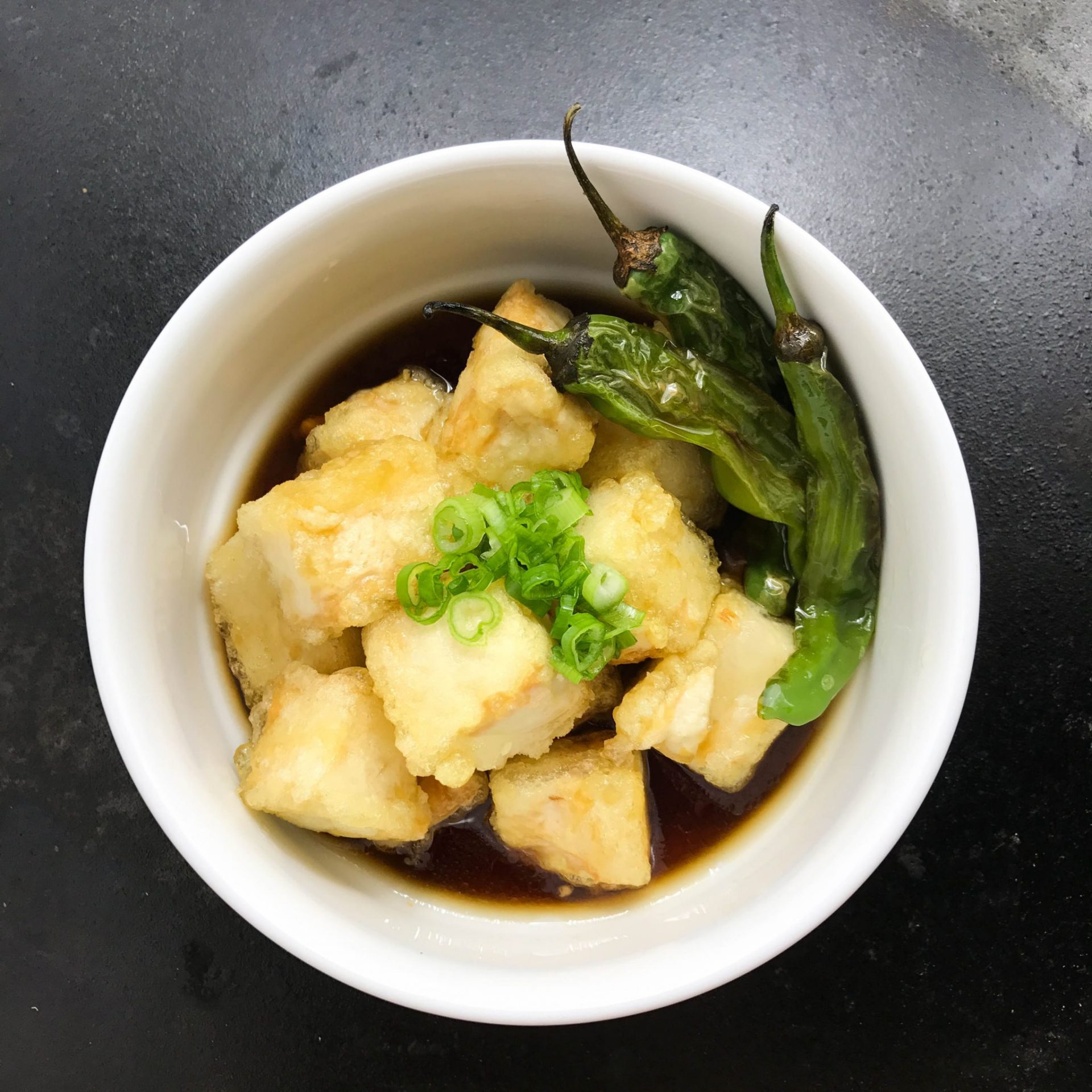 Pan Fried Agedashi Tofu with Shishito Peppers!
Today I wanted to share another version of agedashi tofu (揚げ出し豆腐).
This is one of my favorite appetizers to order in Japanese restaurants.
I love the crispy exterior that contrasts with a super soft tofu interior. These literally melt in your mouth.
The savory sauce is the perfect bath for these tofu blocks and shishito peppers add a spicy kick to the otherwise, unspicy dish!
Even better, you don't need a deep fryer for these!
In fact, I just use a small skillet or fry pan. I also use olive oil to keep it as healthy as possible.
Watch the timelapse below to see how easy it is to make.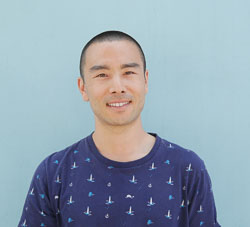 Yo! I'm Pat, a self-taught cook, who travels for music, food, and adventure. Here I share my knowledge of Japanese cooking with a weekly video and recipe.
My first cookbook Tofu Ryouri - Cooking with Japanese tofu will launch October 2, 2018! For more info click here!

You can essentially divide making agedashi tofu into 4 steps
Make the sauce
Cube the tofu and coat with potato starch
Fry tofu on all sides
Serve with the sauce poured over while still hot!
2/15/18 Update- I recently did a live demo of agedashi tofu, which you can watch below – 
Here is another version of the recipe. The sauce is slightly different, but the taste is just as good!
How to make Agedashi Tofu (fried tofu)
This is one of my most popular recipes, and for good reason! Please help me get the word out and Pin it~ !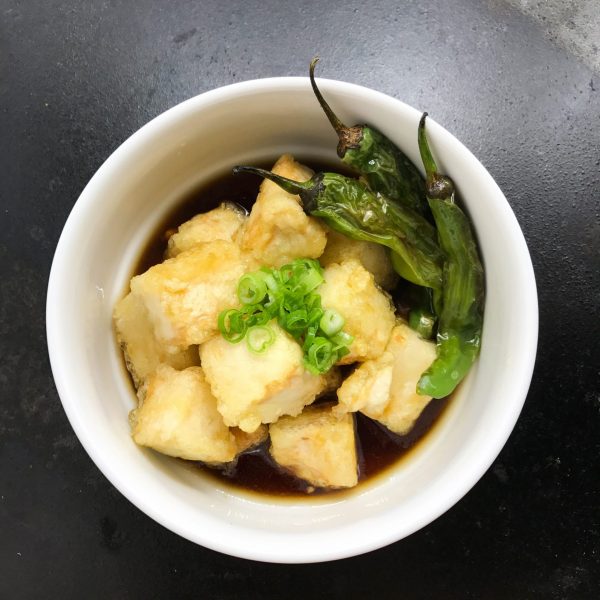 | | |
| --- | --- |
| | |
First, drain the tofu and slice into small cubes, about 1/2 in x 1/2 in.

Lay down a paper towel or two and place the tofu on top to soak up extra moisture. Use another paper towel to dab off the top side. (You want it to be moist enough to allow the starch to stick, so don't dry off completely!)

With excess moisture removed, sprinkle the potato starch over the tofu and coat each block well. (This is what will make the crispy skin on the outside of the tofu.)

Once all sides are coated in starch, heat up your frying pan.

Add a good amount of oil to your pan. Once shimmering, add in the tofu and cook each side until slightly browned. (if not comfortable with chopsticks you can use a spatula or tongs, but be gentle otherwise the tofu will break)

In between the tofu blocks, add in a few shishito peppers and pan fry. Rotate once and then remove from pan once slightly browned. Repeat with additional peppers if desired.

Meanwhile, you can mix together the ingredients for the sauce.
Using a small pot, combine the dashi stock, soy sauce and mirin.

Bring it to a simmer and allow to cook for 4-5 minutes before removing from heat.

Once tofu has been lightly browned on all sides, remove from the pan and place on a paper towel lined plate (optional).

After tofu has finished, place into a small bowl and drizzle the sauce over it. Garnish with grated daikon or grated ginger and or green onions. Time to chow down!!