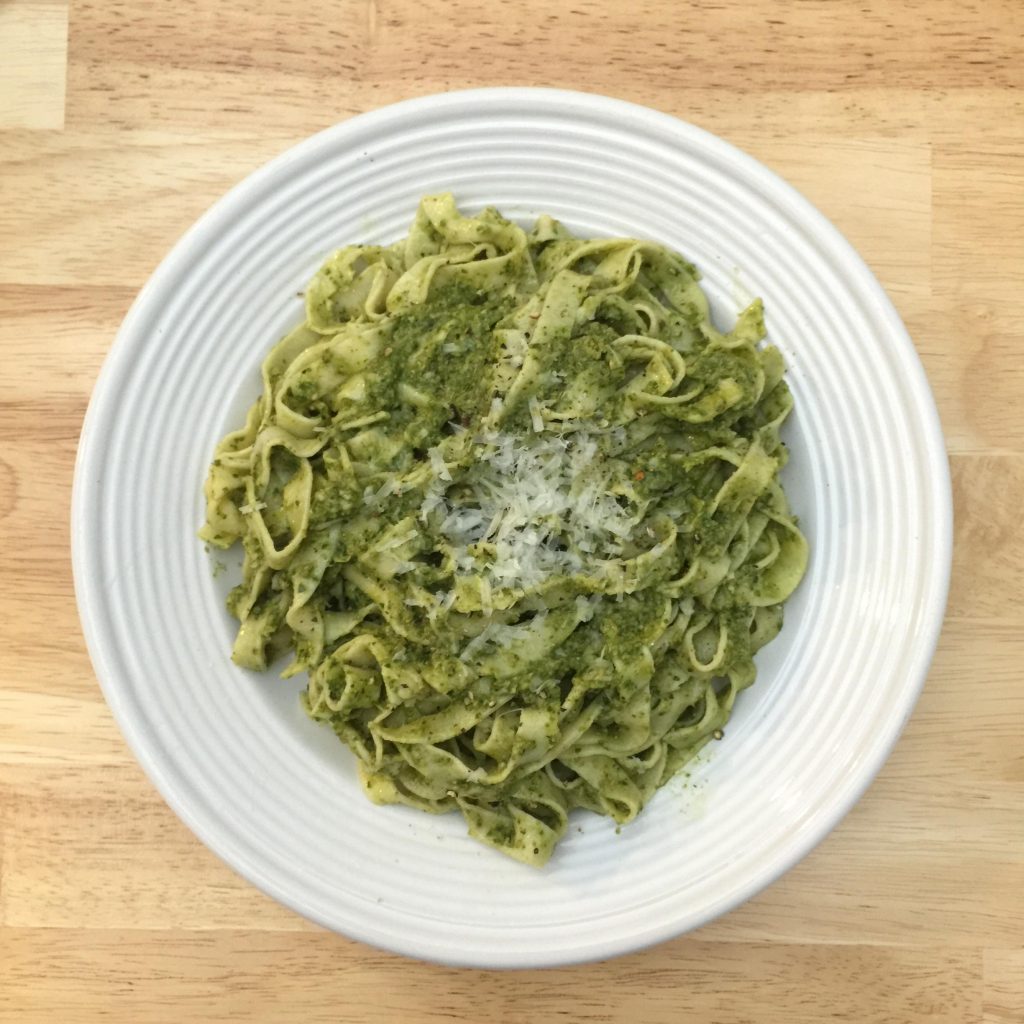 Pesto
According to Wikipedia, traditional pesto came from Genoa, Italy.
Imagine a thick dark green sauce.
Not smooth like cream and coarser than cornmeal.
It's green, shiny, and pungent.
Crushed garlic, pine nuts, salt, basil, Parmigiano-Reggiano, pecorino sardo, and olive oil.
All swimming happily together like the fish in the sea.
Yum-e! Did it work ?
Are you salivating? if not maybe you haven't been conditioned.
Lucky you! Actually, I don't know if that's good or bad. You tell me!
Now, back to the arugula and walnut pesto recipe.
I got this idea from my mom. She went to a cooking class at Sur la Table where she had it and told me I should try making it.
It sounded pretty interesting since I hadn't heard of this type of pesto before.
And, I like walnuts and I like arugula.
I think walnuts and arugula make a good combo in salads. But, I was a little skeptical about adding pasta to the mix.
As such, it wasn't one of those recipes that I was dying to try.
So I let it sit for a few months. And of course, while it was collecting dust, both Food and Wine and Bon Appetit published recipes similar to the one I got.
Fancy pestos made without basil. I remembered the recipe my mom gave me and decided the time had come.
dun dun dun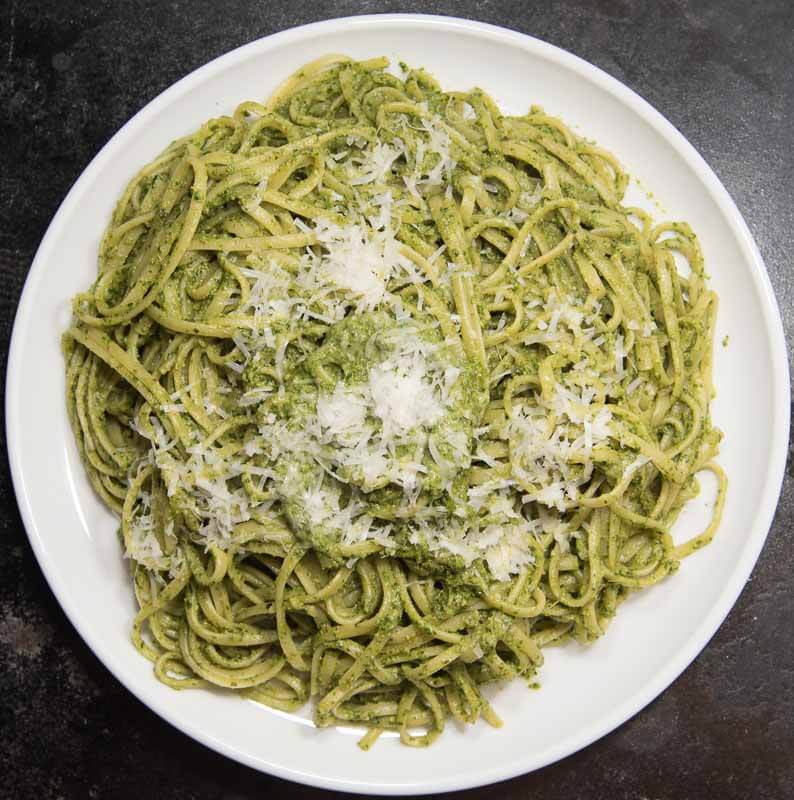 Arugula Walnut Pesto
I think what makes this pesto stand out is the sherry vinegar.
Do not substitute or skimp on this, it makes all of the flavors pop and really makes this dish come together.
I got the below bottle on a recent trip to Spain. It was quite good!
Here is the finished arugula walnut pesto. I made the fresh pasta just after this. Watch my videos to see me in action!!
Fresh Fettuccine Pasta
Or any flat pasta like linguine (pictures below) or papardelle will do.
The time finally came where I was feeling itchy.
Not physically from mosquitos, but emotionally to make and east pasta. Does that happen to you ?
I remember the first time I had fresh pasta. It changed my tasted buds forever.
I made it myself and didn't really know what to expect.
And if you've never had fresh pasta, I would describe it as light and chewy.
It has a delicate flavor and texture that dried pasta cannot provide.
My mom got me the Kitchen Aid Mixer and pasta attachment set as a gift for Christmas many years ago.
The first time I tried using it, I made a mess and got spaetzel versus pasta.
The second dough disc came out much better however.
I think if you have the opportunity to, you should make fresh pasta.
You don't even need the KitchenAid equipment, it will just be a bit more work in rolling out and cutting the dough.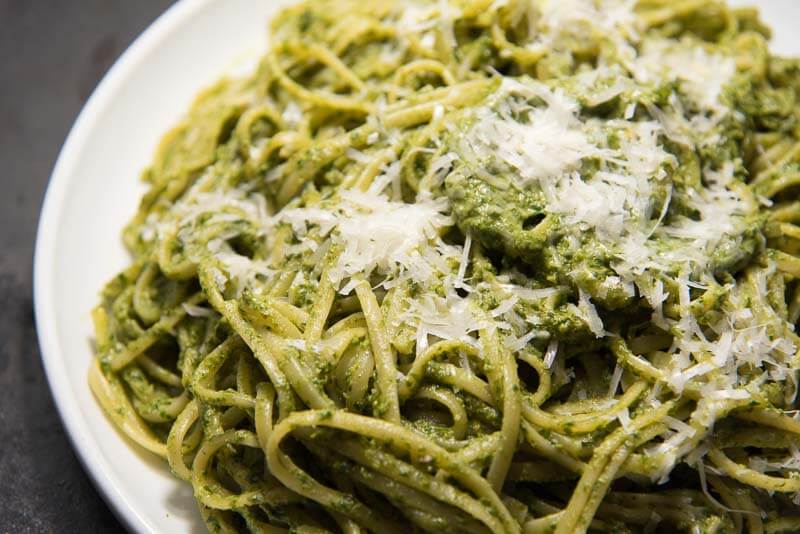 Here's a video I put together showing how to make the arugula walnut pesto! 
NOTE The Williams-Sonoma fresh pasta recipe is my go to recipe for fresh pasta. I've made it many times and it always comes out light and not too chewy. It does contain eggs, but is not that 'eggy'.
In case you missed them, here are some of my other pasta recipes!
[display-posts tag="pasta"]
Arugula Walnut Pesto
Prep Time:

15 minutes

Total Time:

15 minutes

Yield:

4

people

1

x
Category:

Main Dish

Cuisine:

Italian, New American
4

cloves garlic

2/3 cup

walnuts (toasted)

5 cups

packed arugula

1/2 cup

flat-leaf parsley (chopped)

1/2 cup

extra-virgin olive oil

2/3 cup

Pecorino Romano cheese (grated)

2 Tablespoons

sherry vinegar (+more to taste )

1

whole lemon (zested and juiced)
salt to taste
freshly ground black pepper

1

pound fresh fettuccinne
Instructions
Measure out and combine the garlic, walnuts, arugula and parsley in a food processor and chop thoroughly.
Add olive oil to process even more until it resembles a pesto.
In a large bowl, mix the greens just processed with the cheese, vinegar, lemon zest and juice until just combined. Add salt and pepper to taste.
Prepare fresh fettuccine noodles and reserve at least a cup of pasta water.
Once noodles have cooked, drain. In the hot pot, return cooked noodles one serving at a time and mix with a dollop of the pesto. Add the pasta water to thin pesto as needed.

Serve immediately with more grated Pecorino romano and cracked pepper.