Today we are making tofu kabayaki steaks! This is a little bit similar to what I did previously with my tofu kabayaki donburi. In that recipe, you'll see how I made kabayaki unagi, or fake unagi with tofu and yamaimo.
We're going to be doing a little bit of a different take on that with this recipe.
It's going to be using firm tofu, and we're going to be making steaks.
It's little squares that we're going to saute in a little bit of potato starch and olive oil.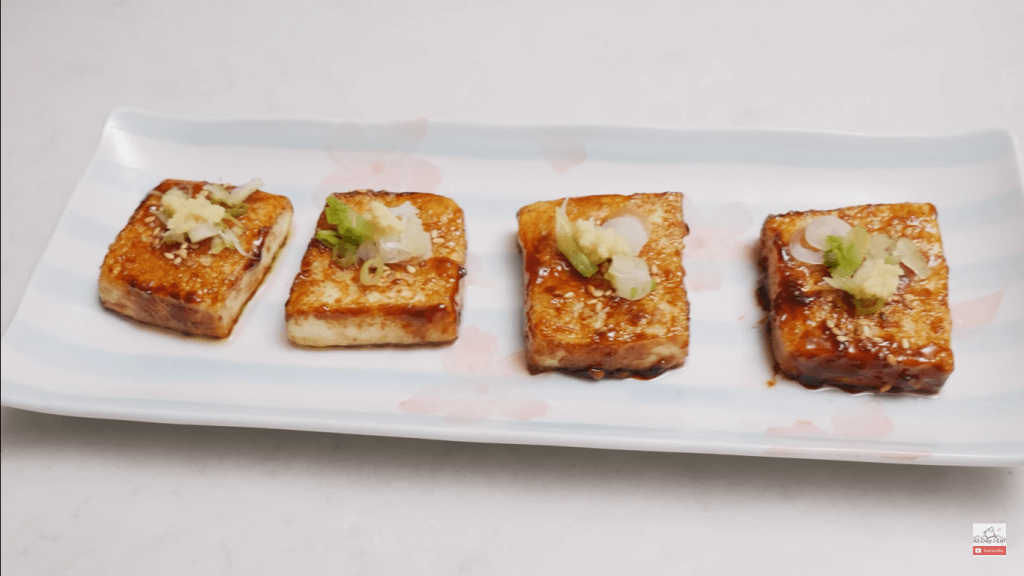 What is kabayaki?
If you've never heard of kabayaki before it's a sweet and salty sauce. The traditional kabayaki is usually used with unagi (eel) but we're trying to eat a little bit more tofu these days so that's why we're using tofu steaks.
It has plenty of flavor and all you need really is just a little bit of rice.
Kabayaki is a popular way to season and cook eel. The real thing is extremely delicious and full of fat, flavor and umami. Tofu may not have all the fat and flavor of eel, but is an excellent vehicle for the tasty kabayaki sauce.
That will be our little meal for today. Pretty straightforward and easy. Comes together very quickly. Just the way we like it.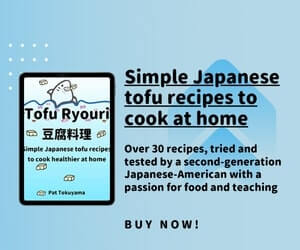 Tips for making delicious tofu steaks
First thing that we're going to be doing is getting all the excess water out of the tofu.
It's called misowokiru. That means to remove the water from the tofu.
There are several ways that you can cut out the water from the tofu.
We're going to be using the microwave today because it's one of the quickest.
Some of the other techniques take longer, like putting weight on it, obviously.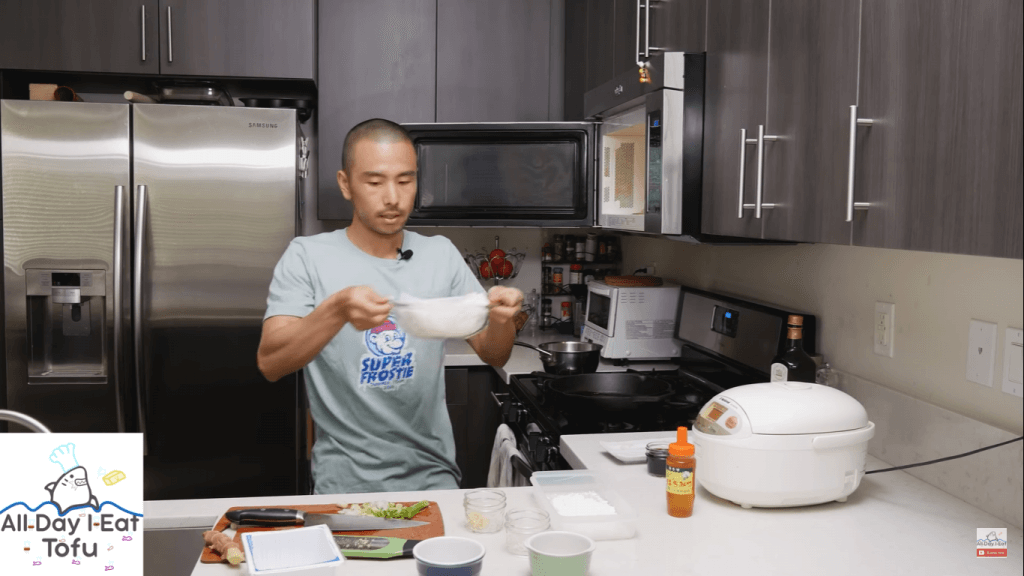 You can use cornstarch if you can't find potato starch. They're interchangeable.
You can also use soft tofu, but you have to be a little bit more careful when you're flipping them because it tends to break. That's why I used firm tofu today.
Have you guys made tofu steaks before? If so, how did you season them? Let me know in the comments below.
And let me know also if you will be making this tofu steak recipe. I'd love to hear from you!
On a side note, I wonder if these would taste good in a hamburger! Tofu kabayaki steak hamburgers? That could be something worth trying!
Or sliders. These would probably be better as sliders because they're so small, right? Tofu kabayaki sliders? Maybe we'll give that a try next time!
Print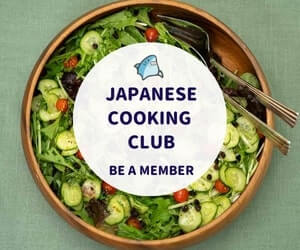 Japanese tofu recipe | Tofu steaks with kabayaki sauce (EASY!)
1

block firm Tofu

3

–

4

Tbsp Potato starch
Ginger (freshly grated)

1

–

2

green onions (finely chopped)

1 Tbsp

sesame seeds (toasted)
extra-virgin olive oil (for pan-frying)
Kabayaki sauce
3 Tbsp

soy sauce

2 Tbsp

mirin

2

–

4

drops honey

1 Tbsp

sake

1

–

2

tsp grated ginger (with juice)
toppings
Green onion (chopped)
Ginger (grated)
Sansho pepper
Instructions
For the kabayaki sauce
Mix all ingredients in a small mixing bowl or jar. Set aside
For the steaks
Microwave the tofu with a paper towel in a bowl for 2 minutes and 30 seconds.
Cut tofu into flat 1 in. squares, 1/2 in. thick.
Pat dry and coat lightly on all sides with potato starch.
Using medium heat, add 2-3 Tbsp extra-virgin olive oil to a large skillet and when shimmering, add the tofu squares.
Pan-fry both sides until they've turned a light gold, roughly 2-3 minutes per side.
Once the second side has lightly browned, turn heat to medium-low and then add the kabayaki sauce to the pan and cook until thickened. About 1 minute.
Once each square is thoroughly coated, top with desired garnishes, and serve.
Notes
Tips:
-You may need to do this in two batches depending on how big your pan is. Reserve half of the sauce for the other half of the tofu block.
-If you are out of potato stach, use corn starch or all-purpose flour. All-purpose flour will give a nice coating but may not allow the sauce to stick as well as with the starch.
-If you really enjoy the flavor of sesame oil, consider frying in a 1:1 mixture of sesame to olive oil or 100% sesame oil!