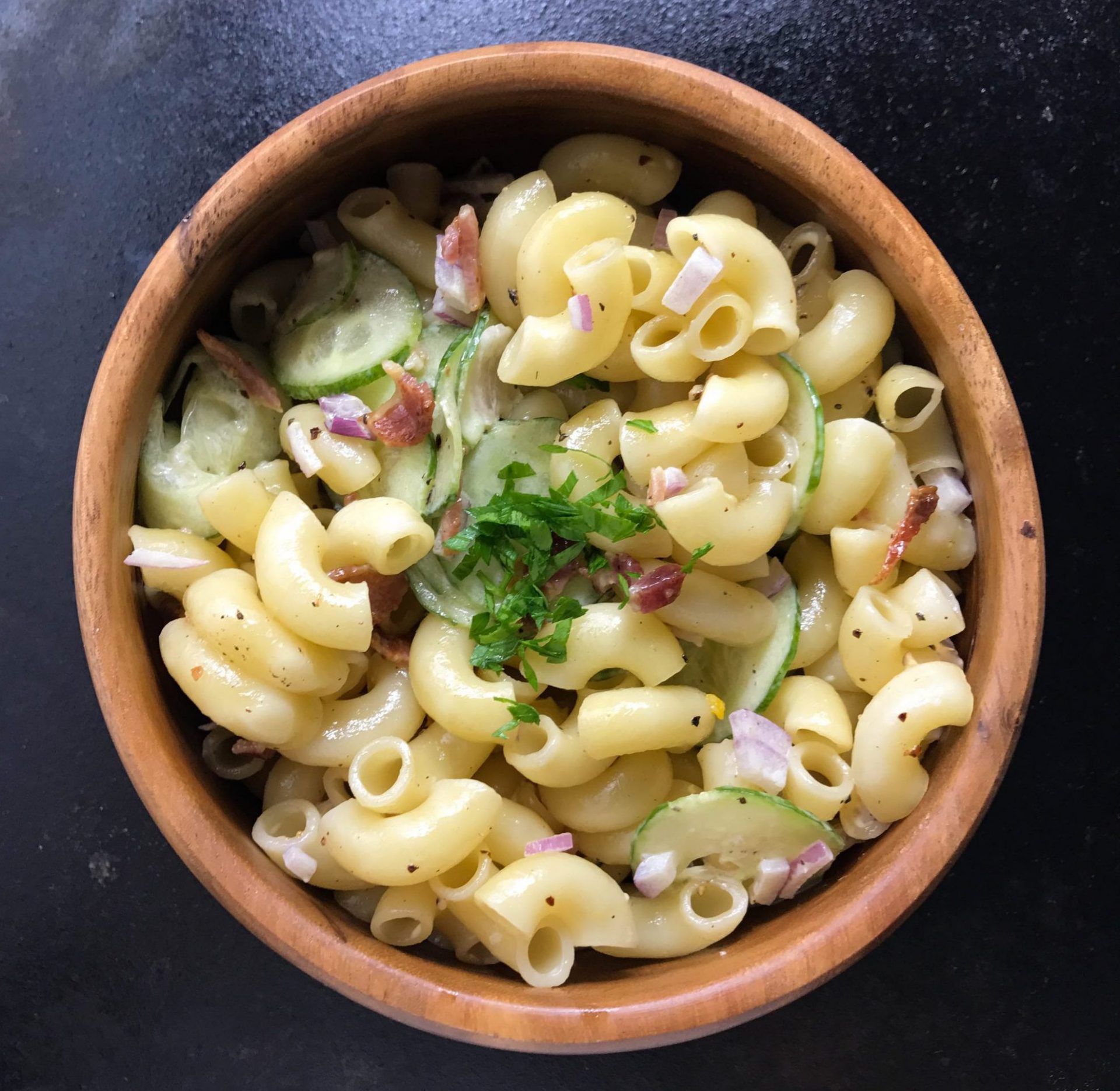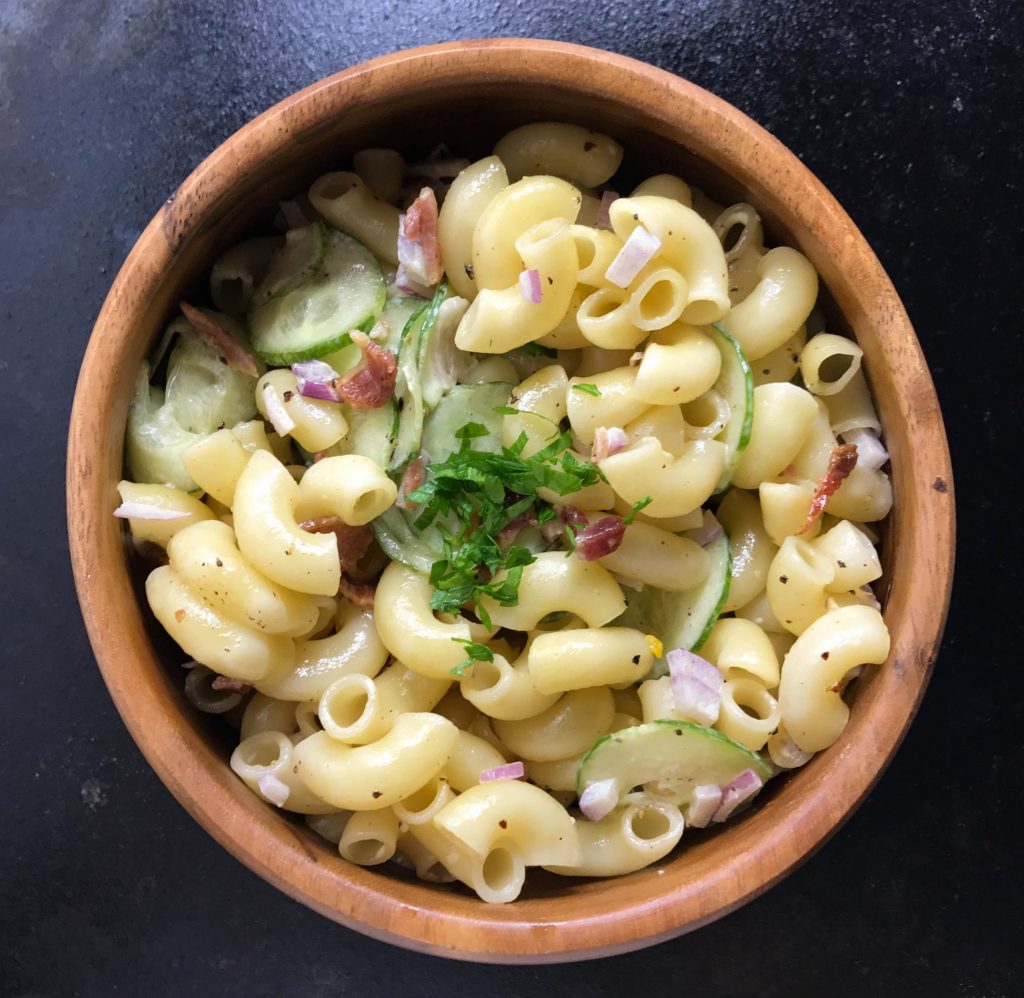 Holy Moly Macaroni!
Is what I thought when I tasted this macaroni salad!
Yes, it is just a macaroni salad. And maybe it's been a long time since I've made it, but this one was quite good!
It's not heavy and is a solid side to go with any meal (like the one pictured below~).
The red onion and cucumber help to balance some of the bacon bits and mayo.
But there isn't that much mayo really.
And I actually replaced some of it with olive oil to make it healthier. Woohoo!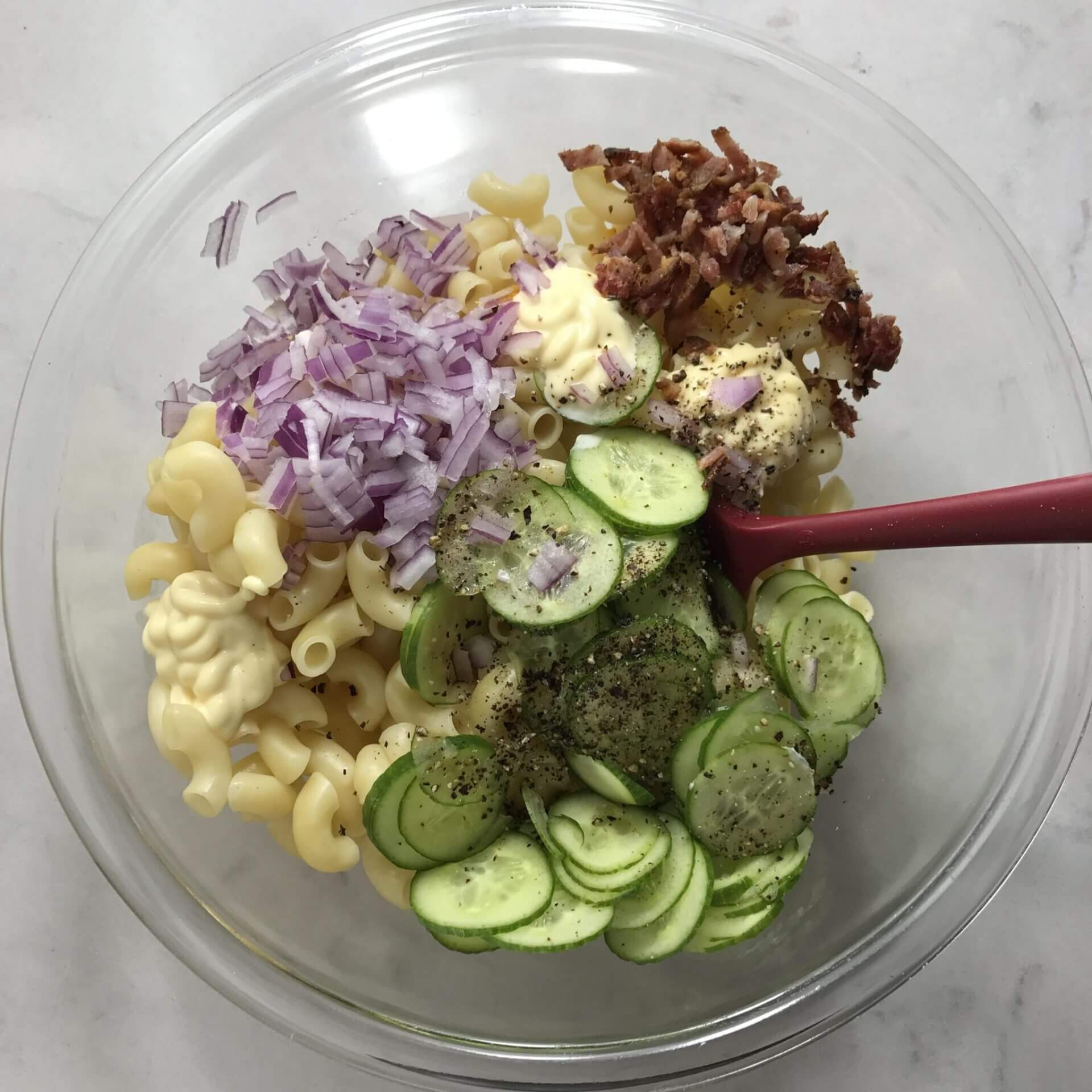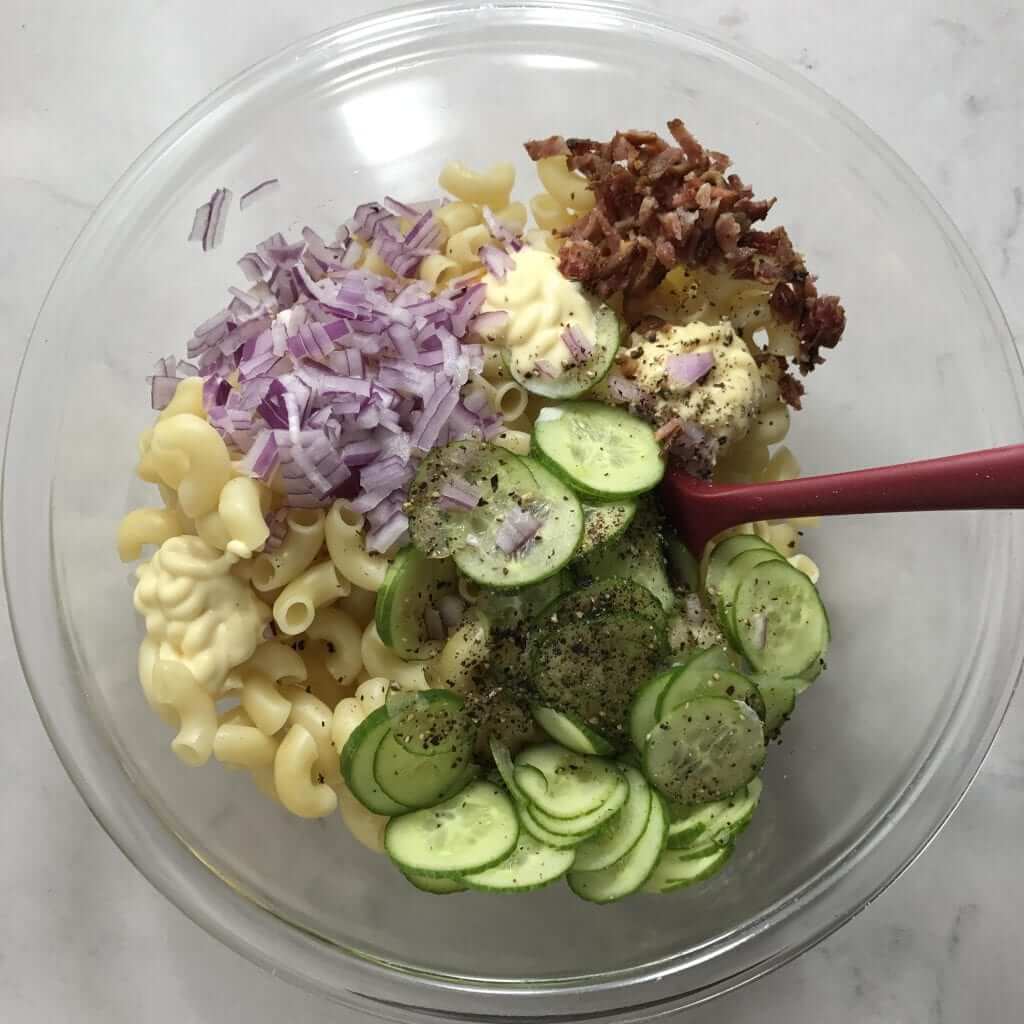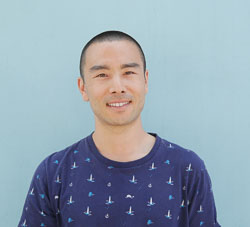 Konnichiwa! (Hello!) I'm Pat Tokuyama, a Japanese tofu cookbook author, who travels for music, food, and adventure. If you like Japanese food and it's your first time here, consider joining the new plant based japanese made simple community - to cook and be healthier today - with japanese food!!
** Curious about the Plant Based Japanese Cooking Club? ** Learn more here!

It tastes great hot or cold
And you could even add a bit of lemon or lime if you want a little acidity in there.
Now that I think of it, you could probably do a lot more and just use this as a base.
But if you aren't too adventurous, this salad is an easy one to get started with.
As a whole, the macaroni salad is well balanced, with fresh flavors, and easy to make.
What do you think?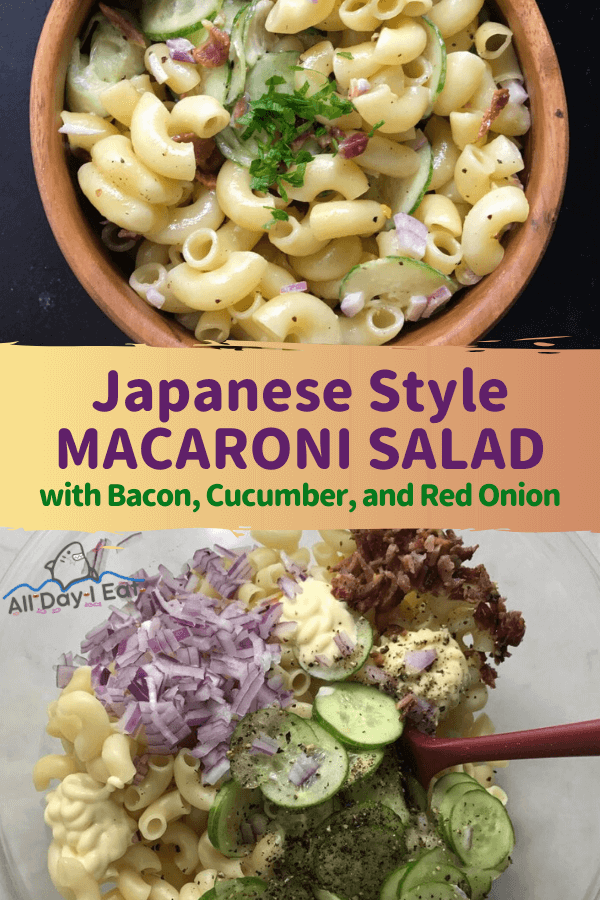 Here are the other parts of the menu!
Sauteed Kabocha with Sake and Soy Sauce
Japanese Style Broiled Mackerel with Salt (Shioyaki)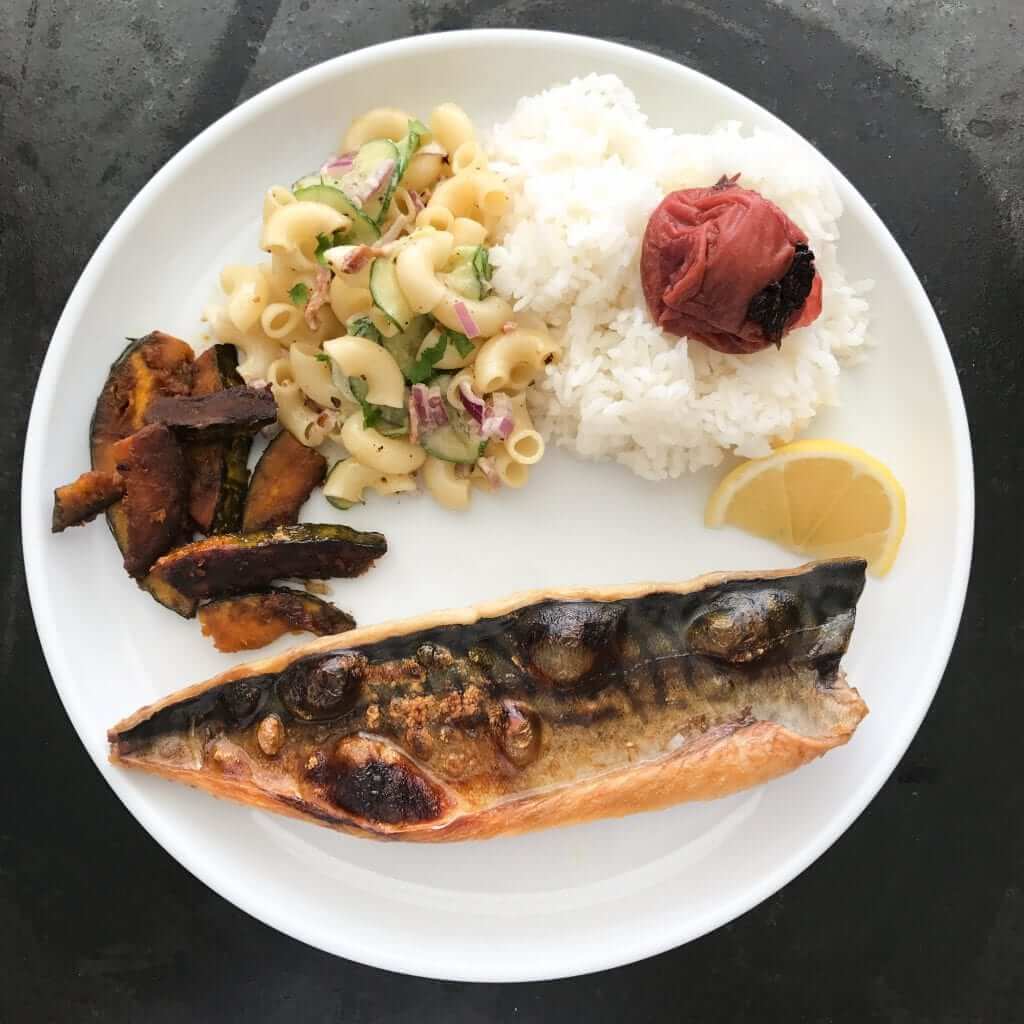 For those keen on getting started cooking Japanese food, I've put together a quick reference on Japanese Food Supplies that can help get you started! Check it out if you haven't seen it yet!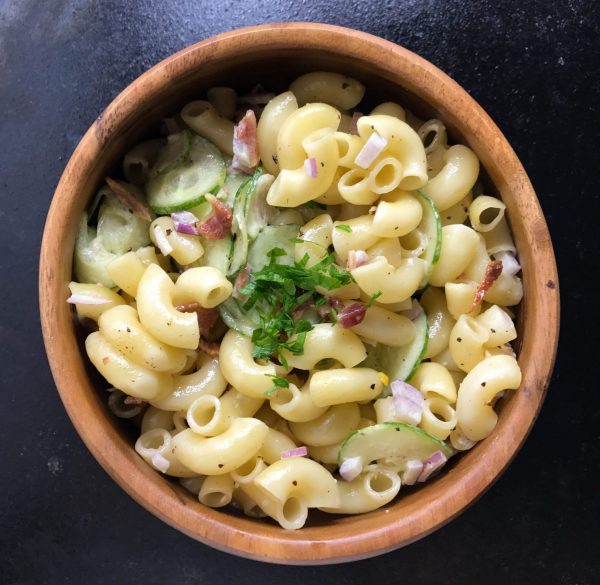 | | |
| --- | --- |
| | |
First boil the macaroni in salted water according to the package directions. Once al dente, drain and transfer to a bowl. Add in olive oil to prevent pasta from sticking.

Use a small frying pan to saute the bacon until crispy. Once done, remove from heat and place on a paper towel lined plate to soak excess oil.

Meanwhile, chop the red onion and slice the cucumber and set aside.

Once the pasta has cooked, combine with onion, cucumber, and bacon in a large bowl. Add in the mayo and pepper and mix thoroughly.

Garnish with parsley and serve!
Note- I like macaroni salads warm and cold. It's up to you if you want to wait for the macaroni to cool before mixing with everything!