Can you flambe anything more tasty than Crepes Suzette?
If so let me know!!!
If you haven't heard of this, Crepes Suzette is a super super rich and delicious French dessert made with lots of butter, several liqueurs, and fresh oranges.
I used the recipe from Julia Child's Mastering the Art of French Cooking, Vol. 1 and made some slight changes toward the end. I used slightly less sugar while increasing the liqueur just before the flambe because I like my crepes a little less sweet and with a bit more of the liqueur flavors showing through.
I ate this three days straight with no regrets. It was that good.
My favorite part about making these is playing with fire.
When I was a kid I was a little bit of a pyro and loved playing with fireworks. Actually I think I still do 🙂
This is like playing with fireworks, but rather than seeing pretty colors I get to eat the product of the fire. ????
Make sure to watch your precious eyebrows and long hair or you might be smelling burnt hair rather than a lovely boozy and buttery orange aroma.
This will be my first post with a cooking demo. The footage is mostly raw with a few cuts here and there and walks you through assembly and flambe!????
Let me know what you think both about the video and the recipe!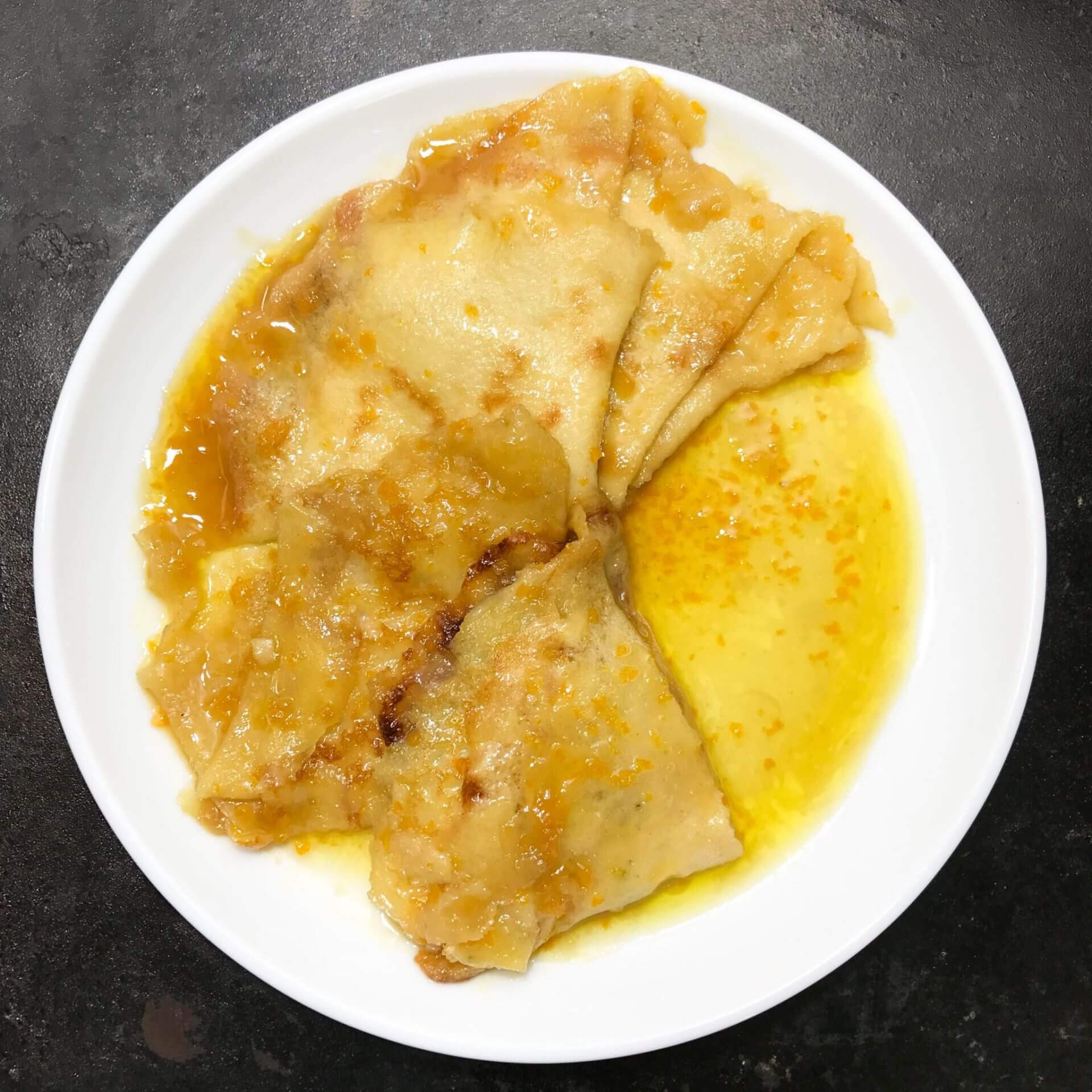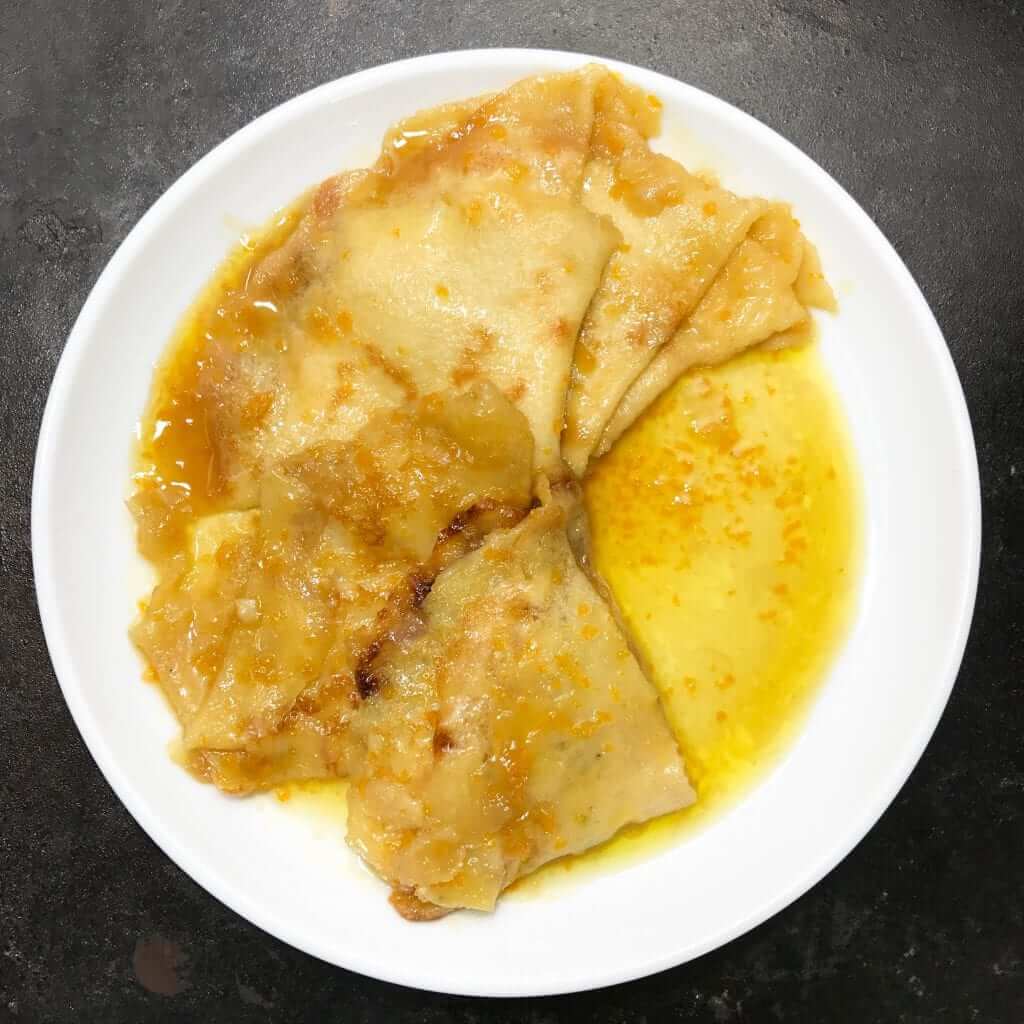 In case you missed them, here are some of my other dessert posts-
[display-posts tag="dessert"]
Print
Classic Crepes Suzette with Rum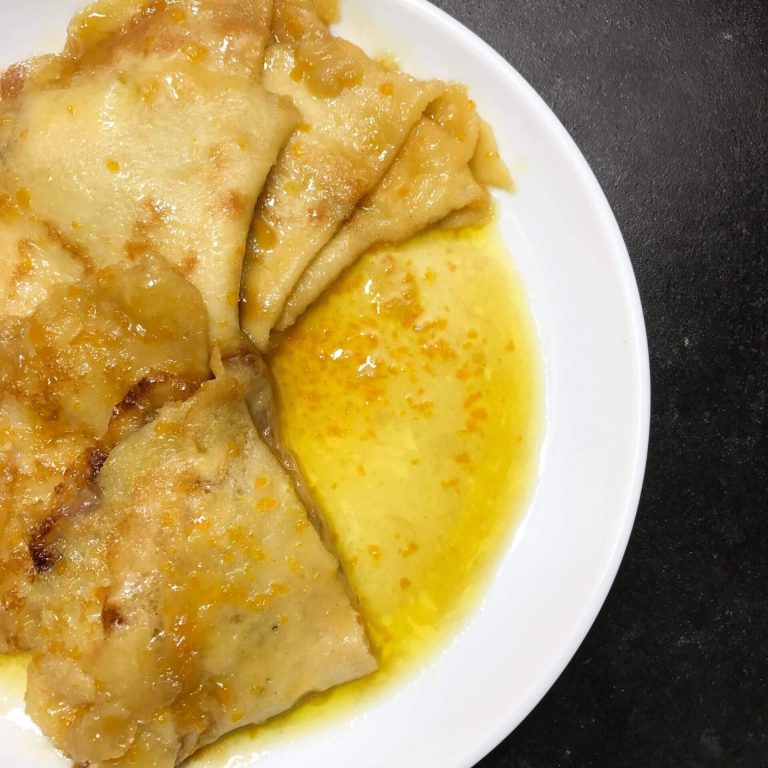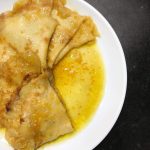 Prep Time:

40 minutes

Cook Time:

30 minutes

Total Time:

1 hour 10 minutes

Yield:

6

people

1

x
Category:

Dessert

Cuisine:

French
Crepes Sucres
3/4 cup

whole milk

3/4 cup

Cold water

2

egg yolks

1 Tbsp

sugar

3 Tbsp

rum (can also use brandy or orange liqueur)

1 cup

AP flour

5 Tbsp

unsalted butter (melted)
Orange Butter using a food processor
1/2

sugar

2

oranges

1/2

lb. unsalted butter

1/2 cup

strained orange juice

3 Tbsp

Grand Marnier
Flambe
1.5

Tbsp sugar (or to taste)

1/3 cup

cognac (for stronger liqueur flavor I increase cognac/Grand Marnier to

1 cup

total)

1/3 cup

Grand Marnier (for stronger liqueur flavor I increase cognac/Grand Marnier to

1 cup

total)
Crepes
Use a blender and add the ingredients in the order listed.
Blend at high speed for about 1 minute, stop and scrape and blend for 5 seconds more to combine.
Refrigerate at least 2 hours, ideally overnight.
Orange butter
Add the sugar with orange zest to your food processor and process for one minute. Scrape down if needed.
Add in the butter by the tablespoon pieces. Process each for 10-15 seconds until all have been added and the butter is slightly fluffy.
Next, gradually add in the orange juice (over 7-8 tiny pours) and pulsing to combine in between additions.
Last add the orange liqueur. The butter should still be creamy by this point, if too thick add a little bit of orange juice by the tsp.
Assembly and Flambe
First you will need to make the crepes, using a cast iron pan or crepe pan, preheat and melt butter.
Pour batter to make crepes roughly 1-2mm thick and 5-6 inches diameter. Once lightly browned on the bottom remove and set aside.
Once your crepes are ready, take 3-4 crepes and fold into quarters.
Using a stainless skillet (or one safe for the flambe), spread on about 3-4 Tbsp of the orange butter. Turn the heat on medium and allow to melt.
Once the butter starts bubbling add on the crepes and cook for a minute or so until most of the butter has been absorbed,
Once 70-80% of the butter has been absorbed turn the heat to low (or off) and pour over the liqueur. (I use about 1/4 cup for 4 folded crepes 6in. dia)
Tilt the pan and increase the heat back to medium so the flame catches on top.
Let the alcohol burn off and once the fire dies out, start spooning the remaining sauce over the crepes.
You'll notice the sauce will start to thicken/harden, so work quickly to transfer to a plate and serve!
Have a taste to reward yourself and remember… sometimes hard work and prep is totally worth it!! Hi fives all around!!
Notes
For the crepes- Recommend using a medium to medium-low flame, like pancakes, crepes take time and you don't want to burn them by using too much heat. Also, I always tilt and rotate the pan immediately after pouring the batter which helps it to spread out evenly across the pan. Letting them rest overnight allows the  gluten to relax and results in a light more delicate texture, read here for more info
For the orange butter– You want the butter to remain creamy, if you think it's too thick consider adding a tsp. of orange juice to the butter.
For the flambe– you could also turn off the stove and use a match or a fireplace lighter, make sure to have at least a 4-5 foot clearance above your flambe pan, since the flame gets big!