Beef bourguignon is a classic recipe that you may have heard from food enthusiasts who are into French cuisine. It is traditionally prepared by stewing beef with red burgundy wine.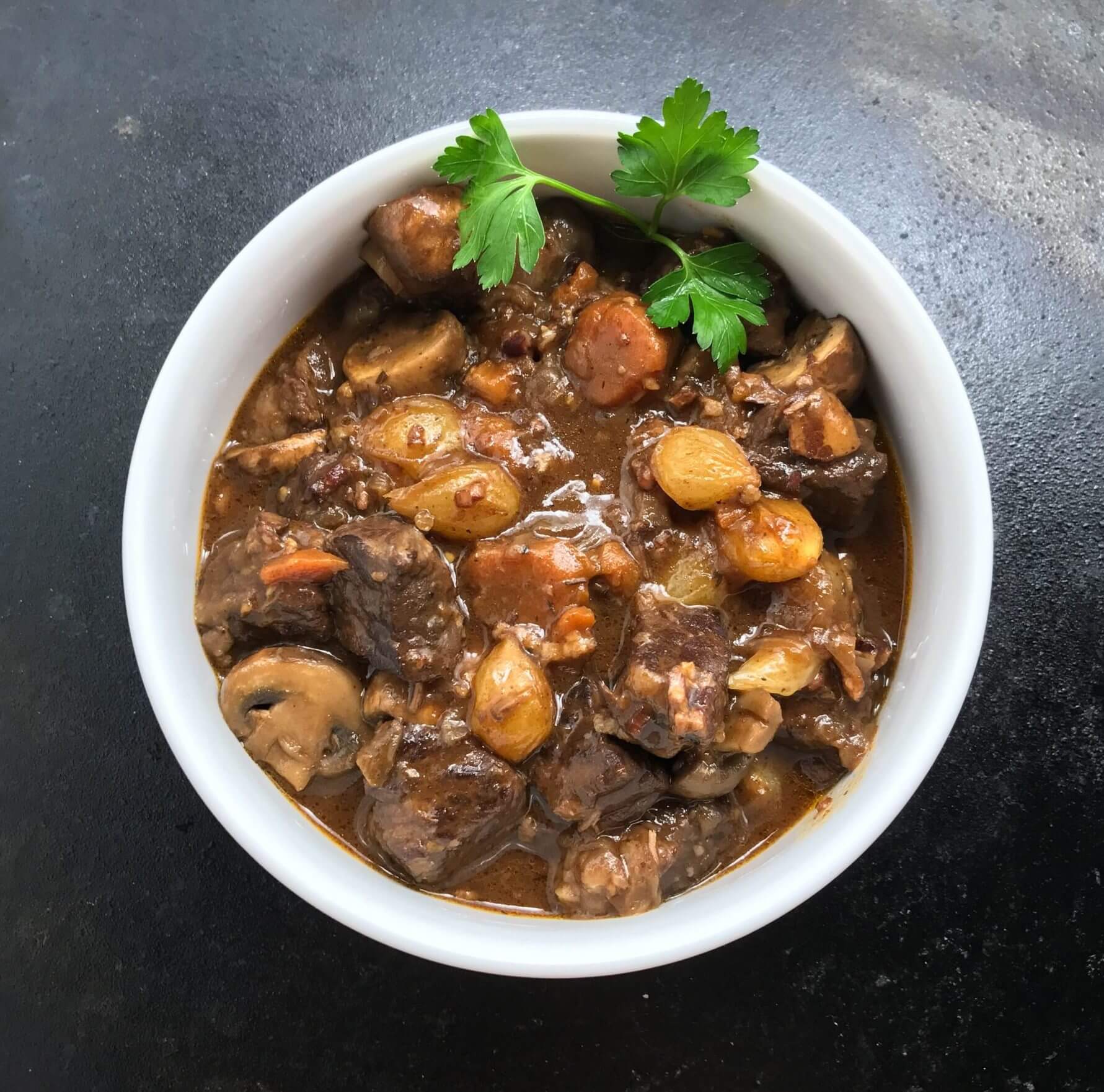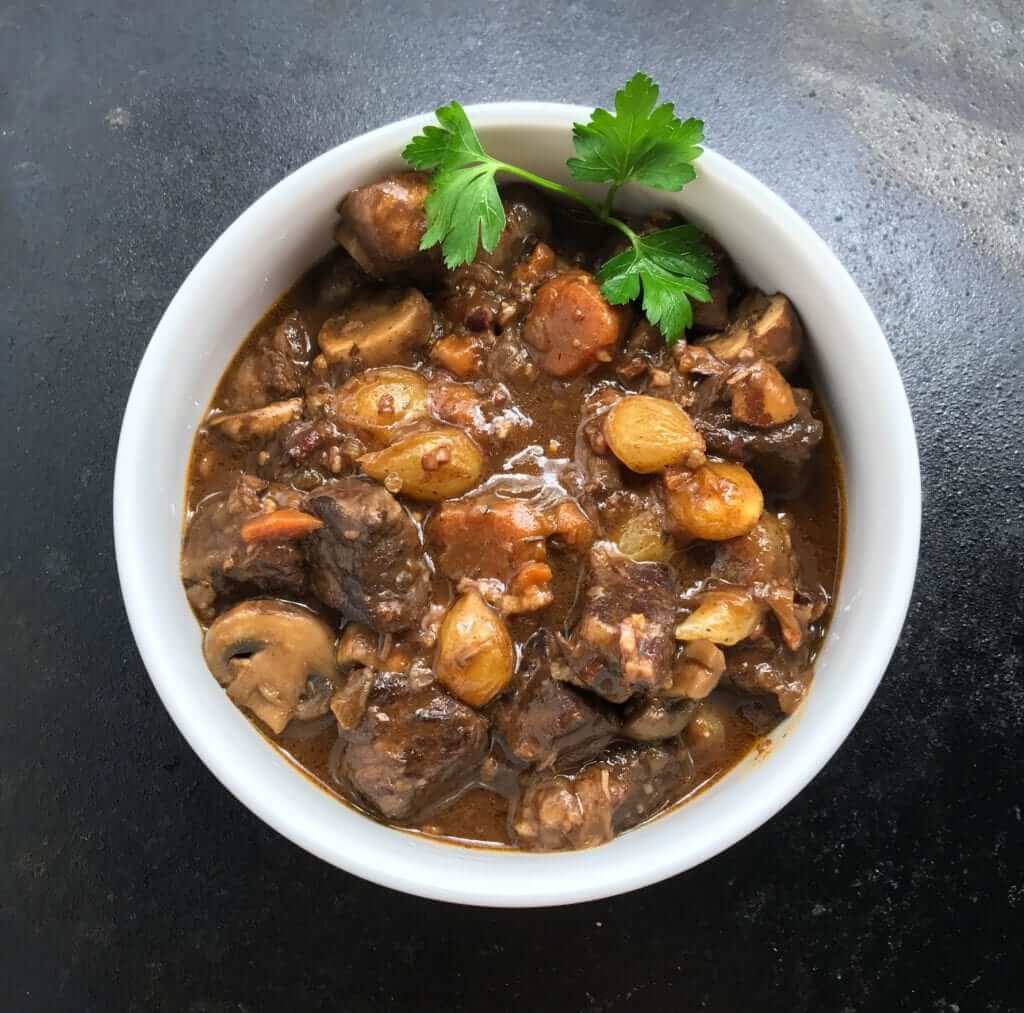 Classic culinary favorite: Beef Bourguignon
This is another one of my attempts at making the French classic. How about you?
As a result of my trip to France last fall, I wanted to recreate some of the food I ate there, and to make my own homecooked meal. This recipe did not disappoint.
It takes a lot of work and steps but that work is well worth it.
I've made it several times before and the recipes were not keepers.
After I realize my technique was off, that may have been a partial contributor to those unmemorable results, I found the recipe and procedure that I can use (and share with you as well).
Guess who came to save me from my poor cooking outcomes?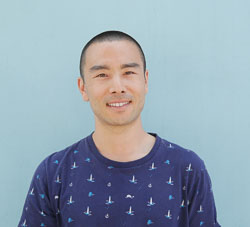 Konnichiwa! (Hello!) I'm Pat Tokuyama, a Japanese tofu cookbook author, who travels for music, food, and adventure. If you like Japanese food and it's your first time here, consider joining the new plant based japanese made simple community - to cook and be healthier today - with japanese food!!
** Curious about the Plant Based Japanese Cooking Club? ** Learn more here!

Julia Child! 
If you haven't read her French cookbooks, she gives you a lot of pointers and rationale for the techniques employed in French cooking.
It makes a difference. And the good thing is that they can be learned.
Now that I've seen the light, I wanted to share some of it with you too! I tried to capture the details and techniques in my instructions below.
I tried to follow her recipe as close as possible. The only deviations I made from her recipe include:
cutting back on the salt by 1/2 tsp
increased carrots by one
doubled pearl onions
doubling the garlic and bay leaf
use of bouillon vs homemade stock
If you want the unadulterated recipe, undo the modifications above.
Otherwise, the original can be found in Mastering the Art of French Cooking, Vol. 1. 
As always, thanks for reading, and hope you get a chance to try this one out!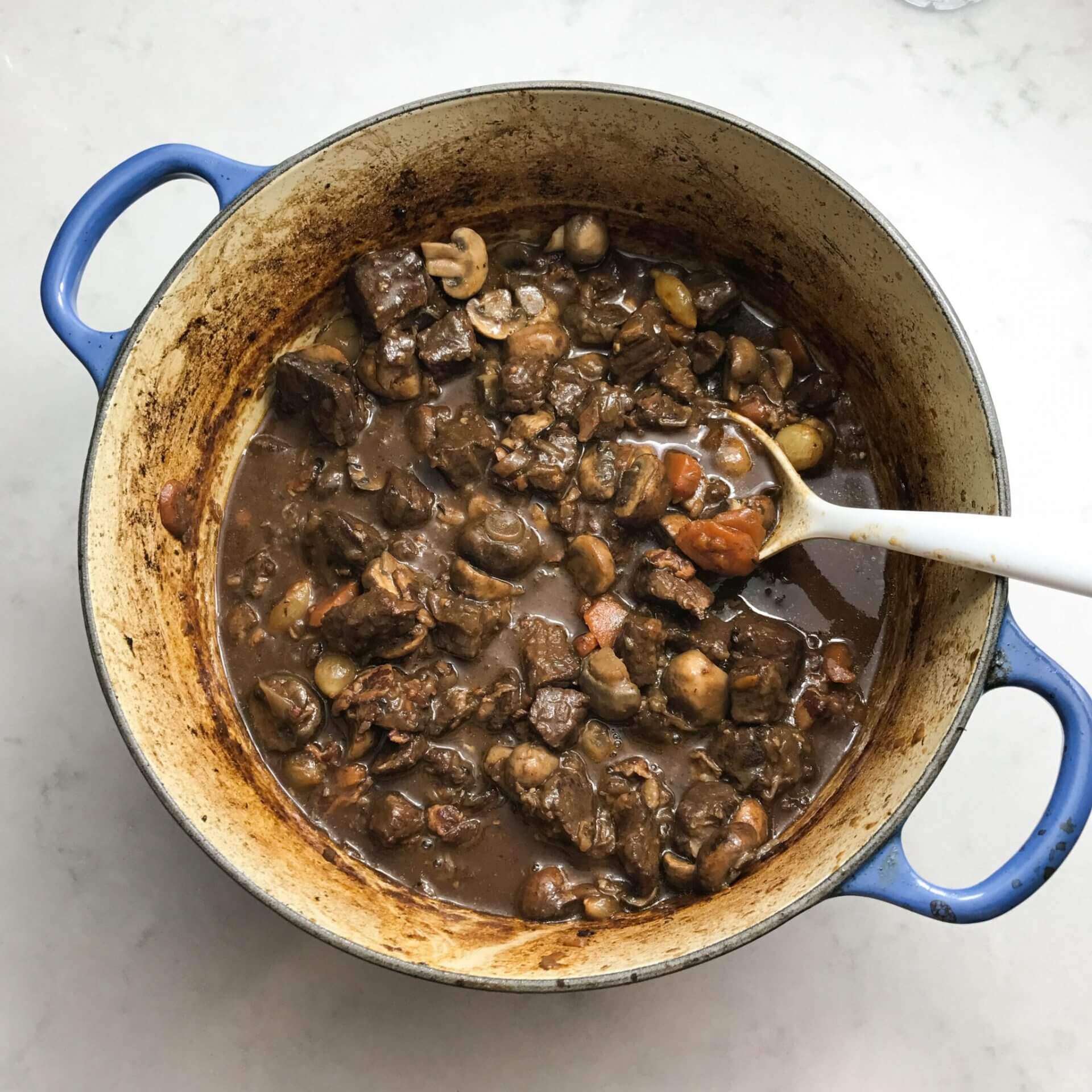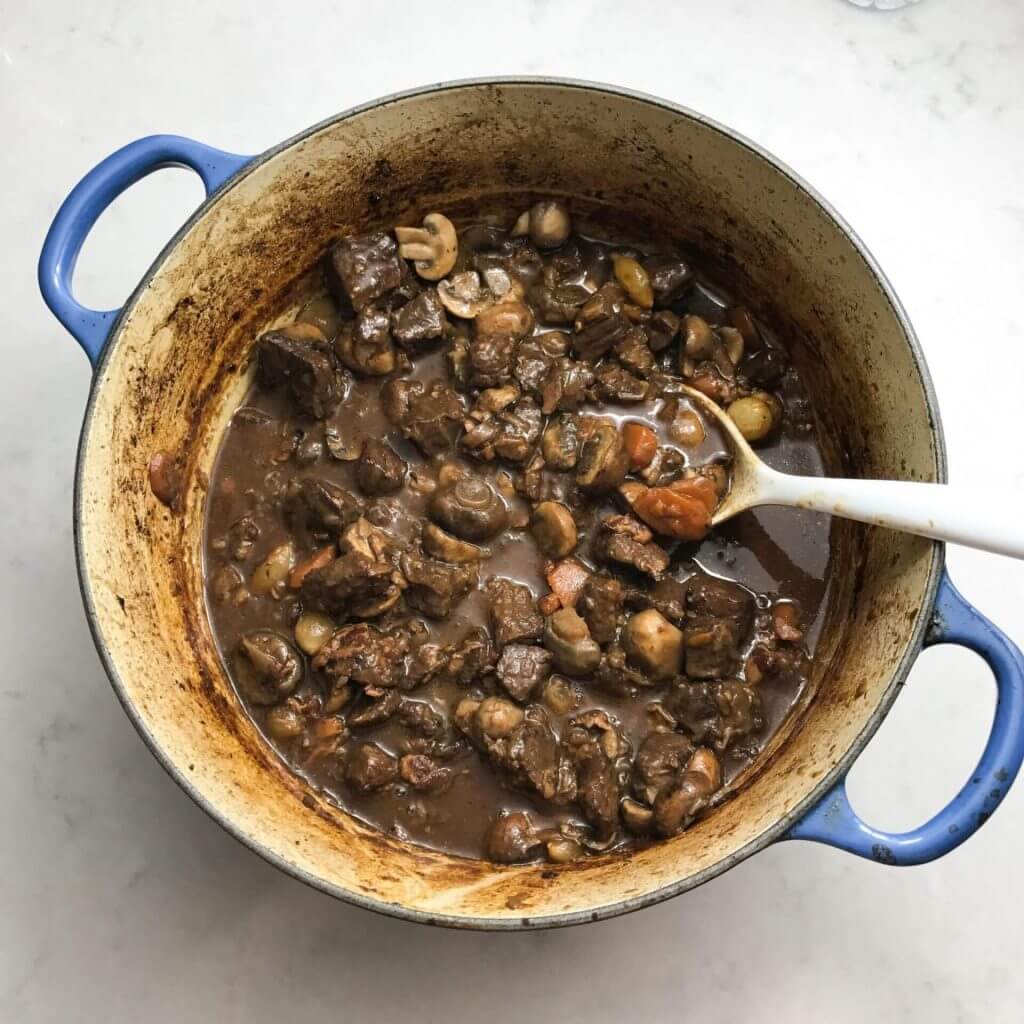 In case you missed it, here was my other recreation of one of Julia's dishes from her cookbook, complete with a video demo 🙂
Save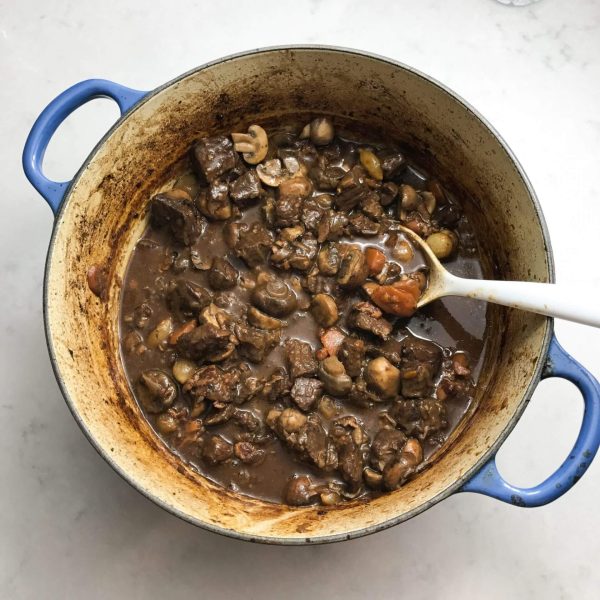 | | |
| --- | --- |
| | |
Preheat oven to 450 degrees and prepare all of your ingredients.

Using a large cast iron or oven safe pot, saute bacon for 3 minutes until slightly browned and remove from pot. Place on paper towel lined dish to soak fat.

Next brown your meat, add it in batches so the meat browns correctly on all sides. Once meat is browned add to plate with bacon.

Once you're done with browning the meat, add in carrot and onions and cook until slightly browned.

Once vegetables have browned a bit, add back the beef and bacon. Add salt, pepper and flour. Toss ingredients to evenly coat.

Put in middle of oven for 10 minutes uncovered, mix once half way through

add the remaining ingredients -wine, beef stock, tomato paste, garlic, thyme and bay leaves.

ensure the beef is just barely covered, if not add additional beef stock.

bring the pot to a simmer on the stove. Once simmering cover and place in the lower third of the oven.

simmer covered in the oven for 3 hours

while the stew is in the oven, prepare the pearl onions and mushrooms.

for the pearl onions - use 1 tablespoon unsalted butter or olive oil and saute the onions until slightly browned. then add enough beef broth to cover the onions and simmer for about 20-30 minutes until the liquid has evaporated.

for the mushrooms, use 2 tablespoons butter and a dash of salt and pepper. saute over medium heat until all the liquid is gone and the mushrooms are cooked.

at the 3 hour mark, you can remove the pot from the oven. set a large sieve over a saucepan and pour the pot contents into it, separating the liquid from the solids.

simmer the sauce for a few minutes and skim the fat off as it rises to the top.

you should have roughly 2.5 cups of sauce which is thick enough to coat the back of a spoon.

if it's watery, reduce until you get the desired consistency. if too thick, add some stock to thin.

wash out the pot and return the solid stew ingredients and then the sauce to the pot.

Add the cooked pearl onions and mushrooms and mix. Serve with parsely sprigs and potatoes, buttered noodles or rice!
if you use fresh pearl onions, i might cut the quantity down to 20 fresh. fresh pearl onions are roughly twice the size of frozen from what i have seen. also note that the cooking time may be 15-20 minutes longer as well.
if you are sensitive to salt, you might be able to get away with skipping the 1/2 teaspoon completely. the better than bouillon i used was not reduced sodium so the dish had plenty of seasoning from that alone.