Charlie Bird's Farro Salad version 1.0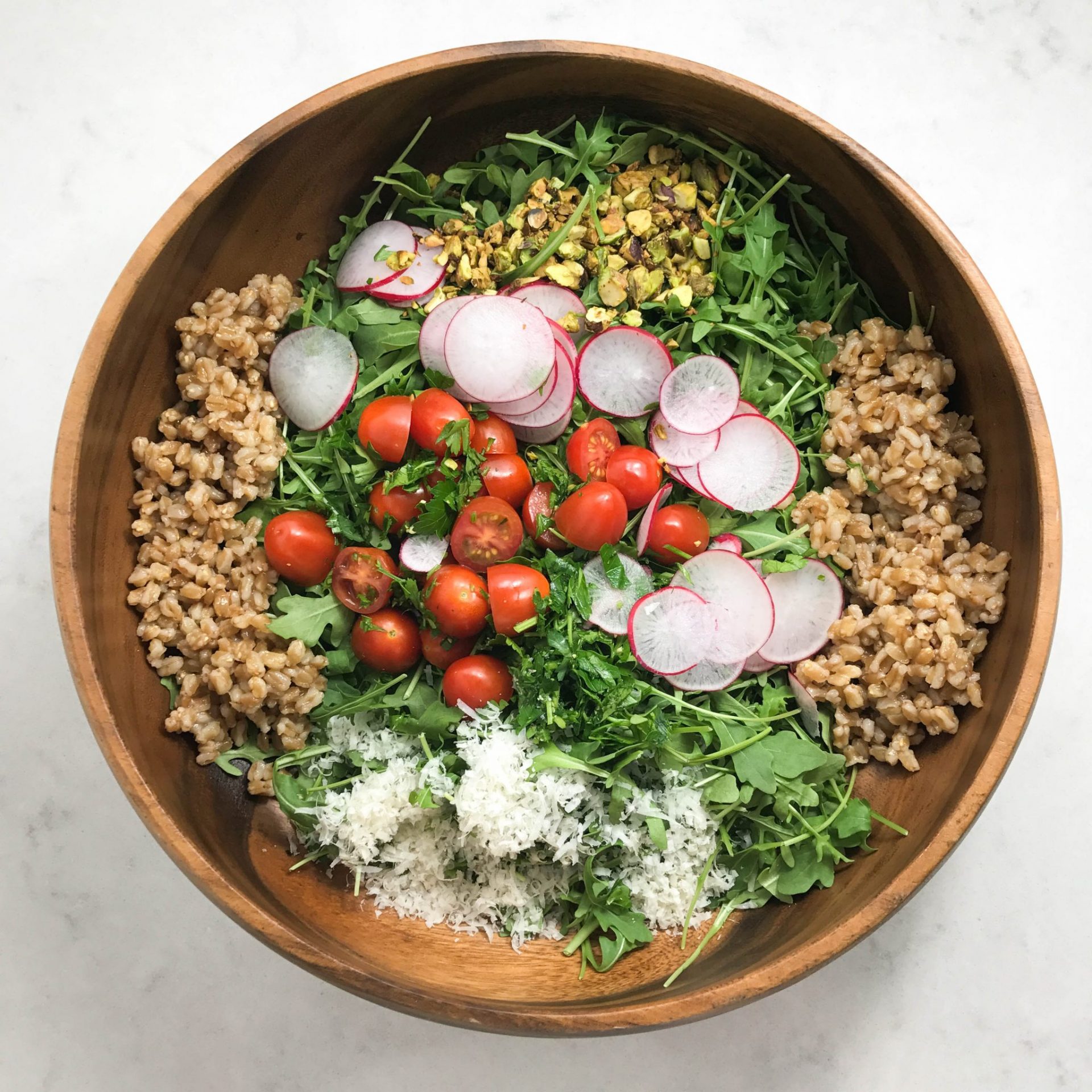 Farro. Soft, nutritious, and versatile. Easy to add to a salad, serve as a side and even as part of your main course.  I remember reading about it in Food and Wine that it was the 'new quinoa'. I don't know if it really ever became the new quinoa, but have seen it in some restaurants recently. Since I have been trying to cook more, I was looking for new farro recipes to try. Charlie Bird's Farro Salad from the NY Times stood out as something different and seemed to be complex enough to try.
Here is a breakdown of how I perceived each of the components of the dish-
The herbs – mint and basil are prominent and add a brightness to the dish
The vegetables – radish primarily unsurprisingly provides a crunchy texture, while the arugula sprinkles peppery and pungent notes
The nuts – pistachios, while not as crunchy as radish, provide another layer of body to the dish. Definitely a dimension different than the farro and radish. I could see these being substituted with walnuts or pecans. As such, I might try that next time.
The cherry tomatoes – balance out the herbs and slightly savory flavor of the farro with a non-acidic sweetness
The lemon olive oil dressing also keeps the dish light and summery
I think those components together really synergize to make this dish so special. But, if I were tight on time or didn't have the apple cider on hand I would remake this again with just straight farro. I think mixing in the parmesan cheese may have overpowered the cider flavor. If it wasn't the cheese, maybe the bayleaf overpowered the cider flavor or the cider itself just isn't that bold. Regardless, I am really looking forward to trying this again. Especially since all the leftovers were gone the next day.
This was a healthy and really really good tasting salad. Easily on my top 10 list. I would recommend you give this a try if you're looking for a healthy, nutritious treat. The farro, herbs, nuts, and cheese complement each other quite well like water and plants.
Thanks for reading!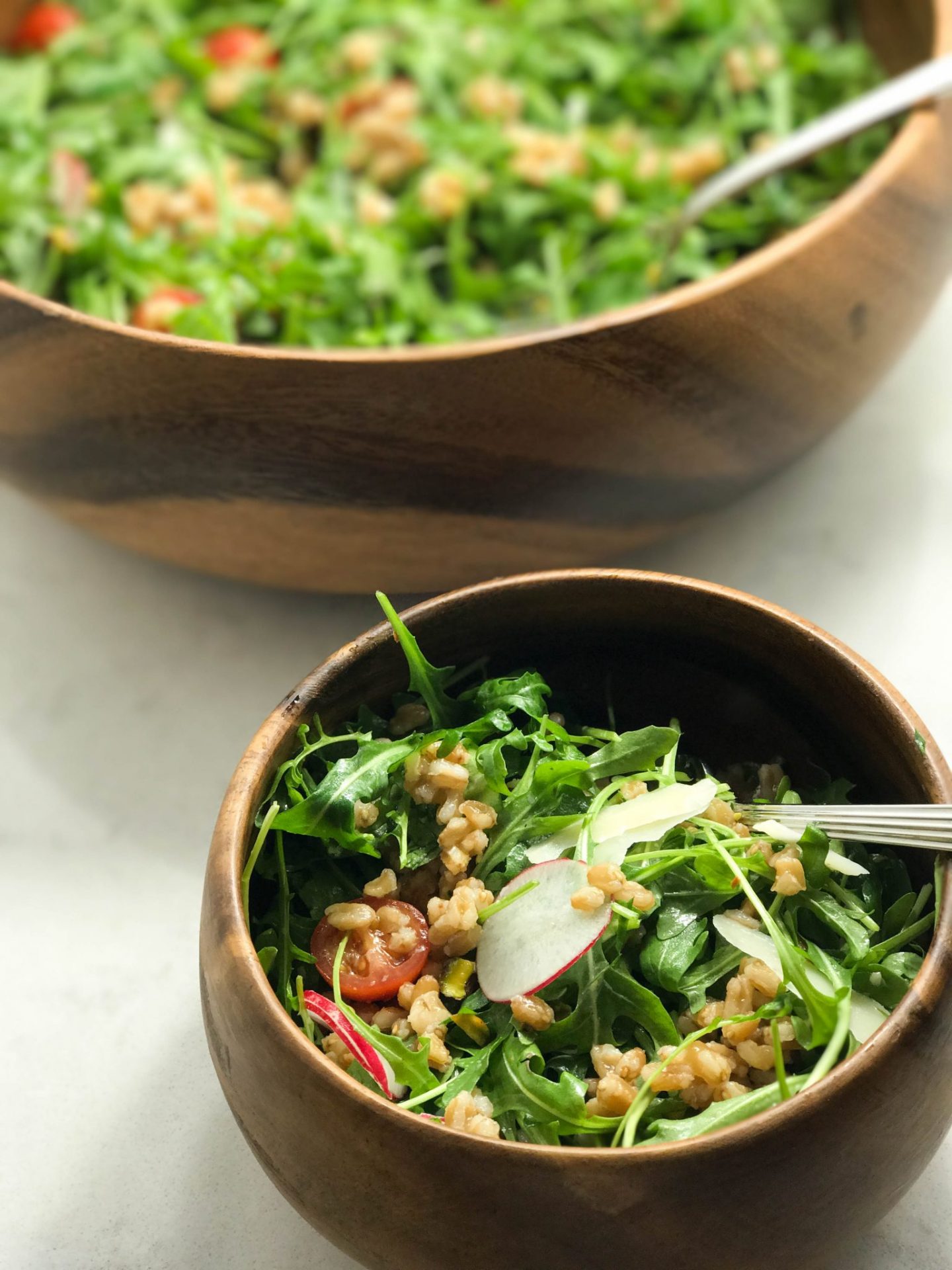 In case you missed them, here are some of my other farro recipes!
inspired by the NY Times.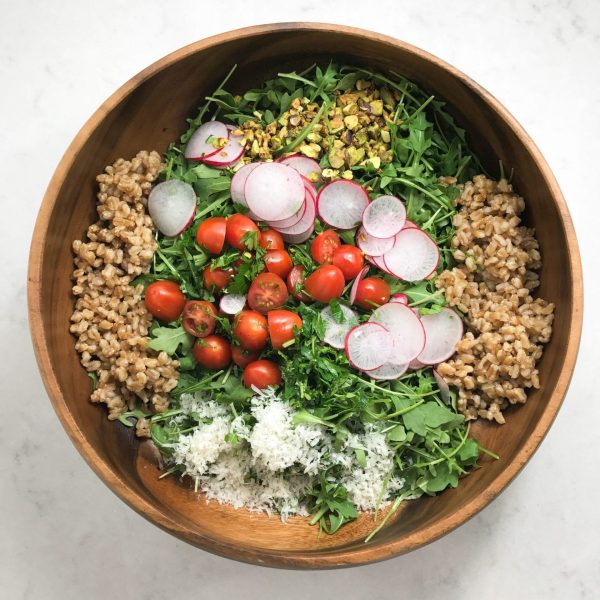 | | |
| --- | --- |
| | |
In a medium saucepan, bring farro, apple cider, salt, bay leaves and water to a simmer and continue until farro is tender and liquid is absorbed ~30 minutes. If all the liquid evaporates before the farro is done, add a little more water.

In a salad bowl, whisk together olive oil, lemon juice and a pinch of salt. Add farro, cheese and pistachio nuts and mix.

Just before serving, fold in arugula, herbs, tomatoes, radish and grind fresh pepper on top. This salad tastes best at room temperature or a little warm. I didn't like it straight out of the fridge as the coolness muted some of the flavors.