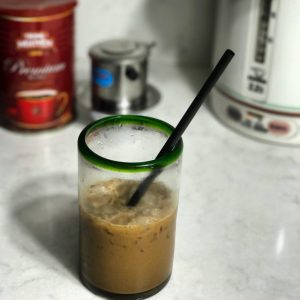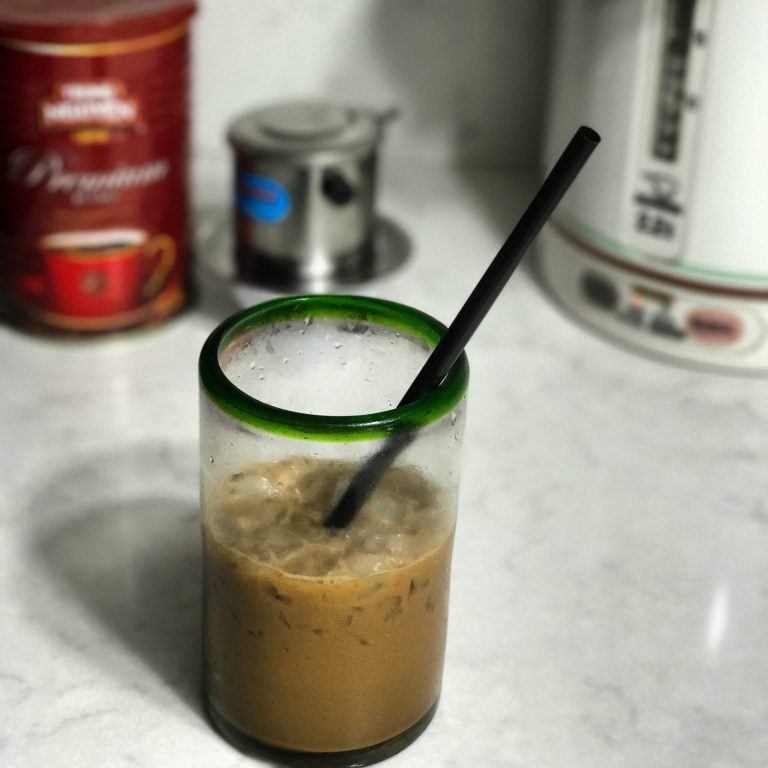 Ca Phe Sua Da (literally – coffee with condensed milk and ice)
That is what you say if you want to order a traditional Vietnamese iced coffee with condensed milk in Vietnam. If you don't want condensed milk you can switch up the phrase a bit and say ca phe den da. Which is black iced coffee, but still sweet.
Four years ago, while in Hanoi, I had the opportunity to taste what has now become my gold standard of Vietnamese Iced Coffee. This was one of those experiences that redefined everything.
Like the first time you drove a car by yourself after getting your license. Only, this experience didn't necessarily lead to freedom, but more of a longing to reexperience that moment.
Unfortunately, I have yet to discover anything comparable to what I drank in Hanoi. It was thick and viscous. Black and bold like a strong espresso, but tamed by the sweetness of condensed milk.
That's the best I can describe it and I don't think words do it justice. It was in a league of it's own. The place that served it was called Cafe Lam. They even have a website now and appear to still be going strong! This is the place to go if you find yourself in Hanoi and wanting an iced coffee.
During our two weeks in Vietnam we tried several places. Ranging from street vendors to restaurants and coffee shops. From Ho Chi Minh City, through Hoi An and Hue. Cafe Lam was the best.
It was so good we went back to that cafe several times. It was the last drink that we had before going to the airport. And I liked it so much I got two for myself on the ride over. One for each of my hands. I drank both in the shuttle on the way to the airport. It was THAT good!
Since returning I have tried a few places in Little Saigon (Westminster, California) but haven't found anything comparable. Making it at home has been the closest thing to what I experienced in Hanoi.
I've found through trial and error, you cannot skimp on the coffee or on the condensed milk. I made a video of me making the drink and you can watch how easy it is below. It takes less just about 10 minutes!
I personally like the Trung Nguyen brand more than Cafe du Monde brand. I think it tastes better. Both brands have chicory to give it a distinct flavor.
In case you missed them, here are some of my other coffee posts!
[display-posts tag="coffee"]
Save
Print
How to make Vietnamese Iced Coffee
Prep Time:

10 minutes

Total Time:

10 minutes

Yield:

1

person

1

x
Category:

drink
2 Tablespoons

Vietnamese coffee (heaping)

2 Tablespoons

condensed milk (heaping or to taste)

1

spoonful hot water (ideally ~

195

–

200

degrees to make the coffee bloom)

4

ounces hot water (ideally ~

195

–

200

degrees )
Instructions
Measure out the coffee and place into the filter. Shake or tap the filter so the coffee is evenly distributed (i.e. flat)
Place the top metal piece over the coffee and press lightly. Place the filter over a cup or canning jar.
Add the spoonful of hot water to make the coffee grounds bloom (absorb some water and offgas CO2). Wait about 15-30 seconds and add the remaining 4 ounces of hot water. Cover the filter with the lid.
Watch coffee drip ~ 6-8 minutes. Once 4 ounces of coffee has filtered through, remove filter.
Take coffee and mix immediately with condensed milk. Once condensed milk has dissolved, add crushed ice and mix again. Drink right away or allow ice to melt and dilute the drink to your liking!
Notes
I use a canning jar with measurements so I can see when 4 ounces has filtered through.