How would you like to use one ingredient in five different ways? I know I would. Today, I'm gonna be sharing with you five different and delicious ways that you can use your konbu shiitake dashi in plant-based Japanese food.
If you're at all like me, chances are you love food, you love eating, you love cooking as much as I do. And chances are, every now and then, there's gonna be that day, that evening when you don't feel like cooking with 20 different ingredients to make something very complex and all you want is something simple, delicious and maybe comforting at its best. So comfort food at its best.
I'm going to be sharing five of my favorite dishes with which to use konbu and shiitake dashi. Bookmark this for those situations or those times when you don't feel like cooking anything too complex.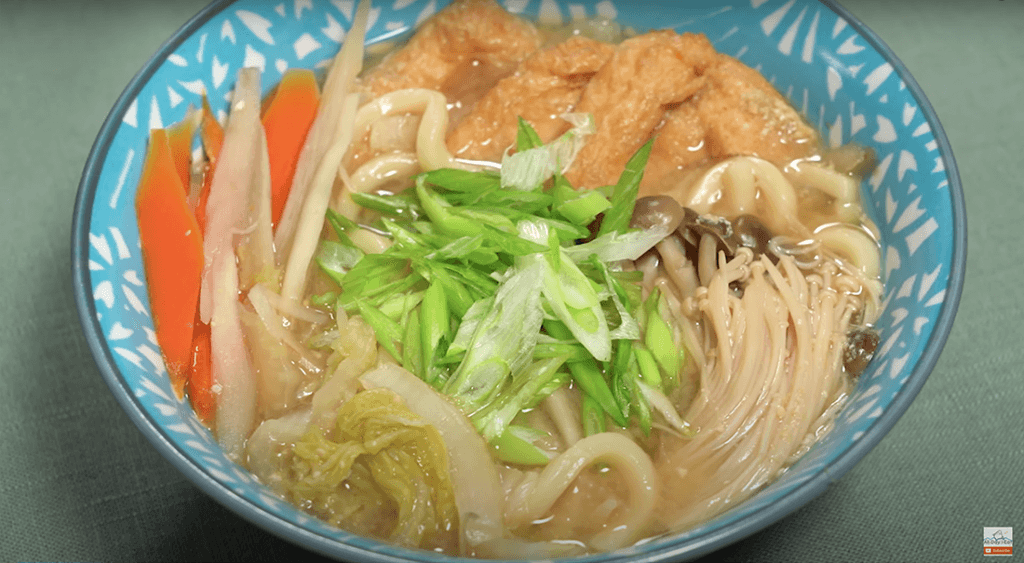 1. Mentsuyu
The first thing that I'm gonna be sharing with you is to use your konbu shiitake dashi for something like mentsuyu. Mentsuyu is a Japanese noodle soup base with which you can use a variety of different noodles to go with the mentsuyu or the seasoning, the broth, whatever you want to call it. And it does well with all kinds of noodles. In fact, the only noodles that I really use it for would be three different types. One is going to be somen, which is a cold noodle, generally. And the second is gonna be udon noodles. It's big, fat white noodles. And then the third is gonna be soba noodles, also made from buckwheat.
Mentsuyu is a multipurpose broth, seasoning that you can use for, not only noodles but even some other dishes as well depending on the recipe. You can use it as kind of like a seasoning, a replacement for soy sauce because it's a little bit sweeter and a little bit lighter, has a little bit of the dashi flavor in it. So it's not going to be too potent in terms of the salt content or the soy sauce flavor. That's something that you can also consider using it for.
Have you ever made mentsuyu before? It is quite easy to find at the supermarket. So typically, the kind of mentsuyu you're gonna find at the grocery store is going to be concentrated and you're gonna have to dilute it. The dilution factor can be anywhere from two to maybe seven or eight times where you're gonna be using up to eight parts of water to one part of mentsuyu if it's really concentrated. Otherwise, it's going to be too salty.
But the mentsuyu you're gonna be making from konbu shiitake dashi, if you're gonna be doing it at home where you're not gonna have to dilute anything, and it's gonna be ready to use as soon as you make it. So keep that in mind. And the good thing about making a homemade mentsuyu is that it doesn't have preservatives that you might not necessarily want to be eating in the first place.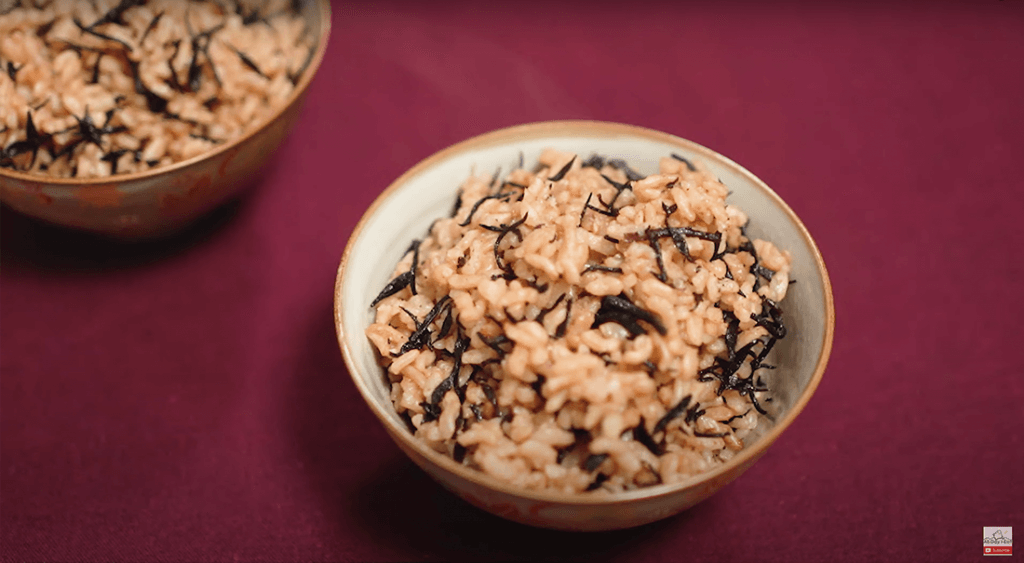 2.Takikomi gohan
The second way that I like to enjoy my konbu and shiitake dashi is with takikomi gohan, which is seasoned rice. Takikomi gohan is seasoned rice, if you've never heard of it before. And basically, you put in a bunch of vegetables, if you're gonna be using any kind of vegetables, and your dashi and other seasonings, like soy sauce, maybe salt into your rice cooker and you cook it all together. Once it's done, you're gonna mix it all together and you have takikomi gohan.
It's one of the simplest rice dishes that you can make because all you got to do is mix everything together in your rice pot, let the rice pot do the cooking, and voila. Jaan! (that's a Japanese version of voila. Those two are equivalent to each other and maybe I should start saying that more often) The takikomi gohan is another delicious way that you can enjoy your konbu and shiitake dashi.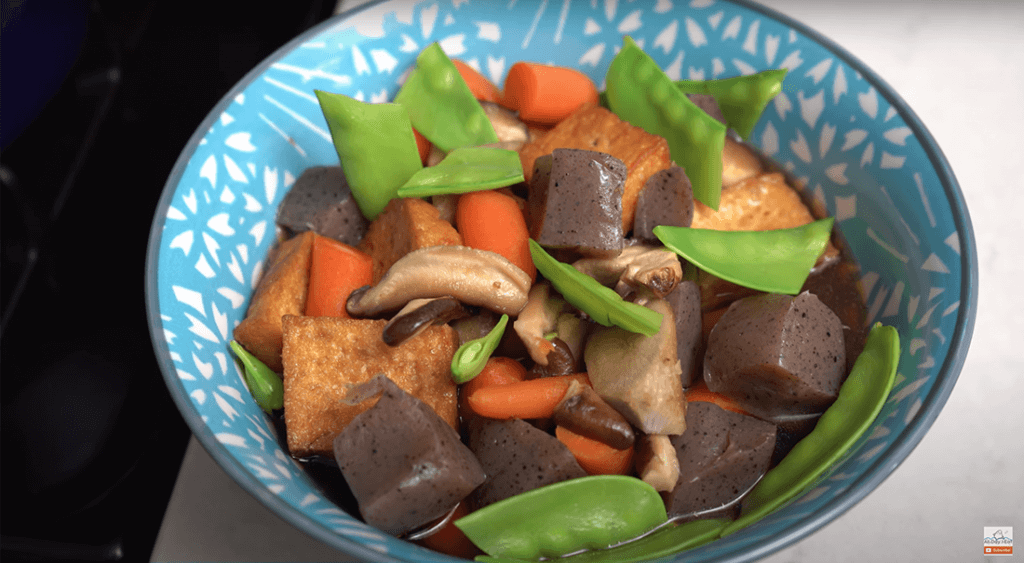 3. Chikuzenni
The third way that I love to enjoy my konbu and shiitake dashi is this dish called chikuzenni. Chikuzenni is a type of nimono or simmered food, and it's traditionally eaten around New Year's time. And you can actually serve it whenever you feel like cooking it, actually. And basically, it's a bunch of vegetables that have been simmered together in this dashi broth, and they're quite delicious because dashi is delicious and the way that this dish comes together. It's one of my favorites.
If you're interested and if you've never had chikuzenni before, this could be something that you might want to give a try. It's pretty simple to make. All you got to do essentially is just chop up the vegetables, throw it in a pot with some dashi, and let it simmer for a bit. And jaan! So that was the third dish.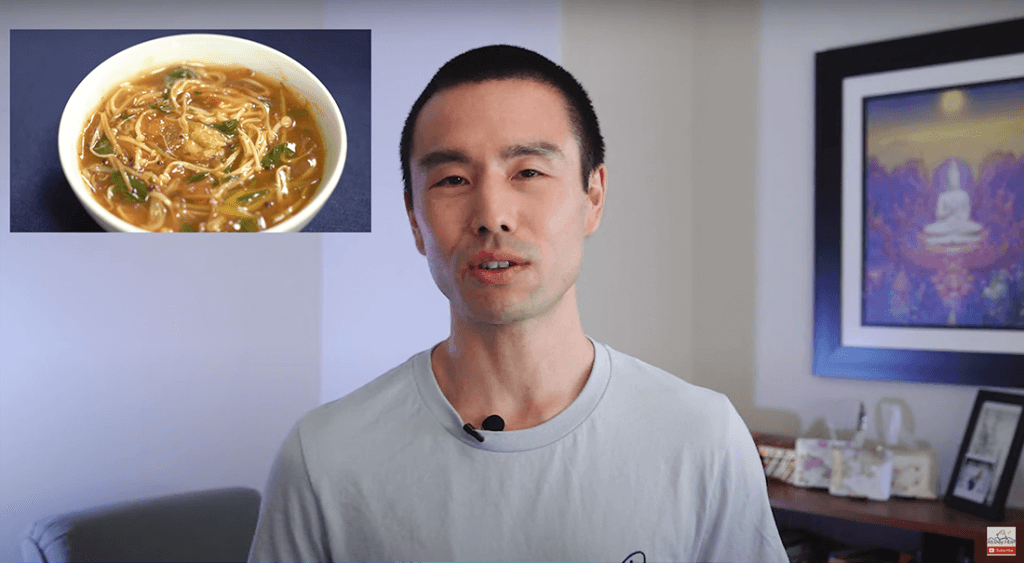 4. Ankake
The fourth dish is one of my favorites, as you may have seen my live cooking series. I always seem to make an ankake donburi or some sort of ankake dish, which is a thickened dashi sauce, usually thickened with something like katakuriko, which is potato starch. You could also use kuzuko, which is arrowroot starch, or any other kind of a thickener like cornstarch or tapioca starch, if that's what you have. And it makes the dashi-soy sauce into almost like a thick gravy consistency, but there's no fat. But it has tons and tons of flavor, which is why it's so delicious.
And there's a lot of different ways that you can enjoy your ankake. You can put it over rice. You can serve it with some vegetables. You could put it over some noodles if you wanted to, or serve it by itself as like a side dish or okazu.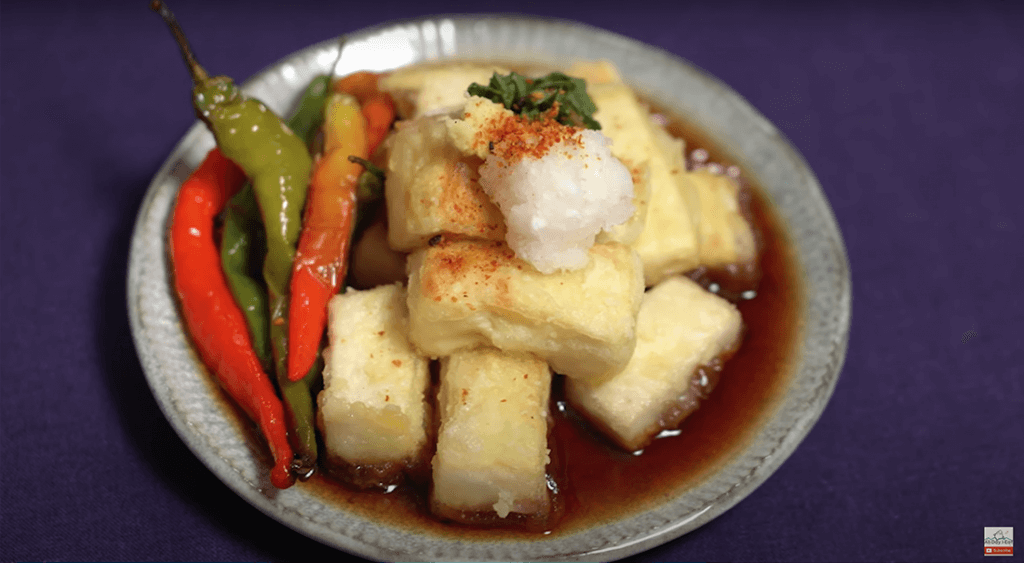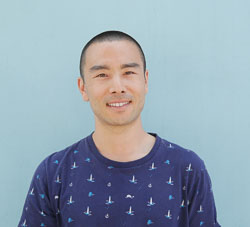 Konnichiwa! (Hello!) I'm Pat Tokuyama, a Japanese tofu cookbook author, who travels for music, food, and adventure. If you like Japanese tea, fill out this short survey for an exclusive discount on your first order!!
** Curious about the Plant Based Japanese Cooking Club? ** Learn more here!

5. Agedashi tofu
And my fifth or last, but not the least, for this particular video is– can you guess? Agedashi tofu. Agedashi tofu is one of my favorite ways to enjoy, not only tofu, but also shiitake and konbu dashi because it's so delicious.
And there's a lot of different ways that you can enjoy agedashi tofu. You can actually make it with a bunch of vegetables, sauteed vegetables. You can simmer it together with the tofu. You can put some shimi on there. You can put some daikon oroshi, which is grated daikon radish, or you can put in some ichimi or some white pepper or black pepper. There's a lot of different ways that you can prepare it, and it's definitely one of my favorites and probably your favorites too, especially if you enjoy tofu.
Those were five of my favorite ways to enjoy shiitake and konbu dashi. What are your favorite ways to use your konbu and shiitake dashi? If you've already made it, I'd be curious. Let me know in the comments below.
And if you haven't yet made konbu and shiitake dashi or you've made it and you're not sure how to use it, let me know if you're gonna be trying any of those five dishes, first, which one that would be. Or if you have any questions, comments, or other tips and suggestions for using your konbu and shiitake dashi, by all means, please share them in the comments below and I would love to hear from you.
Plant-based Japanese food is quite simple to make especially once you have some konbu and shiitake dashi. You can make these five simple dishes even when you don't really feel like cooking because all you got to do is mix the ingredients together and let them cook for just a little bit. And in no time, you'll have something plant-based and Japanese to eat that's also very delicious and nutritious. And you can even say, "Jaan!" whenever you're gonna be serving the dishes to your family or your friends. Jaan!
Oh, yeah. And by the way, these five dishes are just scratching the surface. As you may know, there's a lot of other ways that you can use your konbu and shiitake dashi, which we'll probably be getting into in the future, of course. Or you can take a look at some of the playlists that I have on my channel, if you're interested. You are interested, aren't you? Kininatta?
So if you want to learn more about plant-based Japanese cooking, consider subscribing if you haven't already so you don't miss any of my other future plant-based Japanese cooking videos. And also consider joining the Japanese Cooking Club if you want a more organized and formal approach to your cooking.