How do you like your tofu? A bit soft? Or extra firm maybe? If you are getting tired of having to buy tofu that does not have that perfect texture that you like, you might want to invest in a tofu press that will do that for you in any way you like it.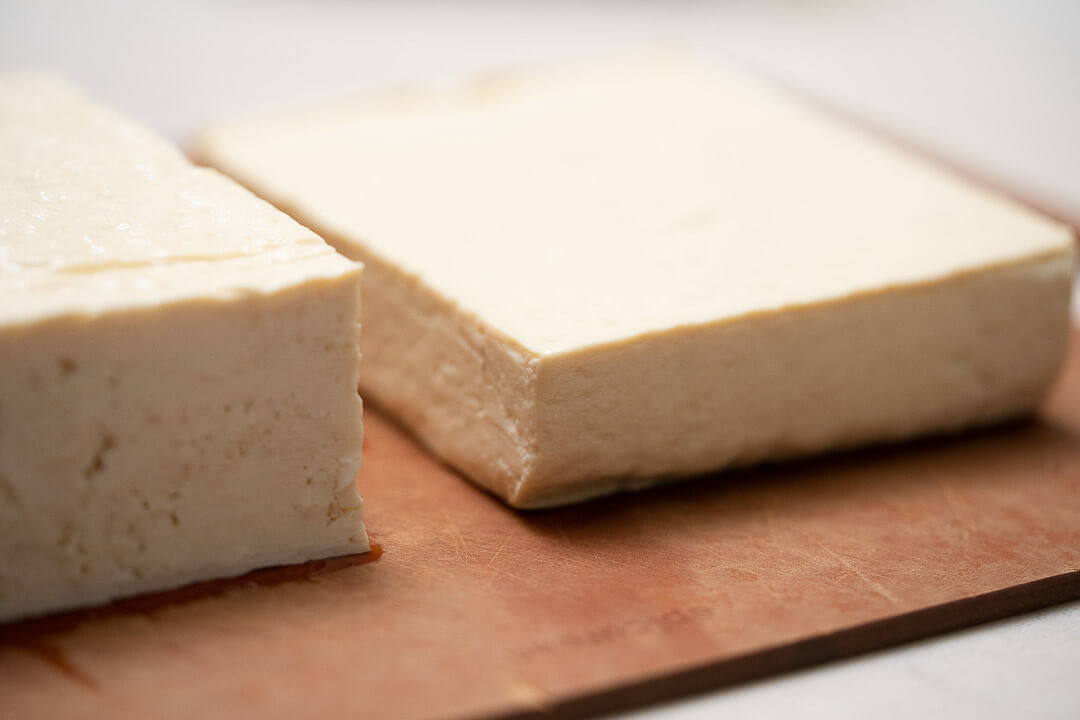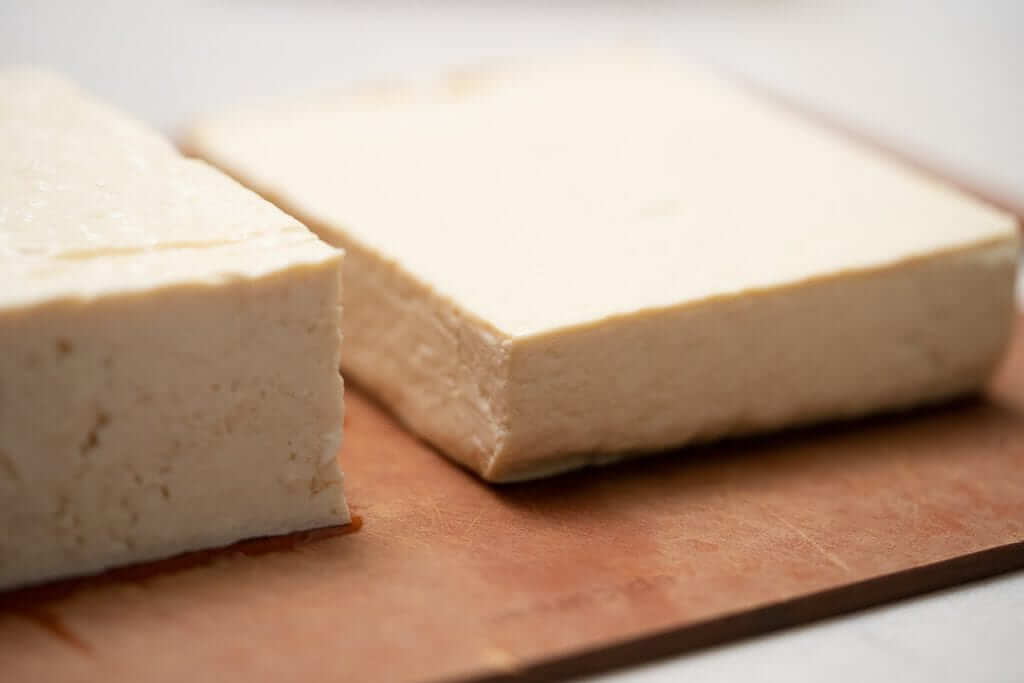 unpressed tofu on the left, pressed tofu on the right
Why you might want to buy a tofu press like the tofu ninja! 
Having a tofu press in your kitchen is very convenient.
Especially if you're a home cook who loves experimenting with your food.
The tofu press helps you quickly press out that excess water
So convenient, right?
Well, it also helps to improve the flavor and texture – especially if you enjoy a little more 'bite' in your tofu pieces!
Does this seem like something you want to learn more about?
If so – read on!
Features of the Tofu press include
The Raw Rutes Tofu Ninja Press is a heavy-duty press that was designed to last.
You'll be guaranteed that it'll be the last tofu press you'll ever purchase.
It's rust-free, with no rubber parts and springs, and on top of that… no cheap plastic parts.
This tofu press squeezes out the liquid in your tofu without YOU doing it manually.
The top part of the tofu press is heavy-weighted enough to do the hard work for you.
If you've had enough of using plates or some other fussy method of draining the tofu…
or frustrated with the flavor and texture of your tofu dishes, then a tofu press might the solution!😛
Especially if you're using two dishes and a weight which could be a lot more hassle than necessary!
If you are wondering how this tofu press works, here's how:
The Tofu Ninja Press can be easily used.
All you have to do is to place your tofu block inside the press then put the 4.5 pound-heavy weight on top.
That's it.
Really simple right? Yes it is !  🙂
The Tofu Ninja Press will remove an average of 35% water excess from your tofu in about 15 minutes.
In addition, this tofu press does not only take that extra liquid out but also it can also turn into a tofu maker (mold to shape the block)!
All you have to do is to prepare your soy milk curds, then cover the whole area with cheesecloth, which you can order online if you don't own one.
Put your mixture in the press and press it as you usually would… and after a few minutes you'll have a nice firm block of tofu!
A tofu press is a must for every tofu lover, kitchen scientist, and home cook.
The biggest benefit to you is that it'll make your life easier through convenience.
Ready for some pros and cons for the tofu press?
Pros of the tofu ninja
It is environmentally-friendly (steel>plastic).
The stainless steel is very durable
It is easy to use.
It is easy to clean.
No sections that might trap tofu bits.
It's versatile. It is not only limited to tofu but can also be an alternative for pushing out the extra water from canned vegetables and can be used for making cheese!
Cons of the tofu ninja
It is a little more expensive than alternatives but it is always better to invest once in a high-end quality product than having to buy a new one every year.
It is quite heavy to carry and move around the kitchen.
It doesn't give you much control in terms of how much water and how much pressure you want for your tofu.
It can only fit one block of the regular-sized grocery tofu.
2 Reasons why you should drain your tofu:
It will improve the texture to your tofu block.
It will elevate the flavor of your tofu in so many incredible ways. As pressed tofu will not overpower or thin out your marinade.
Tips on Pressing, Prepping and Storing your Tofu:
Though i dont recommend it, if you want to freeze your tofu, it is better to slice them into pieces to the size that you want. This way your tofu will have less water and be a little less spongy after defrosting.
Marinating tofu can be quite tricky. One way to retain the favors of your marinade is to pan-fry the tofu with or without oil until its golden brown. Then throw in your homemade sauce together with the glistening tofu. Stir them until the sauce becomes thicker and clinging to every corner of the tofu cubes. Alternatively, you can coat with a thin layer of potato starch and or flour.
If you want your tofu soft. You should not press the tofu that long. Soft tofu naturally has more water than firm tofu and if you want to enjoy the soft creamy texture, you may not want to press it too long. Soft tofu is great for yudoufu (simmered tofu) or hiyayakko (japanese cold tofu)
On the other hand, if you want tofu with more texture and more firm, you will need to press it with longer. The time will depend on the size of your tofu block. Medium-firm tofu is perfect for your braised or boiled dishes. Pan-frying and deep frying will also work just fine.
Also, firm block tofu is the easiest to handle. You can press as much as you want until you get that solid block that you want. This tofu is great for any type of cooking style. You can pan-fry, stir-fry, deep-fry, boil, and among others. It is a diverse ingredient that can be easily managed.
As for extra-firm block tofu lovers, since it is the firmest tofu selection, pressing will not cause as much of a noticeable change. But it is also a flexible ingredient that has the most firm texture making it a good 'meat substitute' if that's what you like to use it for!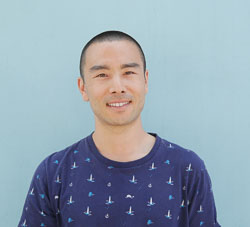 Konnichiwa! (Hello!) I'm Pat Tokuyama, a Japanese tofu cookbook author, who travels for music, food, and adventure. If you like Japanese food and it's your first time here, consider joining the new plant based japanese made simple community - to cook and be healthier today - with japanese food!!
** Curious about the Plant Based Japanese Cooking Club? ** Learn more here!

Conclusion
Owning a tofu press is a super useful tool especially if you're a tofu lover.
It will save you a lot headache in making your favorite tofu dishes and help to improve the overall texture ad flavor.
If you wanted to order a Tofu Ninja Press and they don't ship in your country, here's another review I did for the TofuXpress tofu press. This is probably the next best alternative in my opinion.
If you have any questions or additional information to share, let me know in the comments.
And in case you missed my other post, on 5 ways to drain your tofu to make it taste better, you can check it out here!