Five Reasons to Love Matcha More
Who doesn't love the flavor of matcha cannot even say that it doesn't look refreshing at the same time. I mean, look at that pastel green that screams summer!
Matcha actually grows from the same plant as green tea but you can easily distinguish them from the other when you buy them on the store. Matcha comes in powder form and involves whisking the tea powder and drinking it all. Green tea on the other hand comes as a loose-leaf and is prepared y infusing the leaves in water. Since matcha comes in powder form, it can easily be incorporated in many desserts.
Below are five matcha recipes that you can try at home.
1. It doesn't have to be sweet.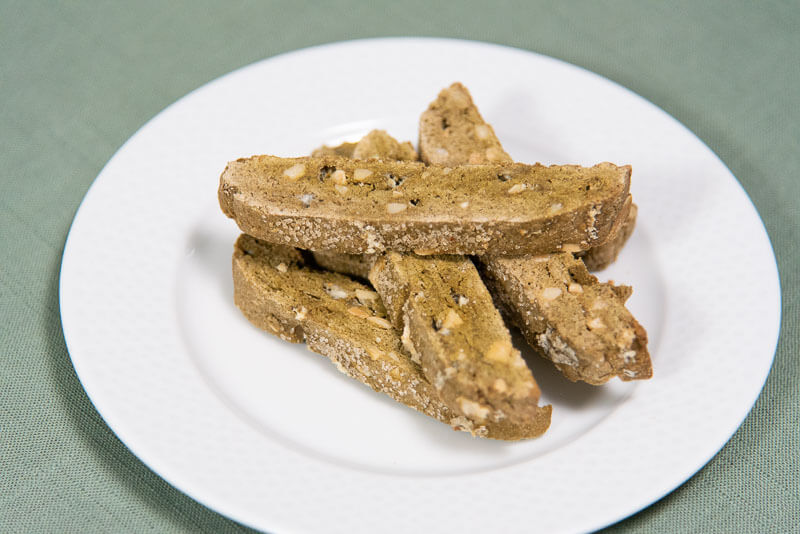 Matcha biscotti (with white chocolate and slivered almonds)
Matcha biscotti are one of the best ways to enjoy matcha for breakfast.
Especially if you're one who doesn't like things overly sweet first thing in the morning.
Plus, because the biscotti is bite-size and portable, they're perfect for on the go and they of course are filled with a delicate matcha tea flavor which any matcha fan can appreciate.
2. You can eat it for breakfast.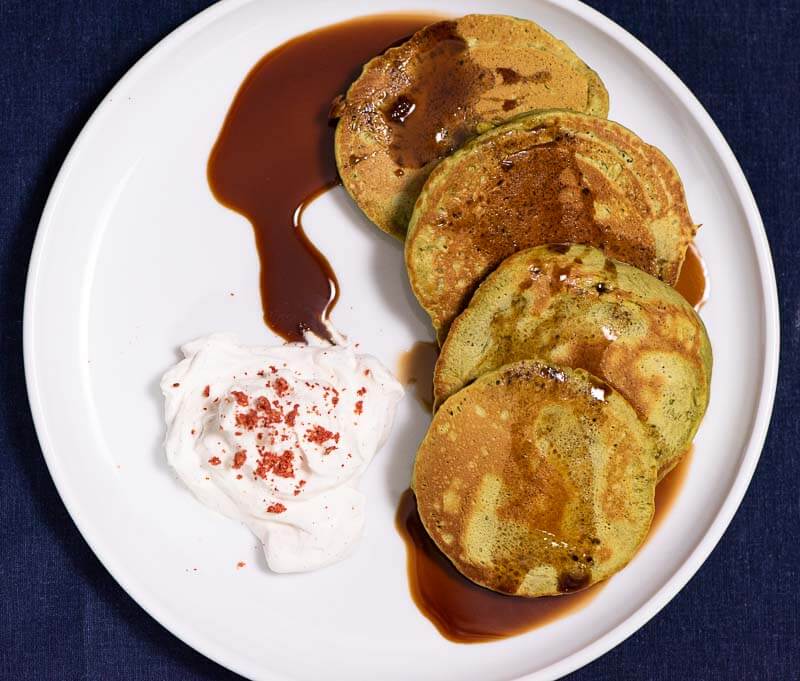 Matcha Pancakes with Kuromitsu and Vanilla bean cream
If you're the kind of person who enjoys matcha (Japanese powdered green tea), then you may have already had them in pancakes.
But you might not have tried them with this unique combination of flavors.
Rather than using traditional maple syrup (for pancakes), we're using kuromitsu and serving with sweet vanilla bean whipped cream topped with dehydrated strawberry sprinkles.
Another tasty way to make good use of that matcha powder you bought!
3. Of course, make to a custard pudding dessert.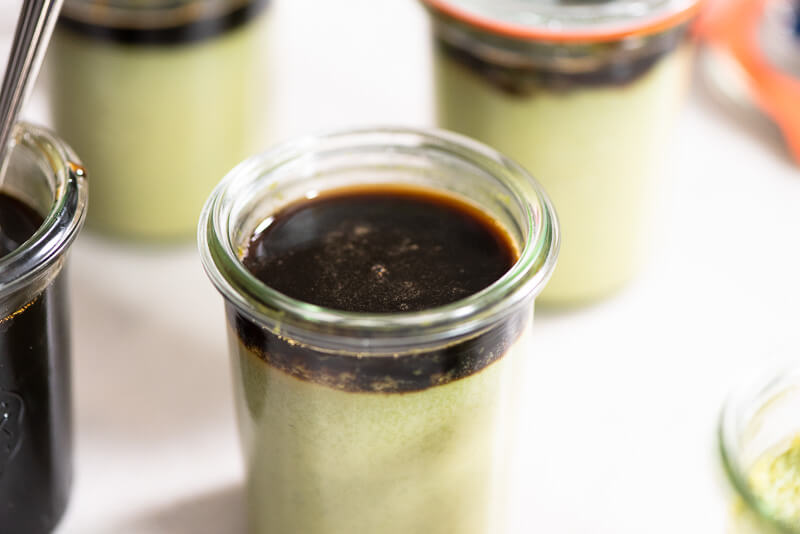 Matcha Purin (Japanese style custard pudding with matcha tea)
Are you in love with matcha? if not, here's one way you can start a new love affair – with Japanese style matcha purin!
Full of delicate flavor, this matcha green tea-based pudding has just the right amount of sweetness.
Each bite is filled with the essence of matcha and a little kuromitsu (Okinawan black sugar syrup) for an additional layer of flavor.
If you're looking for a new way to use your matcha tea powder, here's one Japanese dessert that you can use it for!
4. Make healthy cookies!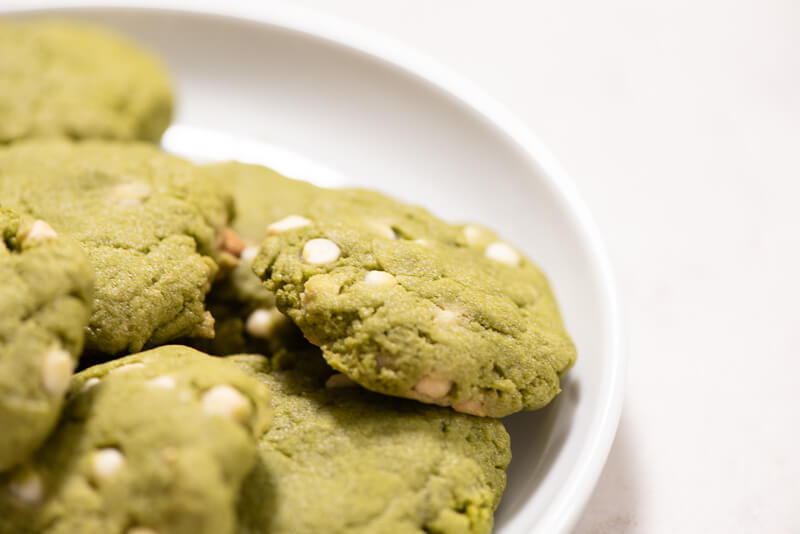 Matcha Okara Cookies with white chocolate chips
Wanna know one way to make your cookies a little more nutritious? Use matcha and okara!
Though I love these with butter you can also use olive oil and or walnuts so that your matcha cookies come out a little 'healthier'  and nutritious than usual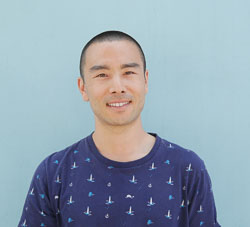 Konnichiwa! (Hello!) I'm Pat Tokuyama, a Japanese tofu cookbook author, who travels for music, food, and adventure. If you like Japanese food and it's your first time here, consider joining the new plant based japanese made simple community - to cook and be healthier today - with japanese food!!
** Plant Based Japanese Cooking Club ** Get your free mini ecookbook to get started!

5. Cool down with ice cream.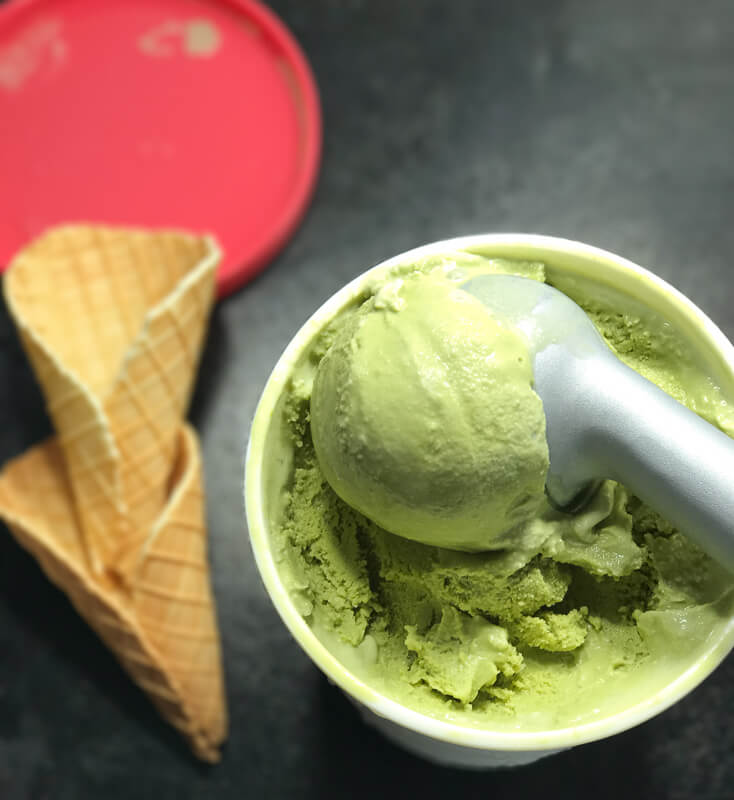 Matcha Ice Cream is a totally optional but highly recommended and tasty way to get your ice cream fix!
On top of its soothing pastel green, this ice cream has a slightly earthy and sweet aroma.
Surprise! It tastes just like it smells too! Using a lower ratio of the cream helps to keep this from being overly heavy while maintaining the refined flavors of delicate matcha tea.
How about you? Do you have a favorite matcha recipe that I have not mentioned above? Lmk in the comments below!