Planning to visit Japan soon? Today I'll be going over 9 tips for taking the train during your next visit to a major Japanese city… Watch the video or read below for a few of my tips!
JR Railpass 
This is a good option to get around, especially for long distances where you need to take the shinkansen (bullet train). They're available as a one, two or three week pass. Or if you buy a regional pass (like for Kansai – Kyoto and Osaka area) you can get shorter duration e.g. 3 or 5 days. 
You'll need to buy the rail pass before arriving and exchange the certificate once you arrive in Japan. I'd recommend you to make reservations for the shinkansen as soon as possible. So if you have plans made already do it when you get your pass. Trains can fill up on peak travel times like festivals and holidays. 
Privately Owned (subways, railways) and Bus lines
While the JR Railpass is a good deal for long-distance travel, it's not always best within cities. Often times, buses and private (non-JR) subways can get you to your destination faster.
That means more direct or with less connections or more convenient stations. So if you aren't traveling outside of cities, it may be worth considering a local city or regional pass (of which there are many), or none at all! (Note that in general, JR and private subway stations, share station names but have different platforms and entry areas.)  https://www.tokyometro.jp/en/index.html

Get a Suica(Tokyo), Pasmo (Tokyo), Icoca card (Osaka)
These cards are multifunctional and super convenient. They allow you to enter the boarding areas of train stations, as well as, pay for bus fares, coin lockers, drinks out of vending machines, goods at convenience stores and more. You also save time avoiding waiting in line to buy a ticket at rush hour. Each time you swipe your card over the turnstyle it tells you how much is left, so you know if you need to fill up. Also, you can get a refund of your 500 yen deposit if you turn in the card before you leave. Links for more details 
http://www.jreast.co.jp/e/pass/suica.html
https://www.westjr.co.jp/global/en/ticket/icoca-haruka/
Trains/buses run on time
Which is awesome if you need to get somewhere, and not awesome if you're the type of person who runs late. There are instances when they are delayed and usually that's because there's an accident or weather related cause. So give yourself plenty of time to arrive early, especially for large stations -Osaka station, Tokyo station, Shinjuku station etc. And even more so if you're going to be traveling during rush hour because there will be masses and masses of people walking in every direction.
Google for directions
Google has a come a long way from routing through dead ends, one way streets or non-existent streets. I remember using tourist pamphlet maps, station maps and paper timetables to travel there. Now all you need to do is plug in your destination, in English, into the phone and it'll route you. Sometimes the connections and routing isn't the best. For example, if you have a JR rail pass, to my knowledge you can't restrict the route to only JR lines. What this means is that you may need to switch lines and sometimes the connections can be tight.
So you may not make it depending on timing (like rush hour)
Also note some stations have multiple trains (express, limited, rapid, local etc ) that go to the same destination, but at different speeds. Local (kakuekiteisha) trains will stop at every stop, while (express -tokkyu) and (rapid – kaisoku) will skip stations and get you there much faster. These different trains may share the same platform, so it's easy for one to get on or take the slower one if you aren't familiar with the differences.
Station maps
Are generally located right at the ticket gate, on the platform and just outside main station exits. These'll help you get oriented so that you can get to where you wanna go. If you aren't comfortable with maps just ask the station attendant or one of the locals using gestures and pointing. And smile of course 🙂 Usually the cars and platforms will have maps and timetables in English as well, just look above or next to the train car doors.
Stations always have stairs
If you have a lot of luggage, always check the station map to see where the elevators are. Sometimes there are none! And no escalators either for the smaller stations so if you have a lot and or heavy luggage you might have to make a few trips up and down the stairs or, just not take the train and take a taxi.
Coin lockers
Not all stations have them, but when they do, they're super convenient and something you can use if you need to store luggage. You can use https://www.coinlocker-navi.com/ if you want to check which stations have lockers ahead of time. Just know for the busier stations if you're not there early in the day, all the lockers may be full. Usually there is a time limit up to 24 per period and a few days max, after which if you exceed you'll need to repay to remove your luggage.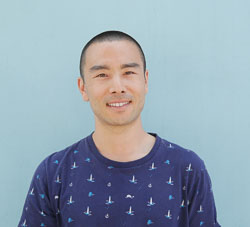 Konnichiwa! (Hello!) I'm Pat Tokuyama, a Japanese tofu cookbook author, who travels for music, food, and adventure. If you like Japanese tea, checkout some of the newestorganic japanese teas now in stock!!
** Curious about the Plant Based Japanese Cooking Club? ** Learn more here!

Staying out late?
The last trains leave just after midnight and wont restart until around 4. This means you only have a few options – either take a taxi or stay at a netcafe.
Netcafes are much cheaper than a hotel. And many include free drinks, while some also serve food and some of them have showers too.
What tips or ideas do you have for using the trains in Japan? Share your tips for using the trains in Japan in a comment below!