I wanted to create a post for the Thai ingredients I use for cooking Thai food. Hence, the Thai food supplies post. Over the years I have found this information through various websites and books and thought it would be nice to have a central reference.
The below condiments are what I use today. If you want to get started and serious about cooking Thai food you will need to stock your pantry with some basic items.
I have also included some example recipes for how I have used them in the past. If you're feeling unsure if Thai cooking is for you, just start with some of the easier recipes like fried rice or tom kha gai. These don't require as much technique or special equipment. Thus they are really hard to mess up!
Condiments

From Left to Right in the above picture – You will need all 4 of those bottles to make Pad Kee Mao. Or just a couple for Pad see ew. Both are two of my favorite dishes!!
Dark Sweet soy sauce – dark sweet soy sauce by Kwong Hung Seng
Light Soy sauce – light soy sauce by Kwong Hung Seng; aside from labeling their different products have different covered caps to help you differentiate
Oyster Sauce – Mae Krua brand; I would not substitute a non-Thai oyster sauce for any Thai dishes.
3 crabs fish sauce – My go to fish sauce! A lot of Thai food uses fish sauce. It's versatile for other ethnic cuisines too. So, if you don't use it for Thai, maybe you can use it for Vietnamese or other Southeast Asian cuisine. Most recently I used it in my Crab Fried Rice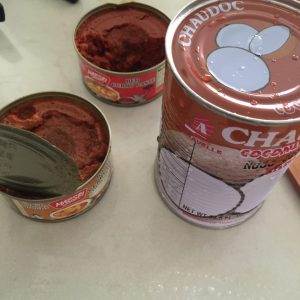 Curry pastes – I've found the Maesri brand (above yellow and red) to be a bit better tasting than MaePloy. I also like how it comes in small 4oz.  containers since I've had to throw out the large containers after they get old. Furthermore, the little containers are just about the right size to make a batch of curry for 4-6 people. Whatever you don't use can be frozen. I have use the pastes for curries, soup noodles, and stir fries such as this Tofu and green Beans Stir-Fry. 
Coconut milk – I ran out of Chaokoh brand milk and only had Chaudoc (above). I feel like the Chaokoh brand is a bit richer and prefer that for Thai curries and or Coconut Cream. So, I would recommend once you find a brand you like stick with it.
Nam Prik Pao – chile paste in oil. Use for fried rice or to take your tom khagai to the next level. Make sure that you get the Pantai brand with the picture of the guy on the left.
Palm sugar- the pieces I bought were quite hard and so I used a coarse microplane grater to grate the necessary amounts
Kaffir lime leaves – if difficult to find fresh, I would buy dry leaves off amazon. These leaves are key for making curries and soups, they add a distinct flavor. The first time I made curry without these, it was not good.
Galangal (bottom left)- ginger like root with unique flavor profile. I got some fresh at a local market, sliced and then froze the slices.  I have also used it for Indonesian dishes too. (if unable to find, I have bought fresh from amazon also)
Thai bird chiles -little chiles that have a Knock Out punch. So be careful to avoid touching too much especially when deseeding
Konnichiwa! (Hello!) I'm Pat Tokuyama, a Japanese tofu cookbook author, who travels for music, food, and adventure. If you like Japanese tea, checkout some of the newestorganic japanese teas now in stock!!
** Curious about the Plant Based Japanese Cooking Club? ** Learn more here!

Other Thai food supplies
Rice noodles – I've used various brands I've found at my local market and couldn't really tell the difference, so no preference here really!
Jasmine Rice – I bought a huge 25lb bag at Costco
Sticky rice – I bought the 3 ladies brand at my local grocer. Here is the collander I used to make sticky rice, holes are small enough to not let rice through as it steams over a pot
Thai Iced Tea – Get the Number One Brand !! Because that's number one! Pay very close attention to the packaging there are very subtle differences between the real product and imitators. See how I make it here – How I do Thai Iced Tea
I hope you found this article on Thai food supplies useful and would certainly welcome any comments or questions.
If you liked this post, please share or leave a comment. Thanks for reading!