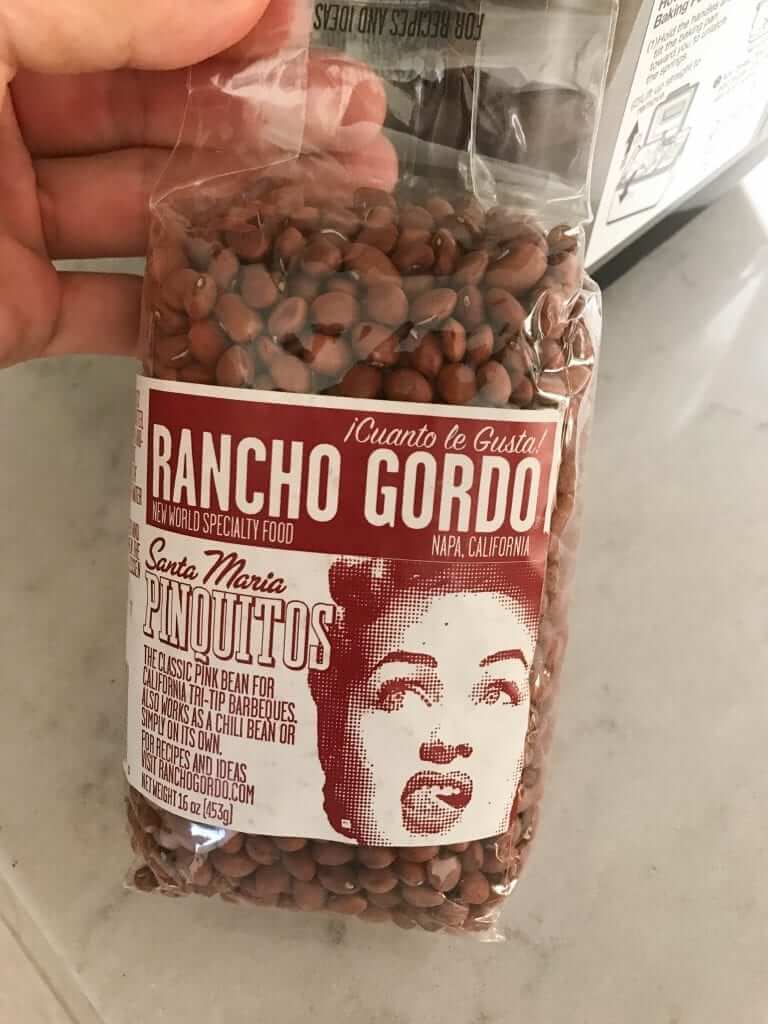 Rancho Gordo Heirloom Beans
If you haven't heard, Rancho Gordo is one of the larger suppliers of heirloom beans.
I originally heard about this brand through one of my food magazines.
As soon as I heard about heirloom beans I knew I had to try them.
First, because they sounded so tasty.
Second, because they are healthy.
They pack a ton of protein and fiber and are good for the planet!
If you've never heard of heirloom beans before, a quick google search will show you all the different varieties.
And there are many!!
Like heirloom anything, you'll be in for a treat.  Assuming you like heirloom foods 😉
For this post, I'll be sharing how I prepared my pinquito beans.
These pinquitos are quite similar to pinto beans.
Just a lot smaller.
If you like pinto beans, you'll probably like pinquitos!
Don't forget to scroll down for some tips on making beans in general! 
Pinquito beans vs Pinto beans
I think there are several differences:
I think the flavor of these is much more prominent.
The texture was more firm.
The outside skin of the beans never fell off after cooking and mixing, like often happens with other beans. (But maybe I didn't cook them long enough. ???? Next time I will cook them longer to see if the skin actually does come off.)
These beans are pretty small, maybe 1/4-1/3 inch in size, and even after soaking, they remained small. Almost like the size of M&M's or Skittles.
Taste the bean.
Not the rainbow.
New marketing phrase?
This recipe is again supposed to be a side for BBQ.
I think I really want to eat BBQ… and I'm just making all the sides first.
Have you noticed? 😉
Here are a few tips you may find helpful in cooking your beans-
For the best flavor, keep the bean water that you have soaked your beans in.
If you have trouble in keeping your beans from popping open (split skins) there's two things you can do-

Keep the cooking temp so that the liquid is a gentle simmer
Or add salt to your cooking water (rather than use plain water)

As the beans cook, they'll absorb water from the pot, make sure to add warm water to keep the beans covered. If the pot dries out, they'll quickly burn!! 

The way I heat my water is by microwaving it in a Pyrex, you could also use a hot water dispenser or another pot

Stir beans occasionally throughout the cooking process to prevent sticking. This is key!!
If you're unsure that your beans are done or not, just take a bite! If it's at the texture you prefer they're likely done! If you're using a variety of beans in one pot test one of each!
Factors that can affect how fast your beans cook include-

freshness (fresh beans will cook quicker)
altitude
soaking time
Ok! I think that's everything I could think of in terms of cooking your beans. Do you have any other tips or suggestions? Let me know with a comment below!
The pinquito beans prepared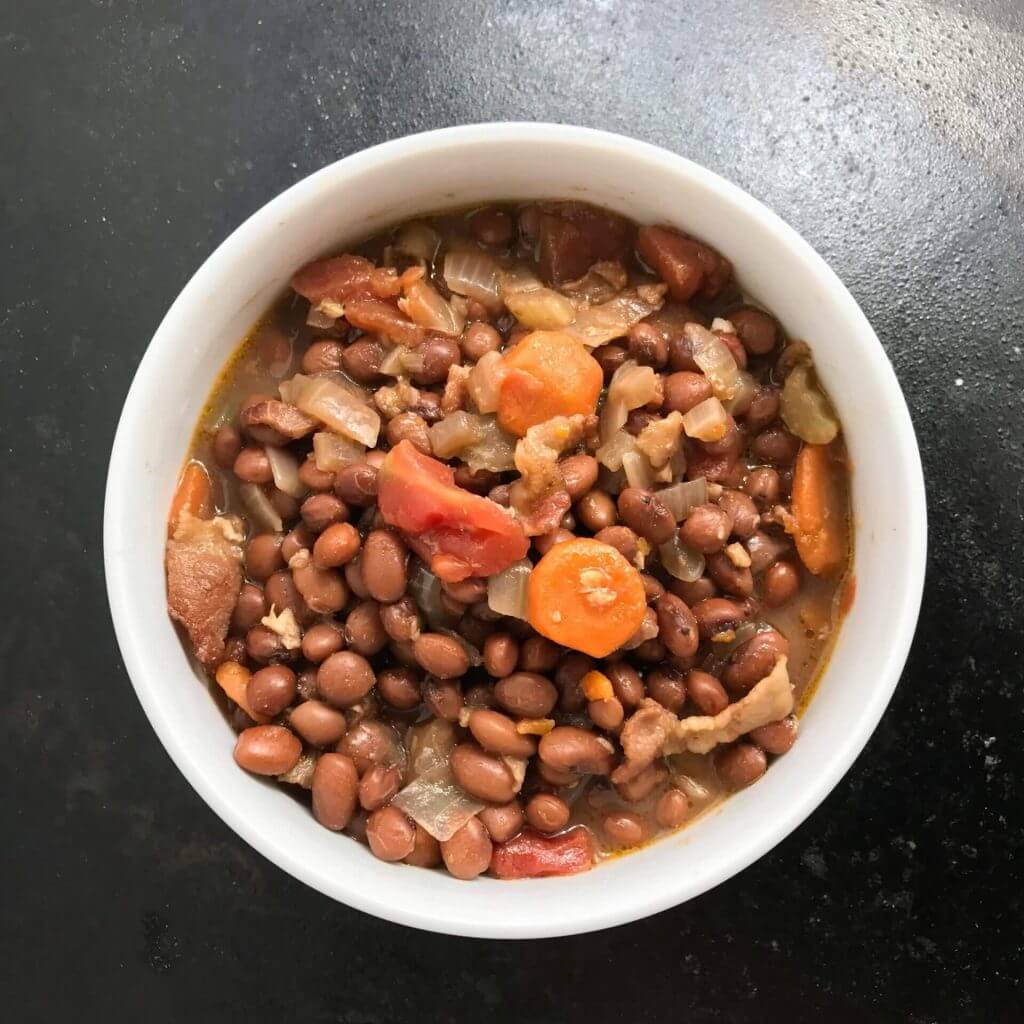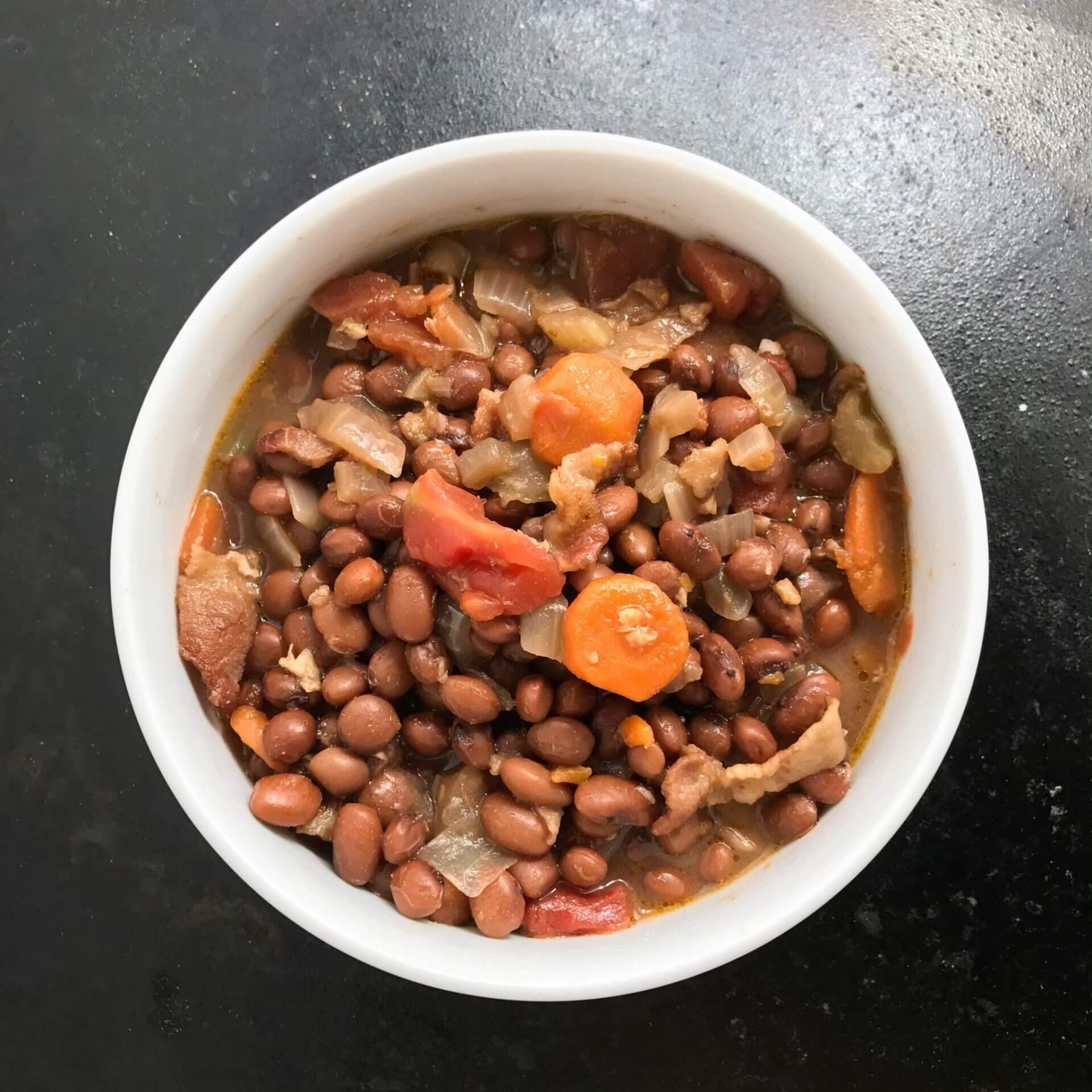 In case you missed them, here are some of my other bean posts!
[display-posts tag="beans"]
recipe inspired by cambriawines.com
Print
Santa Maria Style Pinquito Beans
Prep Time:

15 minutes

Cook Time:

4 hours

Total Time:

7 hours 15 minutes

Yield:

6

people

1

x
Category:

side

Cuisine:

New American
1/2

pound pinquito beans (i used Rancho Gordo's)

5 cups

water

2 tablespoons

olive oil

2

whole carrots (peeled and chopped)

1/2

medium Onion (chopped)

2

stalks celery (chopped)

1 teaspoon

salt ( )

2

slices bacon (chopped)

1/2

medium Onion (chopped)

2

cloves garlic (crushed)

3 ounces

tomato puree

1 tablespoon

brown sugar

1 teaspoon

mustard powder

1/2 teaspoon

Tabasco sauce
Instructions
Soak beans overnight in 5 cups of water.
Leave beans in their soaking liquid and add, carrots, onions, celery, and salt. Bring to a boil and then reduce to a simmer. Cover and cook for 2 – 3 hours until the beans are tender.
Meanwhile, in a large skillet, add olive oil with bacon and cook until crispy on medium heat. Remove bacon when done and set aside. Add onion and cook for 3-4 minutes, stirring occasionally.
Add the garlic and cook for 1 minute, then add the tomato purée, brown sugar, dry mustard and Tabasco.
Add the contents of the skillet into the pot with cooked beans and simmer for at least one hour. Mix occasionally and once the flavors have melded together, serve!
Notes
If you can't find these in your local market, Amazon has a sampler available.