Ohhh man. Mentaiko Pasta with Cream,  Shiso and Nori. So rich and savory. No pasta compares to the flavor and textures that are exemplified in this dish.
3 Main ingredients are cream, butter, and caviar. A dash of salt, a bit of mayo, topped with a bit of parmigiano reggiano, shiso (sesame leaf), nori (dried seaweed) and fresh cracked pepper. Maybe even some shichimi (7 flavor pepper) to kick up the spice?
If you haven't heard of it before, Mentaiko pasta gets it's flavor primarily from mentaiko. Mentaiko is also known as cod roe or fish eggs. It is pretty salty and can be eaten with rice or a dish like this. The eggs are quite tiny and come in little egg sacks usually. So you have to cut them open to get out the goods.
The last time I had mentaiko pasta (明太子パスタ)was at n/Naka in Culvery City and it was amaaazing. Ever since then I was planning to remake the dish myself and finally got around to it. Mentaiko Pasta is a Japanese dish that you might find at Italian or fusion restaurants in Japan. They even sell pasta seasoning packets with which you can make this dish. So, if you have difficulty sourcing the real thing, there are alternatives. Such as these packets made by S&B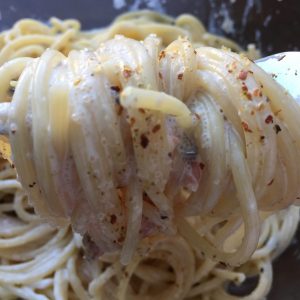 Should you be fortunate enough to find this at your market, you will notice there are different types. For this recipe I used sweet (amakuchi 甘口). There is also a spicy version (karakuchi 辛口) which you could also use. They do taste different and would affect the flavor of the final product. Depending on your tastes, I think either one would result in a delicious dish.
If you're thinking caviar pasta doesn't sound that appetizing, the cream, butter and mayo really mute any seafood/fishy taste one might usually associate with fish eggs or caviar. And if you don't like mayo, you really can't taste it.  It adds another layer of flavor.
If you liked this post, please share or leave a comment. Thanks for reading!
Watch me throw the Mentaiko Pasta with Cream Shiso and Nori together below !
Save
Print
Mentaiko Cream Pasta with Shiso and Nori
Prep Time:

10 minutes

Cook Time:

10 minutes

Total Time:

20 minutes

Yield:

2

people

1

x
Category:

Main Dish

Cuisine:

Japanese
1/2

lb

Spaghetti

60

grams

Mentaiko (~4 heaping Tablespoons)

30

grams

unsalted butter – room temperature (~2 Tablespoons)

1/2

cup

heavy cream (+ 1 Tablespoon)

2 teaspoons

mayonnaise
Freshly ground Pepper

3 Tablespoons

of shiso (sesame leaf)

3 Tablespoons

of nori (dried seaweed)
Cook spaghetti in salted water according to package directions
Meanwhile, weigh out 60 grams mentaiko and 30 grams unsalted butter. Mix two ingredients in a large bowl
Add in heavy cream and 2 teaspoons of mayo.
Once pasta is done, drain thoroughly and add directly into bowl with sauce.
Top with freshly ground pepper, shiso and nori.