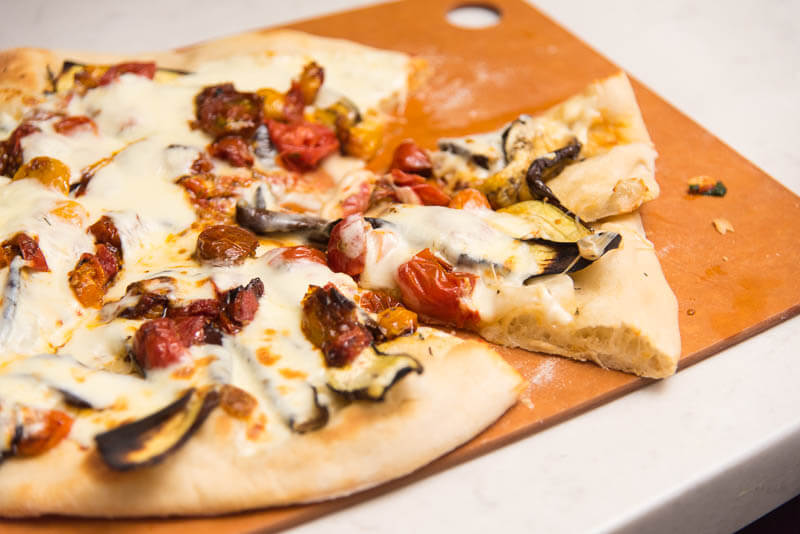 If you weren't ready for something different yesterday…
I hope you're ready today!!
This is the second post for my 'Cook with Pat' cooking show. And we're going to be talking about pizza again!! My fav!!! 
I'm going to host a cooking show for the first couple of weeks in 2018.
The videos will be posted on my Youtube Channel All Day I Eat like a shark. Subscribe if you want to get updates!
In my first two pilot episodes, I am walking you through my process for making pizza.
No you ain't my doggy, but you know what I mean~!
Homemade pizza is super easy to make and super tasty.
If you missed part 1, check out that episode and post here –  How to Make Pizza with Italian 00 Flour Part 1: Dough
In this post, we're going into the toppings.
I think the toppings are equally as important as the crust.
What about you?
Making the Pizza Toppings
My base sauce for the pizza is crushed garlic with extra virgin olive oil (EVOO).
I use a ratio of 4 cloves to 1/4 cup of olive oil, roughly.
It's one of the first things I make when making pizza.
After crushing the garlic, I let it sit for a good 30+ minutes to let all the oils infuse.
In my video, I made two different pizzas.
For one pizza, I used a tomato sauce that I froze from the last time I made pizza.The recipe I used in this video can be found below.
That tomato sauce has a good amount of fennel seeds (which I absolutely love!!) and a dash of paprika, both of which add to the complex melange of flavors inherent in the recipe.
Sorry for the big words there.
For the other pizza, I just used roasted cherry heirloom tomatoes and roasted Japanese eggplant both of which were seasoned with salt and pepper.
If you use fresh tomatoes on your pizza, I'd recommend roasting them until a good amount of the juices have evaporated and thickened on your baking sheet.
That's what really makes the tomato flavor stand out and cuts back on any acidity.
Roasting tomatoes also brings out the natural sweetness, and given that they're heirloom, they are extra tasty!
For both tomatoes and eggplant that I roasted, I only used EVOO, salt, and pepper for seasoning.
That's all you need really.
It's a delicious combination and if you haven't tried it, I'd highly recommend it!

Making the Pizza
I preheat my oven for at least an hour at 500F with the pizza steel on the top rack.
This is key especially if you are using a baking steel or stone.
If you don't preheat your oven properly, your pizza won't bake as quickly and you'll need to extend the baking time.
Preheating goes for bread too. The side walls of your oven will absorb and retain heat and that's another reasons you should preheat! If you don't preheat long enough, the side walls won't get hot enough, and your dough will take longer to bake.
Once I have my dough rolled out, I top my crusts with the garlic olive oil and prebake until they are slightly browned on the bottom.
The dough will have risen slightly, and sometimes there's a big bubble I'll need to pop as a result. Other wise, there will be a circular area on the top part of the crust with no garlic olive oil.
After prebaking the pizza crust, I then take it out of the oven and top it.
I always layer the sauce first, then cheese and any other toppings I'm using.
I like a lot of cheese on my pizza and realize some may not like that much.
For my pizza, I used 1/2 lb per 14 in pizza.
Many artisan pizzerias use a lot less, probably like 1/4 lb. or less for a 14 in size pizza.
So if that's the style you like, keep that in mind.
Anyways, enough reading for now, let's see how I put everything together in my video below:
Fresh Mozzarella vs Non-fresh Mozzarella (not in water)
I have a confession to make.
Though I consider myself a super taster of food, I can't tell the difference in quality between fresh mozzarella and non-fresh mozzarella cheese on pizza.
I think in general, I perceive fresh mozzarella to be creamier with a bit of a richer flavor.
But that's only on the first day.
I feel like on the second day after reheating, it's a toss up.
Sometimes I'll spend a little more for fresh if I'm in the mood.
Can you tell the difference?!
Lastly, If I'm doing a margherita, (which I almost always make on pizza nights) I put on the basil at the very end.
I allow it to bake for around 45 seconds or so until wilted.
Sometimes I like to chop it into little bits so it's more spread out, other times, I like to get big fat leaves in each bite.
So totally up to you!
Alright, we'll we covered a lot and this will conclude my pilot episodes on making pizzas.
I hope you found this informative, and if you have any questions or feedback let me know!
Cook with Pat Episodes 3-5 are in the works, so stay tuned!
In case you were wondering, here are some of the useful tools I use to make pizza-
Print
How to Make Pizza with Italian 00 Flour Part 2: Toppings
Prep Time:

5 minutes

Cook Time:

45 minutes

Total Time:

50 minutes

Yield:

4 cups

1

x
Category:

Main Dish

Cuisine:

New American
2

cans tomato sauce (

15 ounces

each)

1

can tomato paste (

8 ounces

)

1 tablespoon

Italian seasoning

1 tablespoon

dried oregano

1 tablespoon

fennel seed

1 teaspoon

onion powder

1 teaspoon

garlic powder

1/4 teaspoon

salt

1

dash paprika
Instructions
In a large pot, toast fennel seeds for a minute or two on medium low heat until fragrant.
Combine all the other ingredients and mix well. Turn up heat and bring to a gentle boil, then reduce heat to a simmer. Cook for at least 45 minutes while stirring occasionally.
Sauce can be used right away for pizza, or if not, store in freezer in airtight in a glass canning jar. (I'd recommend trying to use the remaining sauce within one month of freezing.)