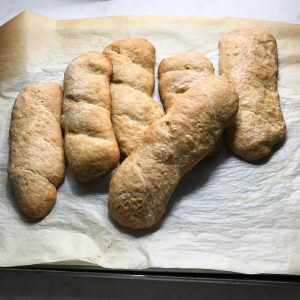 Did you know that in France, the production of baguettes is regulated by law?
And that they can only be made with flour, yeast, salt, and water?
During my trip there I was able to get through one of the best books I've read in a long time called "Real Food, Fake Food" by Larry Olmsted. This was the first time I had heard about bread being regulated by law.
Very cool and definitely a good thing, at least in France. Maybe that is why the quality of baguettes is so good there!
If you haven't read it and you like food, it is an absolute must read. It will change your perspective on a lot of food products as well as restaurants. I plan to post a review sometime this week if you want to hear more. Now back to the baguettes…
If you follow me on Instagram, you would have seen a few posts of me making baguettes. I finally got around to finishing up the video I took of that whole process
While in Paris, I got to have a taste of the real thing and yes, they were as delicious.
As most of us aren't in France, the next best thing is bakery bought (if you have a good one) or even better homemade. This was my first attempt at recreating these at home.
I did some research looking at a few recipes to try including these: Cooks, The Fresh Loaf, PBS, and King Arthur
I ultimately settled on King Arthur
I've made many of their recipes and they generally turn out well. The Fresh Loaf was my second choice, as it also had the 4 base ingredients and nothing else.
I chose King Arthur's because of an associated blog article. With pictures for each of the steps.
Plus, if you didn't know, they have a hotline you can call, for when you have a mid-baking crisis and need someone to help you.
It's essentially 911 or 411 depending on your situation for your bread/cakes and other goodies.
I'm not going to post the recipe since I didn't really alter it. But I will outline what I chose to do and why-
Things that I altered include:
To make the dough, I used active dry yeast (it's all I have). So I proofed it in room temperature water before combining with my starter and bread flour
I used the upper range of water (1.25 cups), because I read somewhere that a wetter dough leads to more bubbly bread.

More bubbles = better ability for the bread to catch your butter.
As the dough was quite sticky, I will experiment next time with a little less water. Maybe just 1 cup.

I used the lower end of the salt range, just 1.5 teaspoons. I always try to minimize salt, but may experiment increasing to 2 tsp to see if there is an impact on flavor.
Lessons Learned
Use a new bowl once the dough is ready for its first rise

I will probably get a cleaner dough to start with and all of it will be thoroughly oiled, versus some sticky parts on mine.

Not sure if my stone countertop is the best surface

even thought I oiled it, the dough still stuck to it. Could have been the dough not being oiled evenly because I used a dirty bowl or the counter or both.
Might use my Silpat baking mat next time

The last rise was exactly 1.5 hours.

I think I will let it rise at least another 30 minutes to get a little puffier. My baguettes were a little flat.
maybe use tea towels instead of plastic wrap to cover the dough also
alternatively instead of making 6 little baguettes, I could try and just make 4 larger ones

Scoring the bread.

This will deflate your risen dough a bit and its noticeable when you do it. As such, I wasn't as aggressive as I should have been. Once scored the bread essentially stayed the same size and shape after I baked it in the oven.
Next time I will hold the dough in one hand and score with the other.
As I was making my dough, everything was very close to what appeared in the pictures. Always a good thing when trying something new!
The only major difference was during the last few steps. They use a baker's couche, or cloth for the last raise, just before baking. If I continue to make baguettes I might just have to get one.
The purpose of the couche is to keep the dough dry and in the correct shape as it proofs. You can also use tea towels as an alternative, but it might be more work.
Do you want to make baguettes?
I will say, if you are interested in making baguettes, it's not as difficult as you would think. At least to get the flavor right. The flavor in these baguettes was amazing and texture was spot on – crunchy crust and soft interior.
I haven't found anything in the store or at a local bakery that even comes close.
Now I just need to refine my technique to get the right shape and size.
If you haven't made baguettes before, this could be a good recipe to start with. Hopefully, my videos help to illustrate it's not too hard.
Let me know what you think and thanks for stopping by ! Have a great week 😀
Recipe is available at King Arthur
In case you missed them, here are some of my other baking posts!
[display-posts tag="baking"]
Save
Save
Print
True French Baguettes
Category:

side

Cuisine:

French