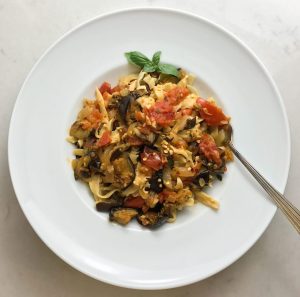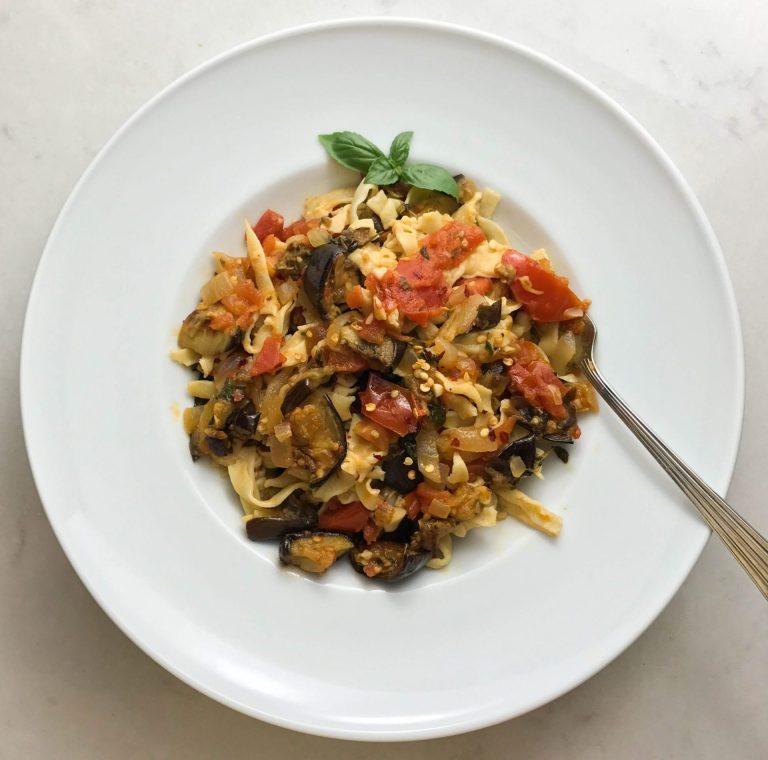 Hello Meatless Monday! Wanted to kick off the week with this rather humble eggplant and tomato pasta dish.
I found it buried deep inside my recipe box the other week. And haven't made it in a few years.
It's like my hand and the paper were running toward each other like long lost lovers. Finally reunited and spinning around hugging.
This dish marries two of my favorite pasta ingredients – eggplant and tomato. No prenup needed. Are you following?
Throw on a little red pepper and some parmesan cheese and you are golden.
An Easy Weeknight meal
I like how easily this comes together. It also doesn't have too many ingredients.
This means:
no eyes darting around the kitchen counter and spice cabinet looking for things.
no double checking and rereading the recipe because its got too many steps/ingredients
less chance of forgetting, misreading or incorrectly measuring something
prolongation of my youth – less gray hair and wrinkle development
If you can relate to any of the above and it's a weeknight, this might be a good option. 🙂
The hardest part which isn't that hard really is roasting the eggplant. (And making the fresh pasta if you don't already have it ready. I cheated this time, since I froze a batch last time I made it.)
Some tips for making this a success-
For the eggplant, make sure that you don't use too much oil and just a little salt.
If it looks like the eggplant soaked up all the oil, it probably did. Eggplant loves oil and when you are roasting it, some of it will come back out. Therefore, it's important that you mix and flip halfway through
Go easy on the red pepper if you are sensitive to spicy foods; fresh red pepper can be much spicier than old pepper
Adding the pasta back to the pot and mixing in the sauce prior to serving allows the pasta to soak up some of the sauce; as a result, your pasta will have more flavor

Important to not cook the pasta all the way to al dente, otherwise it may overcook once the sauce is added to it
If you are interested in seeing what other pastas I have made, have a look at these pasta recipes!
I also recently got a KitchenAid Pasta Extruder attachment that I have been playing with so more pasta recipes to come.
Thanks for stopping by and have a great week!
In case you missed them, here are some of my other pasta recipes!
Bucatini with Fresh Herbs and Zesty Breadcrumbs
Spaghetti with Pancetta, Kale, and Butternut Squash
Cacio e Pepe (Roman pasta with cheese and pepper)
Fresh Pasta – Fettuccine with Arugula Walnut Pesto
Roasted Sun Gold Tomatoes with Spaghetti, Basil and Parmigiano Reggiano
Mentaiko Pasta with Olive Oil and Shiso
Mentaiko Pasta with Cream, Shiso, and Nori
Japanese Style Macaroni Salad with Bacon, Cucumber, and Red Onion
Japanese Style Macaroni Salad with Tuna
If you liked what you saw, please join my email list! No more than once a week, I send out site updates and other consumable gold nuggets.????
Email list sign up bonus: A free copy of my Ebook All Day I Eat's Top 10 Recipes for 2016! 
[mc4wp_form id="1849″]

Fresh Fettuccine with Roasted Eggplant and Tomato
Prep Time:

20 minutes

Cook Time:

30 minutes

Total Time:

50 minutes

Yield:

4

people

1

x
Category:

Main Dish

Cuisine:

New American
2

medium eggplants

7 tablespoons

extra-virgin olive oil

1

medium red onion (chopped)

4

cloves garlic (crushed)

14 oz

tomatoes (i used canned)

4 teaspoons

fresh oregano

1 teaspoons

red pepper flakes

1/4 cup

fresh basil (and to garnish)

1

pound fresh fettuccine (can also use pappardelle)
freshly cracked black pepper
Parmigiano-Reggiano (for serving)
Cut the eggplants in half top to bottom, Then crosswise into 1/2-inch thick slices.
Drizzle 3 tablespoons of olive oil over each eggplant and mix to spread the oil. Spead on a baking sheet in a single layer and sprinkle with salt and black pepper and roast at 425 degrees for 20-25 minutes. Mix and turn over at least once about halfway through.
While the eggplant roasts, add a tablespoon of the olive oil to a large skillet and saute onions for about 4-5 minutes until translucent. Then add garlic and saute another 2 minutes.
Add the tomatoes, oregano, pepper flakes, and basil. Saute on medium for a minute or two and then decrease to low heat and cook another 15 minutes. Stir at least once or twice.
Once eggplant is roasted, remove it from the oven, and add to the skillet. Allow the sauce to simmer for 10 minutes so the flavors meld.
Meanwhile, bring a large pot of salted water to boil. Add the pasta and cook until just before al dente. Then drain.
Add pasta back to the pot and mix in the sauce with heat on low. Allow to sit for a minute, remove from heat and serve.
Top the pasta with additional chopped basil and red pepper flakes to taste. Serve.