Creamy Mentaiko Pasta with Fresh Spaghetti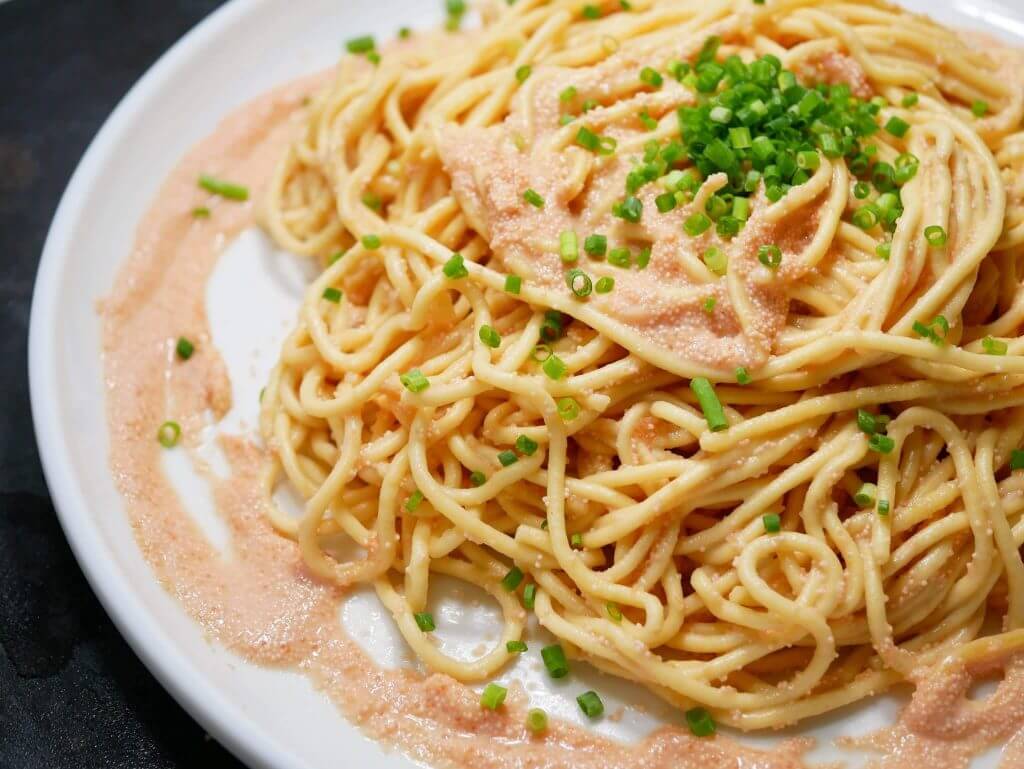 This is a sponsored post. Kewpie USA was kind enough to send me a box of mayonnaise and some salad dressings and this was one of the dishes that I've prepared with their products. If you haven't heard of Kewpie before, it's well known for it's mayonnaise, which is richer and creamier than it's American counterparts. They also make great salad dressings, one of my favorites being the sesame one.  Give them a try if you want to add some Japanese flavor to your food!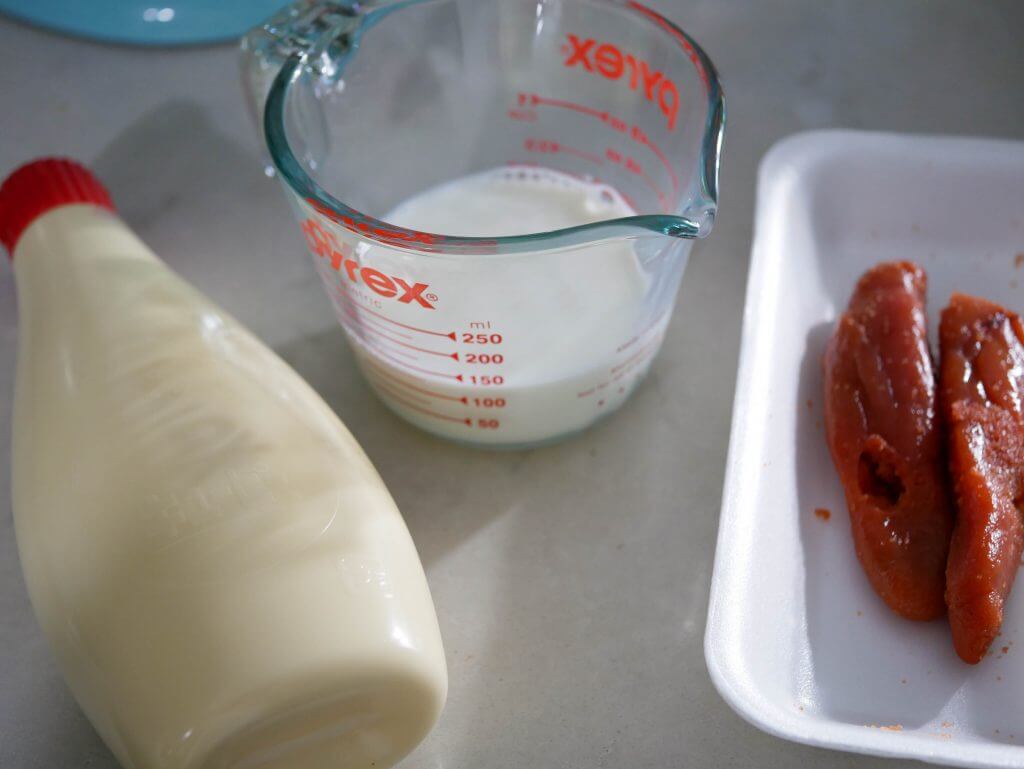 Mentaiko Pasta without Cream (明太子パスタクリーム無し)
I like mentaiko pasta (明太子パスタ)and how it's often made with cream and butter. Making it a really rich and decadent dish.
But, I think I get enough cream in my diet from all the ice cream I make and wanted to eat a creamless version of this dish.
So in my search for something creamy and on the lighter side, I found this combination did the trick!
Whole milk and butter keep the sauce rich, but not overly heavy like a cream based sauce.
The mentaiko eggs keep everything nice and savory while the light soy sauce adds depth.
The other secret ingredients are:
Sugar which balances out the saltiness of the eggs and sauce
Kewpie mayonnaise for additional complexity
I wanted to try making this with fresh spaghetti and that paired with the sauce was a magic.✨
Yo! I'm Pat, a self-taught cook, who travels for music, food, and adventure. Here I share my knowledge of Japanese cooking, indoor gardening, and points travel.
If it's your first time here - learn more about me.
I go Live on Youtube each Weds - Live Cooking Season 2 @ 6PM PST! join me in my kitchen!
Fresh Spaghetti
I used my Kitchenaid pasta extruder with David Lebovitz's pasta recipe for this time. (He makes good ice cream by the way:) )
The noodles came out very light and slightly chewy.
The only things that I think could be improved for the pasta are the density and chewyness of the spaghetti.
I've yet to find a fresh pasta recipe where the noodles come out really really chewy.
I had really chewy, dense noodles in Italy and haven't been able to replicate that texture yet at home.
I'm thinking I need to increase the semolina ratio. But not sure. Any thoughts?
I'll need to do some research!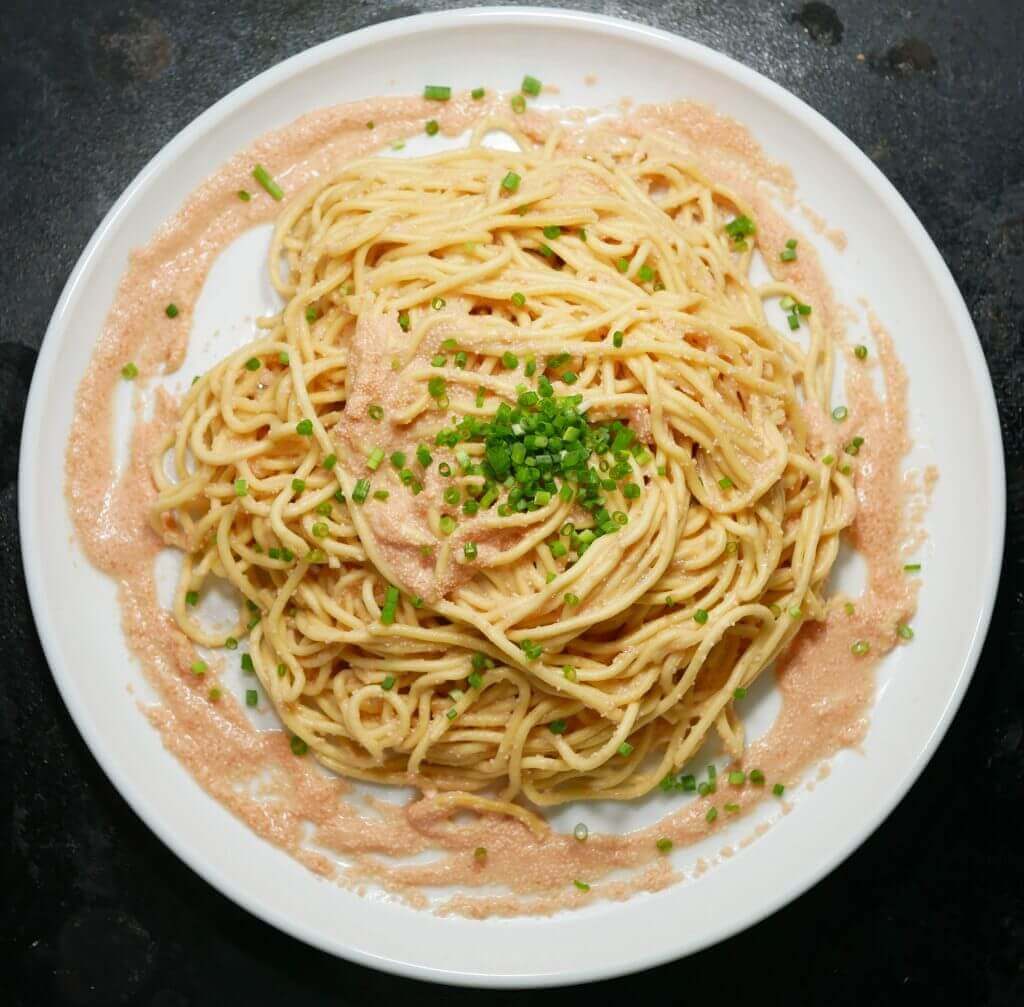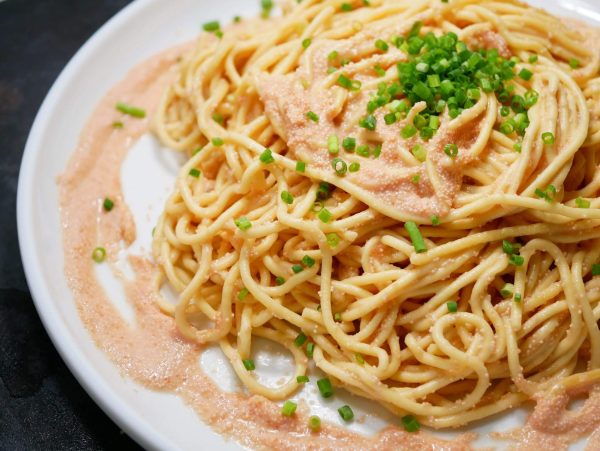 | | |
| --- | --- |
| | |
Prepare a boiling pot of salted water and cook fresh spaghetti until barely al dente and set aside

Prepare the mentaiko sauce by removing the eggs with a spoon from the egg sack. Combine with milk, soy sauce, mayo in a small bowl or cup and set aside.

Once the pasta has cooked, drain and reserve 1/4 cup pasta water.

Using a large skillet or clean pot, on medium heat, melt the butter and add the pasta. Toss until pasta is evenly coated, roughly 20-30 seconds and turn heat to low.

Add in the mentaiko sauce, mix to evenly coat noodles another 20-30 seconds. Be careful not to allow all the liquid to evaporate. If you did, add in reserved pasta water to thin.

Remove from heat and serve with chives!