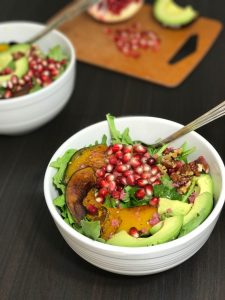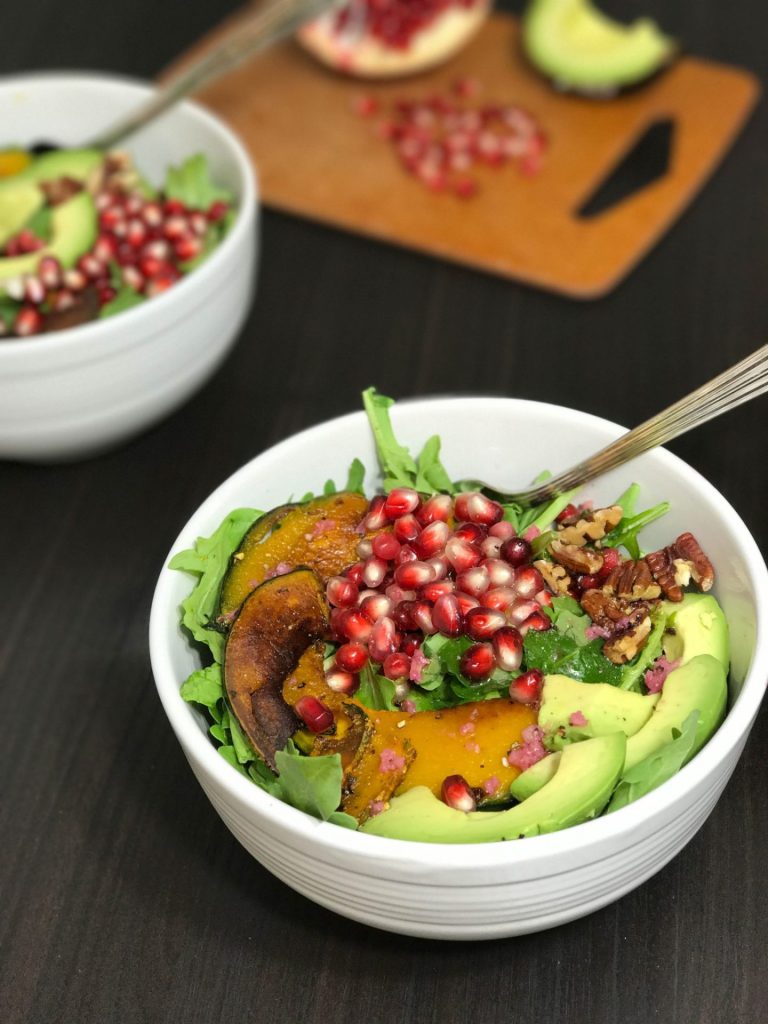 Prior to leaving on my Eurotrip, I went on a bit of a healthy eating binge. *gasp*
I made a bunch of salads and other dishes that I thought would do a body good. Better than milk for your bones. Lots of salads and vegan recipes to soothe the foodie soul.
All my attempts were winners in my book. Which was awesome because every now and then, I do come across a disappointing recipe or two. Because my endeavors were all so tasty, I'm excited to be sharing them with you over the next couple of weeks.
As it's now Fall, I thought I would kick off this healthy series of posts with this delicious arugula salad.
It has arugula as a base. The base is supported by roasted kabocha (Japanese pumpkin), toasted pecans, pomegranate and avocado.
The vinaigrette dressing is also killer. With ginger, garlic, olive oil, apple cider vinegar, and pomegranate juice. It is one complex concoction of flavors that allows the base flavors to work wonders on your taste buds. Are you drooling yet?
If not, imagine the smells of caramelizing pumpkin and toasted pecans. Smells very Autumn-y doesn't it? Salivating?
If not, how about lemons. Lemons are sour aren't they? Do you like lemonade? Imagine drinking it on a hot day!!! If that didn't work I'm not sure what will. At least I got myself to salivate over the lemonade! Yum!
I forgot how I came across this recipe, but as soon as I saw it, I knew I had to give it a try. It was FOOD at first sight! And I'll say it again. It tasted as good if not better than it looks! And it's pretty healthy too. So two pluses there ++
Did you know Arugula is also called Rocket?
I found out a few years ago soon after I started eating it. Bon Appetit had an interesting article explaining the etymology. Essentially, the rocket was in reference to it's ability to "excite the sexual desire of drowsy people". I would have never thought that. So next time someone asks… there's your answer!
I don't know about you, but I've seen some restaurants refer to it as rocket on their menus. I think it makes whatever dish that it's a part of more appealing. Right? I mean would you rather order something with arugula or something with rocket ?
Back to salad. I used to primarily eat mixed greens or red leaf and romaine lettuce in my salads. I never ate much arugula before. But now, arugula is one of my favorite salad ingredients. It's pretty versatile and tastes good! It goes well in pizza, pasta, sandwiches or on it's own.
Arugula Salad Deconstructed
I think this arugula salad is one of the best I've made and hope you get a chance to try it. Here's what I think of each of the main flavors-
Pomegranate fruit – provides an extra layer of tart flavor and texture. Especially as you burst the fruit kernels with your teeth!
Pan-roasted kabocha- sweet, savory and soft
Toasted pecans- sweet and crunchy
Avocado- creamy and soft; it really helps to mellow out the acidity of the fruit and vinaigrette.
Ginger-garlic-pomegranate vinaigrette- tart, sour, savory and pungent
The original recipe also called for pumpkin spice and cucumbers. The spice didn't sound that appealing to me so I left it out. Plus I didn't have it.
I also didn't have cucumbers so I left those out as well. However, if I were to make this again, I don't think I would change anything since I really like the way it turned out. I could even see walnuts being substituted for the pecans and maybe goat cheese for the avocado. I might try that in the future.
Another consideration is omitting the pomegranate juice from the dressing and just using the vinegar and olive oil. I think it's a matter of personal preference and how much you like pomegranate. Might try this a few iterations down the line.
Anyways, I really enjoyed this salad and plan to make it again in the near future. When I do experiment with it I can let you know how it goes by updating this post!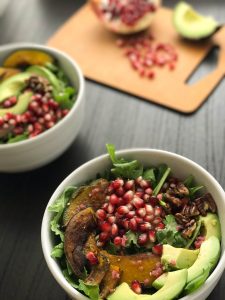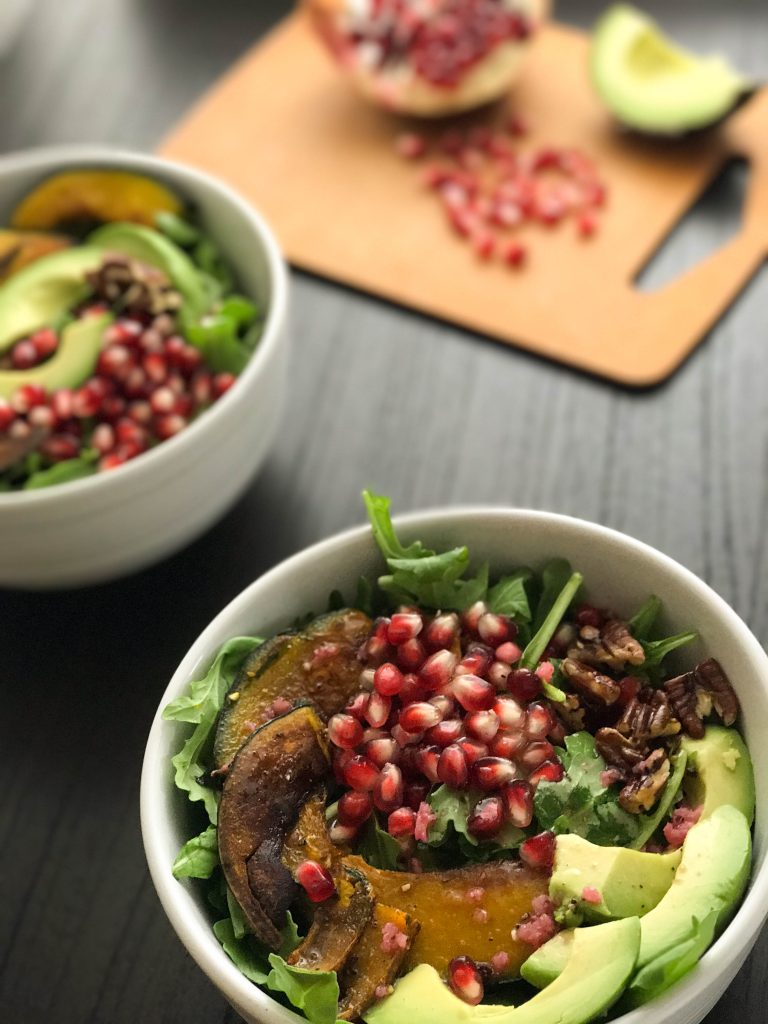 Lastly, this is random but thought I would share. I had the chance last year to plant rows and rows of arugula when I volunteered at a local farm.
This is where arugula grows. Always interesting to see the actual source of our food since most often we never see or think about it. Out of sight of mind. Might try growing some at home just to see if it tastes any better than what I get at the market!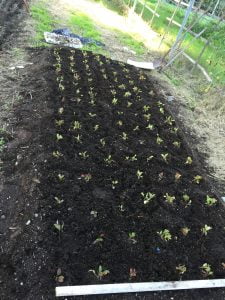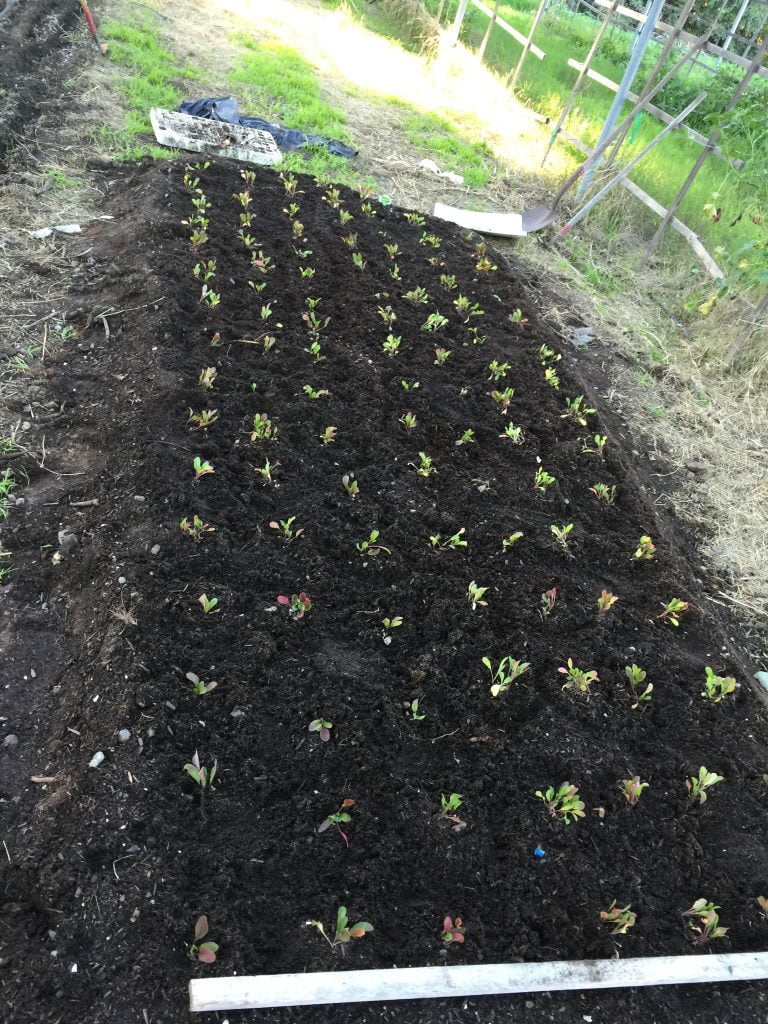 In case you missed them, here are some of my other salad recipes!
[display-posts tag="salad"]
Save
Print
Arugula salad with Roasted Kabocha and Pomegranate ginger vinaigrette
Prep Time:

20 minutes

Cook Time:

15 minutes

Total Time:

35 minutes

Yield:

4

people

1

x
Category:

side

Cuisine:

New American
2 tablespoons

extra-virgin olive oil

1/2

one kabocha (sliced

1/4

–

1/2

inch thick rounds )

1/4 teaspoon

salt

1/4 teaspoon

fresh cracked pepper

1/4 cup

whole pecans (chopped and toasted)

6 cups

baby arugula (and more as needed)

1

whole avocado (sliced)

1

whole pomegranate (fruit separated from skin)
pomegranate ginger vinaigrette
1/3 cup

extra-virgin olive oil

1/3 cup

pomegranate juice

1/4 cup

apple cider vinegar

1/2 teaspoon

Ginger (grated )

1

clove garlic (crushed)

1/4 teaspoon

salt

1/4 teaspoon

fresh cracked pepper
Instructions
Dressing
Combine pomegranate juice, vinegar, ginger, garlic, salt and pepper in a large bowl and whisk together. Stream in the olive oil while constantly whisking until the dressing comes together.
Salad
Heat a large cast iron skillet on medium heat and add oil. Once hot, add kabocha slices and season lightly with salt and pepper.
Cook for 3-4 minutes or until the bottom is golden/brown and then flip and cook the other side. Remove from heat once browned on both sides.
Using another skillet or small pan, toast pecans until fragrant. Allow to cool and then chop
Add the arugula to a large salad bowl. Add in the avocado, pomegranate, pecans and kabocha slices. Drizzle the pomegranate dressing and serve