Wanna make homemade waffle cones? Using the same machine you can also make waffle wedges and waffle bowls! What better way to enjoy delicious homemade ice cream, than with homemade waffle cones! With the Chef's Choice 838 Waffle Cone Express, making waffle cones of your own can be fast, fun and easier than you think 🙂
Chef's Choice 838 Waffle Cone Express Product Review
Getting tired of plain old ice cream in a bowl or straight out the container?
I know I was…
This little toy is what I use to take my ice cream eating experience to the next level!
While I enjoy my own homemade ice cream, if you know me, I'm always about layers and layers of flavor.
This is one way to add a layer or of both flavor and texture.
I'm not really into toppings since I like the pure flavor of ice cream alone, but I do enjoy a good waffle cone.
So that's what led me to try out this waffle maker.
I also soon realized that despite being quite a specialized device, you can make more than just waffle cones.
Read on to hear about my experiences with this waffle cone maker.
Or just watch the video above if you prefer 

The Chef's Choice 838 Waffle Cone Express what's in the box:
a manual
a few recipes
a waffle cone mold that makes large cones – think 2 generous scoops of ice cream.
the waffle cone machine itself
The waffle cone maker's dimensions are 8 3/4 inches wide, 3 1/4 inches high, and 10 inches deep.
Its nonstick waffle plates are 7 inches in diameter.
There are hooks underneath the waffle maker for you to easily store the power cord.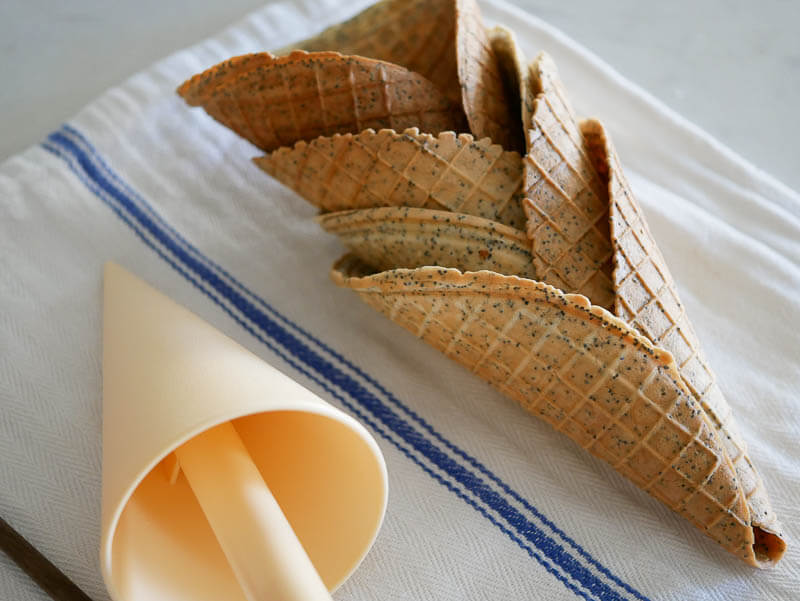 Using the Waffle Cone Express
In terms of using the device, you control the waffle making process using a color based dial
The numbers correlate to how light or dark you want your waffles to be.
The dial goes from 1-6 with 6 being the darkest.
The machine also has red and green lights to show you the status of your waffle.
The red light tells you that it's baking and the green light tells you that it's done/ready for baking.
It's a pretty high-powered machine, as it's rated to draw 1050 watts!
What all that power means is that you can cook waffles pretty quickly.
In my experience, around 90 seconds is all it takes for medium dark colored waffles.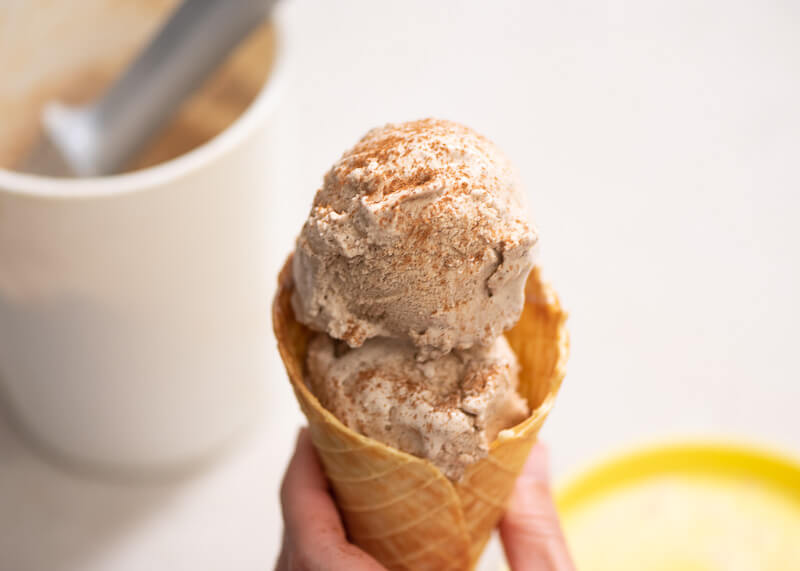 Waffle Cone Express pros and cons 
Pros:
It makes really tasty waffle cones! I'm definitely happy with the texture, color and overall quality of the waffles that it can produce (you just need a good recipe)
You have the flexibility to shape the waffle into cones, bowls or wedges
You can make cones quickly, in under 2 minutes
Cons:
You can only make one waffle at a time.
If you wanna make more than that simultaneously, you'll need more than just one Waffle Cone Express…
The waffle cones it produces are relatively big. So, if you prefer smaller cones, you can adjust the amount of batter you put in, but it'll take practice to get the amount just right
(e.g. if you'd normally use a quarter cup of batter, try putting a couple of tablespoons)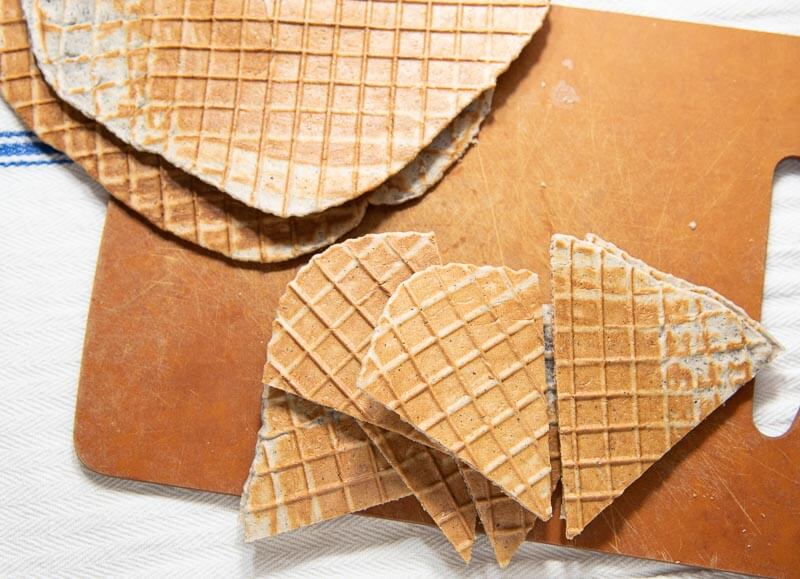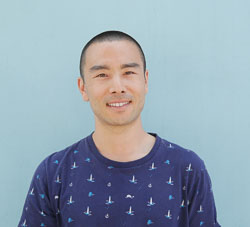 Konnichiwa! (Hello!) I'm Pat Tokuyama, a Japanese tofu cookbook author, who travels for music, food, and adventure. If you like Japanese tea, checkout some of the newestorganic japanese teas now in stock!!
** Curious about the Plant Based Japanese Cooking Club? ** Learn more here!

Conclusion
Overall, I'm pretty happy with this machine!
The Waffle Cone Express was designed well and is easy to use.
I didn't know what to expect when I initially bought it, however I've found success making all kinds of waffle cones.
You just need a good recipe.
I've had a few not so good ones, and a few decent ones.
Some of which I'm working to improve, such as matcha cones, oat flour cones, almond flour cones.
And of course some of my favorites, classic waffle cones and lemon poppyseed waffle cones!
A solid choice if you want to kick up your ice cream eating experience up a notch.
What's YOUR favorite kind of waffle cone? Do you think you'll get one of these?
Let me know in the comments below!