Warm Farro with Buttered Onions, Cranberries, and Pecans
Warm Farro with Buttered Onions, Cranberries, and Pecans is a quick and easy salad to prepare. Even quicker and easier to eat it! Especially since the flavors are well-balanced, with a bit of sweet, a bit of savory, delivered straight to your taste buds in an earthy buttery blanket!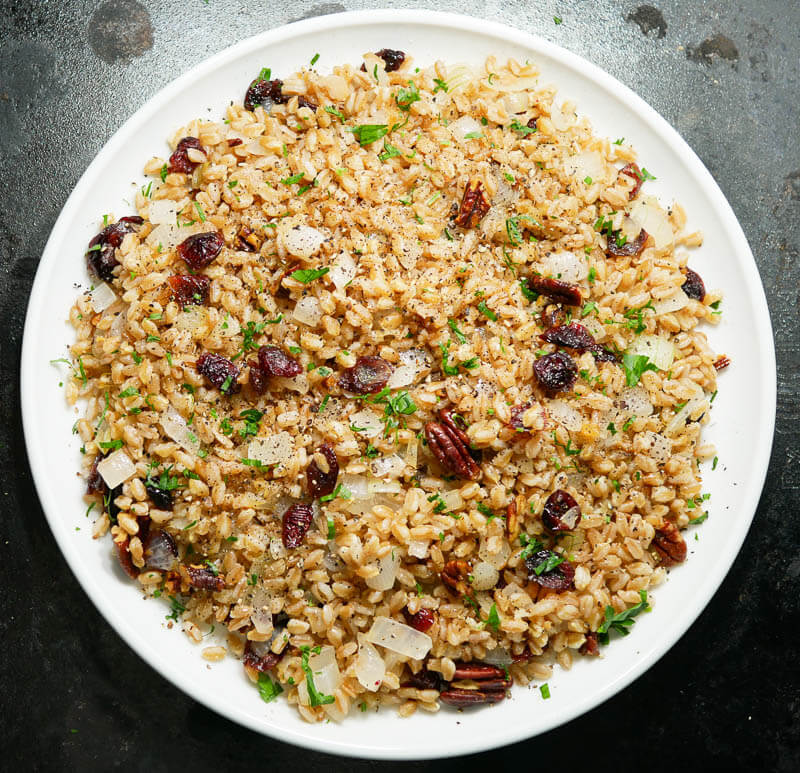 This is a sponsored post. Bob's Red Mill was kind enough to send me a box of goods and this was one of the dishes that I've prepared with their products. If you haven't heard of Bob's Red Mill before, they produce all kinds of goods, ranging from grains and beans to flours and baking ingredients. Some of my of my favorite products are their farro and flours!  Give them a try if you are looking for a new brand to cook with!
Farro and The 'Shark'
What do sharks do?
They eat.
What does Patrick do?
He eats too!
Farro.
And lot's of it!????
I really do feel like all I do is eat farro sometimes. And it hasn't gotten old. Yet.
Farro has gradually integrated itself indefinitely into my cooking and eating routine. How about you?
If you haven't tried cooking with farro, this could be a good recipe to start with.
It's easy to put together and the farro salad presents the nutty flavor and firm bite of farro in a very tasty way.
If you really want to make it even more nutty, I think you could probably brown your butter.
In fact, that's probably how I will make it next time! I will update on how that turns out!  
The cranberries here do a good job adding extra flavor without overpowering.
In fact, I ended up adding a bit more since I like the flavor. But adjust as you see fit.
I think cranberries add just the right amount of sweetness/tartness, compared to other dried fruits.
Overall, this is a solid farro salad with multiple layers of flavor which I always like to have in my food, if you haven't noticed. 🙂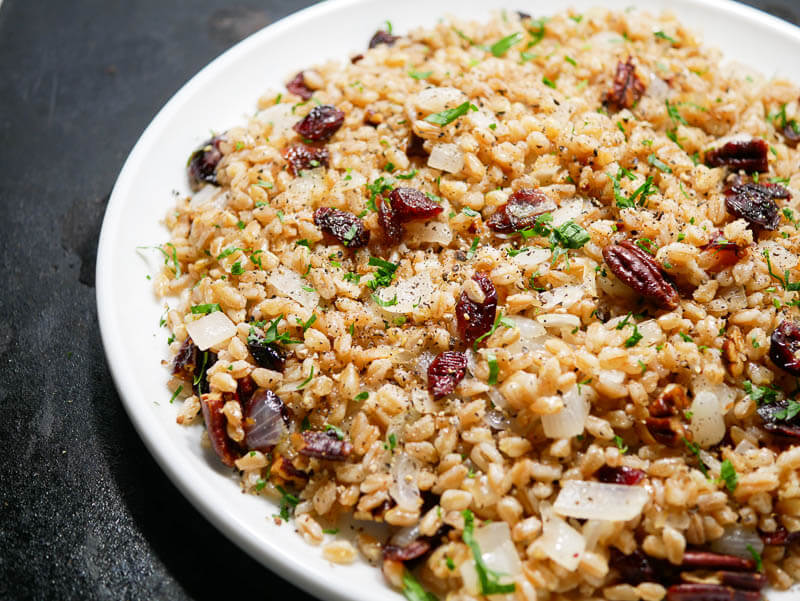 Does Sweet Farro taste good?
I don't know. Does it?
The dried cranberries in this got me wondering… that maybe eating sweet farro could work.
It works with rice and quinoa, so why not farro?
After making this tasty salad, I've decided what I need to do next with farro is try making something sweet with it.
For the most part, I've stuck to savory preparations of this grain and haven't had any failures.
Have you made a dessert or something sweet with farro before?
I think I've seen breakfast farro, so that could be an option, but am open to suggestions!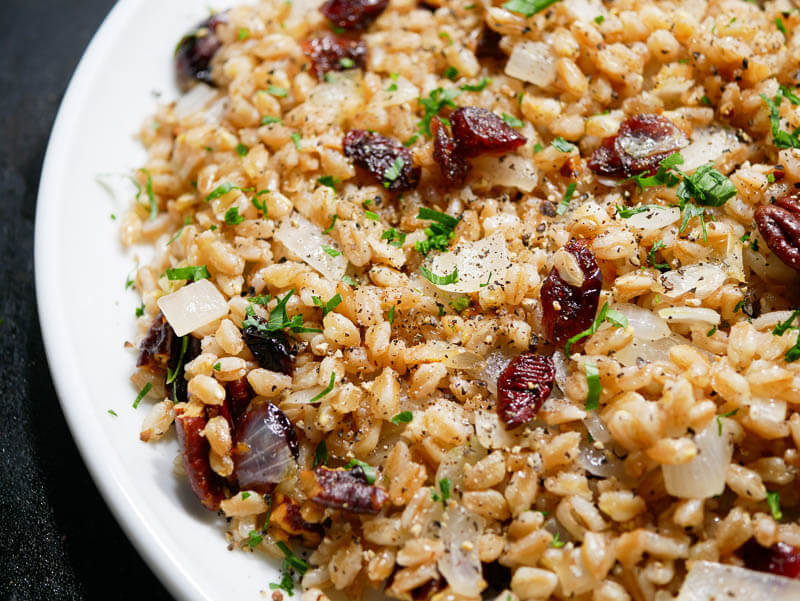 In case you've missed them, here are some of my other farro recipes!
Save