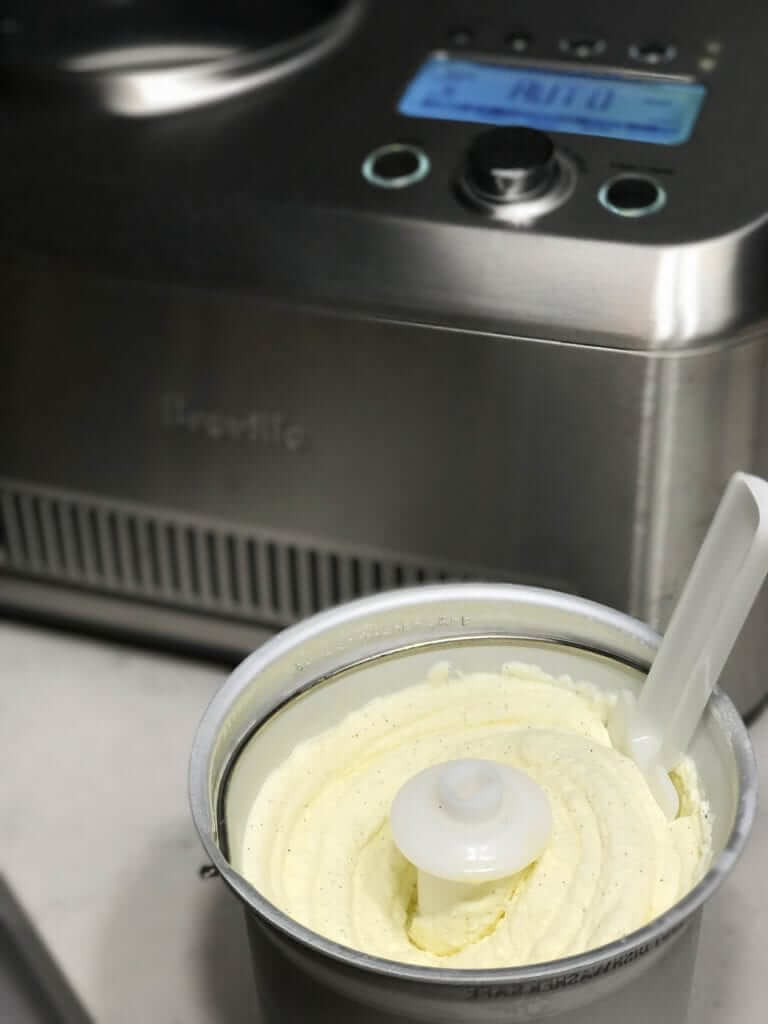 Vanilla Bean Ice cream with Bourbon!
Guess what I'm going to be doing this weekend?!
Making ice cream!!????????????
I just got a gallon of milk and quart of cream, so I should be able to churn out a few quarts yea? Yaaa!!
This is one batch that I'll be remaking.
Vanilla bean is one of my favorite flavors.
And I'm always looking for novel ways of preparing it.
This recipe calls for 2 teaspoons of vanilla extract plus a vanilla bean. Can you add any more vanilla than that?! 
On top of the vanilla, you add bourbon, just before the churn is finished.
If you've never added bourbon to your ice cream, this little splash adds a nice bourbon kick in the pants.
That is. If your tongue had pants. They would be gently kicked. By the bourbon. ????
I really liked the kick. It was really quite gentle really.
I can't drink alcohol, but I can eat it.
How about you? Do you like alcohol in your ice cream/food?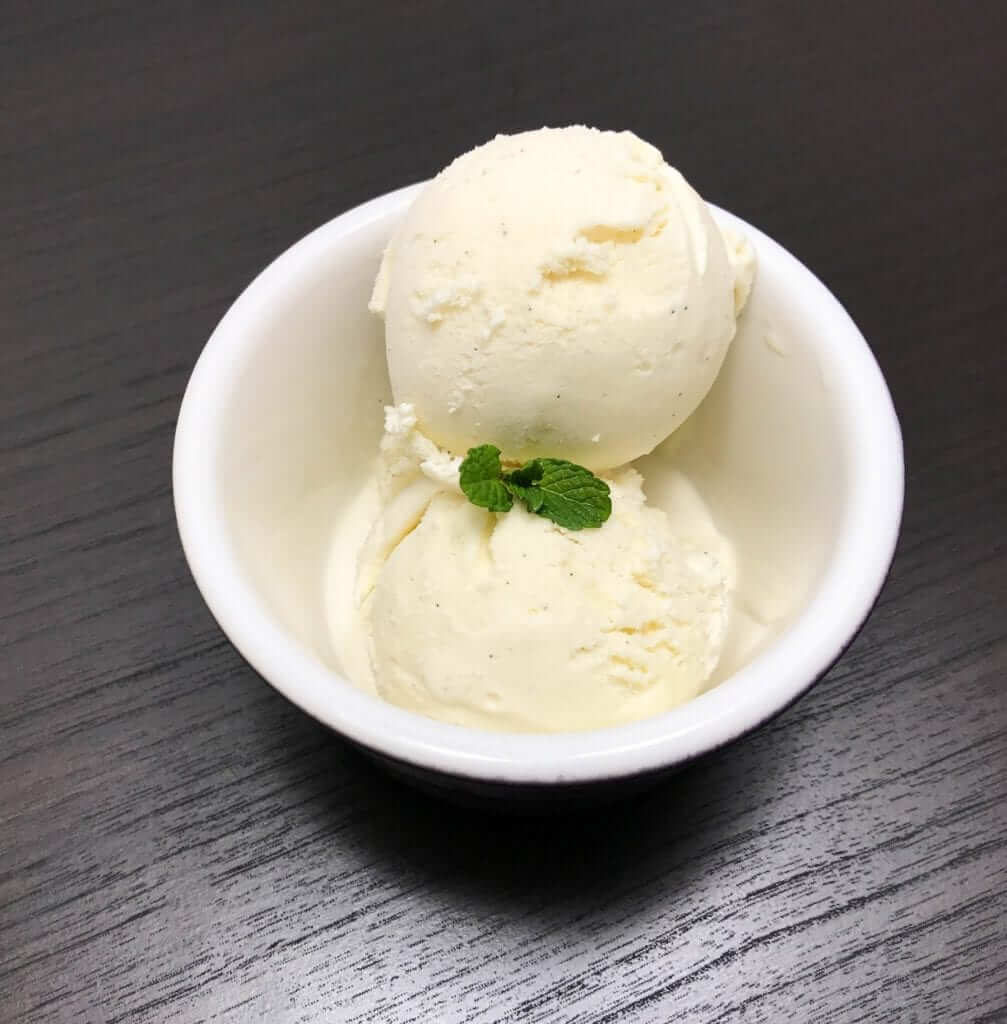 Tip-As I've made ice cream over the years, one of the things I always do is leave the cream off the stove. (not cooking it with the milk). This saves time as the mixture cools much faster than when heating both milk/cream together. And I can't really tell if there's a difference in texture when doing it this way!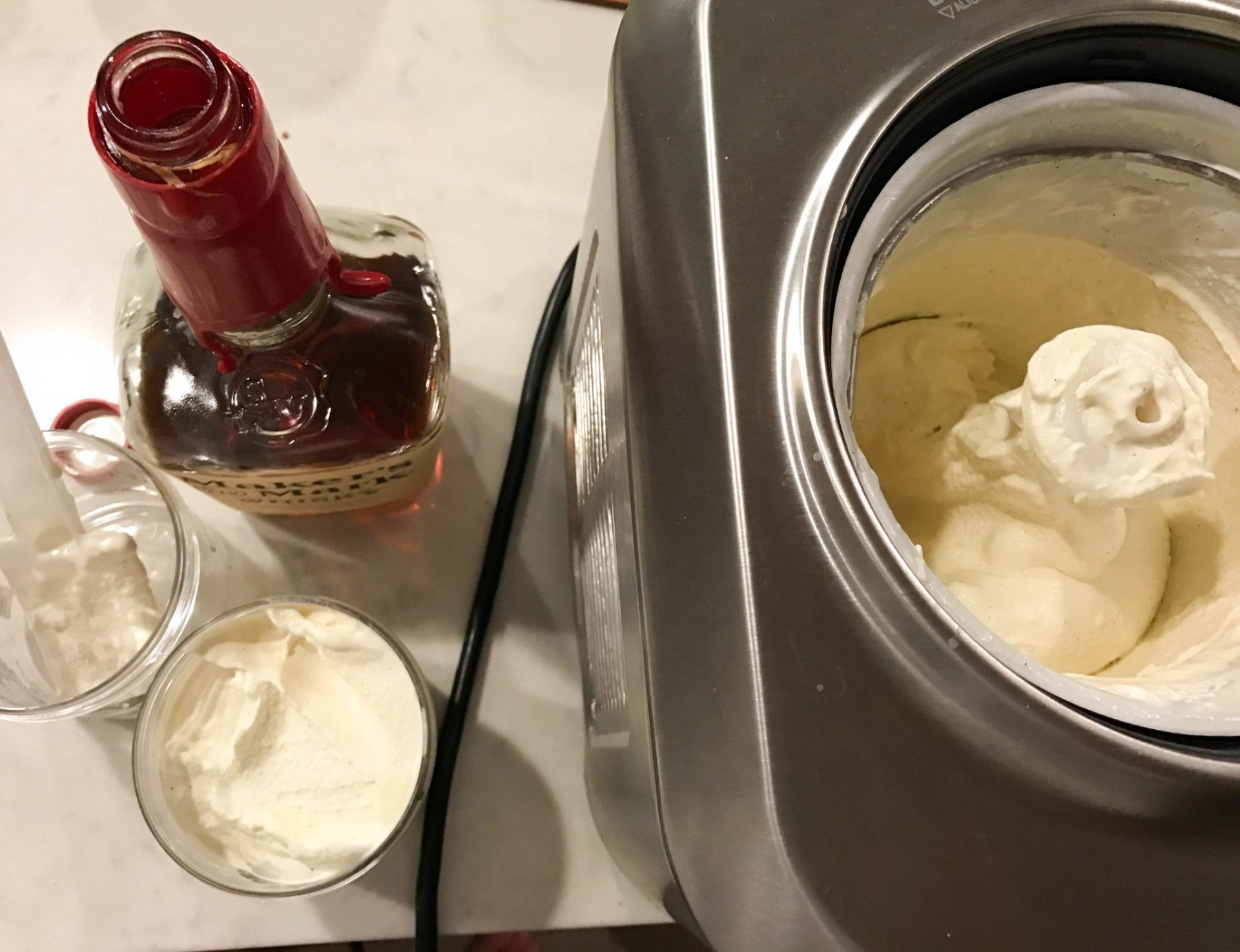 Need an ice cream machine? Check out my review of the Breville Smart Scoop, which is one of my favorite kitchen appliances! 
In case you've missed them, here are some of my other ice cream recipes!
[display-posts tag="ice-cream"]
Save
Print
Vanilla Bean Ice cream with Bourbon
Prep Time:

15 minutes

Cook Time:

10 minutes

Total Time:

1 hour 25 minutes

Yield:

2 pints

1

x
Category:

Dessert

Cuisine:

New American
1 1/4 cups

heavy cream

1 3/4 cup

whole milk

1/2 cup

granulated sugar

1

pinch salt

1

vanilla bean (split lengthwise and seeds scraped out)

3

large egg yolks

1

–

2

Tbsp bourbon

2 tsp

. pure vanilla extract
Instructions
In a medium pot, mix the milk, sugar, and a pinch of salt. Warm the mixture over medium heat, stirring occasionally, until the sugar is dissolved.
Stir in the vanilla seeds and the split bean. Cover, remove from the heat, and let sit for at least 1 hour.
As the hour is nearing an end, prepare an ice bath by filling a large bowl with several inches of ice water. Set a smaller metal bowl in the ice water. Add the cream into the inner bowl (to help the mixture cool quicker!).
Rewarm the milk on medium heat until tiny bubbles begin to form around the edge of the pot. Meanwhile, whisk the egg yolks in a medium bowl.
Once the milk is hot again, pour half of the mixture into the egg yolks, whisking constantly to prevent the eggs from curdling.
Pour the egg yolk mixture back into the saucepan and whisk. Cook on low heat while whisking constantly until temp is 175°F. Immediately strain the custard into the bowl with cream in the ice bath. (the strainer will catch the vanilla bean)
Add vanilla extract and cool the custard to below 70°F by stirring occasionally in the ice bath.
Once cooled, add the mixture to your ice cream maker and churn according to the manufacturer's instructions. Add in bourbon at the end when it beeps for add-ins.