No Bake Blueberry Cream Pie with Graham Cracker Crust is a taste of summer you won't forget. Best served chilled, this pie filling is rich, creamy, and fruity with just the right amount of sweetness. The graham cracker crust is classic and one you can repurpose for other no bake desserts like my other favorite, cheesecake!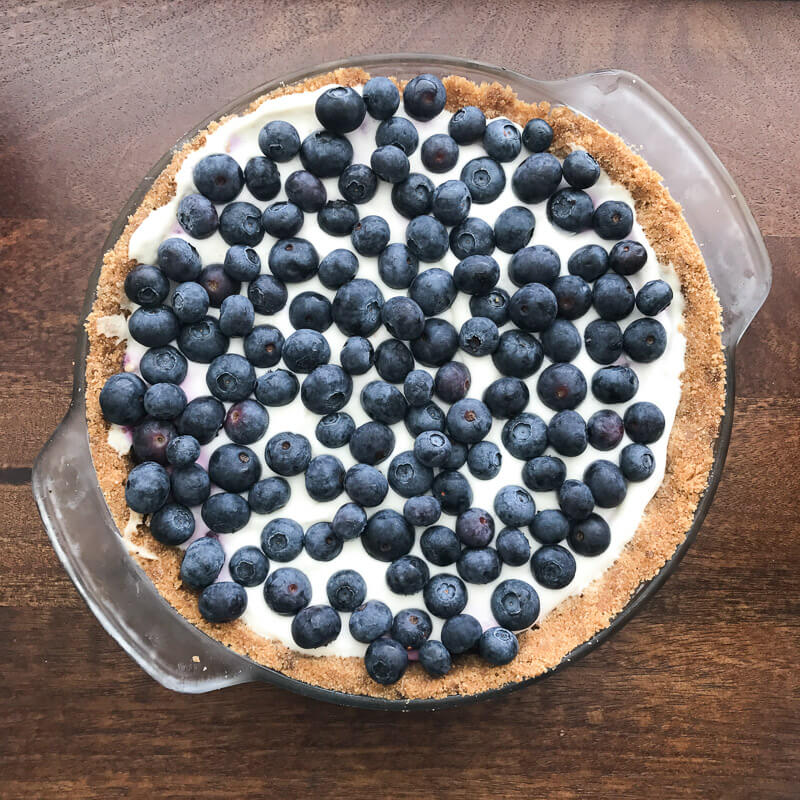 Blueberry Cream Pie
One of my favorite desserts!!
And if I did anything right here, this cream pie might soon be one of yours too!
I think the first time I ever had blueberry cream pie was at Marie Calendar's restaurant.
My other favorite's from there are Coconut Cream pie, Banana Cream pie, Kahlua Cream Pie, and last but not least… Fresh Strawberry pie! (when in season)
What's your favorite?
Personally I think that fruit pies in general are usually too sweet.
Hence the emphasis on cream as above.
But obviously I'll make exceptions!
Want to know what makes this pie unique?
Read on for more!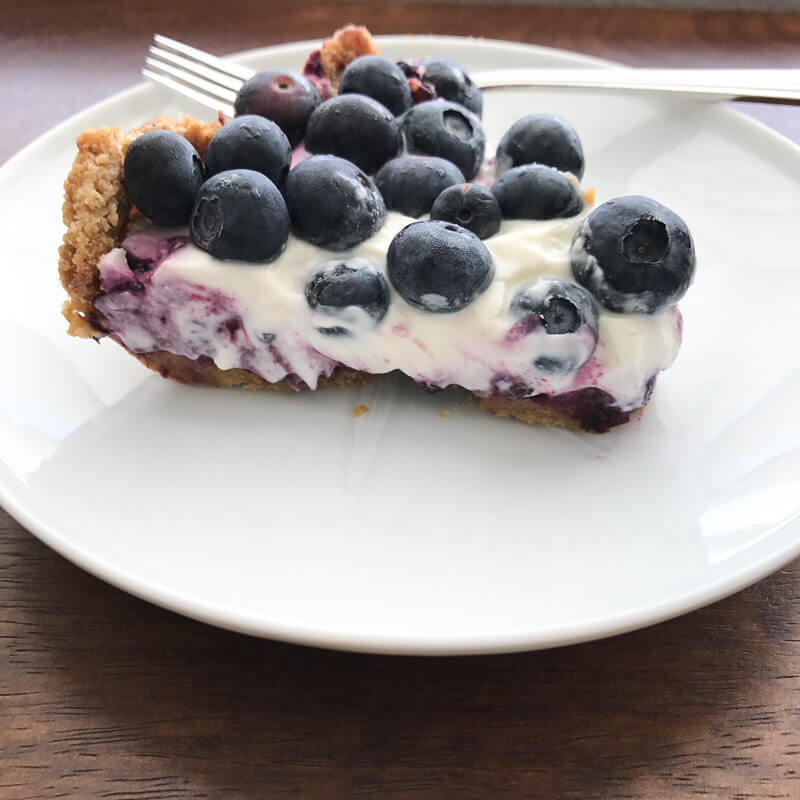 No-Bake Blueberry Cream Pie
Can you guess what I especially like about this no bake blueberry cream pie?
That it's no bake!
Plus, since I'm making it I have full control over the sweetness.
I also especially like that it has Greek yogurt rather than cream.
Isn't that a slightly healthier alternative to cream?
Yes it is!
The texture is not as light and fluffy as a real cream pie, but it is just as rich and delicious.
The secret ingredient here is that you are mixing the Greek yogurt with mascarpone.
You get a little bit of a richer more complex flavor by adding mascarpone.
It definitely tastes different from my other no bake cheesecake for which I use real cream cheese.
But I suppose the difference is American cream cheese versus Italian cream cheese (which is what mascarpone is!)
I think I may try cream cheese one of these days and see how it turns out.
Then I guess it would be more of a no bake cheesecake.
And I'll know for sure which is better, but hey, maybe they could both be winners!
Another tasty dessert to enjoy during the warm summer months. Yes?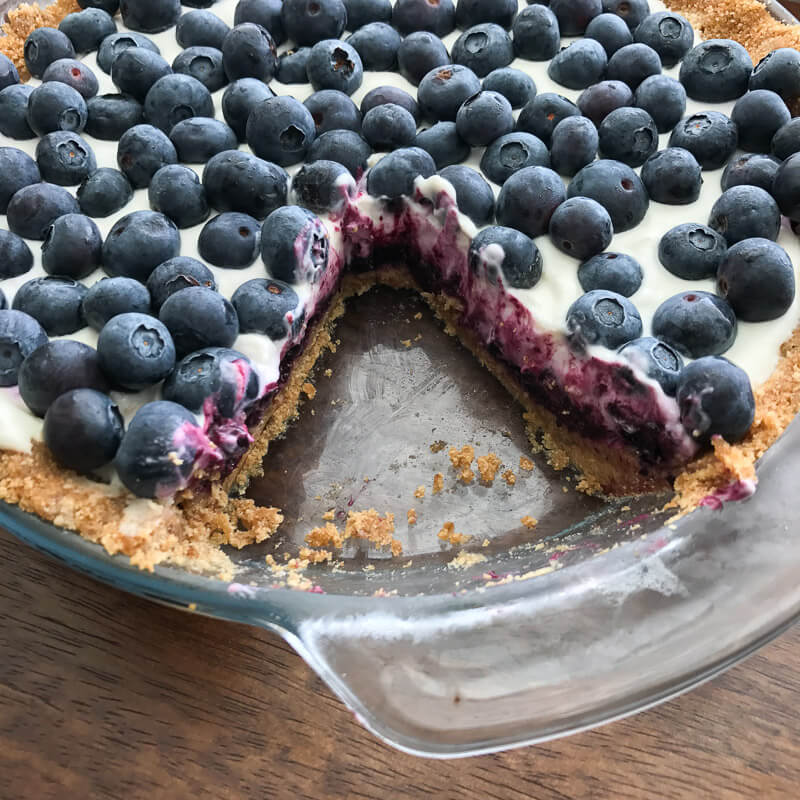 Mascarpone with Greek Yogurt is a winning combo!!
The mascarpone cheese cuts the density of Greek yogurt right in half.
This results in a much less dense texture than the yogurt with a hint of sweetness inherent in the mascarpone.
I suppose you could use low-fat Greek yogurt but I don't know if it'll be as creamy.
So I decided to stick with full fat.
No regrets!
Lastly, for the crust, I used the exact same recipe as my No-Bake Greek Yogurt Cheesecake with Pomegranate, except I reduced it by one third.
Now that blueberry season is here, I hope you get a chance to try this out!
Oh yes, and did you know blueberries are some of the most anti-oxidant rich fruits you can eat?
Some tips for making the no bake blueberry pie
Depending on the sweetness of your blueberries you may need more or less sugar, so while cooking adjust sweetness, be conservative with the sugar since you can always add more! I used Trader Joe's Wild Blueberries which were sweet enough with just a couple tablespoons!
For an alternative presentation, you could place the fresh blueberries either right on top of the crust or within the cooked blueberry layer, leaving the top pure white.
Though this recipe calls for blueberries, I could see alternative berries working here, like strawberry, huckleberry, marionberry perhaps? I'll need to test out another batch with one of those and when I do, I'll report back!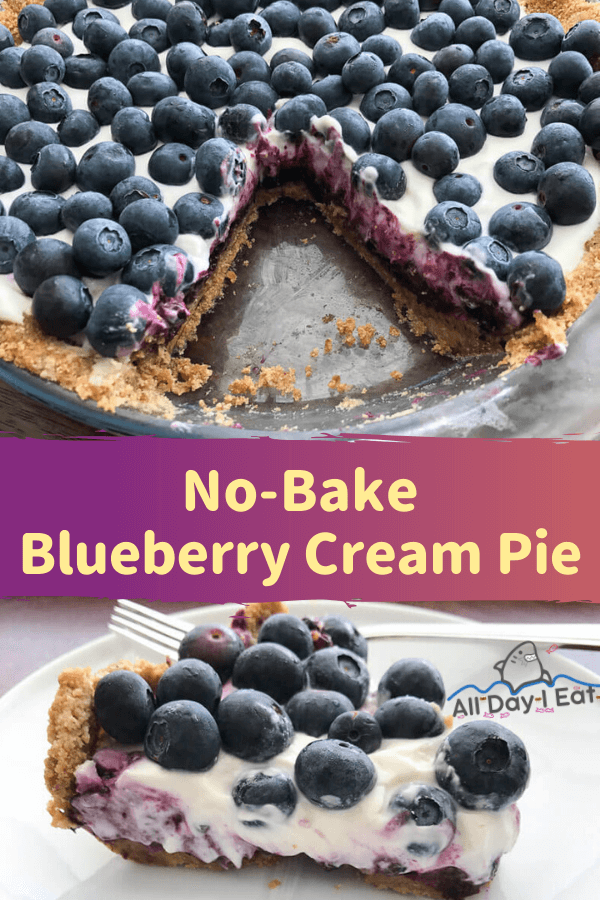 Watch my video No-Bake Blueberry Cream Pie with Graham Cracker Crust below if you'd like to see me throw this delicious blueberry pie together –
What do you think? Have you made a blueberry no bake pie before? How did it turn out and what kind of a crust did you use?
In case you've missed them, here are some of my other dessert recipes!
[display-posts tag="dessert"]
Save
Save
Save
Save
Save
Save
Save
Save
Print
No Bake Blueberry Cream Pie with Graham Cracker Crust
Prep Time:

20 minutes

Cook Time:

10 minutes

Total Time:

5 hours 30 minutes

Yield:

8

people

1

x
Category:

Dessert

Cuisine:

New American
Graham cracker crust
1 cup

graham cracker crumbs (ground in a food processor)

5 1/2 Tablespoons

unsalted butter (melted)

3 tablespoons

sugar
Blueberry filling
2 1/2 cups

blueberries (i used frozen)

2 teaspoons

cornstarch

2

–

3

tablespoons sugar (adjust sweetness while cooking,

1 Tbsp

at a time to taste.)
Cream Topping
2/3 cup

mascarpone cheese

2/3 cup

Greek yogurt (I used Greek Gods Whole Milk)

2 tablespoons

sugar
Blueberry topping
1 cup

Fresh blueberries (for garnish)
whipped cream (optional)
Instructions
Graham cracker crust
Spray the bottom and sides of pie tin or glass pie dish with nonstick spray. Using your hands, mix crust ingredients in a medium bowl.
Pack onto pie dish in an even layer and press firmly. Chill until firm, at least 45 minutes.
Blueberry Filling
Use a small saucepan on medium heat, add blueberries, cornstarch and sugar. Bring to a simmer and stir occasionally.
Cook about 6 minutes until thickened. Set aside and allow to cool. (For quicker cooling set in a metal container and place in an ice bath!)
Cream Topping
Meanwhile, combine mascarpone cheese, yogurt and 2 tablespoons sugar. Beat with electric mixer until smooth and set aside.
Assembly
Take out your pie crust from the refrigerator and spread with the cooled blueberry mixture. Spread evenly using a spoon or spatula.
Top the blueberry mixture with the cheese yogurt mixture in an even layer. Top with fresh blueberries.
Chill until set, about 5 hours. Remember to share and serve with additional whipped cream! 🙂