Goma-ae is a delicious way to eat many different vegetables. Some of my favorites include spinach, green beans and of course, these bean sprouts! It's super easy to make and will make for a great way to start your Japanese meal!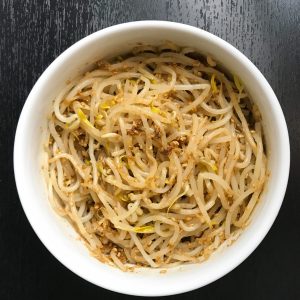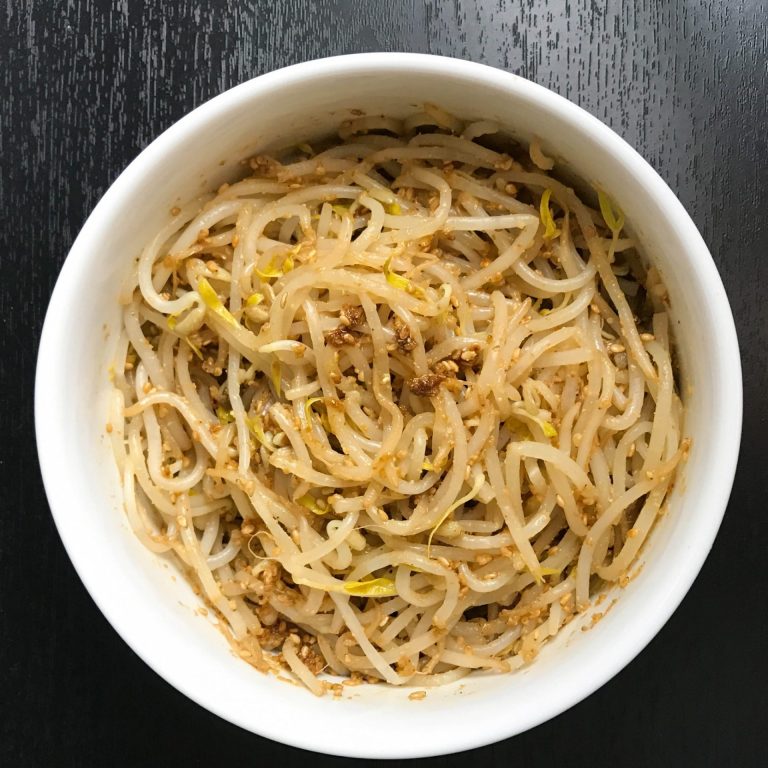 These little squiggly bites of goodness are called 'moyashi' ( もやし)in Japanese. Mung bean sprouts in English.
They are crunchy and light with a slight bit of nuttiness.
You may have had them in a stir fry like Pad Thai or in a soup like Pho. But probably not like this.
This version of moyashi is made with a sweet sesame soy sauce called goma-ae (胡麻和え)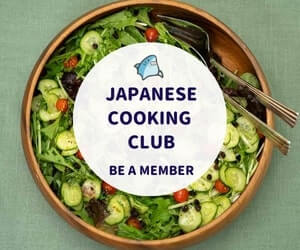 Goma-ae
Goma literally translated means 'sesame'. Ae translated implies a mix of seasonings that is then mixed with vegetables or other food to add flavoring.
Other vegetables can be made with goma-ae sauce including spinach, okra, and tomato for example. It's a multipurpose sauce, so if you can't find mung bean sprouts, I would next try spinach or okra. Just use about the same proportion of veggies and boil/blanch to cook.
Since I don't like my vegetables too sweet, when I make this I always cut back on the sugar.
You need a suribachi (I got mine off Amazon) to grind the sesame seeds, but if you don't have one you could also use a food processor.
You want at least half of the sesame seeds ground, to extract oil and flavor from the inside of the seeds.
If you don't want to make the sauce from scratch it is available premade in little packets online. Since it's a little expensive, you should be able to find it at a Japanese market. Maybe a well-stocked Asian market.
Goma-ae is one of my favorite ways of eating vegetables. And it's easy to throw together and healthy too!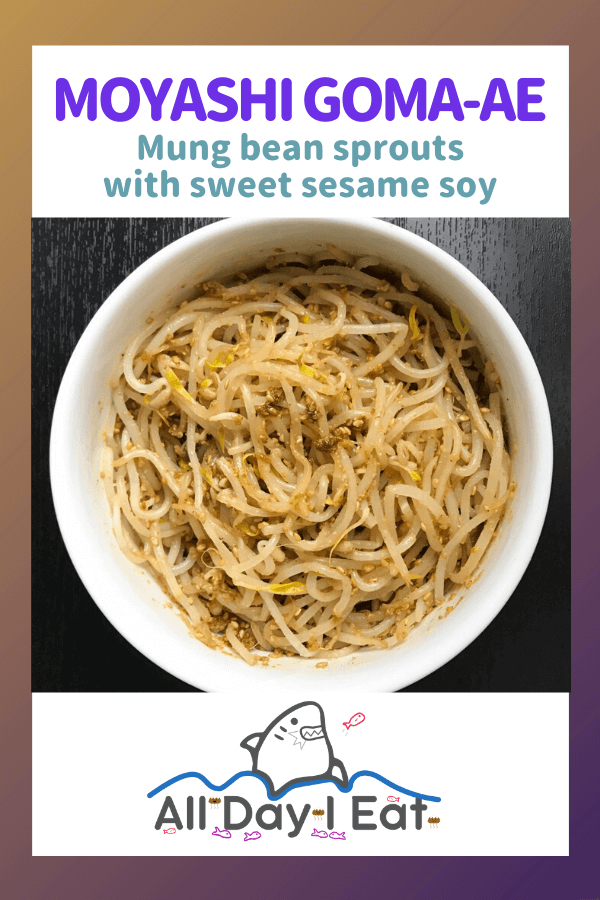 6 tips for cooking with bean sprouts:
Rinse the bean sprouts thoroughly: Before cooking with bean sprouts, rinse them thoroughly under cold running water to remove any dirt or debris.
Use them raw or cooked: Bean sprouts can be eaten raw or cooked. They add crunch to salads and sandwiches and can also be stir-fried, sautéed, or added to soups.
Cook them quickly: Bean sprouts cook quickly, so be sure to watch them closely when cooking to prevent them from becoming mushy. To stir-fry bean sprouts, heat a bit of oil in a wok or large pan over high heat, then add the bean sprouts and stir-fry for 1-2 minutes, until they are just tender.
Add flavor with seasonings: Bean sprouts can be flavored with a variety of seasonings, such as soy sauce, garlic, and sesame oil.
Use them as a garnish: Bean sprouts can be used as a garnish to add crunch and flavor to dishes. Try topping stir-fries, soups, or noodles with a handful of bean sprouts before serving.
Store bean sprouts in the refrigerator: Bean sprouts should be stored in the refrigerator to keep them fresh. They can be stored in a plastic bag or container and will keep for 3-5 days.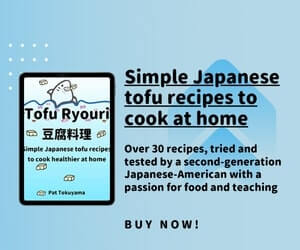 Interested in making a traditional Japanese meal?
Japanese cuisine often includes a variety of side dishes, or "okazu," to accompany the main dish. Here are some tips for making Japanese side dishes:
Choose dishes that complement the main dish: Japanese side dishes are typically chosen to complement the flavors of the main dish, so consider the flavors of your main dish when selecting side dishes.
Make use of seasonal ingredients: Japanese cuisine emphasizes the use of fresh, seasonal ingredients, so consider incorporating in-season vegetables and other ingredients into your side dishes.
Use a variety of textures and flavors: Japanese side dishes often include a variety of textures and flavors, such as crunchy, savory, and sour. Try to include a range of textures and flavors in your side dishes to create a balanced meal.
Try making traditional Japanese side dishes: Some popular Japanese side dishes include miso soup, pickled vegetables, and steamed rice.
Don't be afraid to get creative: While traditional Japanese side dishes can be delicious, there is no rule that says you can't get creative and make your own unique versions of traditional side dishes.
Use simple, high-quality ingredients: Japanese cuisine often relies on simple, high-quality ingredients to create flavorful dishes. Try to use the best ingredients you can find and let their natural flavors shine.
If you'd like help making Japanese food, consider investing in one of my online cooking programs here.
Here's a live replay where I recreated this potato salad (minus the ham), plus moyashi (bean sprouts) goma-ae and miso marinated chicken!
Save
Print
Moyashi Goma-ae (mung bean sprouts with sweet sesame soy)
Prep Time:

10 minutes

Cook Time:

2 minutes

Total Time:

12 minutes

Yield:

4

people

1

x
Category:

side

Cuisine:

Japanese
1/2

pound moyashi (~

250 grams

or 1 bag)

3 Tablespoons

sesame seeds (toasted)

1 tablespoon

soy sauce

1 teaspoon

sugar

1 teaspoon

sesame oil

1 teaspoon

sake
Instructions
Fill a medium pot with about 4 cups water and 1 teaspoon of salt. Bring to a boil
Once boiling, add the sprouts and cook for about 1 minute and 30 seconds. Drain and set aside.
Meanwhile toast the sesame seeds until fragrant.
Place the sesame seeds in a suribachi and grind at least half.
Add the remaining ingredients and mix well.
Combine the sprouts with the sauce and serve.