Nimono (煮物) means 'simmered thing' in Japanese. And while most vegetables can be simmered, the inherent sweetness and creaminess naturally found in kabocha makes for one of the best simmered dishes you may ever make. It's delicious when served warm and also served cold as part of your obento (お弁当 box lunch). This kabocha nimono might be your new favorite way to enjoy kabocha. It's definitely one of mine!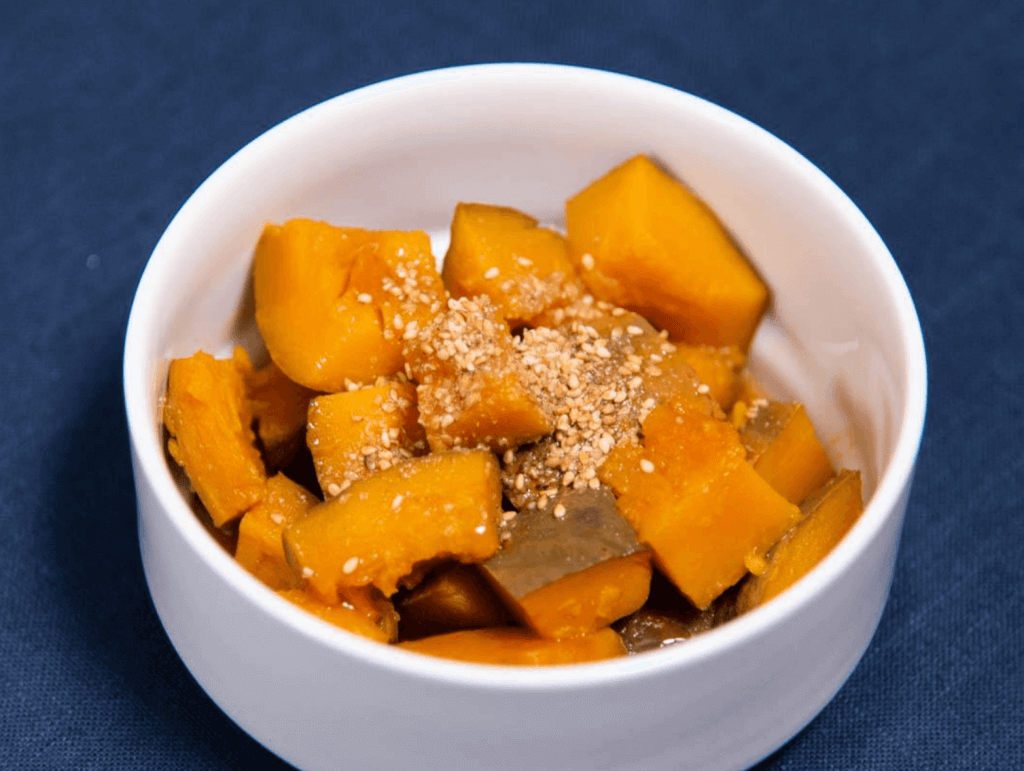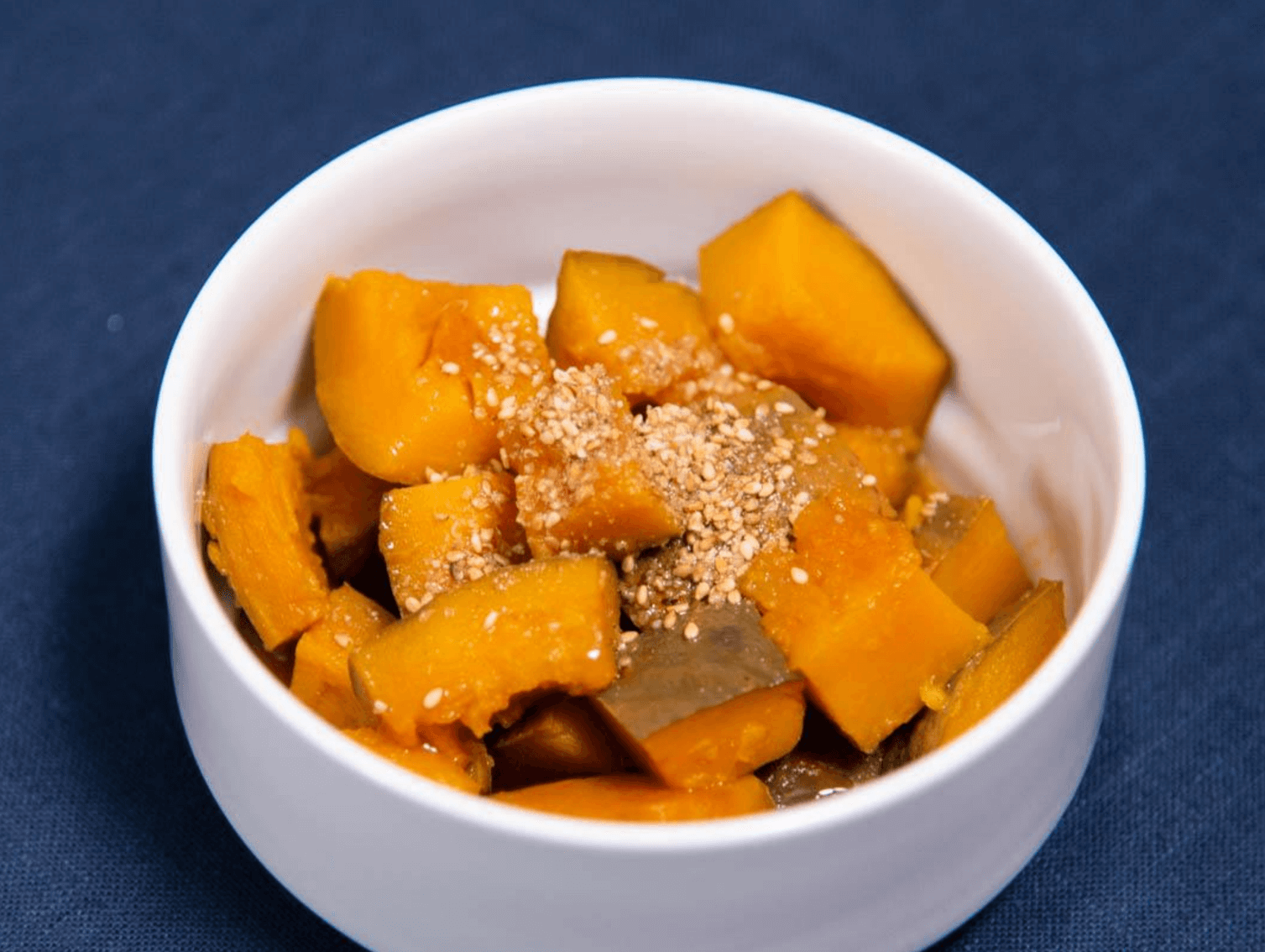 How to use an otoshibuta (落し蓋 drop lid) for nimono
While an otoshibuta is not required, it's often used for simmered dishes like this one.
There are several reasons why you might want to consider using one. An otoshibuta is designed to circulate the aroma and flavor from the surface of the broth to the top of the otoshibuta and back down onto the food you're cooking. Essentially, it creates an aroma and flavor-packed 'rain' that comes down from the surface of the otoshibuta and onto the food you're simmering. Soaking and infusing it during the cooking process.
I recommend you try this technique to compare the difference in flavor when using an otoshibuta and when not using one for simmered dishes.
As you may know – you can make an otoshibuta from parchment paper:
Start with a large square piece (larger than your pot) and cut a round shape a slightly smaller than the diameter of your pot (so it fits inside) and then fold it in half.
Cut 4-5 long slits evenly spaced across the surface. Once you're ready to simmer your food, unfold and place on top of the food. Visit this link for book resources for a mini video tutorial on how to make an otoshibuta from parchment paper!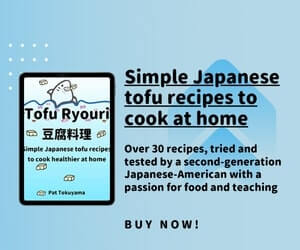 How to achieve a clear broth in nimono
As you may know, presentation is an extremely important aspect of Japanese cuisine. If you're particular about the broth and want to keep it clear there are several things you can do:
Carve the edges of the kabocha pieces. This cutting technique is called mentori (面取り to bevel) and will prevent the kabocha from breaking off/dissolving and making the broth cloudy. This technique can be used for other vegetables like daikon radish and carrots in simmered dishes. Visit this link for book resources for a mini video tutorial on this cutting technique.
Align the kabocha pieces skin side down and use an appropriate size pot so that there isn't too much space in between the pieces so they stay in place.
Make sure not to boil the pieces because boiling will cause them to bump around and naturally disintegrate into the broth as they soften from cooking.
Print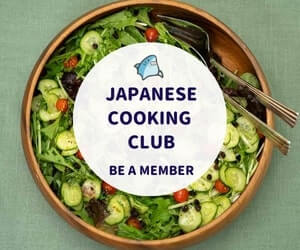 Kabocha nimono (Simmered kabocha squash) 南瓜煮物
1⁄2

small kabocha (~

3 cups

of cut pieces)

1 cup

konbu dashi

1

–

2

tsp kokutou (Okinawan black sugar; alternatively muscovado or brown sugar)

1 tbsp

sake

1 tbsp

soy sauce
Toppings: toasted and ground sesame seeds and or sesame oil
Instructions
Soften the kabocha by microwaving it on high for 4-5 minutes.
Once it has cooled, cut it open and remove top and bottom stems, seeds, and pith. Cut it into bite-size pieces.
Using a medium saucepan, add the kabocha, dashi, sugar, sake, and soy sauce and bring to a gentle simmer.
Cover with an otoshibuta (or leave partially covered if not using) and cook for 15-20 minutes, or until liquid has reduced by half. If desired, continue cooking for a more concentrated broth.
Use a chopstick to test for doneness. (If you can easily pierce through, it's done.)
Serve 2-4 pieces per person, top with sesame seeds or oil if desired.
Notes
Tips:
You can reduce the broth all the way for a more concentrated flavor, but I prefer to have a little leftover. Just a few spoonfuls of broth is all you'd need for each serving.
Shave a layer of skin off each piece which helps to infuse each kabocha piece with flavor and makes for a unique presentation style. Visit alldayieat.com/go/bookresources for a video tutorial on how to accomplish this.
For the ultimate flavor in each bite, allow the kabocha to cool down once so that the flavors are fully absorbed or wait until the next day if you're patient. This is a technique that applies not only to nimono, but also Japanese curry too… Gaman dekiru? (我慢できる? Can you wait?)