If you're looking for a homemade tofu kit, look no further. This Yamako kit was so functional and worth it, that I bought a second one!  If you didn't know, tofu one of the simplest foods you can make. Homemade tofu requires only two ingredients – fresh unsweetened soy milk and nigari (a coagulant) that transforms the milk into curds. All you need is a little bit of time after mixing the two. And the best way to make it? Using a simple tofu kit like this one!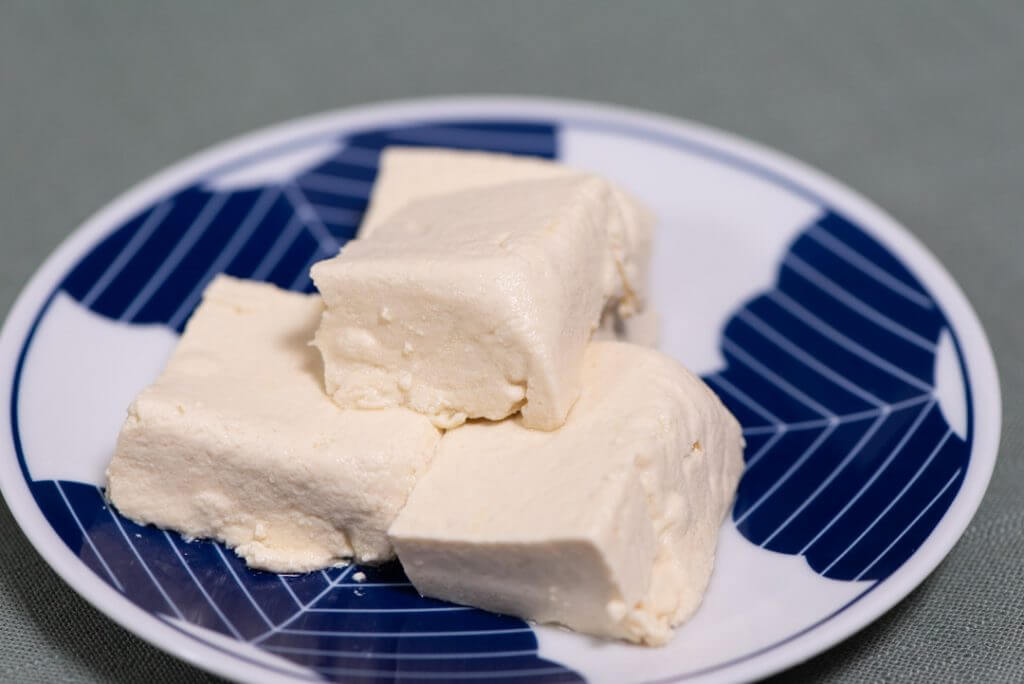 Yamako Japanese tofu set
This Japanese homemade tofu kit has almost all you need.
The only thing it's missing?
freshly made soy milk.
if you've ever had freshly made tofu, you might appreciate the delicate flavor, slightly sweet, rich and creamy and full of umami.
if you're new to tofu, or making homemade tofu, you might be wondering what this little tofu kit can do for you.
well, i'll tell you- it makes extremely delicious tofu!!
homemade tofu (and how it's beneficial for you to eat it!)
As you may know, tofu is one of the best alternatives to meat or seafood.
It's a complete source of protein which means it has all the amino acids your body can't make.
Not to mention the other health benefits that come from increasing your fiber (which helps to lowers your cholesterol and helps you to poop).
Plus, the  and just feeling good about eating the food you made with your own hands.
Thus, if you have your own tofu kit like this you'll be in a pretty good spot.
you'll be able to leverage the little soy bean in a countless variety of delicious ways.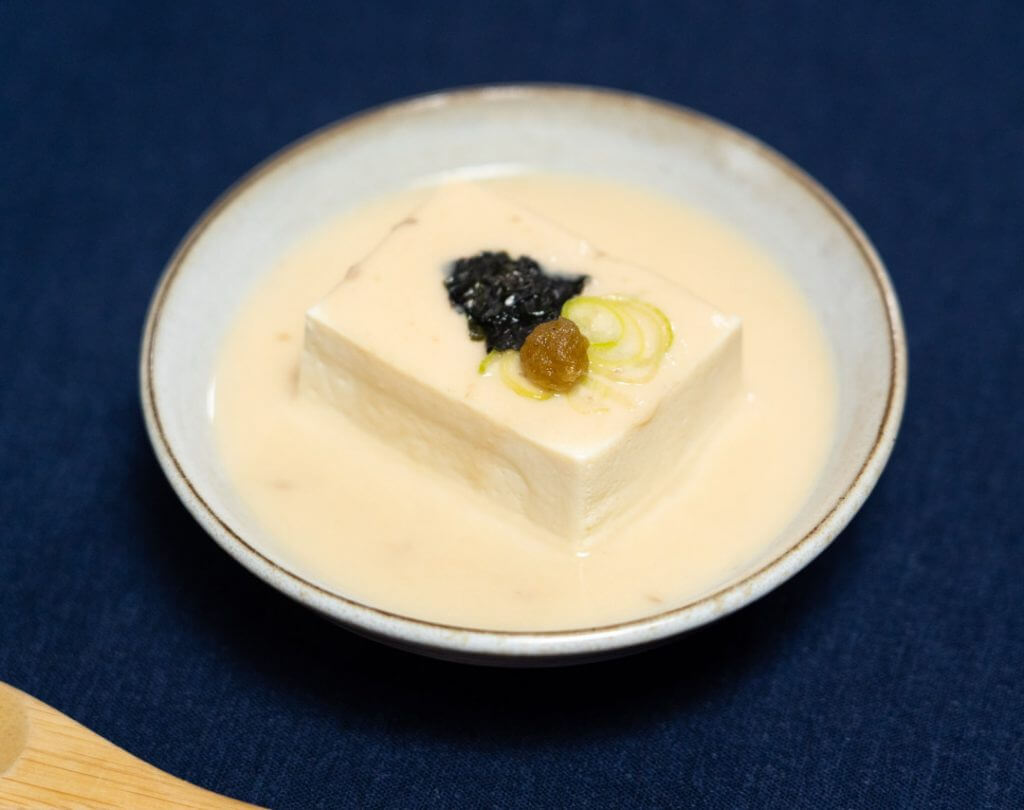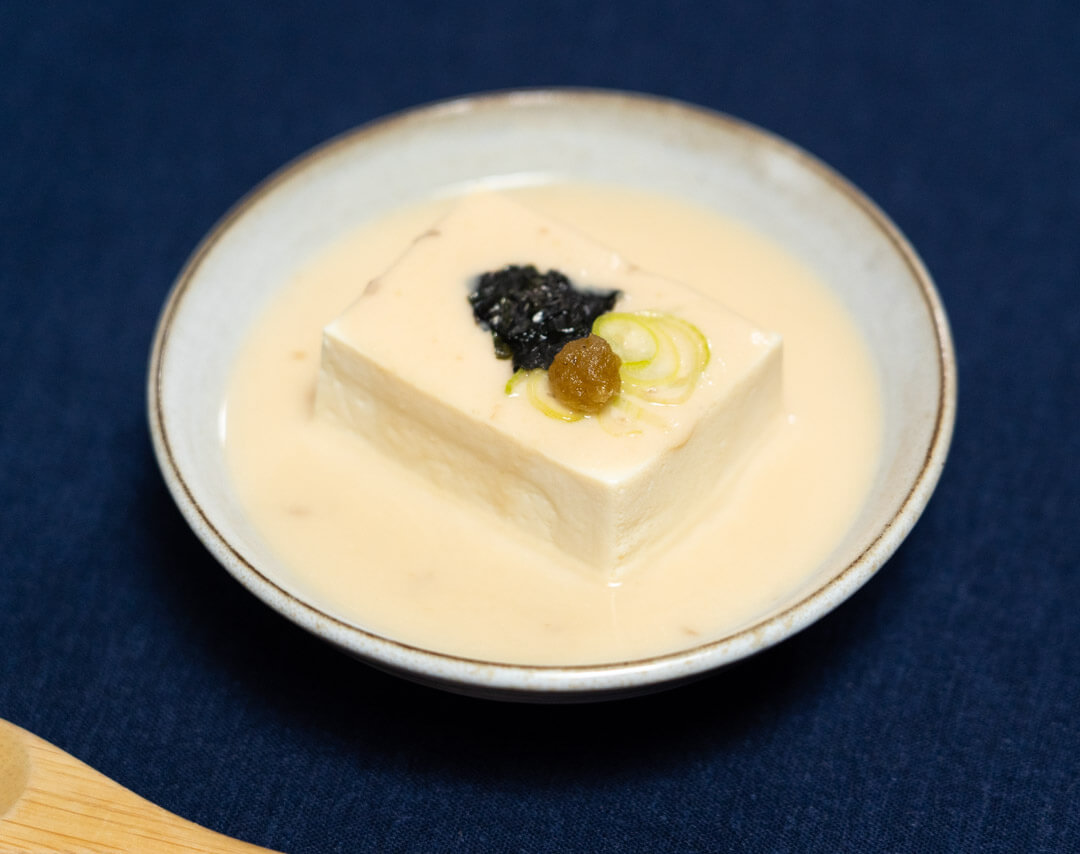 why homemade tofu?
in my experience, it's pretty hard to beat the experience of homemade tofu.
especially when compared to something commercially produced like tofu.
unless you live near a small tofu producer (los angeles, portland  for example), or live where there are restaurants that serve it,  chances are….
you may not get the opportunity or the priceless experience to enjoy the subtle delicate flavors of freshly pressed block of tofu.
there's nothing like it.
and you can enjoy it warm or cold, depending on the season. want some japanese tofu cooking inspiration? checkout my tofu cookbook which features over 30 japanese recipes to help you cook tofu, year-round.
so the good news is, making tofu is not that technically complicated, especially when using a kit like this one.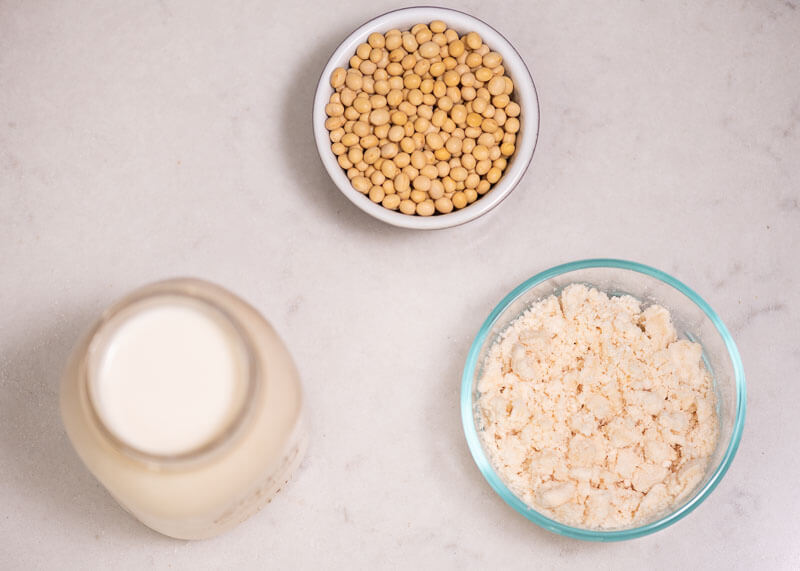 What's in the tofu maker kit? 
Basically, it's a small box made from hinoki (japanese cypress – which smells amazing btw!)
Hinoki wood is native to Japan.
It's an ideal wood for the tofu making process because it's highly resistant to bacteria and is durable (you do need to take care of it by drying the mold thoroughly after use).
The top and bottom of the box are removable.
And there are holes and gaps on the sides to allow the liquid to drain when you're pressing your tofu.
Depending on how much weight you place on top and how long you let it press, the firmness of your tofu will vary.
How do you like your tofu? Firm? Or maybe on the softer creamier side?
With a tofu maker, you can make your's extra firm, medium firm or soft.
NOTE : if you want silken tofu (which is like a custard) you'll need to steam it and that's not what this kit is good for.
This tofu kit was designed to make firm and medium firm types of tofu.
You can modify the tofu also with other ingredients too, which is a separate topic, but worth considering.
Also the last few items in the kit include two cotton cloths – one is a fine cloth made of cotton and the other is a thicker cloth.
The thicker cloth is meant to strain the soymilk (when separating out the okara) and the fine one is meant to make the tofu.
Plus you'll get several packets of nigari.
Nigari is the coagulant you'll use to turn your soy milk into tofu.
And of course a user's manual which is in Japanese. Though if you cant read, there are many youtube videos as well as my soy milk workshop to walk you through the process.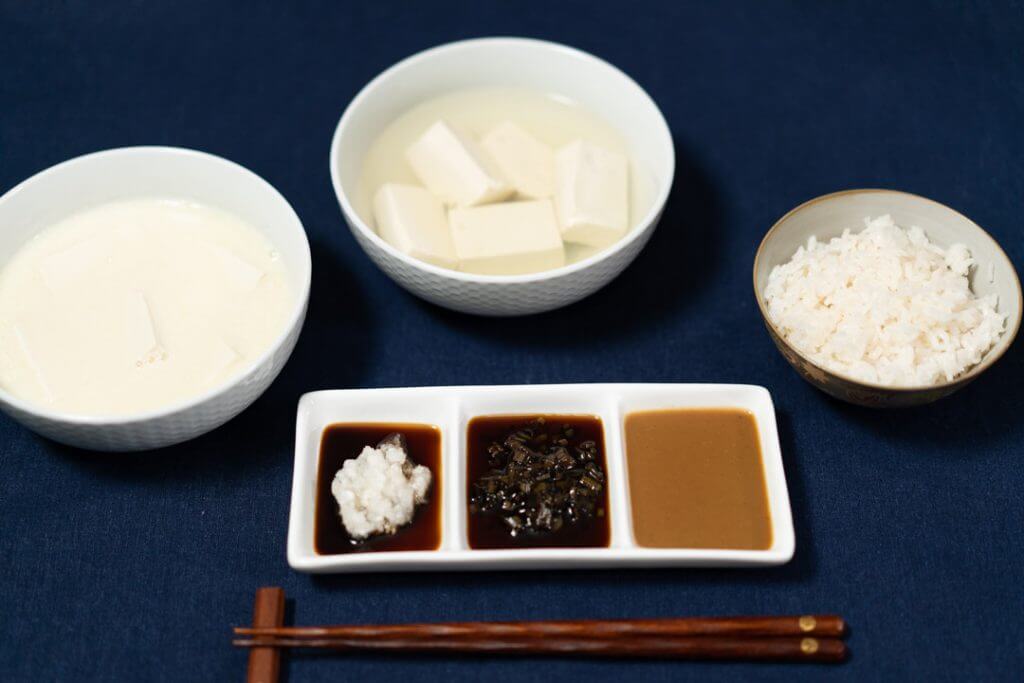 Yamako tofu kit pros and cons
Every product will always have its good sides and downsides. Here is a brief list:
Advantages of the Yamako Tofu Maker Kit
It smells good and looks good!
It's well designed
It is easy to manipulate and use. If it's actually your first time making homemade tofu, it will not take too much effort to learn how to use it.
It's simple to clean and store. It doesn't take too much of your kitchen space.
Aside from molding the tofu block, you could use it as a tofu press – to drain excess water from your store bought tofu
Disadvantages of the Yamako Tofu Maker Kit
The manual is written in Japanese. Although you can easily access how-to-guides on the internet, ideally it would have come with Enligh instructions for non-japanese speakers.
Although Hinoki wood is durable and resistant to bacteria, it requires care. if you don't dry it thoroughly after use it may warp
it's small. If you need a huge portion of tofu (ie you have a large family), you'll need to repeat the process multiple times, or…. just get a second one like i did! 🙂
because cotton is an organic product as is hinoki, not sure how many uses this will take before it will need replacing. perhaps a stainless steel version would last a lifetime, but havent seen one available for home use.
Tips for Using Yamako Tofu Maker Kit
It's important to clean your tofu maker thoroughly after use so the hinoki wood of the tofu mold doesn't warp.
when adding the hot curds to your tofu mold, make sure you dont over fill the container. otherwise you won't be able to fold the cloth over before pressing.
after you make your tofu, soak the block in cool water to help minimize the bitterness for about 15 minutes.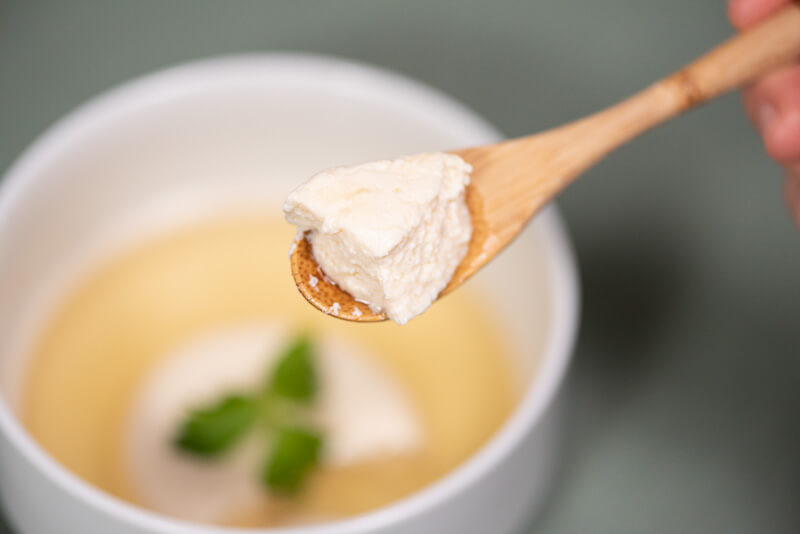 Perhaps like me you once dreamed of having freshly made, slightly sweet and umami packed homemade tofu. 😛
Yet you weren't exactly sure what you needed to get started.
Well lucky for you there's the Yamako tofu kit which comes with just about all you need to get started.
Like I mentioned before, the only thing you'll need to either go and buy or even better – make at home – fresh unsweetened soy milk.
If you like tofu consider getting this one and be done with it! i havent see anything better.
and if you made it all the way down here and wanna see the video review click to watch – the BEST HOMEMADE TOFU Kit | Yamako Japanese tofu set review
what do you guys think?
is the yamako tofu kit something you'll be investing in? anything that i missed ?
leave your comments and questions below!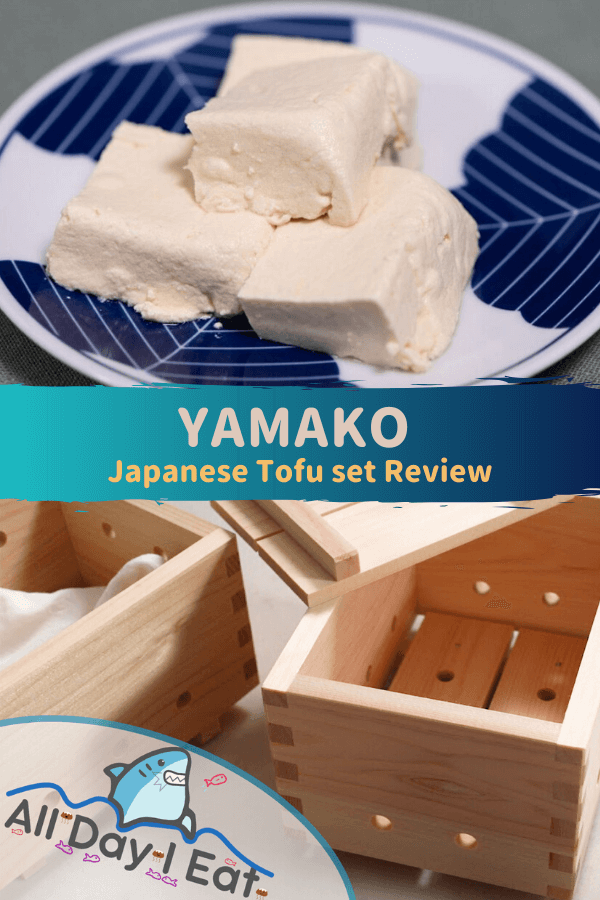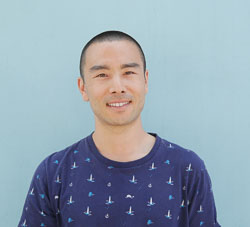 Konnichiwa! (Hello!) I'm Pat Tokuyama, a Japanese tofu cookbook author, who travels for music, food, and adventure. If you like Japanese tea, checkout some of the newestorganic japanese teas now in stock!!
** Curious about the Plant Based Japanese Cooking Club? ** Learn more here!

PS If you're making homemade tofu, chances are youll also be making homemade soy milk
and if you're making homemade soy milk, did you know that –
once you have freshly made homemade soy milk, you can do quite a lot with it?
the list below includes just a handful of japanese dishes where you can use your freshly made soy milk –
nabemono 鍋物 like soy milk hot pot
yuba 湯葉 which are tofu skins
kinugoshitoufu (絹ごし豆腐 silken tofu) which is like a tofu custard that literally melts in your mouth
momendoufu (木綿豆腐 cotton tofu) which is like a firm tofu
okara おから which is the soy bean pulp leftover from making soy milk
and if you didn't know, okara can be used in foods like donuts, baked goods, soups, salads, and more!
just think of all the possibilities the above dishes are just scratching the surface!
so if you haven't yet realized how delicious, varied and enjoyable the world of soy and tofu can be you're in for a treat.
more to come soon!
but if you cant wait, you can get started with the soy, tofu and okara workshop which teaches you start to finish, all you need to know about making soy milk, japanese style tofu, okara, and several different ways to enjoy them- japanese style!