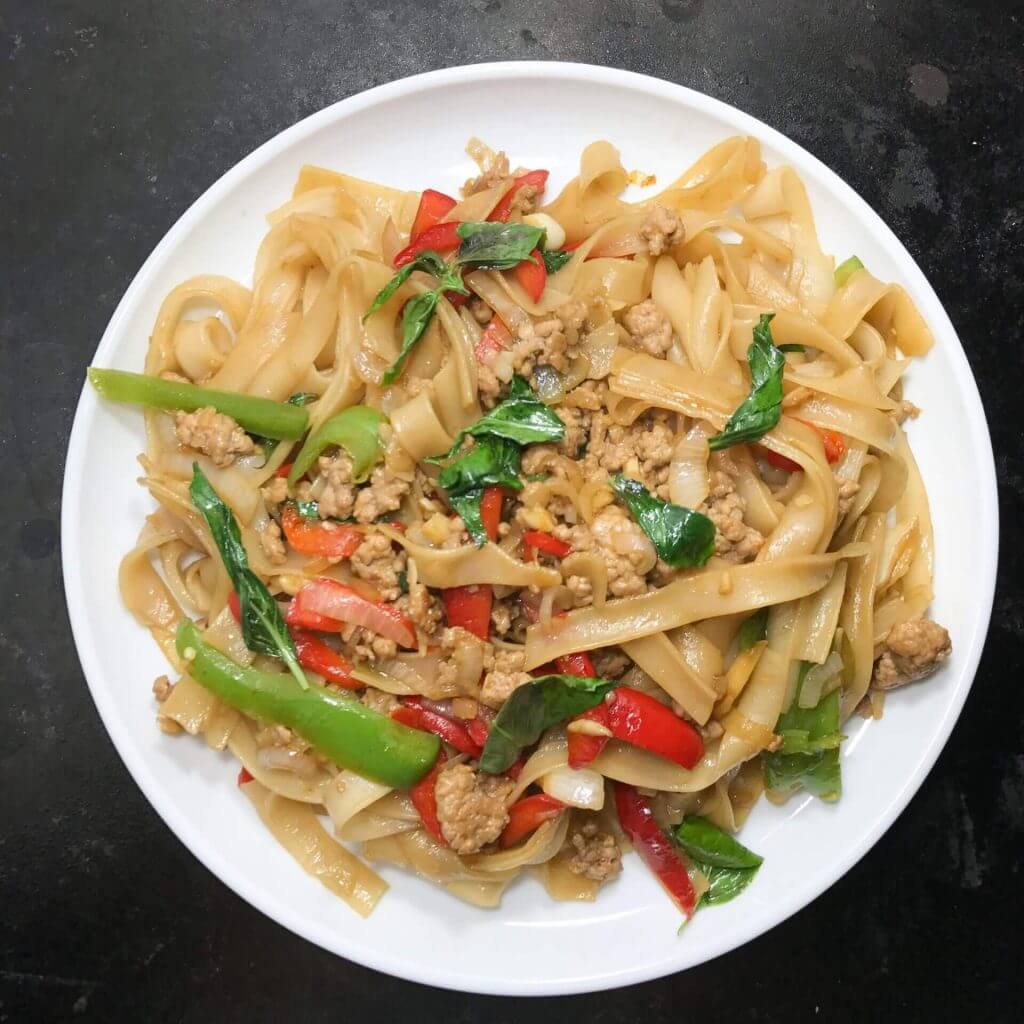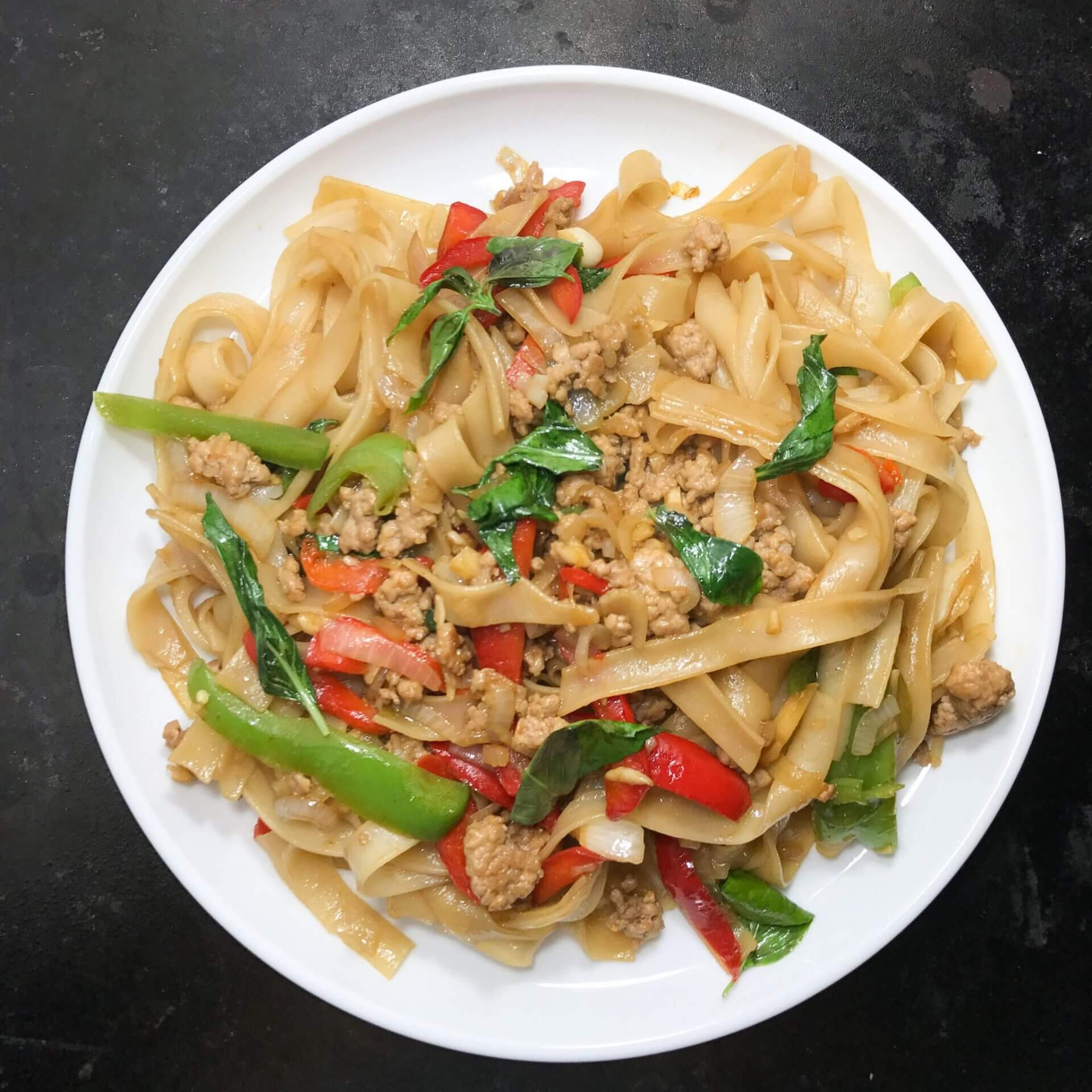 Pad Kee Mao a.k.a drunken noodles 
Have you heard of the drunken noodles called Pad Kee Mao? It is a Thai stir-fried rice noodle and probably my favorite Thai noodle dish.
Outside of Thailand, there's a restaurant in Hollywood called Pa Ord that I always get it at. If you don't order non spicy, even the mild version will get you sweating due to the chiles they throw in there.
Spicy was a painful experience!!
What I don't like about their version though, is that it tends to be on the oily side. This led me to do some research and to try making it myself.
So after trying several recipes, I finally came upon the right ratio of sauces to get the right flavor.
This preparation had the perfect balance between sweet, salty, and spicy.
After I finally achieved this, I realized it's really not that hard to throw together!
You just need the right ingredients. (See my Thai food supplies page for the condiments I use!)
Thai Stir Fried Noodles In less than 20 minutes!
Yes, this really comes together that quickly. Start to finish!!
You can use whatever protein you want, including tofu.
Lastly, serve the Pad Kee Mao with prik nam pla, which is just fish sauce with thai chile to add a bit of spice.
All you need to make prik nam pla is fish sauce and 2-3 finely chopped thai chiles.
Usually, Thai restaurants don't serve this and you have to ask for it specifically.
I never see it much in the U.S., but it was readily available at restaurants in Thailand.
Here is a timelapse video of me throwing it together! How to Make Pad Kee Mao aka Drunken Noodles
This is one of my most popular recipes, help me spread the love by pinning it ! 
In case you missed them, here are some of my other Thai posts-
[display-posts tag="thai"]
Pad Kee Mao a.k.a drunken noodles
Prep Time:

10 minutes

Cook Time:

10 minutes

Total Time:

20 minutes

Yield:

2

people

1

x
Category:

Main Dish

Cuisine:

Thai
8 oz

dry rice noodles

2 tablespoons

olive oil (+ more as needed)

4

cloves garlic (chopped)

2 Tablespoons

shallot (chopped)

2

–

4

thai chiles (optional, deseeded and chopped)

1/4 cup

chopped chicken thigh meat (~

1/2

in pieces, can sub with pork, beef or firm tofu)

1/2 cup

onion sliced

1/2

cup bell peppers sliced (optional)

1/2 Tablespoon

fish sauce

1 Tablespoons

oyster sauce

1 Tablespoons

light soy sauce

1 Tablespoons

sweet dark soy sauce

1

–

2

teaspoons grated palm sugar (use

1

if you prefer less sweet)

1/4 teaspoon

white pepper

1/2 cup

tomato (quartered)

1 cup

Thai basil
Instructions
Cook rice noodles according to package directions. Once complete, drain and set aside.
Heat the oil in a iron skillet on high heat, as oil shimmers or starts to smoke add chopped garlic, shallot, chile and sautee 30-45 seconds.
Quickly add the onion and peppers (if using) sautee for 1-2 minutes. Then add protein and sautee until cooked through.
If pan is looking a bit dry add another 1-2 Tbsp oil before adding the noodles, all the sauces (fish, oyster, light soy, sweet soy), and sugar. Mix thoroughly and sautee for 1-2 minutes.
Lastly, add in tomatoes, white pepper and basil, sautee for another 30-45 seconds and turn off heat. There shouldn't be any sauce or liquid at the bottom of the pan, if there is keep cooking until gone, but don't let noodles burn!!
Serve with lime and or prik nam pla (fish sauce with chopped thai chiles)
Notes
Tip -Try to avoid overcooking your rice noodles. One trick I learned to prevent the dish/noodles from being starchy/grainy is to thoroughly rinse them after cooking. It makes a difference!