Today, we are doing making yaki onigiri, which is literally a grilled or toasted rice ball.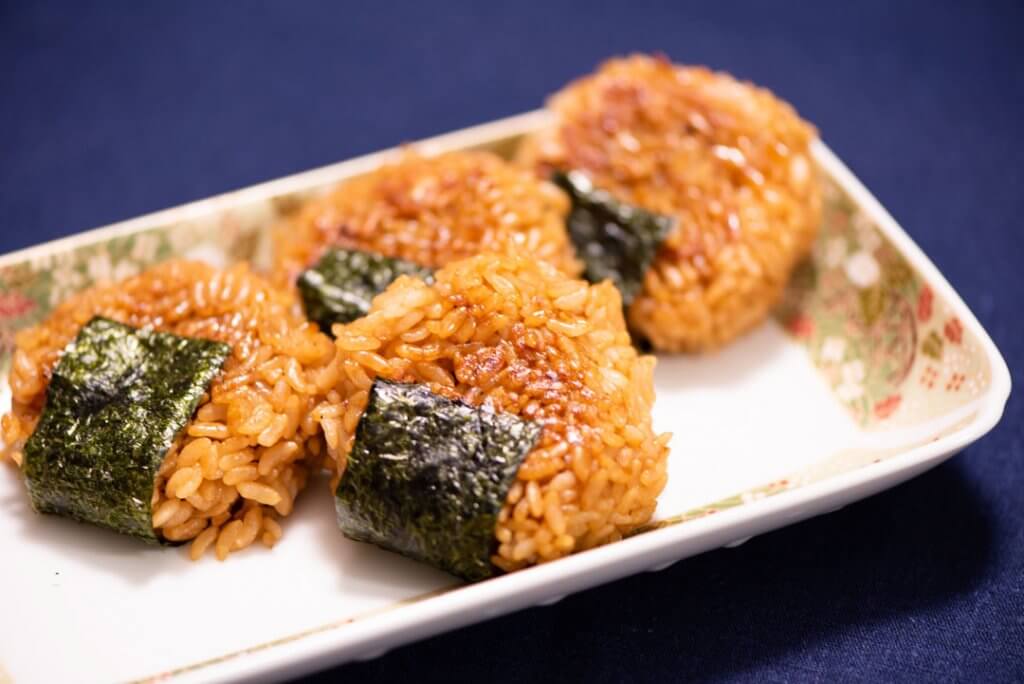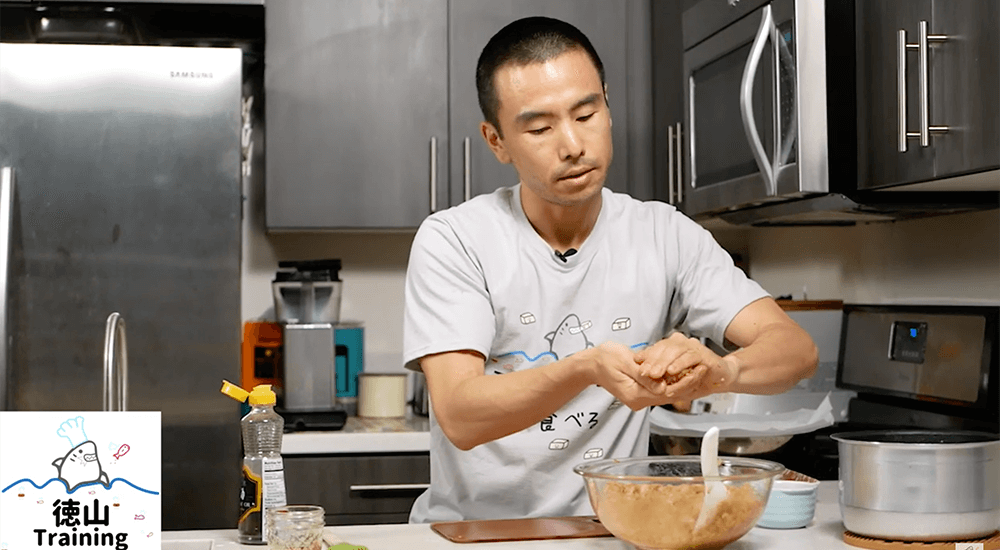 Tips for making a delicious yaki onigiri
I have about two cups' worth of Japanese white rice, and a little bit of sesame oil, which we're gonna be using for some additional flavor, a tablespoon of mirin, and three tablespoons of shoyu or soy sauce.
What we're gonna do is mix all the rice with the soy sauce, and the mirin, mix it all together, leave a little bit for brushing on, which is optional.
You can actually just brush it on top right away as soon as you start it. Or you can mix it all together a little bit.
It's a personal preference.
That way, you have a little bit more flavor in each bite.
We're gonna be adding a layer of parchment paper on our stainless skillet.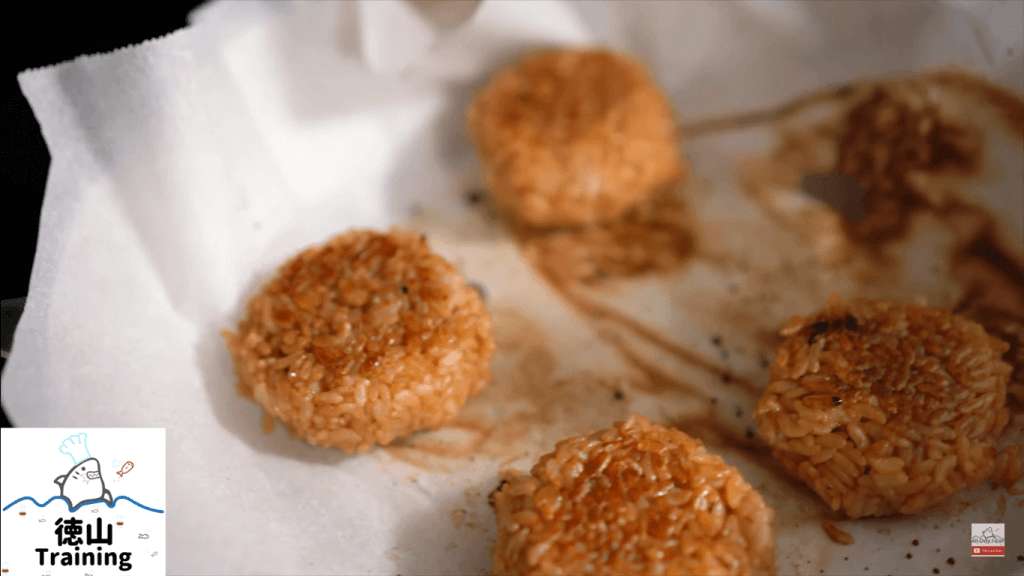 The reason I'm using parchment paper is because I don't want to use oil to make it oily. And the parchment paper helps the yaki onigiri not to stick to the pan!
The hardest part about doing this is shaping the rice balls, the onigiri. If you've never done it before, it might take some getting used to to get it in the right shape.
If you don't want to use your hands, you can use some plastic wrap to protect your hands so the rice doesn't stick to them.
When shaping the rice balls, keep your hands moist. But not too moist because it's gonna make the rice mushy. Just grab a small cup's worth, and then shape it into a triangle. If you don't want to do a triangle, you can just do a ball too. That might be easier!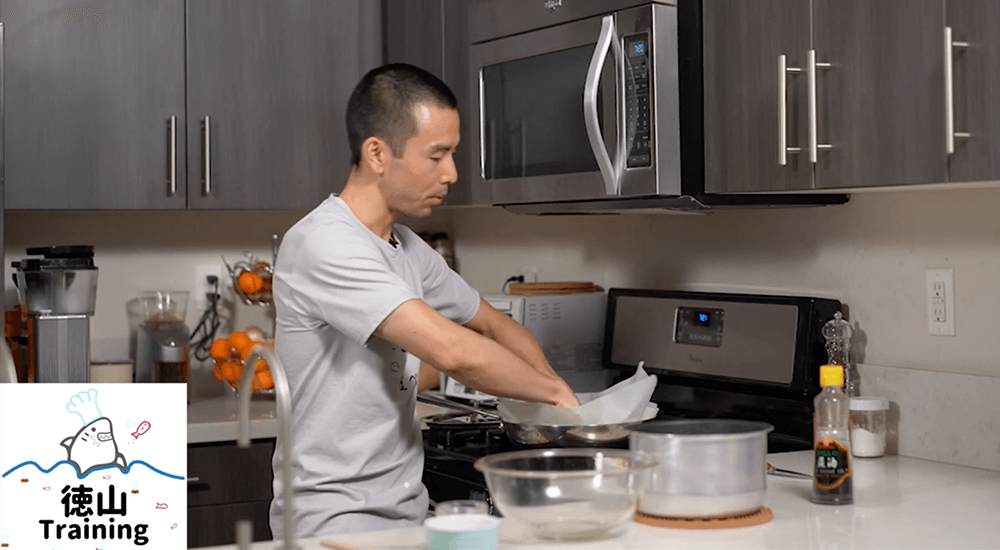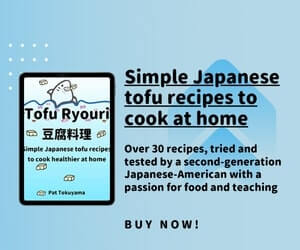 You can do a lot with yaki onigiri
A lot of different things! You don't necessarily need to stick with just shoyu and mirin.
You can do shiokoji, for example. You can do some corn. You can do shiso. You can do katsuobushi.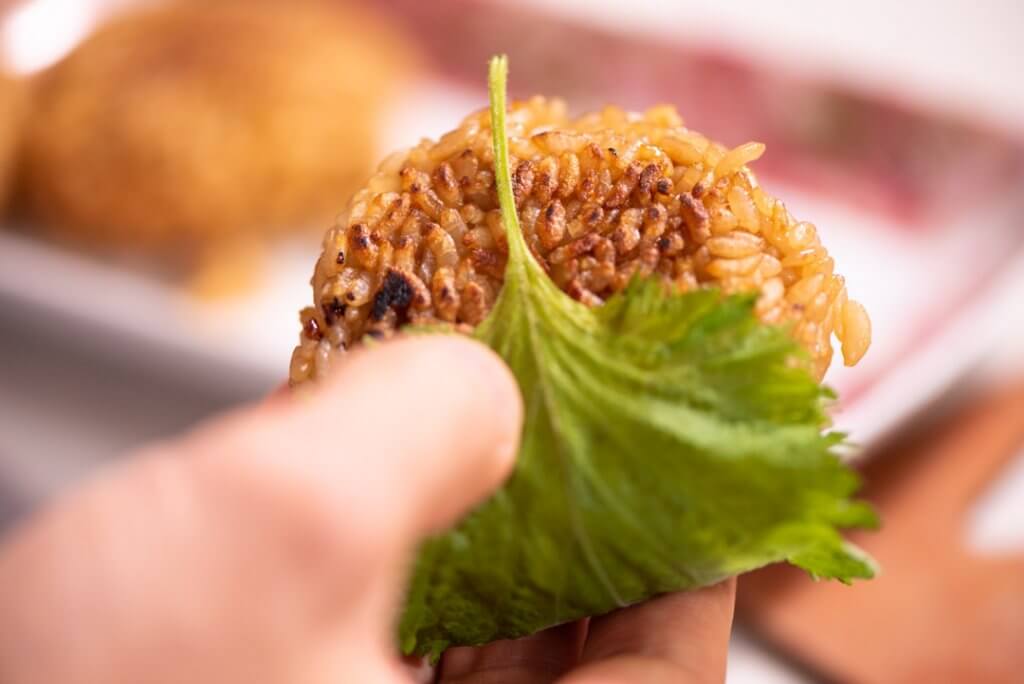 You can do umeboshi, which is pickled plum. You can put some miso on there. It's pretty versatile.
And if you don't eat it all, you can freeze it. It stores well in the freezer. Or you can make extra on purpose so that you can freeze it and you can enjoy it for a rainy day.
I hope you guys give this a try! It's very straightforward, delicious, and easy to make!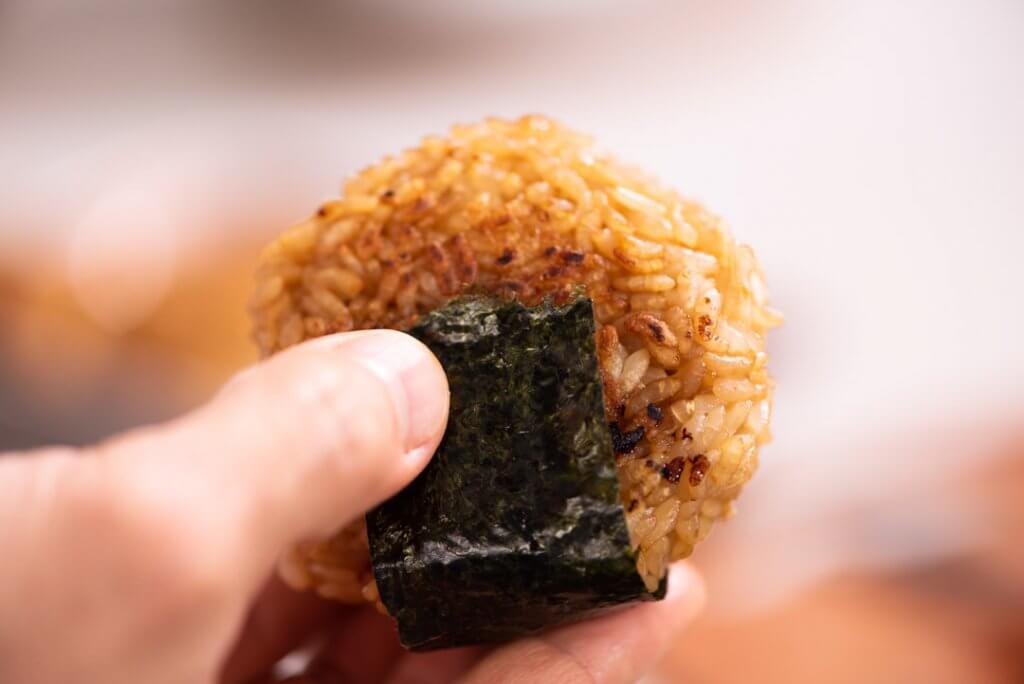 Print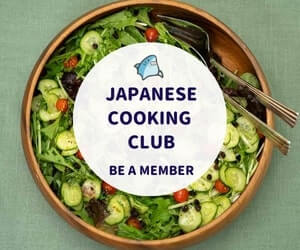 Yakionigiri | Grilled Rice Balls with Soy Sauce and Mirin
2

dry cups japanese rice (cooked)

1 Tbsp

mirin

3 Tbsp

shouyu (soy sauce)
dash sesame oil
Instructions
Cook 2 cups of rice in a rice cooker or on the stove according to package directions.
Once complete, turn off rice cooker and allow to cool.
Measure out mirin and soy sauce with dash of sesame oil if desired.
Add 3 Tbsp of seasoning to rice, while reserving 1 Tbsp for brushing.
Mix rice until seasoning is evenly distributed.
Using a large pan, measure out a piece of parchment and cut corners.*
Heat pan on medium heat.
Prepare a cutting board and wet with water to avoid sticking (alternatively, wrap with plastic wrap)
Using wet hands or a large piece of plastic wrap, take a handful of rice (1/2 cup worth) and press firmly into a disk or triangle shape. Press harder than you think necessary if you don't press hard enough the riceballs may fall apart.
Once you have a few onigiri ready to go add to your pan and cook for at least 3-4 minutes on each side. Monitor closely to avoid burning, once the first side is finished flip, and cook the second side. After flipping, you can brush with additional sauce.
Repeat for each ball of rice and serve while hot.
You can also wrap with a small piece of nori (dried seaweed) for more flavor and texture if desired.
Notes
*If using a non-stick pan you may not need parchment.
You can also use a toaster but you may need to watch closely and also shorten the cooking time to avoid burning.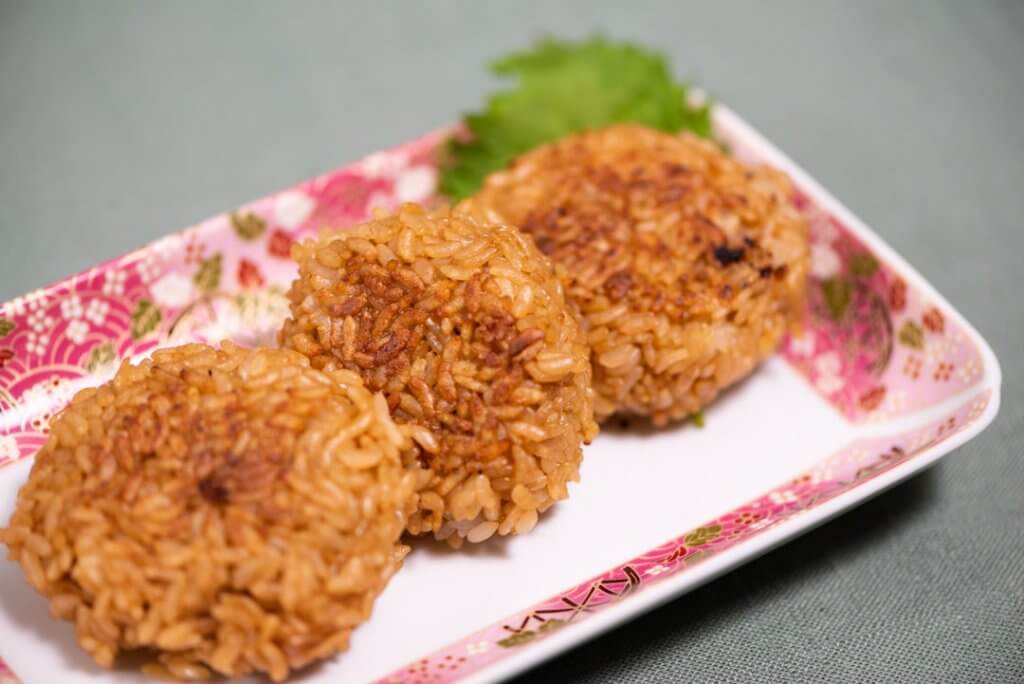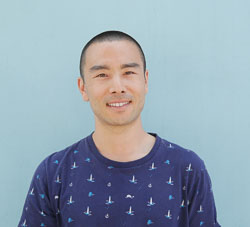 Konnichiwa! (Hello!) I'm Pat Tokuyama, a Japanese tofu cookbook author, who travels for music, food, and adventure. If you like Japanese tea, checkout some of the newestorganic japanese teas now in stock!!
** Curious about the Plant Based Japanese Cooking Club? ** Learn more here!

how do you like your yaki onigiri or grilled rice balls?
Do you like to eat yaki onigiri, with all of the seasonings mixed in, or do you like to put it on the top and bottom, kind of like a sandwich? lmk in the comments!