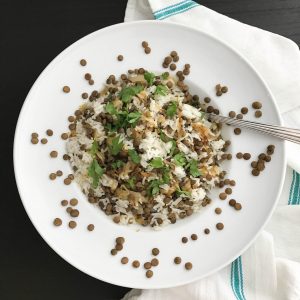 ♩ ♪ ♫ Monday, Mondayyy
So good to meee
Monday morning
It was all I hoped it would beee  ♩ ♪ ♫
Song of the day by the Mamas and the Papas. Hope that this tasty mujaddara recipe will help make your Monday all that you had hoped it would be 🙂
Wait, what's that you say? You've never heard of mujaddara!?
That's okay! It's almost 800 years old and I just learned about it a few months ago myself.
Brief History of Mujaddara
From Wikipedia:
Mujaddara is the Arabic word for "pockmarked"; the lentils among the rice resemble pockmarks.The first recorded recipe for mujaddara appears in Kitab al-Tabikh, a cookbook compiled in 1226 by al-Baghdadi in Iraq. Containing rice, lentils, and meat, it was served this way during celebrations. Without meat, it was a medieval Arab dish commonly consumed by the poor… Because of its importance in the diet, a saying in the Eastern Arab world is, "A hungry man would be willing to sell his soul for a dish of mujaddara."
This mujaddara does, however, come with a spiced yogurt sauce. Essentially your dressing for the rice/lentil salad.
The yogurt sauce adds a lot of goodness to the mix. It adds creamy and savory notes to the overall flavor profile. And the savory/spicy yogurt dressing is a very good contrast to the sweet caramelized onions. They balance each other out nicely.
The mint adds a bit of menthol to each bite keeping everything fresh and cool. It's not a spicy (hot) dish by any means, but does pack a lot of flavor in each bite.
Overall, I was very pleased with the results.
If you are looking for something different, this might be a good dish to try. Could be your tongues round trip ticket to a land far far away.
In case you missed them, here are some of my other recipes!
[display-posts tag="food"]
Save
Print
Mujaddara (lentils and rice) with Fried Onions and Spiced Yogurt
Prep Time:

20 minutes

Cook Time:

1 hour

Total Time:

1 hour 20 minutes

Yield:

4

people

1

x
Category:

Main Dish

Cuisine:

Middle Eastern
For the Mujaddara

3/4 cup

green lentils

1/2 teaspoon

salt

1 cup

jasmine rice

3 tablespoons

butter (divided)

6 tablespoons

olive oil (divided+ more for caramelizing the onions as needed)

6 cups

onions (thinly sliced, about

3

medium onions)
For the yogurt

1/2 cup

Plain full fat Greek yogurt (i used Greek Gods)

1/2 teaspoon

cinnamon

1/2 teaspoon

cumin (freshly ground (if possible))

1/2 teaspoon

coriander (freshly ground)

1/2 teaspoon

smoked paprika

3 tablespoons

fresh spearmint (chopped )
Juice and zest of half a lemon

1/4 teaspoon

salt
lemon wedges (for serving)
parsley (to garnish)
Instructions
First caramelize the onions in 2 or 3 batches. (If you have a large pan you may be able to get away with two batches) Using a large skillet on medium heat, add 1Tbsp. butter and 2Tbsp. olive oil. Once hot add about 1 onions worth of sliced onions. Cook on for at least 20-30 minutes and stir occasionally. If the pan appears to dry out add water, 1-2 Tablespoons at a time and stir. (The water will help to keep the onions from sticking to the pan.)
When onions appear to get well browned, allow the excess liquid to evaporate. Once most is gone, increase heat to high and cook for another 2-3 minutes. The intent of raising the heat is to dry out and crisp the onions (so no more water at this point!) Don't mix or the onions may not crisp nicely. Repeat steps 1-2 for the remaining batch of onions.
While onions are cooking, cook lentils according to package directions but add 1/2 teaspoon salt. Once done, drain lentils and set aside.
Once the onions and lentils are going, use a rice cooker or pot and cook rice according to package directions. Mix in 1/4 teaspoon salt. Once cooked, fluff with a fork. Set aside.
Lastly, make the yogurt. Mix all ingredients under 'yogurt' in a small bowl and set aside.
Once the rice, lentils and onions have cooked, take about half of each and combine in a large pot. Mix thoroughly and heat on low with the cover on for 15 to 20 minutes. If your pot is big enough, you could combine everything together all at once.
Serve with a big dollop of yogurt and sliced lemon wedges. Garnish with fresh parsley and enjoy !