konnyaku with butter soy sauce… what can i say? sometimes you've gotta just treat yourself. here's one way to indulge your taste buds with the rich creaminess of butter and savory bold umami packed goodness of Japanese soy sauce. while you can use this butter soy sauce combination to season all kinds of foods, today we're going to use it on our favorite jiggly konnyaku blocks! jiggle jiggle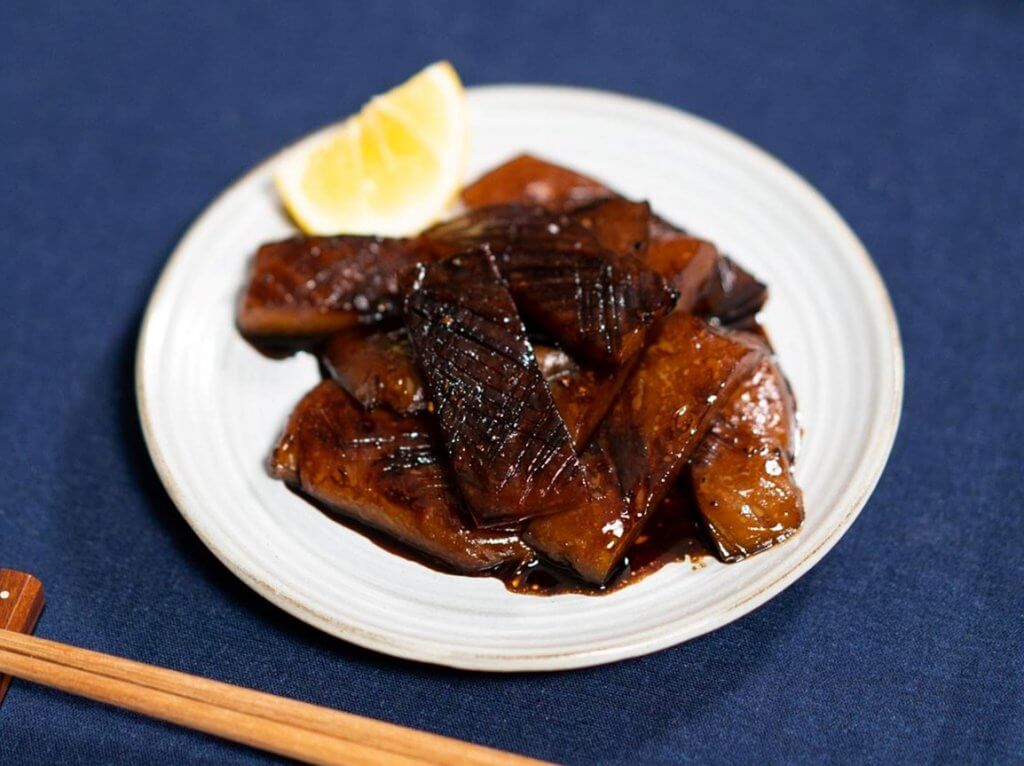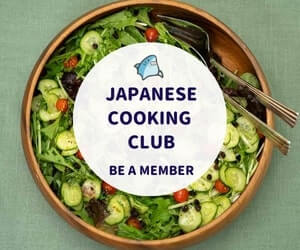 Butter soy sauce – the ultimate combination in Japanese cooking
if you wanna change someones life, serve them a Japanese dish seasoned with butter soy sauce.
just like this one! 
the turning point for me was many years ago when i used it to make cha-han (japanese fried rice) and there was no looking back.
while i had it many times before, i think something about that one time… when i wanted something savory and filling and slightly carb heavy like fried rice.
and it is something that i'll always remember because i had never really achieved such amazingly delicious flavors with so little work!
butter and soy sauce might seem like an odd combination but once you try it you'll understand.
it's like trying to explain what it's like to be drunk to someone who's never drank.
or what it's like to fall in love to someone who's never fallen in love.
you've just gotta experience it yourself.
here's one of my favorite ways to enjoy it.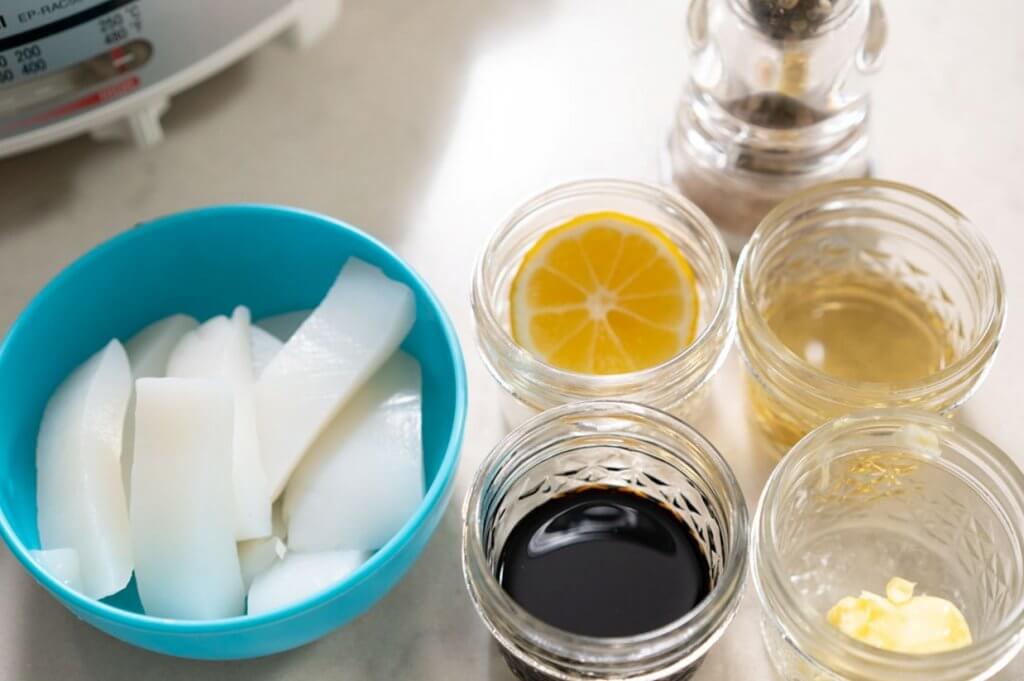 Some facts about Konnyaku
as you may know (if you saw my previous post)
konnyaku has zero sugar
konnyaku has zero fat
konnyaku has zero protein
konnyaku has zero carbohydrates
konnyaku has zero calories
so then…. what does konnyaku ACTUALLY have ??
DIETARY FIBER!
Almost all of the konnyaku block is water, and the fiber it contains is glucomannan, a soluble fiber.
and as you may know there's 2 types of fiber, soluble and insoluble (which i talked about in my white rice vs brown rice video)
since we're cooking with butter here, you might be concerned with your cholesterol intake.
well, i like to think that at least some of the soluble fiber in konnyaku will offset some of the cholesterol from the butter.
and if you're skeptical, you're skeptical.
what can i say?
you only live once and it's your choice!  🙂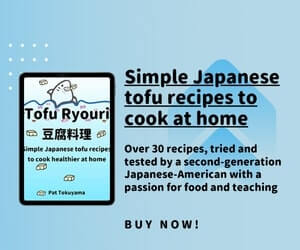 Cooking with konnyaku
Konnyaku naturally consists of mostly water and when you cook it in oil, it's going to splatter. To minimize the mess it's gonna make – consider using a deeper frying pan or a dutch oven to catch the oil splattering everywhere.
Make sure to thoroughly brown your konnyaku blocks because it will help to improve the texture and flavor. Yes, konnyaku does form a nice skin if you allow it to cook long enough without moving it. Make sure you have added enough oil to your pan if you're using a sticky skillet. Using white blocks will help to see how well it has browned, but if you're using brown konnyaku, you can pick up a piece and see if you notice any small bubbles that have formed under the skins.
Another important technique is the scoring of the surface, the scoring helps to not only improve the texture by allowing liquid from the surface to cook off, but also allow more surface area for the seasonings to stick to.
you're going to want to make the konnyaku enjoy an honorable death by 1000 cuts!
this is best enjoyed hot so make sure to serve right away or keep warm until ready to eat.
Tips for Preparing and seasoning konnyaku
as you watch through the end of the video you might learn a few tips like parboiling the konnyaku (as you would shirataki noodles) to remove excess water, and help it to absorb the flavor/seasonings better.
in addition, the way you cut the konnyaku such as using a spoon to give it an irregular surface (plus more surface area) is another technique you can employ. as well as the way you cut and score the konnyaku – all of these techniques can make a significant difference in the flavor you get in each bite.
and since konnyaku doesnt have much flavor on it's own, it can be used in a variety of different ways! especially in japanese dishes – both main dishes like nabemono (japanese hot pot), oden (simmered foods in dashi), nimono (simmered japanese foods) and side dishes (okazu) which is what we're making today!
plus konnyaku is plant based being made from the konjac plant just like the miracle noodle version also known as shirataki noodles.
and just like the shirataki noodles it comes in different shapes and colors, but the flavor is pretty much the same, so use the konnyaku you can get.
konnyaku might just be the jiggliest vehicle for japanese flavors you've ever known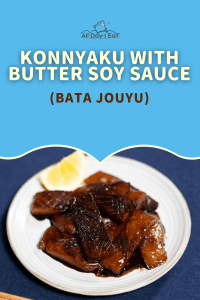 How To Cook Konnyaku | 3 INSANELY EASY Japanese konnyaku recipes to enjoy
Print
Konnyaku with butter soy sauce (bata jouyu)
1

block white konnyaku, sliced ¼ in thick and parboiled

1 Tbsp

butter

2 Tbsp

mirin

2 Tbsp

shoyu

1 Tbsp

lemon juice
freshly cracked black or white pepper
Optional: lemon zest
Instructions
Cut the konnyaku into ¼ in strips and boil in water for about 5 minutes and drain.
Use a sharp knife and score all sides of the strips. You want to create a criss-cross pattern with as many small cuts as possible, about 1/8 to 1/16th of an inch deep. Once scored, set aside.
Using a large sauté pan, heat butter and add mirin and soy sauce.
Once the alcohol has cooked off, add the konnyaku strips and a generous squeeze of lemon
Once you notice the sauce is beginning to get thick (like a nice glaze), it's ready to serve!
Serve with a wedge of lemon and or lemon zest!
Notes
Consider using a deeper frying pan or a dutch oven to minimiuze the oil splattering everywhere.
To get the best flavor an important technique is the scoring of the surface of the konnyaku. The scoring helps to not only improve the texture by allowing liquid from the surface to cook off, but also allow more surface area for the seasonings to stick to.
so now you have two recipes to cook konnyaku so it's unforgettably delicious
and now you know  it's all about the seasoning and a few key methods of preparation.
if you haven't yet tried any konnyaku recipes with japanese flavors, let this be one of your first so we can set the bar nice and high in terms of flavor and deliciousness! 
now you have one tasty japanese konnyaku recipe and we've got one more coming soon
have you tried japanese konnyaku dish before? what about butter soy sauce? what did you make ? lmk in the comments! 
PS if you havent yet maybe subscribe so you dont miss any of my new japanese cooking videos