Looking for a delicious and slightly sweet way to celebrate the holidays? Well, look no further. Because in this post you're gonna learn about one of my favorite Japanese desserts –  Japanese Christmas cake.  And if you haven't yet, make sure to watch the video all the way to the end. You'll see exactly how I made it and get of my tips to make it an easy success.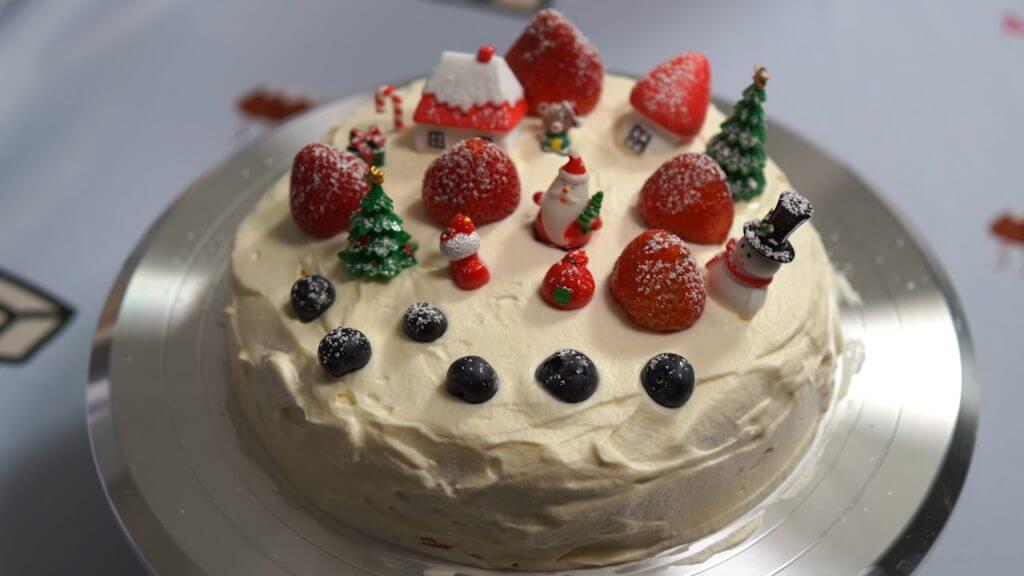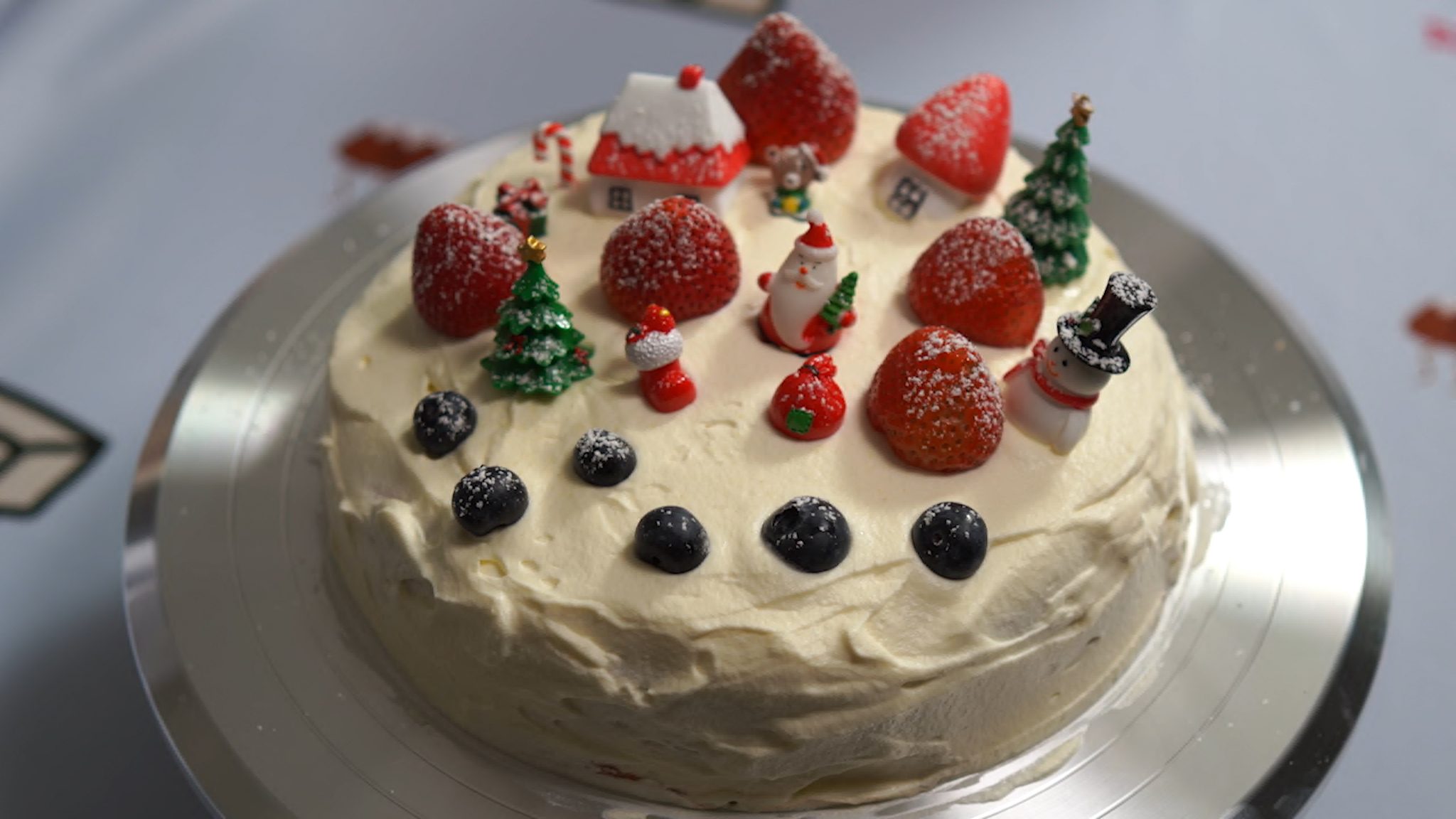 How to make Japanese Christmas cake
heard of Japanese Christmas cake before?
if not, basically it's a strawberry shortcake with Christmas decorations.
that's all that there is to it.
and what makes a Christmas cake is the decorations.
So if you know how to make strawberry shortcake process is pretty much the same!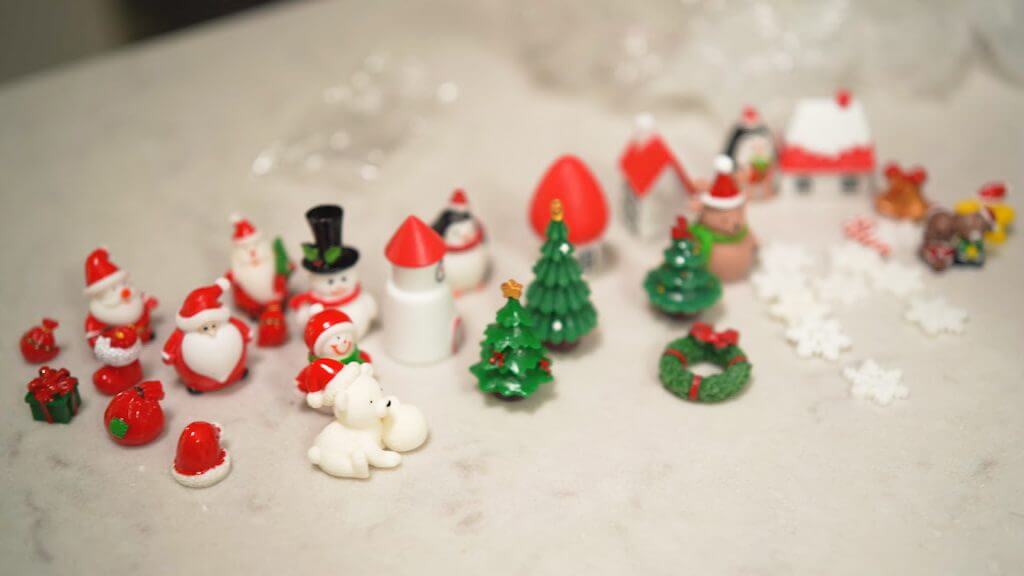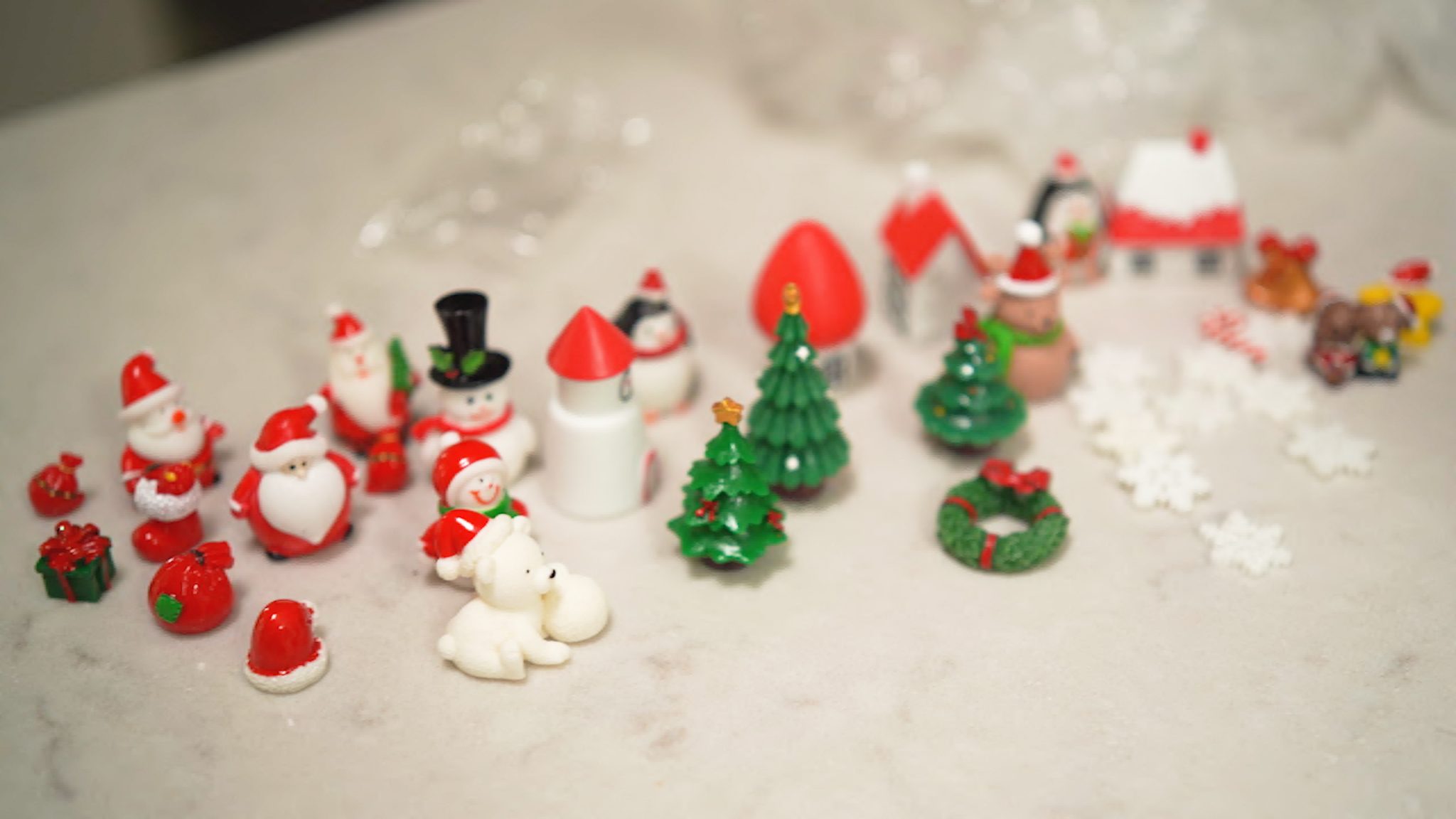 Christmas cake ingredients 
These are the ingredients for the Christmas cake.
Pretty standard and you may've noticed that there isn't much butter (or oil).
and that's one of the reasons why i love this type of cake so much.
it's light and fluffy and you don't feel like you gained 1,000 lbs after eating a slice.
if this is your first time trying it, you'll know exactly what i mean with your first bite.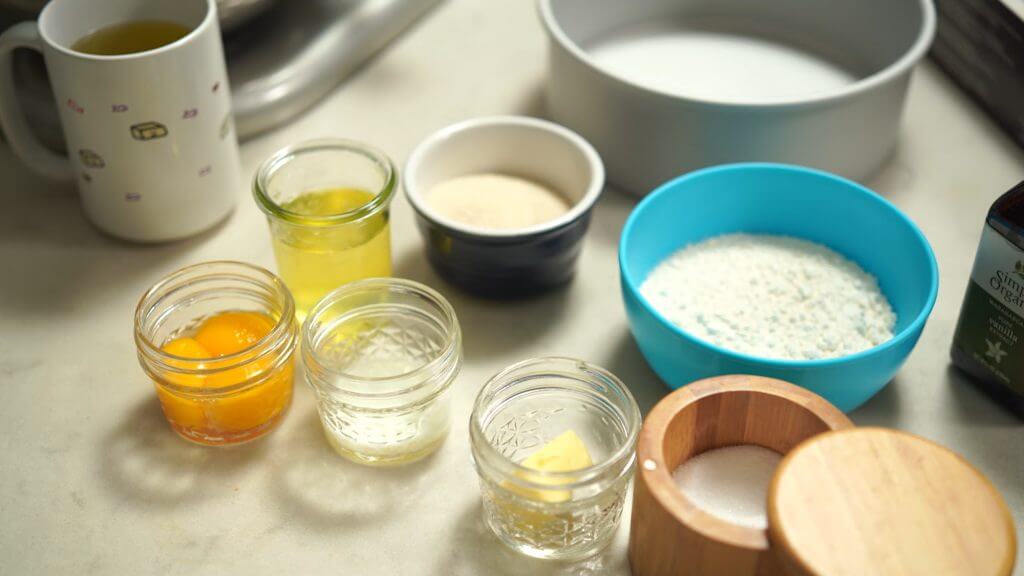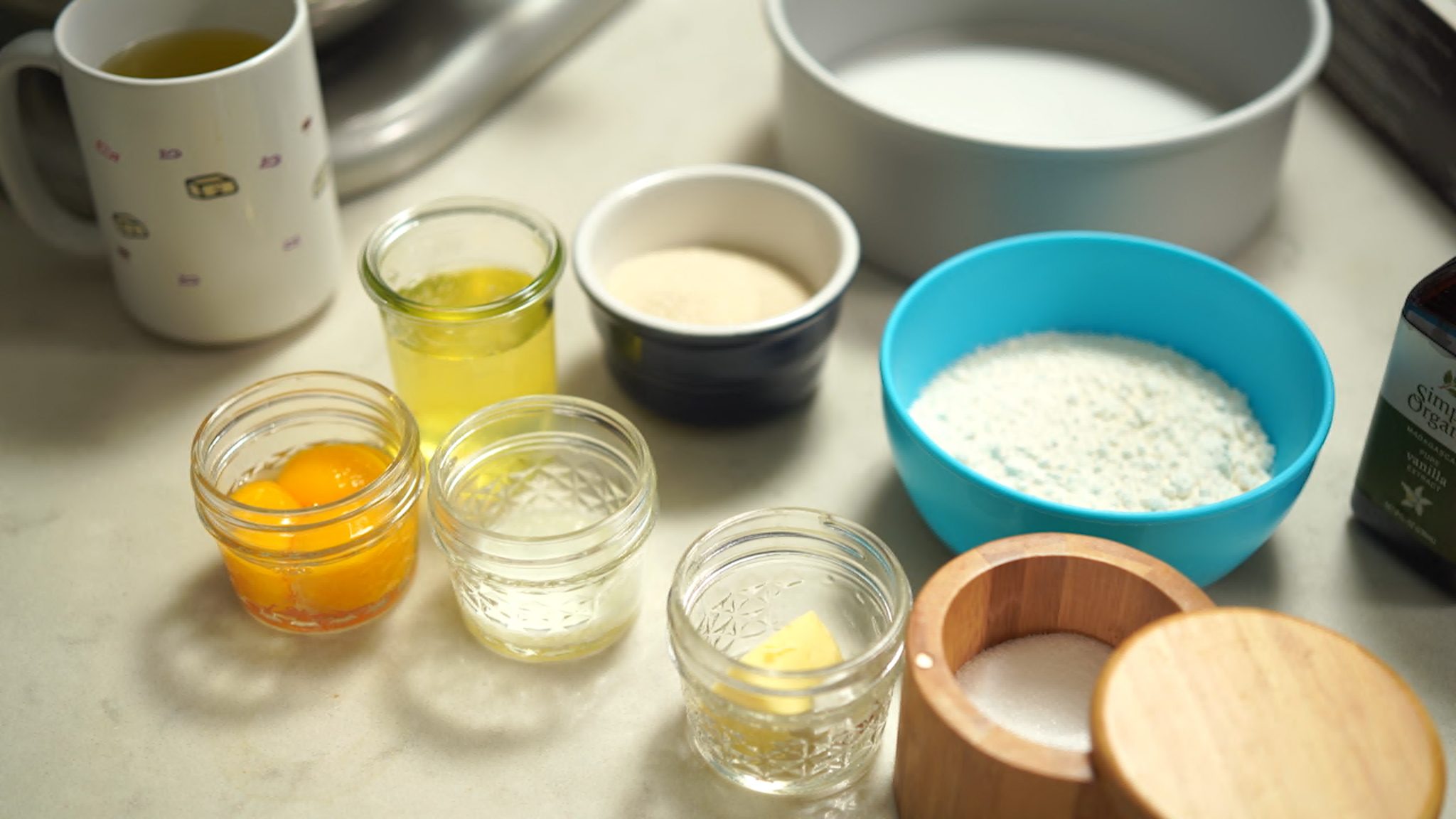 Two common methods for making Japanese Christmas cake (and strawberry shortcake)
There are two different ways to make strawberry shortcake, Japanese style.
One is going to be the method that I use in the video  below, where you make a merengue with the egg whites.
The other method requires use of a hot water bath to cook the cake batter.
I actually prefer the meringue method because it's a little bit easier and less fussy.
you don't have to deal with hot water and mixing your bowl and splashing it all over the place.
that's the main difference really.
texture wise they're pretty indistinguishable in my experience.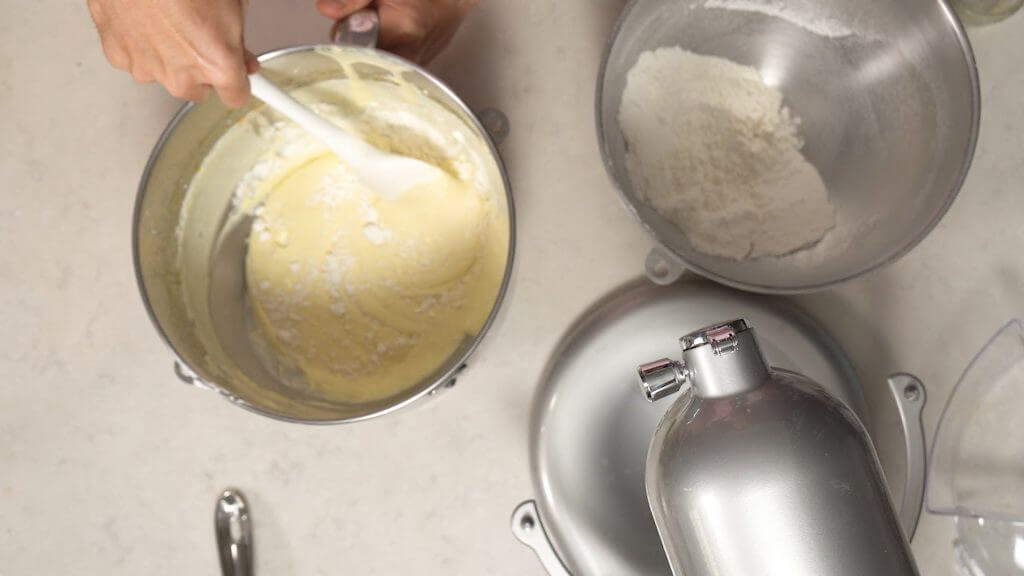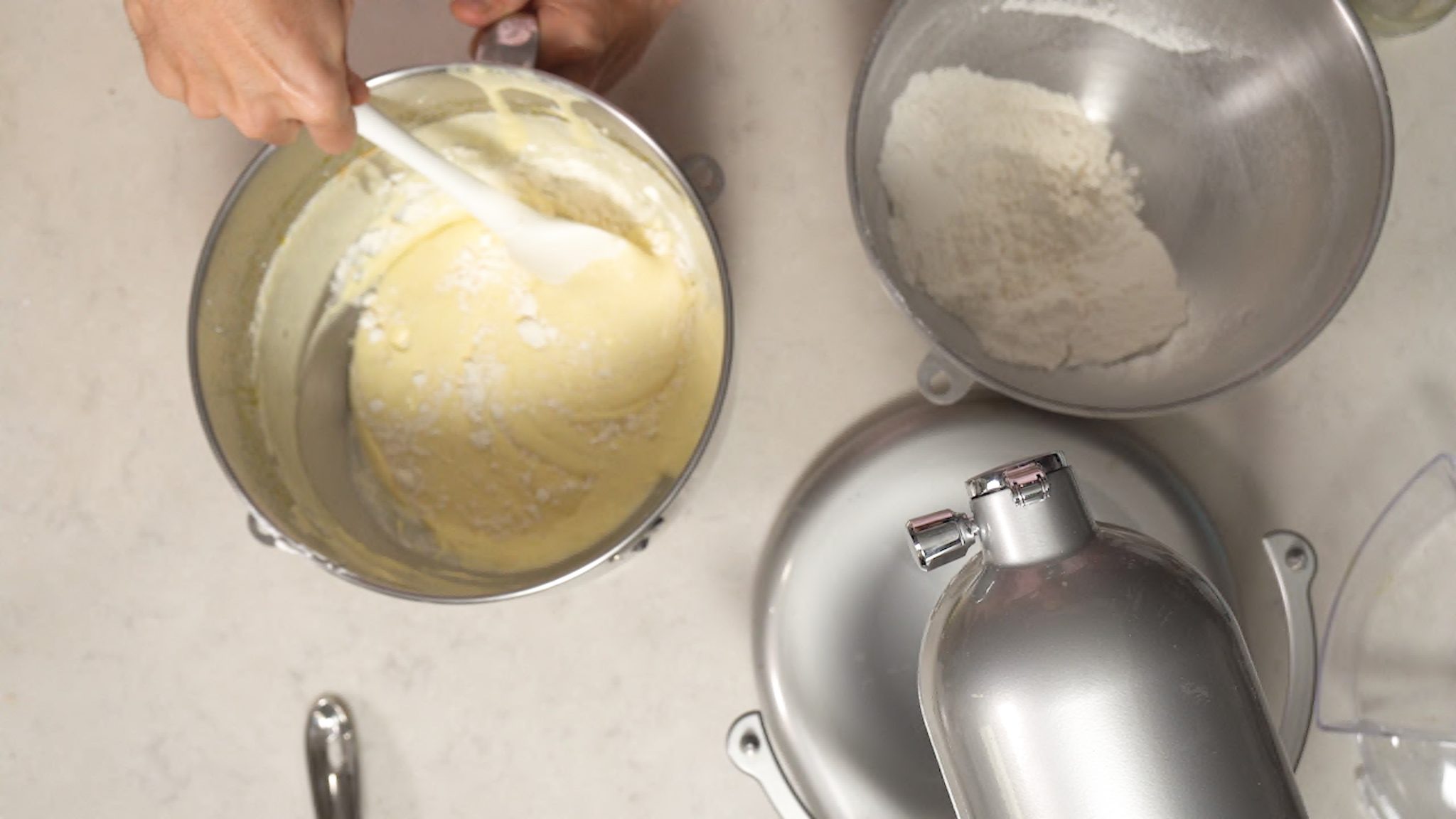 Tips for making your Christmas cake a success
The first is to choose whatever method that you prefer to make the cake – with a water bath or without.
Second is going to be to get the specialized equipment and tools (if you don't have them already.
they're gonna make putting the cake to get a lot easier than without.
plus you can use them for other cakes and desserts in the future.
so now that you know what equipment can help you make a cake, perhaps you'd be curious what it takes to make it taste good.
and i'll tell you, not much~!
fresh and organic ingredients are what i use along with just one secret ingredient…
The secret ingredient to make your Christmas cake unforgettably delicious….
One of the secret ingredients to make a Japanese strawberry shortcake like this Christmas cake taste special is liqueur.
Cointreau is one of my favorites and this helps to add additional flavor and complexity to the slightly sweet flavor of the cake.
it's just that bit that makes a big difference between an ordinary Christmas cake and an extraordinary Christmas cake…
try it and see if you can notice a difference.
last, use fresh fruit at least as fresh as you can get.
i get that Christmas time isnt the season for fresh blueberries or strawberries, but chances are you can find them imported from somewhere, year-round.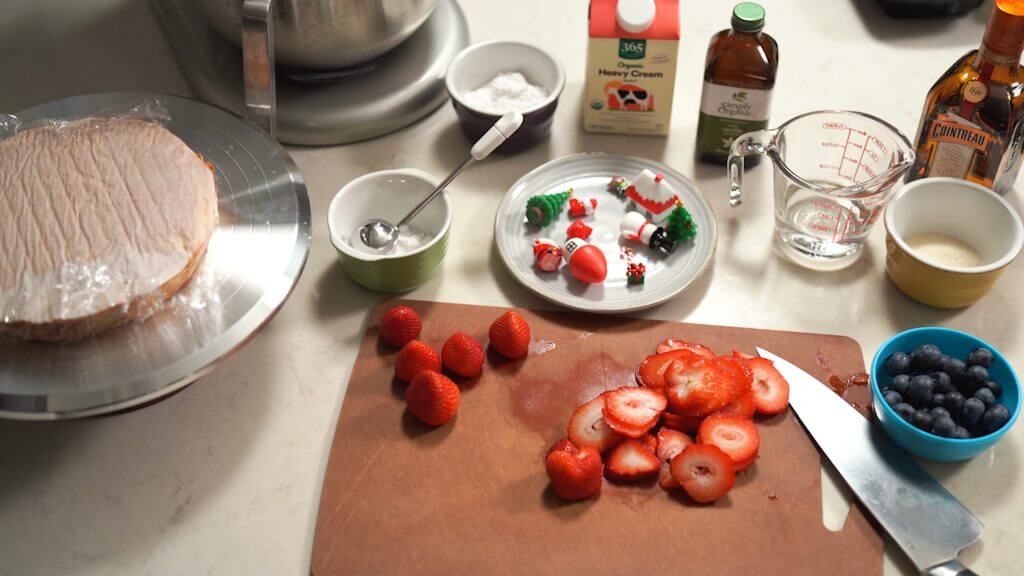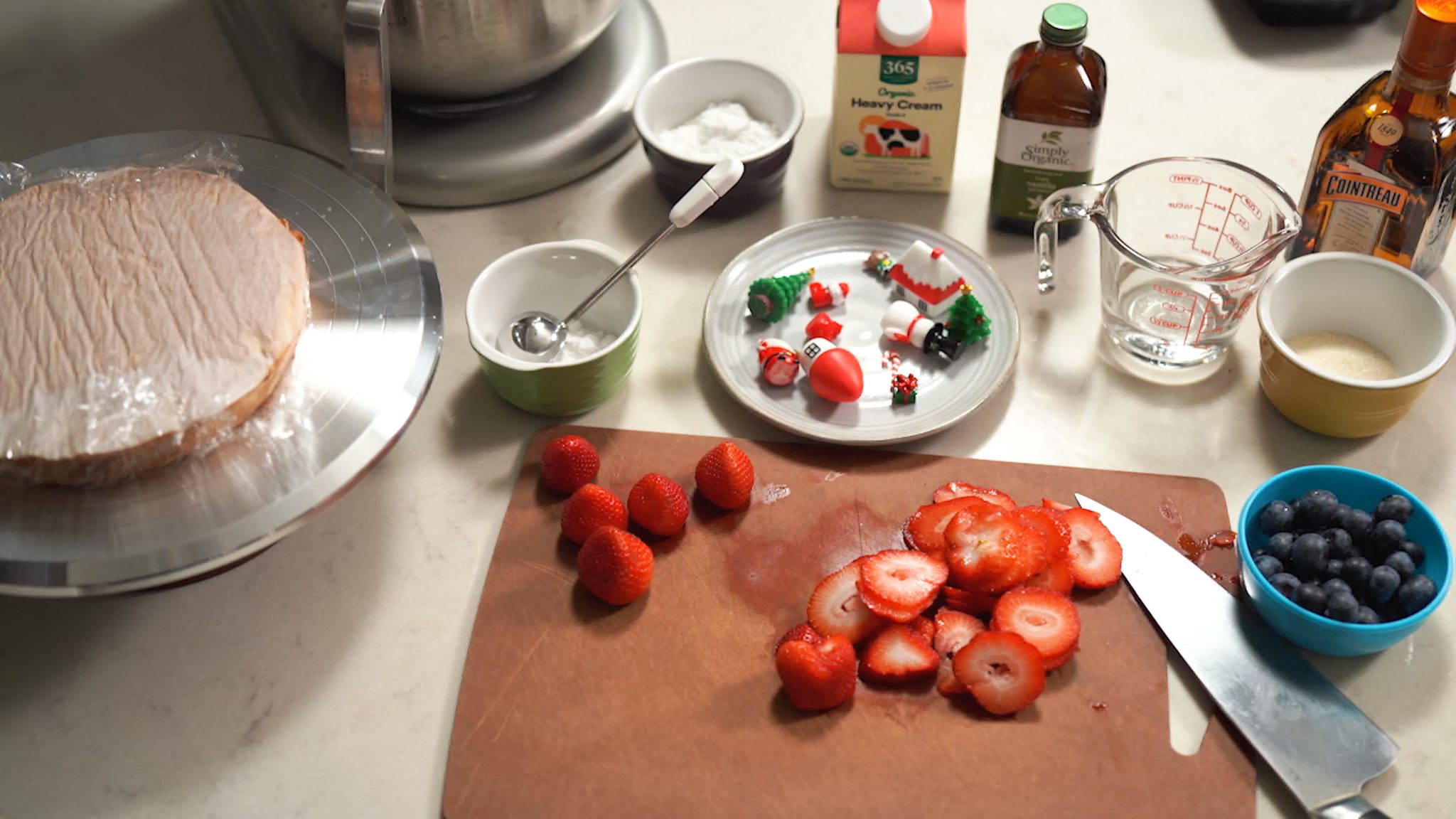 Want something to go with your Christmas cake strawberry shortcake ?
like I mentioned at the very end of the video,  traditionally in Japanese cafés where you get dessert, you'll usually get a cup of tea.
whether that's organic hojicha (roasted green tea) or organic japanese green tea or organic matcha, powdered green tea, it's a great way to balance out some of the sweet flavors of the cake or dessert that you're eating.
You can find several organic types of Japanese tea in the shop clicking on the links in the line above.
Did I miss anything?
let me know in the comments or if you ever made a Japanese a Christmas cake or shortcake before, curious if you have any tips or can share any feedback?
if you're gonna be trying this recipe let me know in a comment.
Merry Christmas and happy holidays and happy new year!
How to make Japanese Christmas cake (without a hot water bath)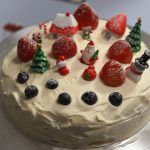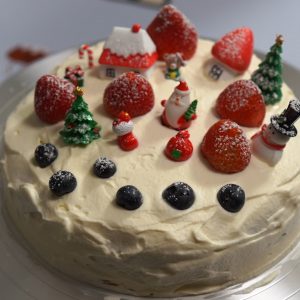 Yield:

8

people

1

x
Category:

Dessert

Cuisine:

Japanese
For the cake
1/2 cup

sugar (~

50grams

)

1 cup

cake flour (~

100 grams

, sifted )

3

large eggs (yolks separated)

1

dash vanilla extract

1

dash salt

1 Tbsp

whole milk

1 1/2

Tbsps unsalted butter
For the whipped cream and toppings
6

Tbsps powdered sugar

1 pint

heavy cream (

2

Tbsps removed ; total 450mL; keep cold for better structure )

1 tsp

vanilla extract

1 pint

fresh strawberries (half sliced thinly,

4

–

5

pieces cored and left whole)

1/4 cup

Fresh blueberries

2

–

3

Tbsps powdered sugar (for dusting )
Christmas figurines
For the syrup
2

Tbsps sugar

1/4 cup

water

1

–

2

Tbsps Cointreau (alternatively, Grand Marnier or Rum)
Instructions
For the shortcake
Preheat your oven to 355 degrees F.
Combine the milk and butter microwave 15-20seconds to melt the butter. Set aside.
Using a stand mixer, whip the egg whites until stiff peaks form. As you noticed the stiff peaks forming, add the sugar in 2-3 portions while continuing to beat the egg whites.
Once all of the sugar has been added, continue beating the egg whites and add egg yolks, one at a time and continue beating. Watch as the color turns from a darker yellow to a more pastel yellow (like the color of a peep – [Easter candy]!)
Add the vanilla extract and the milk butter mixture and mix until just incorporated.
Use a large spatula to gradually fold in the flour in 2-3 portions, once all the flour has been mixed in transfer to a cake pan lined with parchment on the bottom and the sides. Use a toothpick or chopstick to even out the surface if needed.
Bake for 30-40 minutes until it appears gold in color. Use a toothpick test if youre unsure, when it comes out clean it's done.
Allow to cool on a wire rack and the slice in half.
For the whipped cream
Combine the powdered sugar, heavy cream and vanilla extract and whip in the stand mixer using a wired whisk. Set aside.
For the syrup
Mix the sugar in the water and microwave 5-10 seconds to help dissolve. Add in liqueur and set aside.
Using a spoon or pastry brush, generously add the syrup to each layer of cake. If you dont have the rough side (cut side up) you can poke holes with a fork to help the syrup get absorbed by the cake.
Assembly
Place one layer of cake on the bottom of a plate or cake turner, layer with whipped cream and top with the sliced strawberries. Optional to add another layer of whipped cream on top.
Place the second cake layer on top (and repeat if using third and fourth layers). Once you add the top layer of cake, add a layer of whipped cream, along with whole strawberries, blueberries and Christmas decorations as you'd like.
Serve immediately and enjoy with some hot Japanese tea!