Print
Iridoufu 煎り豆腐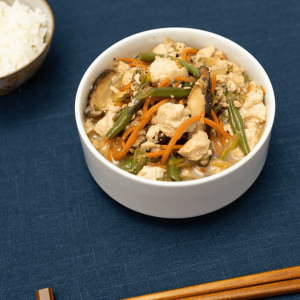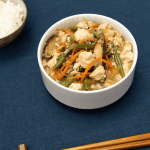 1

block soft tofu

1 cup

green beans (trimmed)

1 cup

carrots (shredded)

1 cup

green onions (chopped)

2

–

3

shiitake mushrooms (sliced)

1 tbsp

sesame oil

1 tbsp

extra-virgin olive oil

1 cup

konbu dashi

2 tbsp

light soy sauce

2 tbsp

mirin
white pepper and black pepper to taste (to taste)
Microwave the tofu for 2 minutes. Meanwhile, prepare and chop vegetables.
Add extra-virgin olive oil and sesame oil to pan and cook carrots for 1-2 minutes.
Add in the green beans, green onions, and mushrooms and cook for 2-3 minutes.
Add in the dashi stock, mirin, and soy sauce. Add a dash of white and black pepper if desired.
Reduce liquid to desired consistency or until heated through.
Serve with rice.
Notes