You may remember I mentioned in an earlier post (Throwback Thursday #6: Burning Man 2011) that we would be going to the Oregon Eclipse Festival this year.
Well, we went.
It was a bittersweet experience and the absolute worst part?
Waiting to get in.
Once we arrived at the town just outside, we had to take a detour.
Part of the problem was that this alternate entrance which was an hour drive from the main one.
Once we got there, there was a long long long line of cars.
We moved maybe 500 feet every 30 min to an hour.
In total, 12 freakin hours sitting in line in the car waiting to get in!!
Totally unacceptable!
I've never waited anywhere near that long to get into a festival. Even of the same size or bigger!
And I probably won't be looking to return anytime soon as a result.
Which is a shame, because the festival itself was pretty decent.
So, now that I've vented, I'm going to focus on the good stuff!
Oregon Eclipse Festival – Good Things! 
They had special portapotties that were elevated off the ground and ventilated.
As a result, this made them a lot less smelly than they usually are.
Never seen these before and though we didn't find them until the second day, we made sure to use them the whole time!
That was a small win!
Another positive, was that it was a really big space, so never really felt crowded.
And another win, was the sound.
The sound systems they used were perfect and is what every festival should strive to have.
The sound was really good!!
When you go to see music, it really sucks if they have a bad sound system.
This happened to us when we went to see Above and Beyond in Miami earlier this year, terrible sound.
So this was another small win!
Last, but not least, the eclipse!! 
The Eclipse
It came and went in what seemed like a blink of an eye, but it did last a few minutes and was pretty epic.
We put our special eclipse glasses on and watched the moon slowly begin to cover the sun. This took about 20-30 minutes before getting interesting.
Eventually it reached totality and turned into a bright ominous ring of light that had bright white elongated flares of light protruding from it.
Much longer than any videos have shown.
And then during totality seeing the surroundings get unnaturally dark in the middle of the day, was pretty eerie.
And then as it ended, seeing that diamond ring sparkle through as the sun emerged from behind the moon was my favorite part.
It really was like a diamond ring.
Only this one doesn't last forever.
Take that DeBeers!  🙂
If you haven't seen any videos of the eclipse there are tons. This one was taken somewhat nearby the event – in Madras, OR.
If you missed the eclipse this time, try and see it next time!
I really think it's just one of those things you have to experience in person.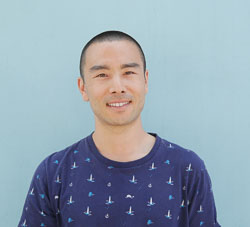 Konnichiwa! (Hello!) I'm Pat Tokuyama, a Japanese tofu cookbook author, who travels for music, food, and adventure. If you like Japanese tea, fill out this short survey for an exclusive discount on your first order!!
** Curious about the Plant Based Japanese Cooking Club? ** Learn more here!

Oregon Eclipse Festival 2017 Highlights
For your enjoyment, here is a short video I put together of our time at the festival
We spent 4 full days (Fri-Mon) at the festival before hitting the road to explore Bend, Portland, Redwood National Park and San Francisco on the way home.
I regret not taking my camera in to record more, but at the same time it was super dusty and I didn't want it to get ruined.
Most of the video was shot toward the end of the festival Sunday and Monday (Eclipse day).
I didn't get any String Cheese in the video, though they were definitely one of the highlights, their live sets are usually available online.
Let me know what you think!