Daniel Restaurant **
In the 2017 Michelin Guide for New York City, Daniel is listed as a two star Michelin restaurant.
It's located on the Upper East Side near Central Park and is known for French influenced cuisine.
The Chef (Daniel) actually has two restaurants and we ate at his cafe first.
The food there was delicious and that review can be found at this link New York City April 2017 Part 2: Cafe Boulud Restaurant Review
As usual, I did my research and the reviews seemed very promising here.
Of all the places we investigated, this seemed to be the best and that was one of the reasons I saved it for the end.
We decided to go with the four course dinner for 148 per person.
If you go a bit earlier, around 5pm, they also have a three course theatre option which is a little bit cheaper but allows you to choose from the same menu.
So that's something I might consider next time. If that gives anything away already 🙂
Daniel First Impressions
We walked over to Daniel from our hotel and it was a nice walk along the side of Central Park.
The entrance almost looks like a hotel or theatre on Broadway, but we made sure it was the restaurant before stepping in.
Once you go in, you take a few steps downstairs passing a dimly lit bar on the right.
Then down some more stairs into another dimly lit dining room.
I liked the layout of the restaurant as there were two levels, coliseum style, if coliseums had two levels that is.
There was a center area with tables and around it, maybe one foot higher, tables that surrounded that lower level.
We sat on the outside circle and got to look over the center group of tables.
When we arrived at 630 for our reservation, the restaurant was already 3/4 full, but quiet.
One thing I've noticed in these fine dining restaurants is that they are always relatively quiet.
Have you noticed that before?
The service was perfect and we got lucky that our server had a good sense of humor and joked with us the whole time we were there.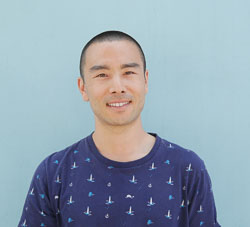 Konnichiwa! (Hello!) I'm Pat Tokuyama, a Japanese tofu cookbook author, who travels for music, food, and adventure. If you like Japanese tea, checkout some of the newestorganic japanese teas now in stock!!
** Curious about the Plant Based Japanese Cooking Club? ** Learn more here!

The Eating Experience
We started off with several small bites all of which were delicious.
The first was an onion sable with spinach and next came langoustine, asparagus soup, smoked salmon.
All of these were bite size and very delicate and flavorful. A very good omen of things to come!!!
Next came the bread! My favorite!!
We had 5 options to choose from – buckwheat, garlic parmesan, a round flaky bread similar to a croissant, mulitgrain bread, and baguette. Can you guess my favorite?
It was the buckwheat because of the deep earthy and grainy flavor it had. I now need to try making bread with buckwheat! 🙂
First courses
Emi had the langoustines with a savory panna cotta. It had very light and refreshing flavors. The coconut and fennel really made the dish unique and memorable. When's the last time you had coconut and fennel!?
I had the hamachi which was also very good, with each slice of fish wrapped around a red pepper/tomato puree (hidden) and topped with caviar. The green sauce underneath and the dollops of citrus all worked well together and made for a well executed dish.
Second courses
I was choosing between a fish and frog. I decided to be adventurous and try the frog since I haven't had it before and it's a classic French dish.
The dish was very peppery with both whole and pureed lentils. The flavor overall could also be described as deep and dark, with earthy notes from the lentils and then some sort of parsley and oyster sauce like flavors.
All of this was the perfect way to eat the frog leg meat, which tasted like… frog!
I definitely wouldn't say chicken, because it had a briny and unique flavor. If someone served frog to me as chicken, I think I would know something was up. Anyways, it came with a nice buttery foam that was the perfect way to round out all the flavors in the dish.
Emi got her favorite foie gras which was flambeed table side. Want to see the video? I recorded it right here – Foie Gras Flambe Daniel Restaurant New York City April 2017
Foie gras isn't really one of my favorite things to eat, but I had a taste and it was pretty good. Definitely well-done and the Bordeaux sauce was very flavorful.
Main courses
I was again choosing between fish and duck for my main. Since we had already eaten a lot of fish at the restaurants before Daniel, I decided to go with duck.
Plus, the pastilla was what caught my eye. The duck was very well done and came with a perfectly crisped piece of skin on the side. It was very 'ducky' thanks to the duck jus. Quack quack. 
The pastilla was also good, but not as good as what I had eaten when I visited Morocco a few years ago.
Emi got the Wagyu, which came medium-rare (how we like it) and with a dark and rich sauce. I liked this more than my duck dish, maybe because the flavors were stronger. But now that I think about it maybe I don't like duck that much too.
Dessert just about killed us
We were already full from the food and then came a seemingly never-ending barrage of desserts.
First, we got our main desserts one with kiwi and one with poached pear (actually little balls of poached pear). Both were delicious and showcased each of the fruits and their respective flavors prominently. Accentuating each, were other subtle flavors and textures that really made them unique.
For example, the kiwi dish came with kiwi meringue (little green discs) and was fun to eat. Especially since meringues usually don't come in small tart pieces like that. The little balls of poached pear was also novel and each bite was bursting with cold grapey peary flavor.
After that I got my birthday dessert, which was a dark chocolate cake with a white chocolate candle (edible). The cake itself was actually sandwiched in between two firmer layers of cake, so there was a textural contrast that was unexpected and interesting. The white chocolate was a good way to sweeten everything up!
After this, we got our post-dessert which was a vanilla sable, chocolate banana meringue, and a hollow fruit ball. (i forgot what this was 🙁 ). All of these were delicious.
Then came Daniel's signature madeleines. Nice and warm, but we had no space left and took them back in a box for later. These were good too and exactly the same as they were at his Cafe.
We thought we were done, but then out came more chocolate. (Not pictured) There were 4 pieces total – passion fruit, yuzu, blood orange, juniper berry and two boxes with a freshly baked Canelé to take home!
Overall Impression
We had a very good time eating here and would recommend coming for the four course dinner.
This was the most stuffed we were out of all the places we ate that weekend and probably the best restaurant overall in terms of food and service.
So that just about wraps up our fine dining extravaganza in New York City!
If you liked this post let me know by leaving a comment and thanks for stopping by!