Jean-Georges Restaurant ***
Jean-Georges is listed as one of the handful of 3 star restaurants in the 2017 Michelin Guide for New York City.
Ever since my awakening at Le Cinq in Paris, I've been a lot more interested in fine dining than I ever thought I would be.
Le Cinq set the bar for 3 stars very high.
We've eaten at a good amount of restaurants since, but none have yet to come close to matching that dining experience.
So the search continues.
Could we have found a worthy equivalent on this trip? You'll soon find out! 🙂
Jean-Georges had pretty consistent reviews, which is why I chose it out of all the other 3 starred restaurants.
People seemed to really enjoy it's lunch course, which is a pick any two dishes for $48, additional plates were $26.
The menu also had one of the most extensive offerings of all the restaurants we were considering.
Most importantly, the dishes looked and sounded delicious!
We figured we would go with the two course and if we were still hungry we could always add on additional plates.
Jean-Georges First Impressions
Locating the restaurant was very straight forward.
It's located at the bottom corner of Central Park in the area known as Colombus Circle.
It happened to be in the Trump Tower on the first floor, but with it's own separate entrance.
The restaurant seemed to have two sections.
One with a bar and some tables, and then a fine dining area with white table cloths and large windows on three sides of the room.
Thanks to the table to ceiling windows, the dining room was bright and airy thanks to the natural light that filtered through.
After arriving, we were seated right away at a table, which happened to sit in front of another table that was recessed into the wall.
That was kind of a strange setup, especially after another couple came and sat at that table.
They were sitting to our side, but they sat facing us directly. ????
Service was perfect and attentive.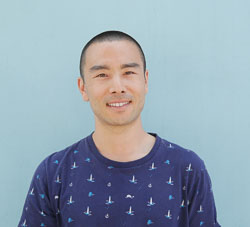 Konnichiwa! (Hello!) I'm Pat Tokuyama, a Japanese tofu cookbook author, who travels for music, food, and adventure. If you like Japanese tea, checkout some of the newestorganic japanese teas now in stock!!
** Curious about the Plant Based Japanese Cooking Club? ** Learn more here!

Jean-Georges Eating Experience
We started with complimentary sesame crusted asparagus with beet cured salmon and sunflower. This was followed by a 'spring soup' which came in a glass and was very light and refreshing due to the herbs, especially cilantro.
Next came the bread, (my fav~!). Our choices included: Swedish, olive, sourdough, and ciabatta. The sourdough was a standout! It had a superdark crust that tasted like coffee. Never had anything like it!
First courses- My first course was with sea trout. It was lemony and herby thanks to the generous cloud of lemon foam. There were small chunks of raw trout hiding underneath. The roe provided a notable firm contrast to all the soft textures in the bowl, as the tiny eggs did not pop easily. 
Emi's uni (sea urchin) was perfectly paired with yuzu and jalapeno, it was very fresh and the flavors played nicely with each other. The bread underneath didn't overpower which was good, since I like the way uni tastes. If you have really fresh uni, like right out of the shell, it tastes slightly sweet. That's how this was. If you like seafood, it's definitely something to try! 
Main courses- I ordered a Sourdough crusted salmon with pea shoots and pea puree. I expected the crust to go around the fillet instead of being a tall thin wall. Fancy fancy. The fish was nicely done and the pea went well with the savory crust. Not sure I would recommend this though, since the presentation was big and flavor not as much.
Emi's meat Scallopine was quite rich with lots of bacon and lots of meaty flavor. I don't think we'd get this dish again though, since it was really heavy. Heavier than anticipated. I think if we were craving meat at the time, it would have been perfect, but we weren't so it was a little too much for us.
We were kind of hungry still and decided to add on a third course and decided to go with the black bass. This was amazing!!
First, I've never had such a well done fish served in a restaurant with the savory nut crust being as fine and crispy as it was. The flesh was soft, moist and delicate. Second, the broth with tomatoes and mushrooms was delicious.  It was almost like fish in soup, but very refined with the perfect amount of seasoning. It was sweet, sour, and savory, all at the same time. While maintaing complete balance throughout so nothing was too overpowering. This dish was so good!!! I need to see if I can recreate that at home!
Dessert- For dessert, the options were based on various themes, including several chocolate, 'apple orchard' and 'citrus'. We thought the citrus theme sounded best. It came with kumquat sherbet, yuzu curd, blood orange gelee, parfait, caramelized pastry and white chocolate. You could taste each of the different components well and the flavors overall were very delicate and light. The only thing is that I didn't like was that it was gone in only a few bites! Next time I'll need to try the orchard if it's still there 🙂
Looking back, I really enjoyed our meal. Especially the fish in broth. That is the kind of thing I'm always looking for when eating out. Life changing!
I would go back for lunch, possibly dinner and be a little more careful about what I'm ordering.
If you do decide to eat here, I would recommend not getting the veal and salmon for reasons I mentioned above.
Let me know if you have any questions and thanks for stopping by!
Save