2017 Michelin Guide for New York City- Cafe Boulud 
Since we were going to New York, we felt that we it would be a good opportunity to take advantage of the fine dining options in the city. It also happened to be my birthday 🙂 So we had a good reason to celebrate! Our first stop was at Cafe Boulud 🙂
I did some research using the 2017 Michelin Guide and Yelp to see what our best options were for eating.
A lot of the reviews are mixed, so I weeded those out.
The final list of restaurants is below. My next series of New York City posts will take you through our dining experience at each of those restaurants.
(*=1 Michelin Star)
Cafe Boulud First Impressions
I found this place after looking at reviews for Daniel, which is owned by the same chef – Daniel Boulud.
The menu looked interesting and there was a good deal for a prix fixe lunch $45 for 3 courses.
The restaurant is right next to Central Park, so you could take a nice pre- and post-meal stroll there. We did!
We had a reservation for the first seating at lunch and the place was empty when we arrived. By the time we left, it was completely full.
Cafe Boulud is attached to a hotel so we there was a lot of traffic in and out of the main entrance since it's shared.
The restaurant faces the street but doesn't get too much natural light so was a bit dark inside.
Since it was lunch it wasn't that dressy, so no jackets for men!
We were promptly seated and took a look at the menu. The offerings were the same as what was online so we already knew what to order.
Service was good as expected.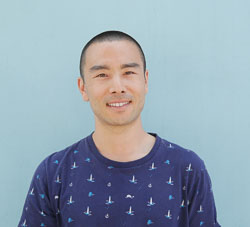 Konnichiwa! (Hello!) I'm Pat Tokuyama, a Japanese tofu cookbook author, who travels for music, food, and adventure. If you like Japanese tea, checkout some of the newestorganic japanese teas now in stock!!
** Curious about the Plant Based Japanese Cooking Club? ** Learn more here!

Cafe Boulud Eating Experience
The meal started off with a pea pastry, which had a crunchy crust with a deliciously creamy and rich pea puree filling. Good start!
Next came the bread and butter, I liked all of the offerings with the baguette being my favorite.
For the appetizers, I had asparagus soup which despite having cream was delicious and light.
Emi had the fluke which came with a tarragon veloute and sweet grapefruit. Since it had toasted rice, it reminded me of the Japanese ochazuke (rice in a savory seasoned tea broth). It was very light and refreshing
For the mains, I had a fish called dorade and it came with a smoked bell pepper tomato puree sauce as well as a layer of fregola (small pasta) hiding underneath it. Perfectly cooked and seasoned.
Emi had the skirt steak with baby romaine, cheese, red onion, and empanadas. The steak was good but really needed the sauce and garnishes next to it for flavor. The empanadas were very much like the pea pastries we had at the beginning but a little smaller and a meat filling. 
For desserts, we ordered a deconstructed apple pie with ice cream and a chocolate mocha dessert. I thought the chocolate was okay and like the apple pie one much better, with different textures from the apple, the sauce, pastry, and ice cream all working together as a team. 🙂
We then finished with the signature madeleines which came out nice and warm.
Looking back, this was probably the best value meal out of the Michelin restaurants we ate at.
As such, I'd definitely recommend having a look at Cafe Boulud if you are going to be in town.
click to enlarge
Let me know if you have any questions and thanks for stopping by!