4 Days in New York City 
In the first part of April, we had the chance to visit New York City for a few days.
New York City never fails to impress me in terms of it's sheer size and the number of people that live and work in the city.
It's always so crowded, busy, smelly (sometimes), and noisy, a true definition of a city.
Can you guess what my favorite part about visiting New York is?
The delicious food! ????
For the Flight
Since I was going for work I had my flight covered. Emi wanted to fly business for only 5,000 miles more (each way than coach) and so she did. So for her, it was a standard 50,000 Alaska miles + $13 in fees to fly business round trip LAX to EWR nonstop.
Hotel
We stayed at the Hilton Club Midtown for two nights and then moved to a Holiday Inn Express Midtown for one more night.
For the the Hilton, they regularly offer some nice promotions if you call in and talk to their reservations desk.
For this promotion, the offer was 2 nights for $299 including tax, with $100 cash rebate on a future stay, $100 in gift certificates (for certain merchants in NYC), and 5,000 bonus Hilton points. The catch is that you have to listen and meet with sales person for their Club timeshares. (This took up about an hour of my time.)

Activities
Since I was working most of the time, we didn't do much exploring. But we did get to do some over the weekend however.
We got lucky with Spring like weather, with warm sunny days and slightly cool evenings.
As such, we tried to spend most of our time outside.
We went to explore Central Park twice as well as the Highline, SOHO, and Midtown.
We did lots and lots of walking. Definitely a good thing when you eat a lot!
One of the fun things about New York is that there's always events going on around town.
Though we kept it low key this trip, one of my go to websites for finding things to do is timeout.com.
Depending on the city you visit, they usually have a calendar of events and sometimes specific articles for events each weekend.
It's a good resource if you don't have anything planned or aren't sure what to do.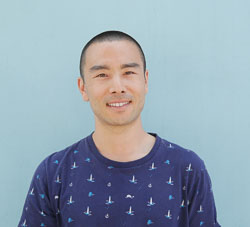 Konnichiwa! (Hello!) I'm Pat Tokuyama, a Japanese tofu cookbook author, who travels for music, food, and adventure. If you like Japanese tea, checkout some of the newestorganic japanese teas now in stock!!
** Curious about the Plant Based Japanese Cooking Club? ** Learn more here!

Restaurants and other Places that we ate at with my notes:
Best Bagel and Coffee -recommended
This is the best bagel place that I've found in New York. I think the flavor and texture is perfect. They've since expanded, almost doubling their store footprint from when I first found them several years ago. There is always a line, but what you can do to beat the line is just call your order in. If you get the Lox bagel here it well set you back about $14, which is standard, but it's enough to share between two people.
Bouchon -recommended
I had a chocolate croissant here and Emi had a scone. Pretty good, but not one of my favorites. I think I'll keep trying other bakeries before I go back to Bouchon.
Shanghai Manor -recommended
We were deciding between this place and Joe's. Joe's was definitely more popular and the waits to get into each restaurant were about the same. We were there around 530PM and they told us 20 minutes at both places. I thought the reviews were more consistent and Shanghai Manor and so we ended up going there. The spicy wontons and soup dumplings were tasty as was the secret noodle item that we ordered. I'd definitely go back on my next visit. Much cheaper than the soup dumplings in LA (Din Tai Fung) and just as tasty!
Maison Kayser -recommended
We stopped by here to grab some pastries after going for a run in the park. I had a raisin pastry and Emi got a chocolate croissant like thing. Both were very good and much better than our last visit in Bogota! I think their Paris branches are still the best though, out of all the locations we tried. Which would be expected. Right?
Xi'an Foods -recommended
I've had this place bookmarked for several years and finally got a chance to try it. This is not your average Chinese food. They offer dishes from one of the regions in China and the food/flavors are very unique. If you are feeling adventurous or want something Chinese, I'd definitely recommend trying this place out. When we were ordering I asked what was good, and got the super helpful 'everything!'. Good to know! We had a spicy dry noodle dish with lamb and a soup noodle dish with beef. The soup noodles slightly reminded me of Taiwanese soup noodles, but spicier!
Sushi Yasuda -recommended
We weren't planning to eat at this place, but wanted something somewhat healthy on our last day. We had been doing fine dining all weekend and decided not to go to Le Bernadin. I found this place on Yelp and it had decent reviews for their Prix Fixe lunch. We got squeezed in to one of their last lunch time slots at 130pm. We ordered the Prix Fixe and the fish was very fresh. To my surprise, they use real wasabi. This is only the second place in the US that I've found real wasabi being used in sushi. The other was in Hawaii. It makes a big difference. So big plus there. Also, I didn't realize it at the time, but learned that he has another restaurant in Tokyo, which is where Yasuda actually works.
Spot Dessert Bar -not recommended
This place is a desserts only shop and they had a very tasty looking menu offering 10 or so different desserts. We got a chocolate lava matcha cake. It came out nice and warm. I thought it was okay and am not really in a rush to go back.
Bibble & Sip -recommended
I like cream puffs and that's what this place is known for. I wanted to get their matcha one, but they were sold out since we went right before they were closing. Instead, we got to try their Early Grey which was good. I'll need to go back to try their matcha now!
Kati Roll -recommended
This is one of my favorite places to get Indian food. It's kind of like fast food and what they specialize in are fried roti filled with meat/vegetables. I got a lamb roti with egg and one with just chickpeas and a lassi. Delicious as always!
Stumptown Coffee Roasters -not recommended
I'm not really a fan of Stumptown, but we didn't really have alternatives in the area and so stopped by for coffee. Emi got a cappuccino as usual and I got a double espresso. My espresso was acrid and bitter, and I went back to get a new one. The second one was much better than the first, so they must have overextracted it.
La Colombe Coffee -recommended
This place is alright and I need a little afternoon pick me up. I got an Ethiopian double espresso which was dark, fruity and acidic the way African espressos tend to be. I liked my espresso here more than Stumptowns. Since this is by Bryant park it's pretty busy but the line moves quickly. There's also Blue Bottle just across the street if you like them too.
click to enlarge photos
Let me know if you have any questions and thanks for stopping by!
Save