One day in Guadalajara…
We were walking by some street performers and one of them was covered up in silver paint. You know, like pretending to be a statue that doesn't move.
He was off to the side maybe maybe 15 feet away.
We were standing there for a minute or so watching this other guy be Michael Jackson. This guy was doing a real good job and had his whole dance in sync to "Thriller" which was playing on a speaker.
Then all of a sudden the silver paint statue guy blurts out "Jackie Chan!"
Obviously, he was talking to us. And we knew he was trying to get our attention, but we didn't know what he was really trying to say. So we just laughed. (I don't think I look like Jackie Chan.)
But I get those shoutouts every now and then when traveling.
Random people will say "Ja-pan" or "konnichiwa" when they get it right. Sometimes, they say something different.
I know they're just trying to be friendly. But I don't go around saying "Mexico!" or "Hola!" to random people on the street. Do you?
Maybe it's a cultural thing. I think next time it happens, I'll need to ask, why they say that.???? The reality of travel.
So why Guadalajara?
This city was never on my radar, but having been to Mexico City so many times, I was ready to explore another big city.
According to Alaska Airlines, it's one of the art capitals of Mexico. (Their advertising is probably how I got a glimpse into what the city has to offer. They fly direct from LAX.)
Though we didn't get to see much gallery art, there was plenty of street art.
Our first glimpse of this was driving in from the airport.
When going through the hills into the city, there were several neighborhoods of single story houses with various colorful birds painted on the sides of the houses.
Usually one large bird per house. It added a lot of color and beauty to an otherwise, unremarkable brown and dry looking landscape. Look out for them if you ever end up visiting!
Another draw for me was the regional food.
Jalisco and Guadalajara have many of their own regional specialties.
After reading about them, I knew I'd eventually make there one day. Well, that day came and went quite quickly!
We spent 2 full days there and I think it was just enough for a good tease.
Famous Foods of Guadalajara
Our first meal in the city was birria.  We got take out at Birriería las 9 Esquinas for breakfast on the way to the hotel.
It was quite heavy given that we had it for breakfast and it was mostly meat.
I'd describe it as spicy, rich, savory, and very meaty.
We ate it with tortillas and onions and additional hot sauce. It reminded me of pozole, but without the hominy. Yum!
After breakfast, we needed to go for a walk. So we set out to explore.????
Our first stop was the main square. (Where else do you go ?!)
In the square they had a large Guadalajara art installation.
There was a pretty big line the entire time that we were there to get a picture with it.
We waited about 7 minutes to get ours. Not bad!
Throughout the square they also had a bunch of cartoon characters and mascots walking around posing for pictures for people too.
After hitting up the main square, we wandered down one of the Paseo Hospicio (one of the main streets) toward the Instituto Cultural Cabañas.
Once we made it there, we split a horchata since it was pretty warm out. Horchata is always so good in Mexico!!
On the way back, we saw some little electric cars being driven around by kids who looked liked they were having fun.
When I was a kid, those cars were one thing that I always wanted to drive. None of my friends had one, so I never got to drive one.
So I guess I have to just live vicariously through those little kids.
After thoroughly exploring the historical center, we ended up making a small trek to get tamales at Ricos Tamales for a late lunch.
We shared a red mole with pork tamale and a vegetable tamale as well as a vanilla atole drink.
While we were eating, a lot of local people stopped by to get take out.
This place was worth the trek as it was all very good!
For dinner, we had a reservation at Lula Bistro. It was my second choice for a nice meal, but the other restaurant Allium was MIA (according to their Facebook, they were out on holiday).
I wrote about that experience in another post – Lula Bistro Restaurant Review, Guadalajara, Mexico December 2016. It was definitely one of the highlights of our trip, food wise!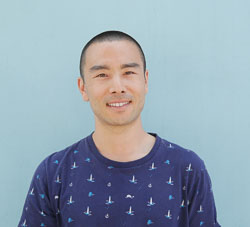 Konnichiwa! (Hello!) I'm Pat Tokuyama, a Japanese tofu cookbook author, who travels for music, food, and adventure. If you like Japanese tea, checkout some of the newestorganic japanese teas now in stock!!
** Curious about the Plant Based Japanese Cooking Club? ** Learn more here!

Guadalajara Day 2: More Food
The next day we got chilaquiles for breakfast from La Chata.
This restaurant seemed to be pretty popular with the locals also. The chilaquiles were good, but to be honest, it's not one of my favorites.
After breakfast we went to some of the produce markets since I wanted to get some beans and peppers to take home.
I got a pretty good amount (1 kg chiles -ancho, pasilla, mulato, guajillo + 1kg beans-peruano, texano, and flor de junio).
Now I just need to figure out what to do with them!! ???? Any suggestions??
We dropped my haul back off at the hotel before going to get lunch.
We took a long 40 minute walk to get carne en su jugo. Which is stewed beef.
It came with tortillas, chips, onions, limes, and beans. This was sooo good.
I need to find a recipe and try to recreate this at home. ????
This dish alone totally made the trip worth it!!????
There are two restaurants that seemed like the 'go-to' for this particular dish. We chose Kamilos 333 since it seemed less touristy and had better reviews.
It's right next door is its competitor Karne Garibaldi, which has a Guinness world record of serving the fastest meal or something like that.
Kamilos was a good choice since the food was bomb. And, while we were their the clientele seemed to be local families and business people. Always a good sign, in my opinion!
After this, we did some more walking around at one of the local parks. We thought we knew where to enter but the entrance we tried to go to was closed.
We ended up walking around the entire perimeter of the park and ending up almost where we started before we were able to go in.
What kind of public park has one way in and one way out?! ???? Parque Agua Azul !!
Since it was a weekend, they had a flea market nearby. It was mostly clothes and gothic apparel with the corresponding gothic looking crowd. Never expected to see that kind of a scene in Mexico, but there it was!
Just a block away, they had a completely different crowd. There was some sort of Hot Wheel convention going on. It looked like people where buying or trading cars. Yes, the little toy Hot Wheels! Totally different vibe!
After this, we headed back to get our bags as it was already time to go to the airport!
In summary, I really liked Guadalajara. It didn't have as many tourists as Mexico City.
It also felt a lot more Mexican and much more relaxed.
One thing I noticed about Guadalajara, is that the buildings are not tall. At most, those located downtown seemed only a few stories high. I think it seems to add a bit a of space or calm to the atmosphere.
If you ever get a chance, I would definitely consider visiting Guadalajara.
For me the food was my favorite part. I'm happy that I had the opportunity to try some of the regional specialties Guadalajara is known for.
I enjoyed seeing the new sights, sounds and smells. It was very stimulating and eye-opening. In a good way.
The Mexico that you don't hear about everyday.
Click photos to enlarge
Save