Mexico City Day 3: Condesa and Coyoacan
For breakfast, we thought we'd give this highly rated coffee shop/bakery called Rosetta a try.
It was close to our hotel and always seemed to be busy when we walked by it.
The coffee was good but the poached eggs were blah. Chocolate croissant was decent.
This place totally reminded me of Portland or San Francisco.
After breakfast, we took a nice leisurely walk through Roma Norte and then eventually Condesa. All to eat one thing. Fish tacos.
They have multiple locations across the city, but I've only been to this one.
I think almost every visit to Mexico City has included a stop here.
They are that good and it's one of our favorite places to eat!
It's always packed. But they have an open seating area which makes the place feel very airy.
It's also in a residential neighborhood so it's got a nice ambiance.
Also, they have a good salsa bar with cabbage and additional sauces to go with your tacos.
My mouth watered just thinking about it. ufff.
After we got our fish tacos we were totally stuffed. 3 tacos is what we ate and it's plenty for two people!!
Sure enough we ended up getting a food coma shortly thereafter.
We had an Uber pick us up and take us to Coyoacan, which is one of the neighborhoods in the southern part of the city.
Coyoacan is a good 20 minute drive down from Condesa. (You can also take the subway if you want)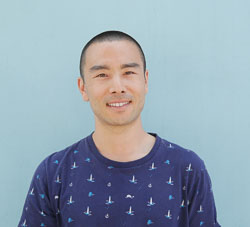 Konnichiwa! (Hello!) I'm Pat Tokuyama, a Japanese tofu cookbook author, who travels for music, food, and adventure. If you like Japanese tea, checkout some of the newestorganic japanese teas now in stock!!
** Curious about the Plant Based Japanese Cooking Club? ** Learn more here!

Coyocan is another one of my favorite neighborhoods
It has a distinct feel, it's got a small town feel is more relaxed than up north.
You might go there for the Frida Museum.
We went there for the park.
The park we went to is called Viveros. 
I hadn't been there before, but after seeing a picture of it, I knew I had to go. Ever make travel decisions based on seeing a picture?
Turned out to exceed all expectations. Yes, it's just a park, but it's a really nice park with lots of trees!!
It's very well shaded there were a lot of people running around exercising while we were there.
When in the park, it doesn't feel like you're in the middle of the city. That's when you know you're in a good park!
So after we did our little walk around the park and walked off some of our tacos, we made our way to the central square of Coyoacan.
We wanted to have something sweet and shared a guava popsicle from our favorite La Michoacana!!
On the side of the square, they happened to be having a world fair.
There were all kinds of vendors from different countries mostly South and Central America that were selling products and edible goods including mole, chocolate, clothes, and trinkets.
We got a maguey drink with strawberry at one of the vendors.
And then we had dinner reservations set for this place called Los Danzantes.
This is a restaurant that specializes in Oaxacan cuisine.  We saw it while we were in Oaxaca, but never ate there. Since we wanted to eat Oaxacan food, we decided to give it a try this time.
Overall, I was kind of disappointed. I think my expectations were too high. The food was just OK.
My steak was quite flavorless and the best part was the sauce. The vegetable soup that we got wasn't that good either. Maybe we ordered the wrong things, but I think the food we had in Oaxaca was much better.
After we had dinner we did what we always do. More walking!
Me having the sweet tooth that I do, ended up getting chocolate stuffed churro.
This one is actually injected with chocolate and it was pretty rich. I think I like cinnamon and sugar better.
And then as if I wasn't full enough, I ended up getting atole at one of the street vendors. Atole is a sweet corn-based drink. The one I got was made with cajeta.
It was warm, thick and sweet. A good way to finish up the day and stay warm on the cool night.
So this was it. Our extended visit in Mexico City came to an end all but too quickly.
I could definitely used some more time to explore. Where do I want to go to next? Not sure, maybe one of the suburbs located in the North like Tlanepatla. But where else I don't really know yet. I just know I'd go back any day. Have any suggestions?
Click photos to enlarge
Up next is our last day of Mexico City and then Guadalajara. Stay tuned and thanks for stopping by!
Save
Save