Day 2: Juarez and Chapultepec Park 
The second day we did a lot more walking again. Our daily average on this trip was around 20k steps per day. It's always good to get your steps in when traveling!
Our itinerary was: Zona Rosa, Juarez, then Chapultepec Park, and finally Polanco. All by foot!
The day got off to a late start and we got our start at La Casa de los Abuelos for brunch.
It was full of what seemed to be mostly business people. We shared a pozole here along with another tlayuda.
I will say that the pozole here was good, but the one at La Casa de Tonos is much better! (Note for next time)
And regarding the tlayuda, I think I prefer mine off the street at the local markets.
Each time I order them in restaurants they just don't taste as good!!
After lunch, we set off to explore Juarez a bit more.
Juarez
The Juarez neighborhood is located just north of Roma Norte.
I read it was supposed to have been revitalized with new shops and restaurants.
But if that's the case, I think they are quite spread out and we didn't really find anything new or interesting.
If you do make it over here though, I do have some eating recommendations:
One is El Pialadero de Guadalajara. On one of our very first visits to the city, we met up with a local Couchsurfer host. We hung out for a bit and he took us to lunch at this place, which specializes in Guadalajaran cuisine. I ordered one of the specialties here (torta ahogada) and after I took the first couple bites, my mouth was on fire!!! In no time I was also sweating and I definitely got a work out trying to finish eating that sandwich. We all had a good laugh at that. 🙂 It was definitely one of the spiciest things I've ever eaten. So beware! Next time, I will need to try the carne en su jugo, to see how it compares to what I ate in Guadalajara. More to come! 
Another place I like is Frutos Prohibidos y Otros Placeres. This place is good for healthy food (salads and sandwiches) and smoothies! It's a good change if you want something on the lighter side. And they do have other locations throughout the city.
Back to the itinerary.
As we went West toward Chapultepec Park and reached the end of Juarez, we found a small community of Korean restaurants and markets. I guess that is their little Koreatown! So if you're craving Korean food this might be the area to check out.
In order to get to the park, we walked over a large pedestrian bridge which goes over a freeway.
There were art installations all along it, mostly photographs of different parts of Mexico. Very cool to see and a very good reminder of how diverse Mexico really is!
After walking through the impressive gates to the park, our first stop was at a large monument dedicated to the Ninos Heroes, a group of kids who died fighting in the Mexican-American war.
I was mostly familiar with the metro stop Ninos Heroes from riding the subway, but didn't realize who they were until I saw this monument and read about it.
After we got a good look at the monument, we were going to go up to Chapultepec castle on top of the hill. But the gate was closed and we didn't make it.
We ended up just exploring the park which was surprisingly pretty crowded for a weekday. There were a lot of families and street vendors. Also, a group of street entertainers doing their thing.
After taking in the scenery we walked up to Polanco.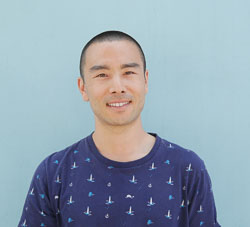 Konnichiwa! (Hello!) I'm Pat Tokuyama, a Japanese tofu cookbook author, who travels for music, food, and adventure. If you like Japanese tea, checkout some of the newestorganic japanese teas now in stock!!
** Curious about the Plant Based Japanese Cooking Club? ** Learn more here!

Polanco
Polanco is one of the nicest neighborhoods in Mexico City and it has changed quite a bit over the past few years. It seems almost like a completely different place.
A lot of the construction seems to have been completed and I noticed there were a lot of new restaurants and shops. Especially so on Presidente Masaryk (one of the main streets that runs through it).
We walked by Enrique Olveras Pujol. The restaurant on the outside is totally non-descript. I occasionally regret not eating here one of the first two times I visited the city. Occasionally.
The feelings come and go. Ever happen to you?
I always had mixed feelings about eating there though, I think that's what held me back. The mixed reviews.
It's always had mixed reviews as long as I can remember.
When you pay top dollar, experience has taught me it's safer to stay away from restaurants that have mixed reviews. (mixed for the food, not service as people so often complain)
So on my first visits to the city, back in 2013, he wasn't yet on Chef's Table.
I think after that episode, just like n/naka in Culver City, reservations became quite difficult to get.
Anyways, back to Polanco. We almost ate at a steakhouse that I booked on Opentable.
We didn't feel like eating steak really and after taking a look at their menu, we decided to cancel.
We didn't have many options since most of the popular restaurants in this area were booked.
So I took a look at my bookmarks and found a taco place called El Turix.
This place is known for cochinita pibil.
Cochinita is a specialty of the Yucatan and though I've traveled a good amount there, I never came across the juicy and super wet version served here.
The meat for these tacos was literally swimming in a soup of sauce. As a result, they are served wet and so it makes kind of a mess.
But the cochinita was super soft, juicy and flavorful. They had a hot salsa to go with it. It was all super tastyyy!
Definitely brought back memories of cochinita I ate in Yucatan.
Before we decided to go home, we ended up stopping at a bakery called La Esperanza in the northern part of Polanco.
We were there around 8pm and it was quite busy!
They had all kinds of sweet and savory goods. Including one of the biggest selections of cakes I've ever seen! (with cans of whipped cream interspersed throughout the display. Talk about smart business practices!!)
In terms of quality, I'd put this bakery a step above the more traditional bakeries downtown, like Pastelería Ideal. 
But the items for sale were a bit different too, Esperanza seemed to have more options for Western baked goods, where as Ideal sells more traditional Mexican baked goods. So keep that in mind if you are looking for baked goods!
Last but not least, we just had to make a stop for popsicles before heading back to the hotel. And guess where?!
La Michoacana of course!! Where else!!
I got pecan and my girlfriend got watermelon which is her favorite!! Woohoo!
Click photos to enlarge
Up next is our last day of Mexico City and then Guadalajara. Stay tuned and thanks for stopping by!