Puebla City, Mexico
Today it's a bit overcast and dreary in Southern California.
Feels a bit like winter and we are supposed to get more rain this coming week. Boo.
The cold weather makes me miss the nice warm weather we had on our trip to Mexico.
Anyways, here is the summary of our day trip to Puebla.
I've wanted to go to Puebla for many years since it's famous for mole.
It's also famous for many other things as I learned while I was there!
Mole is one of my favorite Mexican foods. I like the complex blend of spices and flavors it provides. There's nothing like it.
I've had Oaxacan mole and it was quite good, so was excited to finally try the Puebla-style mole (Poblano).
Photos are located at the bottom, click to enlarge
Getting to Puebla from TAPO (Terminal de Autobuses de Pasajeros de Oriente) Mexico City 
Our initial plan was to wake up at 6 to get the 7am bus, but we slept in and got the 8am bus instead. (This happens a lot to us when we travel. Does it happen to you?)
Our bus left from the TAPO station which is right near the airport.
I have a few pictures from inside the TAPO bus station below.
It's pretty unique in appearance. Especially when looking at it from the outside. You wouldn't expect to see the pretty dome in the center.
Right before we got on the bus we went through the Puebla gate,  that said "Que Chula es Puebla!". Why don't we have these little setups before getting on our planes and trains? Wouldn't it make travel a little more fun?
Maybe it reminds me of Disneyland's It's a Small World, which used to be one of my favorite rides. 🙂
Anyways, we bought our tickets just prior to departure. $18 per person round trip and direct on ADO GL (similar to first class).
There is a bus that leaves every hour basically so no need for advance purchase. If ADO is full, you have alternative companies that run the same route. E.g. Estrella Roja, which also runs direct from the airport, through less frequently.
The total ride was about two hours including traffic and we got there on schedule.
Unfortunately, the bus ride felt a lot longer than two hours since I was forced to watch Terminator.  I was sitting right underneath the speaker. That was the worst part of the trip!! My fault for not bringing my noise canceling headphones.
Once you get out of the station, there are several taxi stands that are located just outside.

Getting to Puebla from the CAPU (Central de Autobuses Puebla) Station
The thing to note is that these taxis have set fares depending on where you want to go. It's all listed in the window where you get your ticket. No negotiation needed.
Basically you just buy your ticket and you redeem it at the ticket stand next to the taxi queue. Then they give you a little laminated piece of paper which has a number on it and then you give that to your  taxi driver and then off you go into the city!
Note- If you do look like a foreigner, people will probably approach you and ask you if you need a taxi. I'd highly recommend you ignore them and go to the official stand. Also, they do have Uber in Puebla, but it was the same price as the taxi. We ended up taking the taxi since it was right there.
Exploring and Eating in Puebla
So, once we got into the city it reminded me a lot of the other smaller cities we had been to in Mexico (e.g. Merida, Oaxaca).
You have your main square which is generally always pretty busy with street vendors in the square and shops that surround it.
We took a few pictures, walked around a little bit, and then eventually made our way to go get some tacos at Las Ranas for lunch.
Las Ranas is famous for al pastor tacos and tacos arabes (al pastor on a pita-like bread rather than tortilla). We got three different tacos and all were very good and filling, but my favorite was the gringa which came with cheese.
After we got our tacos that we did some more walking and made our way to another place that I found on seriouseats.
Cemitas del Carmen is known for their cemitas which are sandwiches with meat and shredded Oaxacan cheese. It was a good 15-minute walk away from downtown in a residential area.
It turned out to be just OK. I don't know if I'd go there again since I didn't think it was that special. Bummer.
On the way there and on the way back, though, we did get some ice cream and popsicles.
Popsicles and Sweets
We got a kiwi popsicle and Chongos Zamoranos ice cream at  Súper Paletería Mary Barragá. The staff were really nice and gave us a bunch of samples without us even asking.
After we got our goods, we sat at the plaza just across the street to take in the scene. The plaza was very quiet while the ice cream shop kept pretty busy.
As we made our way back to the city, we stopped to get potato chips. People were eating these things all over the city. We didn't want to feel left out anymore and had to try them.
We got ours spicy with fresh squeezed lime. Very tasty!!
After this we got some more popsicles since we wanted something sweet again.
We seem to eat a lot of junk food when we travel don't we. 😀
After our second popsicle stop, we gradually meandered over to the arts district in the South part of the city.
The arts district is pretty nice. It's relatively quiet and has brightly colored buildings that make you feel like you are in Mexico.
There were also quite a few art galleries with artists working inside. So if you have a lot of time, you can stop by and have a chat or ask them about their work.
All of these galleries are concentrated within one block and right next door to this area was a shopping area, which looked to be mostly touristy stuff like souvenirs etc.
Our last stop before dinner was visiting Calle de los Dulces or sweets street.
The street is famous because there are a bunch of candy shops there. To my surprise, the whole street was actually was filled with candy shops!
I thought there would only be a handful, but the whole street on both sides had only candy shops.
We got a sugar cookie at one of them and then at another we got a small box of camotes (flavored sweet potato bars, a specialty of Puebla) to take home.
After visiting the candy shops, we made our way back to the square to hang out before dinner.
We had reservations for El Mural de los Poblanos which seemed to be the most promising restaurant for dinner based on the reviews.
In the end, I thought it was all right. I don't think I would go there again. Especially since it was kind of expensive for what we got.
Service was good and the clientele was a good mix of Mexican families and foreigners.
After dinner, we just grabbed an Uber to the bus station.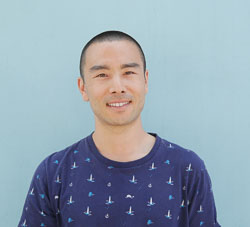 Konnichiwa! (Hello!) I'm Pat Tokuyama, a Japanese tofu cookbook author, who travels for music, food, and adventure. If you like Japanese tea, checkout some of the newestorganic japanese teas now in stock!!
** Curious about the Plant Based Japanese Cooking Club? ** Learn more here!

Mayordomo
When we arrived earlier, I spied a Mayodomo in the station.
Mayordomo is a great place to get a Mexican hot chocolate and mole to take home, if you are interested in those kind of things.
I first found out about this place when I was in Oaxaca, where they had locations all over the city. The last time I went there I bought a bunch of different moles and a kilo of Mexican hot chocolate to take home. They blend your hot chocolate mix to your liking (cinnamon, almonds, sugar etc), which is how I got the kilo in case your were wondering.
I ate all the mole, but still have quite a lot of hot chocolate.
This trip, though, I bought some mole, but it got confiscated at airport security when we were going to Guadalajara. I didn't get to bring any back.
The security said I can bring powdered mole, but not pastes on the plane. So keep that in mind if you aren't checking your bags and flying domestically in Mexico. I guess it's the same as it is here. 
So that was our day trip to Puebla!
Puebla was very walkable and overall felt a  lot more relaxed than Mexico City.
Next time I go back, I would definitely stay at least one night in Puebla (two full days) because there is a lot to see and eat.
We were on the fence whether or not to stay a night there since we weren't sure if we'd like it. But we do and now we know!!
There are also small towns just outside of Puebla which you can visit too, like Cholula.
Didn't know about that one until I looked at the map. 🙂
Click photos to enlarge
Up next is more Mexico City and then Guadalajara. Stay tuned and thanks for stopping by!