Mexico City
Yo yo yo! Happy Sunday and hope you had a good weekend. Today I'll be sharing the first part of my December Mexico trip.
If you follow me on Instagram, you may have seen that we were in Mexico for the last part of 2016.
This was a last minute unplanned trip and we had a great time down there. Here is the first part!
(Note- you can enlarge all of the photos below by clicking on them)
Mexico City Flight and Hotel
We used 30,000 Citi ThankYou points per person for the flights.
This included non-stop flight from LAX to MEX (Mexico City) and then a stopover in GDL (Guadalajara) on the way back. Not exactly an excellent value, but good considering we booked this during the holidays and less than a week prior to departure.
For the hotel we used a total of 40,000 Hilton points to stay 4 nights in Mexico City Hampton Inn Centro Historico.
I had originally booked 6 nights at the Hampton Inn, but we decided to move on our 3rd night.
We've been to Mexico City many times and that has been our go to hotel for our visits.
But after being there for a couple days, we decided that we wanted to get out of the Centro Historico (historic center).
The two main reasons were: we have seen most of what that area has to offer and it is also very crowded and busy. So we were keen to get out of there.
For the last 2 nights, we ended up switching to a Holiday Inn in Zona Rosa.
It was for $60 per night x 2 nights. And we chose this IHG property for the location. It's withing walking distance of the Roma and Condesa neighborhoods which are great for exploring and eating.
Plus they were having a promotion, stay at any two properties and get up to $100 gift card. Pretty decent!
We knew we would need a hotel for Guadalajara so that gift card was guaranteed to provide at least one free night. So that's what we did!
Here is how our first day went-
Mexico City Day 0
So after arriving on a red-eye flight we grabbed an Uber to the hotel.
We used to just take the metro from the airport to downtown, but now Uber is everywhere in Mexico City and very convenient. (Mexico City is one of Uber's headquarters for Mexico, Central and South America). Rather than the usual 40 minutes with a train change, it took about 20 minutes.
We were able to check into our hotel early and dropped off our bags.
By that time, it was around 10am. We didn't have any breakfast yet and we were getting hungry for some food. So, off we went to go get barbacoa!
I've wanted to go to this restaurant for years, but never got a chance to go because it's only open on Saturday and Sunday. And for some reason, we never made it.
They specialize in Barbacoa which is a lamb or goat dish that's cooked slowly in a pit in the ground. It was soo good.
We had an appetizer with cheese. And got a quarter kilo of barbacoa. This was a lot.
Probably enough for 3 people really.
The tortillas it came with were really good also. They were made with blue corn and were very dark and thick.
Tortillas are one of my favorite parts about eating in Mexico, especially when made fresh or by hand. Just like they were here!
We walked in around 11 and by the time we were finished, the restaurant was relatively full. So if you are trying to eat here, may be good to show up early since they don't take reservations.
After we ate,  we decided to just go for a walk and walk off the food because it was pretty heavy.
Our first stop was Mercado Roma which is located next door.
At this market, they have a bunch of different shops and restaurants inside selling popsicles, sandwiches, pastries, coffee, pozole and even churros. There is a little Churrería El Moro booth if you're interested in that. (I think the location by San Juan de Letran Metro is better to be honest.)
And look what I found at the market! Costco (Kirkland) cheese! I did hear that they have a Costco in Mexico City, but haven't seen it. So that's probably where that came from.
The next stop on our walking tour was Parque Mexico.
This park is located maybe 10-15 minutes away from where we had brunch.
It's a nice place to go for a stroll or sit down and relax.
It's located in a residential area of the city with minimal car traffic.  It's also well-shaded and always quiet.
After wandering around for a bit we eventually made our way to the Monumento a la Revolución.
Though we had been to the city many times, we never made it to this monument before.
When we were there, there were a lot of families and couples just hanging out and playing with balloons.
We saw these balloons in Mexico city and also Puebla and Guadalajara.
They are inflatable and the kids like to inflate them and throw them up in the air. They float quite well and can travel a good 20-30 feet before falling back down. (There is a short video where you can see them in action below.)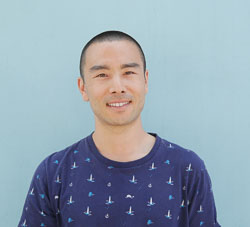 Konnichiwa! (Hello!) I'm Pat Tokuyama, a Japanese tofu cookbook author, who travels for music, food, and adventure. If you like Japanese tea, checkout some of the newestorganic japanese teas now in stock!!
** Curious about the Plant Based Japanese Cooking Club? ** Learn more here!

Churros at El Moro
So after soaking up the scenery for a few minutes at the plaza, we decided to go get churros at El Moro. (We actually skipped dinner because we were so full from our barbacoa meal.)
As you can see there was a really big line in front of it.
I've been early in the morning with the place deserted, but all the other times I've gone there is usually a good crowd of people stopping by to get their fix.
One thing to note is that there are two lines. One to get inside the seating area and one for take out.
Luckily, the to go line was much shorter so we decided to just get our churros and hot chocolate to go.
They were freshly fried, hot, chewy, and sweet. I always get them with cinnamon and sugar.
I've had churros in Spain and other parts of Mexico, but I like these the best.
So if you get a chance, El Moro is where it's at! They have locations throughout the city, so there's on excuse for you not to try them!!
After we ate our churros, we did a little bit more walking and made it over to the Zocalo. This is the main square at the center of the historic district.
It was pretty crowded! There were a lot of people just hanging out and waiting for the Christmas light show to come on. Lot's of balloons here too.
They also had ice rink set up in the middle so you can go ice skating. One interesting thing I noticed at the ice rink, everyone wore helmets! Haven't seen that before, but it's a smart thing to do!
After we watched the light show, we were pretty spend and ended up going back to our hotel.
We had to get up early to go to Puebla the next day so wanted to get some rest.
That was essentially our entire first day in Mexico City!
Not too eventful and glad that we got to take it pretty easy. Just a little barbacoa, some walking, some churros, and a bit more walking. Doesn't get better than that does it?!
Click photos to enlarge
I know this format is a little different than my other travel posts, so let me know what you think or if you have any questions, comments accepted below 🙂
Thanks for stopping by!